<![if !vml]>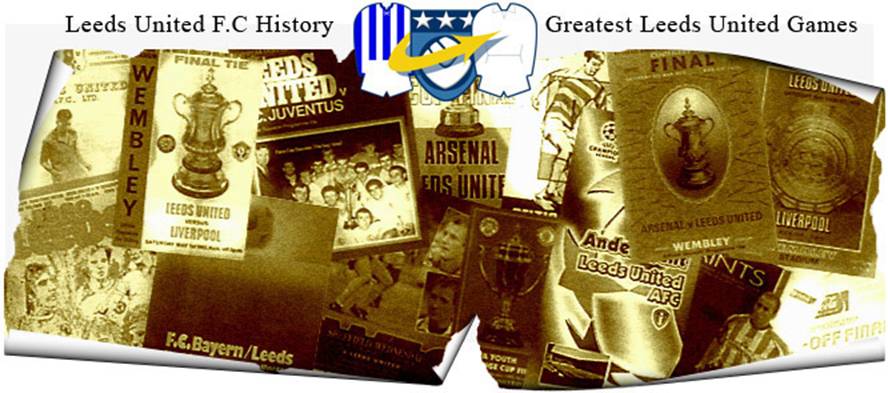 <![endif]>
Date: Saturday, 2nd March 1968.
Venue: Wembley Stadium, London.
Competition: League Cup Final.
Score: Leeds United 1 Arsenal 0
Scorers: Leeds United: Cooper. Arsenal: Nil.
Attendance: 97,887 (Receipts £95,000).
Teams:
<![if !vml]>
<![endif]><![if !vml]>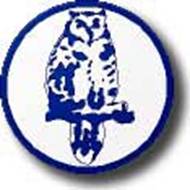 <![endif]>
Leeds United: Sprake; Reaney, Cooper; Bremner, Charlton, Hunter; Greenhoff, Lorimer, Madeley, Giles, Gray (Belfitt).
<![if !vml]>
<![endif]><![if !vml]>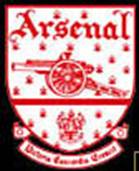 <![endif]>
Arsenal: Furnell; Storey, McNab; McLintock, Ure, Simpson; Radford, Jenkins (Neill), Graham, Sammels, Armstrong.
Referee: Mr L.J. Hamer (Horwich, Nr Bolton, Lancashire).
At last, a dream came true for Leeds United, and in the case of Terry Cooper, literally true. For three successive nights before the League Cup Final against Arsenal at Wembley the left-back dreamed he would score the winning goal. After seventeen minutes of a hard fought game, he did just that. The goal, like the game, was subject to some argument but to United and their fans that was immaterial as victory heralded that long-awaited silverware.
Eddie Gray curled in a wicked corner which Arsenal centre-forward George Graham headed away from under the crossbar to the edge of the penalty area where Cooper moved up to smash a terrific knee-high volley high in the Arsenal net.  Arsenal were furious, claiming that Jack Charlton and Paul Madeley had baulked their goalkeeper Jim Furnell as he went for the corner. The ill-feeling over the goal appeared to set the tone for the rest of the bruising battle, which was punctuated by fouls and stoppages. United seemed to have grounds for complaint when Jack Charlton appeared to be brought down by Jim Furnell but no penalty was given. Half-time arrived with a free-for-all in the United goalmouth involving several players after Gary Sprake had been fouled and things did not improve much after the interval.
Having snatched a precious lead, United concentrated on the art of defence and Arsenal simply did not have the know-how to find a way past the likes of Paul Reaney, Norman Hunter and Jack Charlton. Gary Sprake's only serious save of the match came when he turned a John Radford shot round the post late in the game. United, who had 'play-anywhere' star Paul Madeley at centre-forward in place of the Cup-tied attacker Mick Jones, found goal chances scarce and were content to play a game of containment. The Gunners lacked the fire power to trouble United's water-tight defence and Sprake was left with little else to do than field crosses. Although the match was disappointing as a spectacle, and was roundly criticized by the National Press, United had conquered a psychological barrier to win the first major trophy in the club's history and also brought a trophy back to Yorkshire for the first time since Sheffield Wednesday won the FA Cup in 1935..
Thousands of United supporters welcomed home their heroes as the League Cup was displayed on the steps of the Town Hall. So often had United failed at the final hurdle because their play had been riddled with anxiety, but now they had cast off the mantle of also-rans and were ready to make more room available for the trophies in the Elland Road board-room.
<![if !vml]>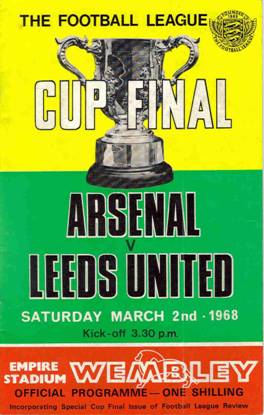 <![endif]>  <![if !vml]>
<![endif]> 
<![if !vml]>
<![endif]>
Leeds fans before the game:
<![if !vml]>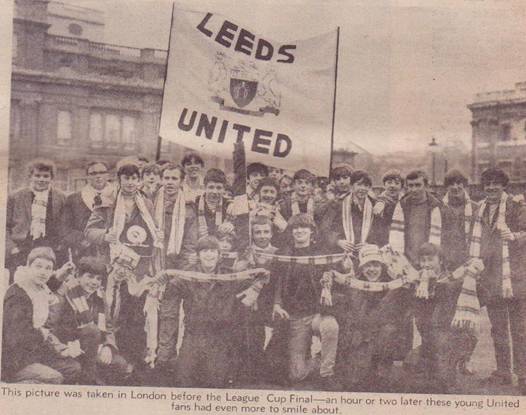 <![endif]>
Match Action:
 <![if !vml]>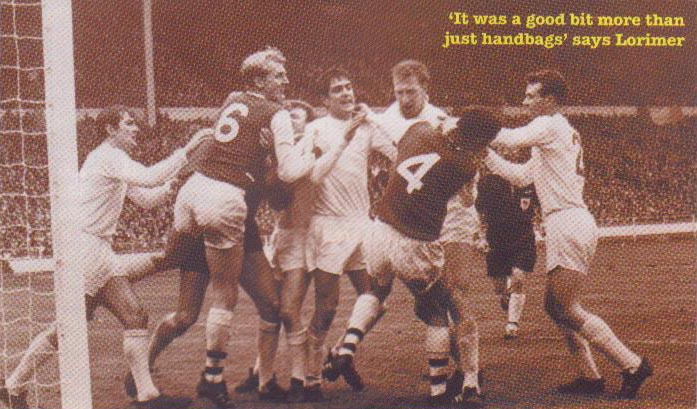 <![endif]>
<![if !vml]>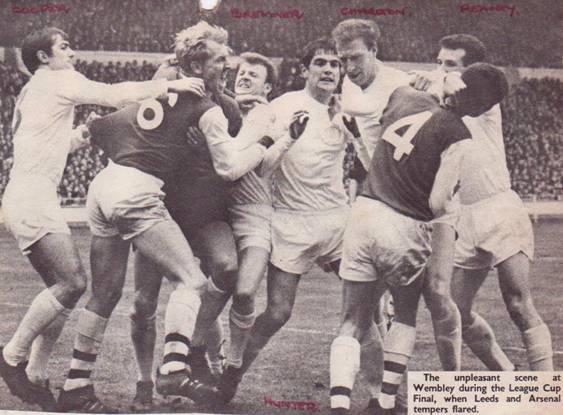 <![endif]> <![if !vml]>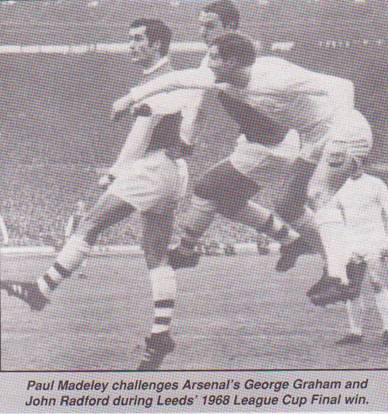 <![endif]>
<![if !vml]>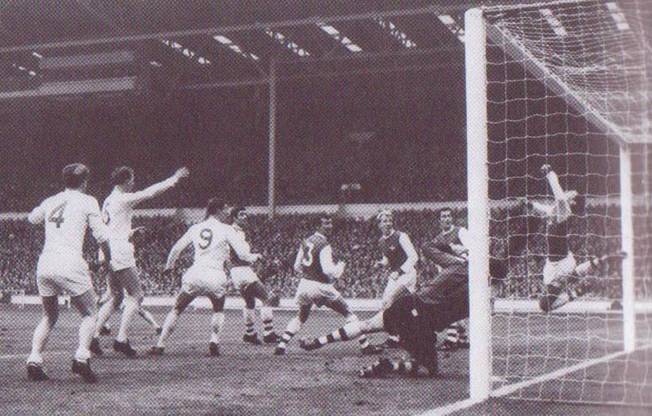 <![endif]>
Bremner, Charlton and Madeley watch Terry Cooper's shot enter the net.
<![if !vml]>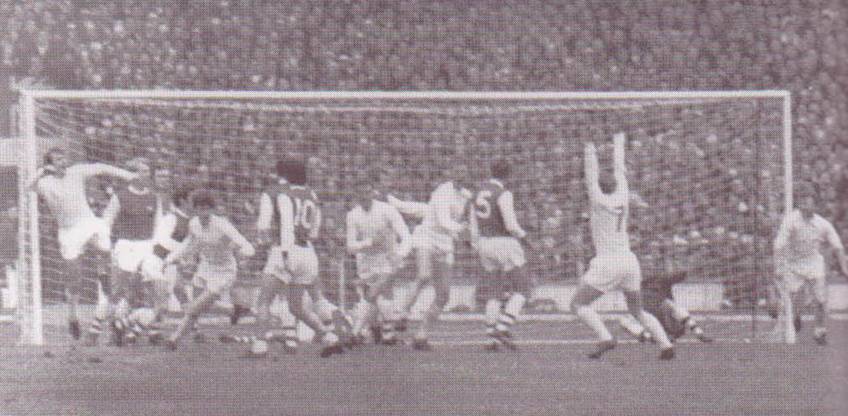 <![endif]>
Terry Cooper and the United players start to celebrate his goal
<![if !vml]>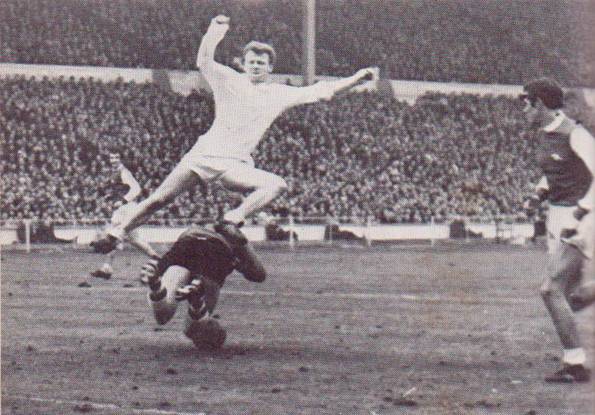 <![endif]>       <![if !vml]>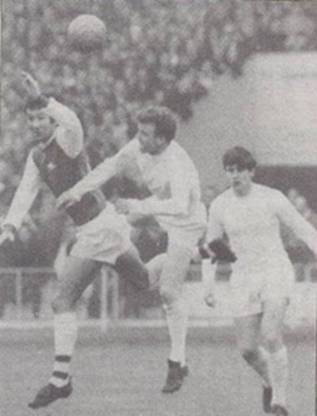 <![endif]>
Arsenal keeper Jim Furnell saves from Billy Bremner.                                                                  Billy Bremner in heading duel with Jon Sammels
<![if !vml]>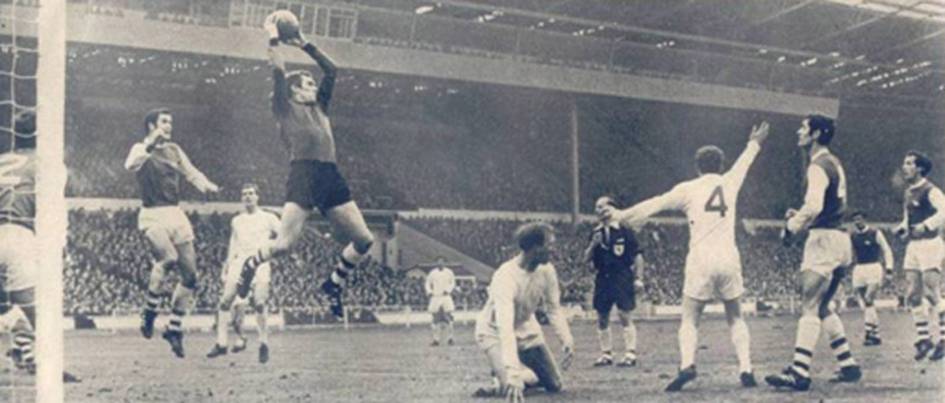 <![endif]>
Jim Furnell catches a high ball as Jack Charlton kneels and Billy Bremner appeals
United celebrate their first trophy:
<![if !vml]>
<![endif]>        <![if !vml]>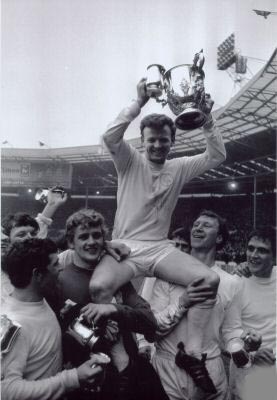 <![endif]>
<![if !vml]>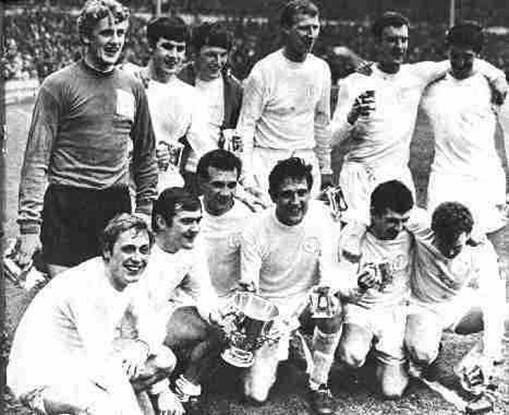 <![endif]>    <![if !vml]>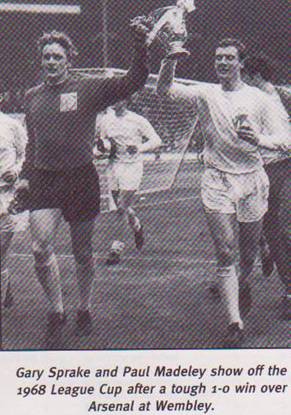 <![endif]>
<![if !vml]>
<![endif]>
Teams:
<![if !vml]>
<![endif]>
<![if !vml]>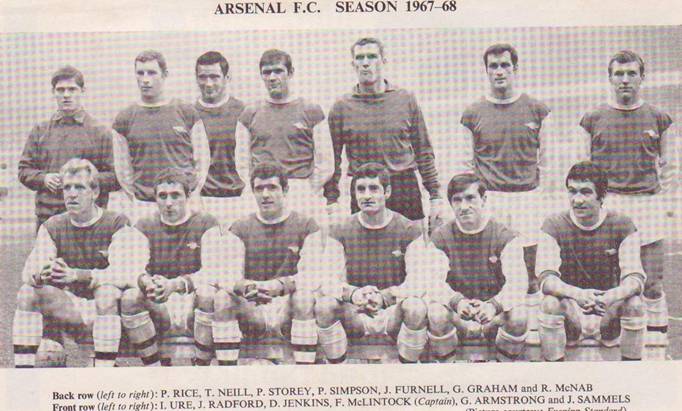 <![endif]>
Players:
<![if !vml]>
<![endif]>  <![if !vml]>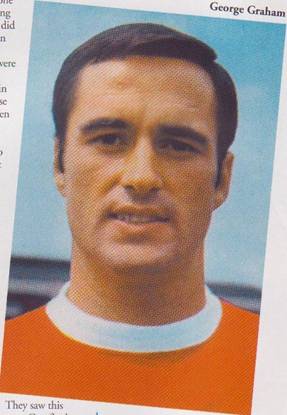 <![endif]>
Terry Cooper scored United's winner            George Graham headed the ball to Cooper