<![if !vml]>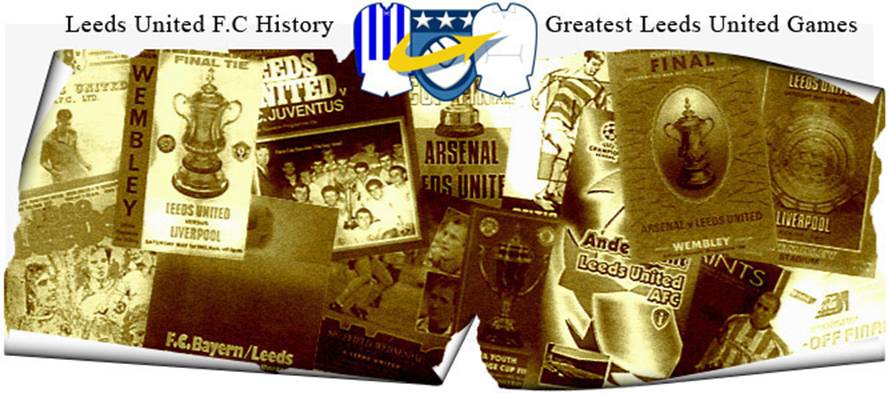 <![endif]>
Date: Saturday, 2nd August 1969.
Venue: Elland Road, Leeds.
Competition: FA Charity Shield.
Score: Leeds United 2 Manchester City 1
Scorers: Leeds United: Gray, Charlton. Manchester City: Bell.
Attendance: 39,835.
Teams:
 <![if !vml]>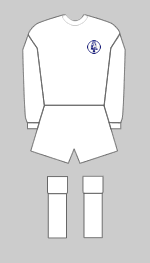 <![endif]> <![if !vml]>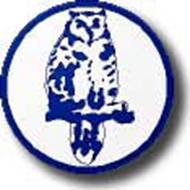 <![endif]>
Leeds United: Sprake; Reaney, Cooper; Bremner, Charlton, Hunter; Madeley, Clarke, Jones (Lorimer), Giles, Gray.
<![if !vml]>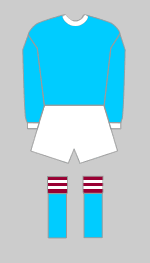 <![endif]><![if !vml]>
<![endif]>
Manchester City: Corrigan; Book, Pardoe; Doyle, Booth, Oakes; Summerbee, Bell, Law, Young, Coleman.
Referee: Unknown.
This was often called the legendary eleven, certainly the legendary dozen. It was record £165,000 fee purchase from Leicester City Allan Clarke's debut in a Leeds shirt and it signalled the arrival of the team that was to rule English, and indeed European, football and was feared by every team they played. It was the start of the deadly twin-spearhead of Clarke and Jones which was acknowledged as Leeds' finest striking duo, but that strangely never featured for England.
As League Champions, Leeds were given home advantage over FA Cup-winners Manchester City. The new spearhead was paraded in front of the adoring fans but it was goals from Eddie Gray and Jack Charlton that gave United victory and the the FA Charity Shield found a new resting place in the Elland Road Trophy cabinet.
It is a strange fact, but this was the only time that the legendary squad played together in this formation except at Everton on 30th August 1969, and at home to Stoke City on 4th October 1969. Madeley never played as a substitute in this squad of twelve, Cooper was a substitute at home to Crystal Palace on 28th February 1970, Eddie Gray was substitute in the Hillsborough Cup Semi Final on 14th March 1970, Paul Reaney was substitute at Liverpool on 5th December 1970 and at home to West Brom on 4th December 1971, Ipswich Town on 8th January 1972, Tottenham Hotspur in the 6th Round of the Cup on 18th March 1972 and Huddersfield Town on 5th April 1972. There may have been other instances of the twelve being unused substitutes but generally speaking United suffered badly from injuries to the twelve and could rarely call on their preferred squad
<![if !vml]>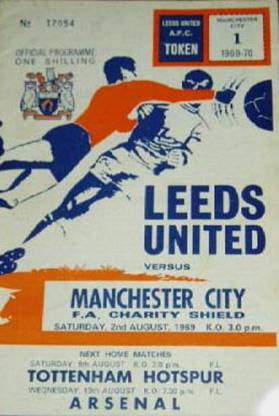 <![endif]>  <![if !vml]>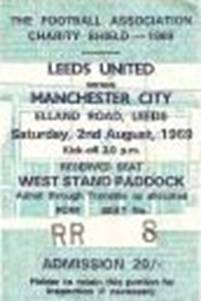 <![endif]>
Match Action:
<![if !vml]>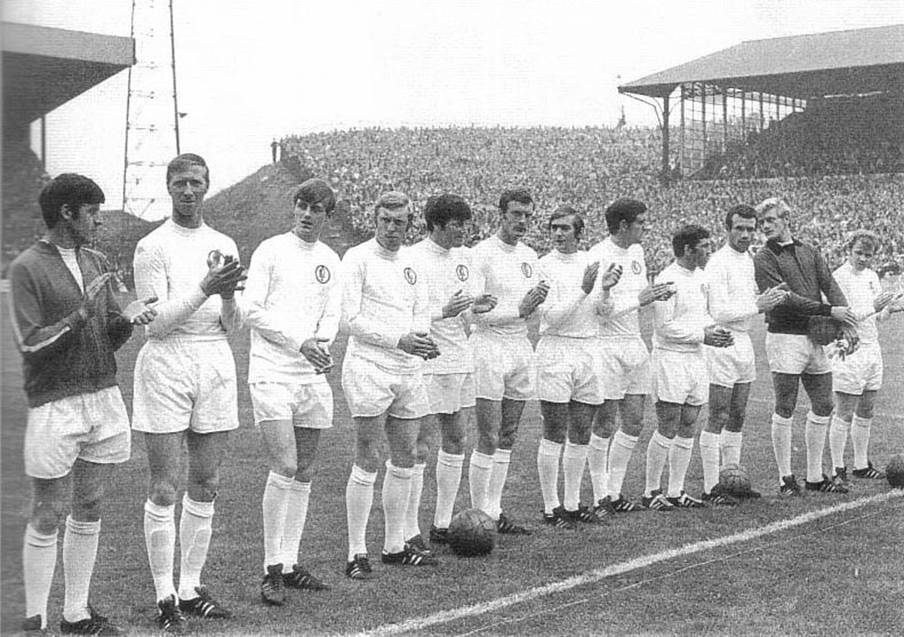 <![endif]>                                                                                                                                     
The legendary Leeds United squad as it lined-up for the match:
Peter Lorimer (substitute) Scotland, Jack Charlton (5) England, Allan Clarke (8) England, Mick Jones (9) England,
Eddie Gray (11) Scotland, Paul Madeley (7) England, Terry Cooper (3) England, Norman Hunter (6) England,
Johnny Giles (10) Ireland, Paul Reaney (2) England, Gary Sprake (1) Wales, Billy Bremner (4) Scotland Captain.
<![if !vml]>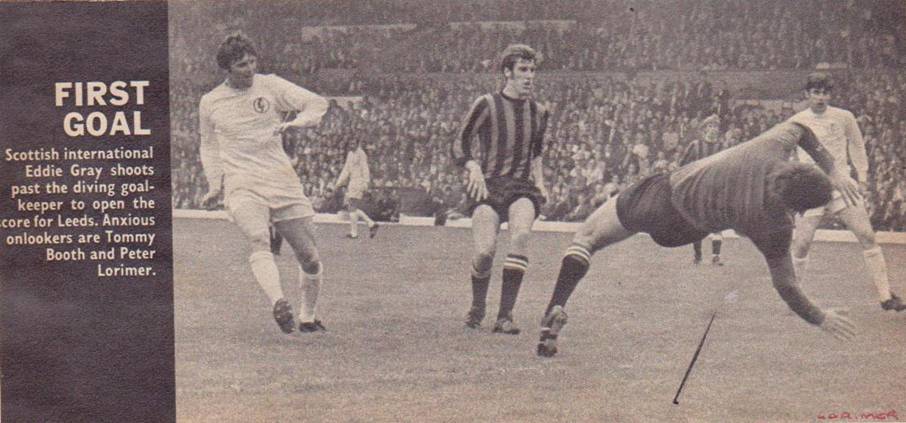 <![endif]>
<![if !vml]>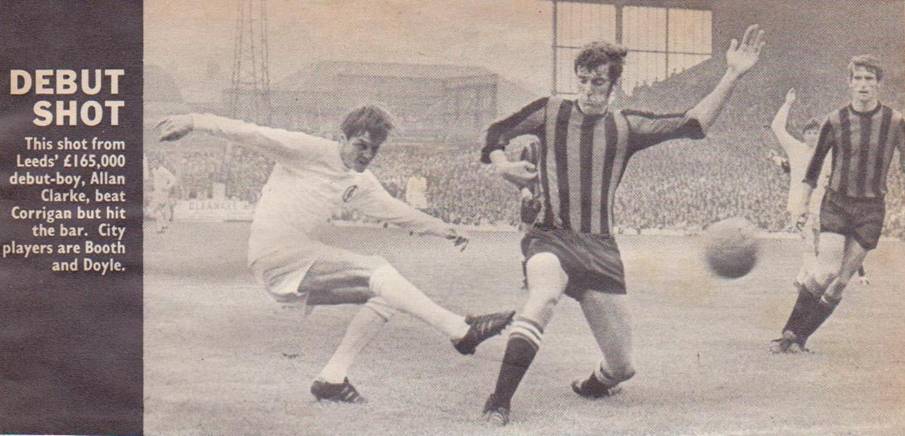 <![endif]>
<![if !vml]>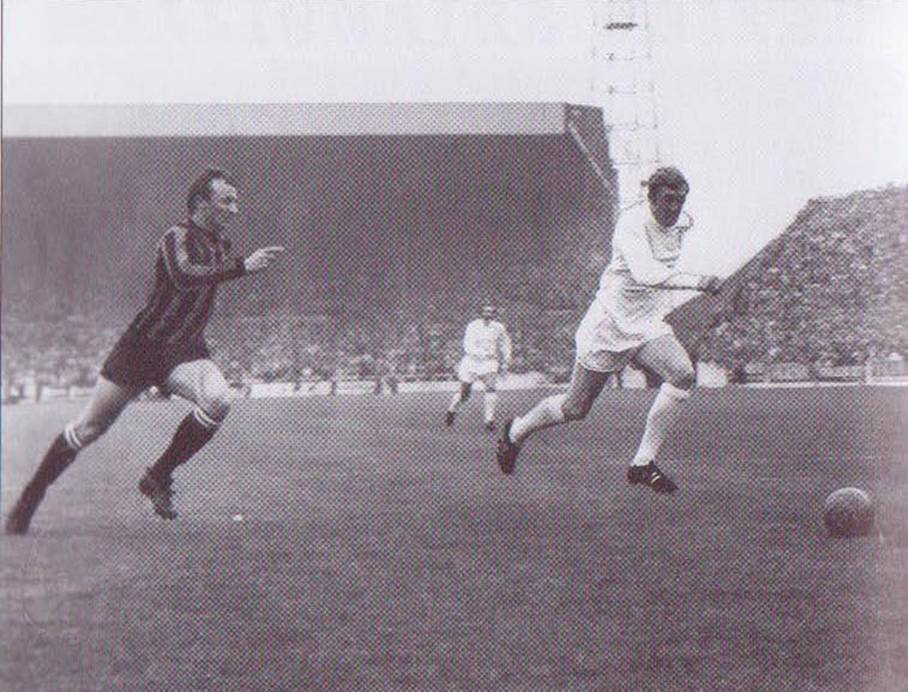 <![endif]>
Mick Jones beats Mike Summerbee to the ball.
<![if !vml]>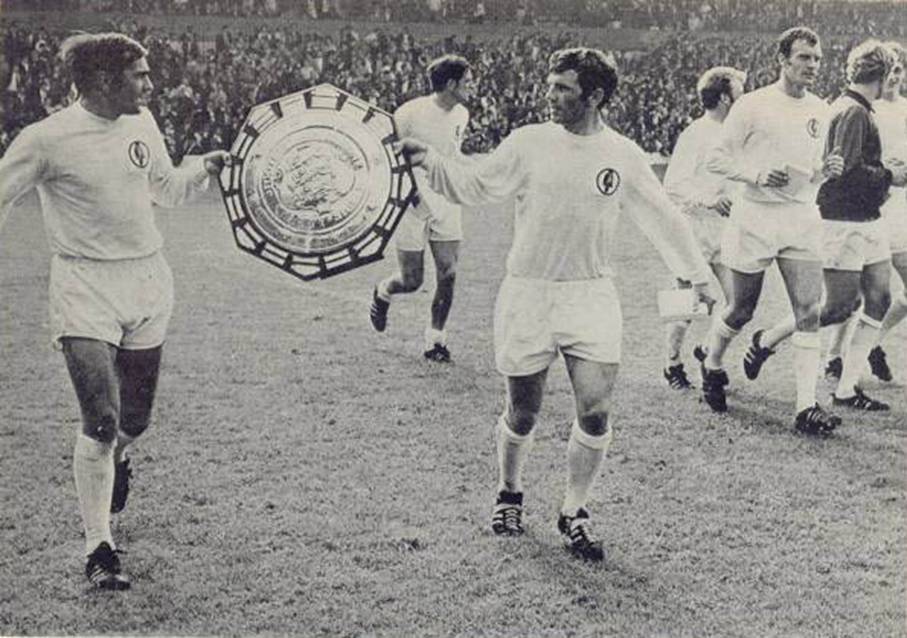 <![endif]>
Terry Cooper and Johnny Giles with the Charity Shield
<![if !vml]>
<![endif]>
Teams:
<![if !vml]>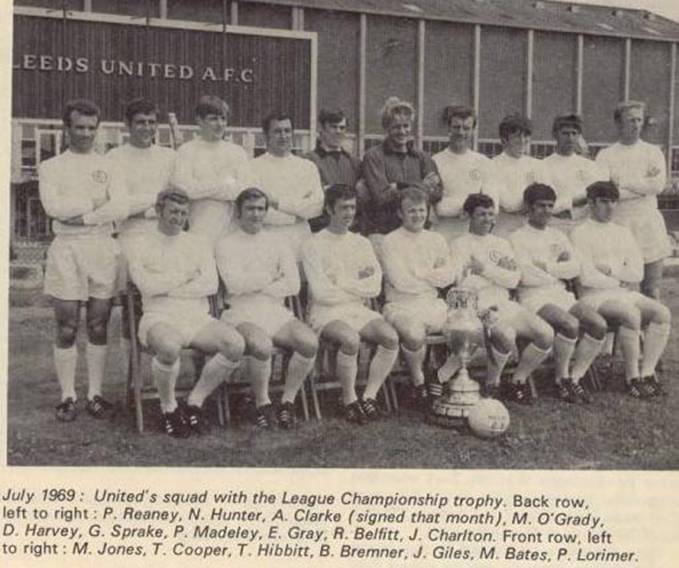 <![endif]>
<![if !vml]>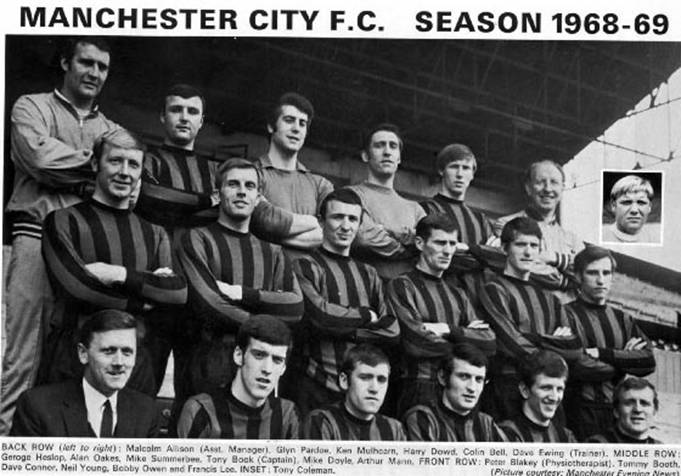 <![endif]>
Players:
<![if !vml]>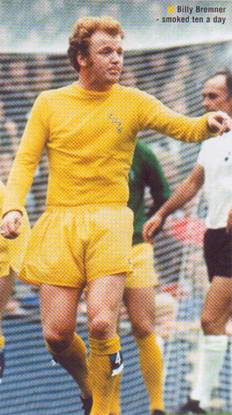 <![endif]> <![if !vml]>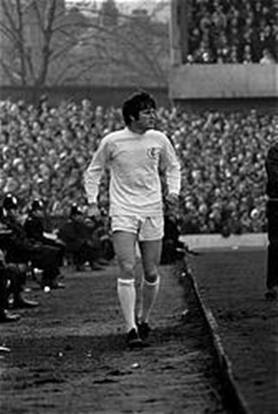 <![endif]>  <![if !vml]>
<![endif]>
'Smoking' Billy Bremner    Eddie Gray scored the first Leeds goal    Jack Charlton got the second Leeds goal