<![if !vml]>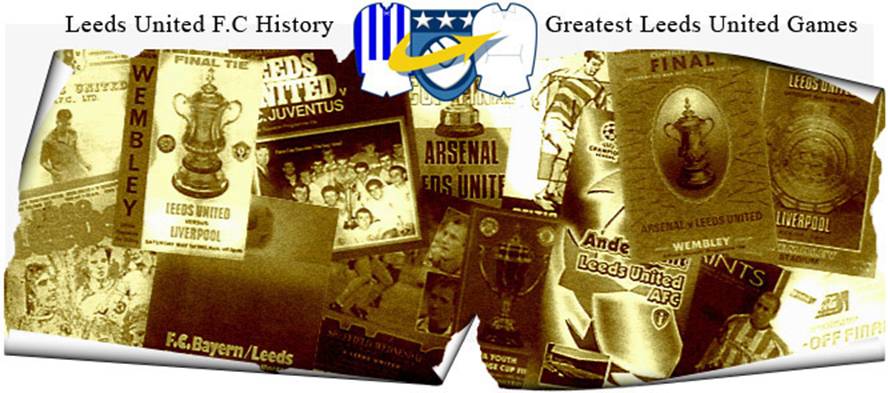 <![endif]>
Date: Wednesday, 5th March 2003.
Venue: Old Trafford, Manchester.
Competition: English Premier League.
Score: Manchester United 2 Leeds United 1
Scorers: Manchester United: Radebe (og), Silvestre. Leeds United: Viduka.
Attendance: 67,135.
Teams:
<![if !vml]>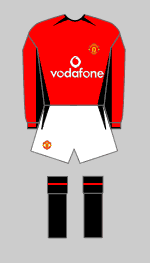 <![endif]> <![if !vml]>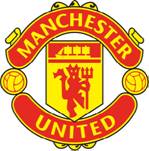 <![endif]>
Manchester United: Barthez; O'Shea, Ferdinand, Keane, Silvestre; Beckham, Butt, Veron (P. Neville), Fortune (Giggs); Scholes, Van Nistelrooy (G. Neville). Unused Subs: Fletcher, Carroll.
<![if !vml]>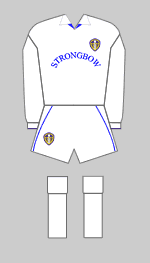 <![endif]><![if !vml]>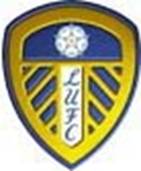 <![endif]>
Leeds United: Robinson; Mills, Lucic, Radebe, Harte; Barmby (Milner), Johnson, Okon, Bravo (McPhail); Viduka, Smith. Unused Subs: Cansdell-Sherriff, Kilgallon, Martyn.
Referee: Mr G. Poll (Tring, Hertfordshire).
<![if !vml]>

<![endif]>
An act of late night robbery cost Leeds United dear after they staged an heroic display at Old Trafford. Under-strength Leeds were denied a blatant penalty in the closing stages when Mark Viduka was clearly fouled by Nicky Butt, yet the Aussie was penalised for an alleged handball. Had a spot-kick been awarded the chance to equalise would have been no more than Leeds deserved, but referee Graham Poll bizarrely decided Mark Viduka was guilty of handling and the controversial decision condemned United to a harsh 2-1 defeat. The final score-line wasn't a true reflection on a game which saw Leeds dig deep into their resolve and come out fighting when the odds appeared to be stacked against them.
Blind optimism rules over reality whenever Leeds make the trip to Old Trafford, but the vociferous travelling support had every reason to feel proud of their heroes on the night. Terry Venables' side played above themselves. They scrapped and fought for every ball and, early in the second half, they tested Manchester United's resolve to the full. When Leeds upped the tempo the hosts looked vulnerable and, for all their pretty football, they didn't look too comfortable when they were forced into weathering a storm. Mark Viduka made £30 million buy Rio Ferdinand look distinctly average during the second half while Alan Smith and Nick Barmby ran their socks off as United exposed their hosts' shortcomings at the back.                                                                                                                                                                                           
Mark Viduka was simply outstanding for Leeds and he was rewarded for his efforts with a fine headed equaliser midway through the second half after a pinpoint free-kick from Ian Harte. The big Aussie gives Leeds an extra dimension and his ability to hold the ball up and allow others to play around him is something that is sorely missed when he isn't in the side. While Viduka supplied the polished finish there was plenty of effort around him and when Leeds finally discovered their belief, it took an early goal to spark them into life, they matched their hosts in every department.
Alan Smith snapped and snarled and Roy Keane, again playing at centre back, knew he had been in a game. In the middle of the park, Paul Okon showed some tremendous distribution skills and made a telling contribution. Okon's role had not always been appreciated by the supporters, but he played a number of high quality balls that set up vital attacks and showed there was more to his game than the simple holding role he is renowned for. Seth Johnson proved a good foil for Okon with his all-action approach and you got the feeling that the former Derby youngster would jump in front of a bus if he stood a chance of stopping it. Johnson's attitude epitomised the United spirit because as soon as they caught the sniff of taking something out of the game they battled for everything and gave their all to ensure Manchester United were made to work for everything.
According to the pundits this was a game Leeds might as well not have bothered turning up for because, no matter how long they stayed in the game, Sunday's FA Cup quarter-final clash with Sheffield United would prove too much of a distraction. Those same critics will have been laughing their socks off when the hosts went 1-0 up after twenty minutes and the calculators were already coming out. Paul Robinson did well to save from Nicky Butt at point-blank range, but the ball somehow came back off Lucas Radebe and trickled over the line.
That was the first piece of bad luck to hit Leeds, but after an early onslaught it was perhaps only to be expected that a goal would come sooner or later. It did look as though Leeds were paying a little too much respect to the beaten Worthington Cup finalists and that the players maybe believed they were there to make up the numbers. But the goal provoked a fantastic reaction and, after slowly coming back into the contest before half-time, Leeds showed their real fighting spirit after the break. For twenty minutes Leeds chipped away at their hosts before Mark Viduka's powerful header levelled the scores and gave United fans a glimmer of hope that the twenty-two-year wait for a victory at Old Trafford could come to an end.
The home side responded by playing some neat football, but Lucas Radebe and Teddy Lucic got better as the game wore on and it was difficult to see how the title challengers would force another goal. But there is a golden rule in football that you do not relax against Manchester United because you will get punished for a split-second lapse and Leeds paid the price. That vital moment came twelve minutes from time when the United defence were caught sleeping and Mikael Silvestre was awarded the freedom of the penalty area to head home David Beckham's quickly taken free-kick.
It was a costly mistake, but one which should have been rectified ten minutes later when Mark Viduka was clearly impeded in the area yet found himself adjudged to have handled the ball. It was a shocking decision by referee Poll, but one which shouldn't raise many eyebrows. After all, Manchester United have not had a Premiership penalty awarded against them at Old Trafford for three years. The actions of the referee soured what was almost a memorable night for Leeds, given the injury problems that have hit the club. The result still leaves United looking over their shoulders nervously at the relegation zone, but if they can maintain this level of performance they will have no problems whatsoever. Despite the defeat, the players received a standing ovation from the travelling fans at the whistle and quite rightly so.
<![if !vml]>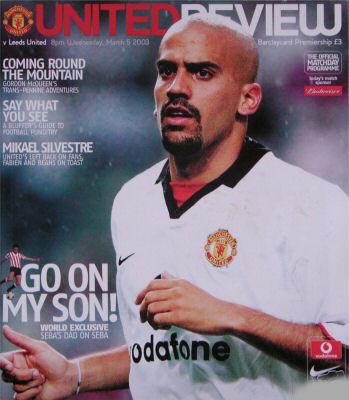 <![endif]>
Match Action:
<![if !vml]>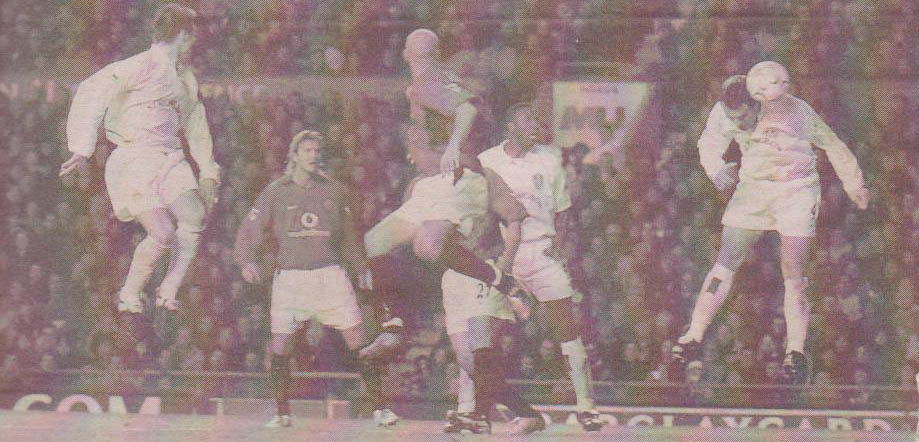 <![endif]> 
Mark Viduka rises to powerfully head the Leeds equaliser
<![if !vml]>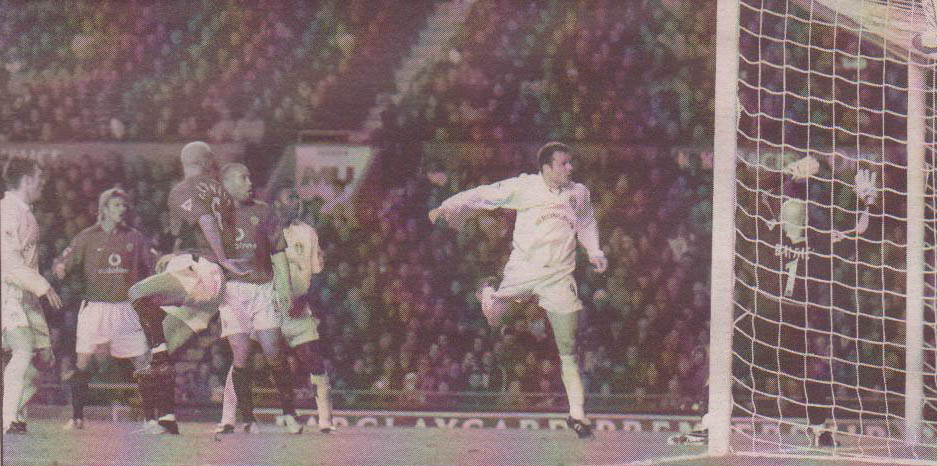 <![endif]>
Mark Viduka watches his powerful header nestle in the back of the net beating Fabien Barthez with ease
<![if !vml]>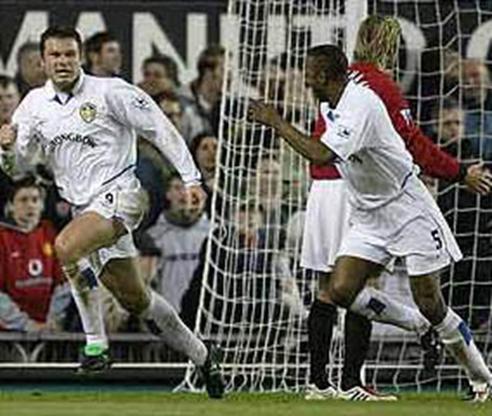 <![endif]>  <![if !vml]>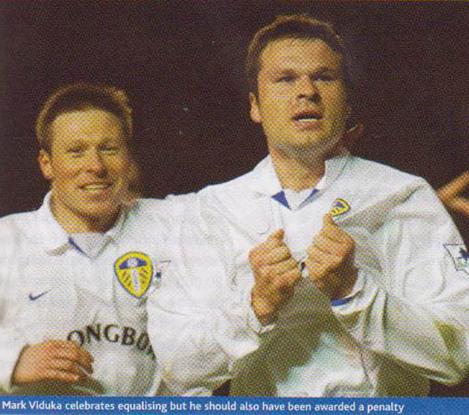 <![endif]>
Mark Viduka celebrates his goal as Lucas Radebe runs to congratulate him
<![if !vml]>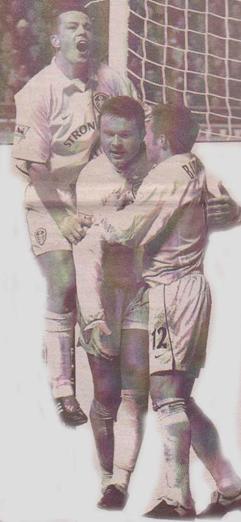 <![endif]>   <![if !vml]>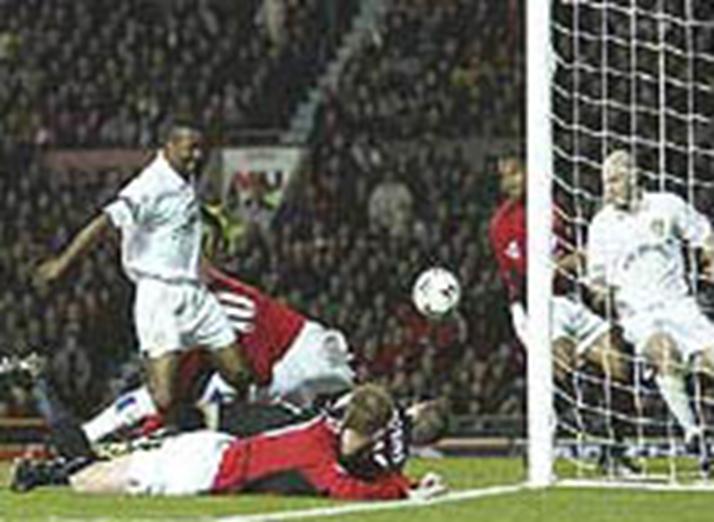 <![endif]> 
Mark Viduka is congratulated by          Lucas Radebe cannot get out of the way of Paul Robinson's parry and unluckily he concedes an own-goal
Ian Harte and Nick Barmby                                              
<![if !vml]>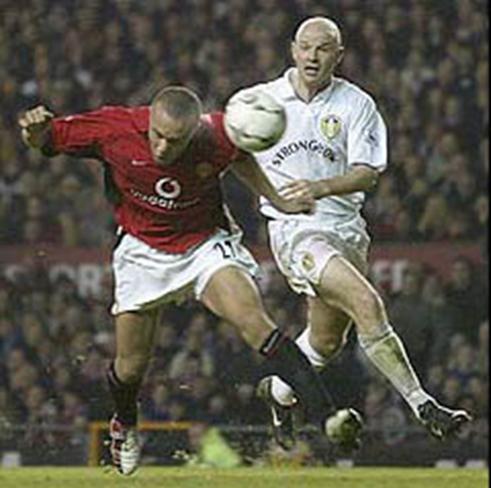 <![endif]>                     <![if !vml]>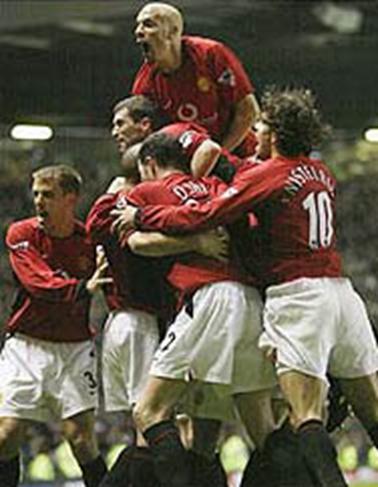 <![endif]>
Mikael Sylvestre heads the winner as Danny Mills is caught out of position                   Manchester United celebrate the winner
<![if !vml]>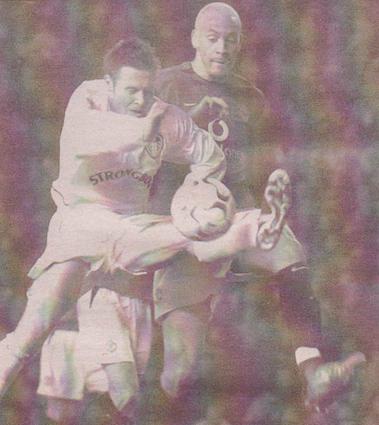 <![endif]>     <![if !vml]>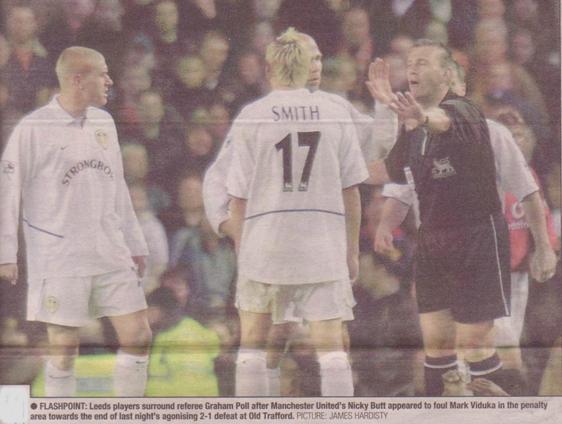 <![endif]> 
Nick Barmby beats Rio Ferdinand to the ball    
<![if !vml]>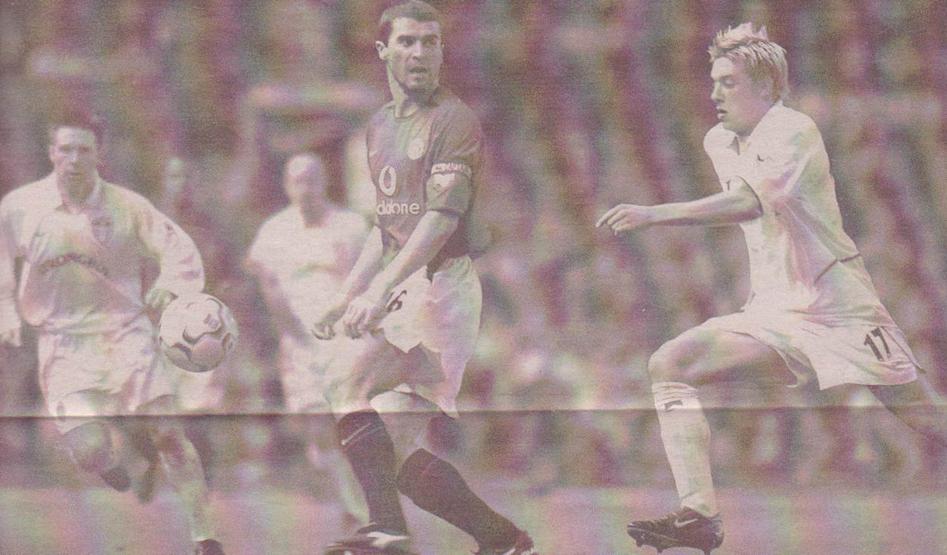 <![endif]> 
Roy Keane looks wary at the presence of Alan Smith with Nick Barmby also moving in                       
<![if !vml]>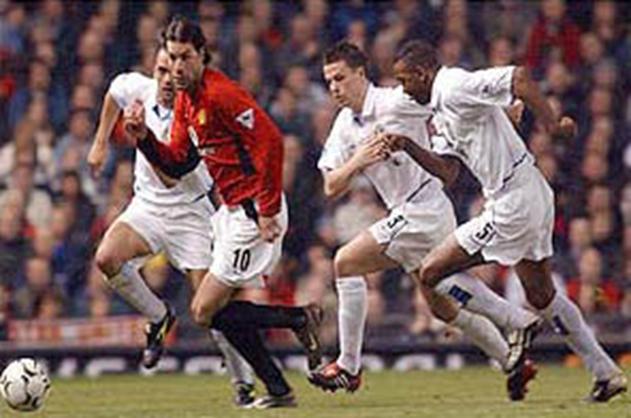 <![endif]> <![if !vml]>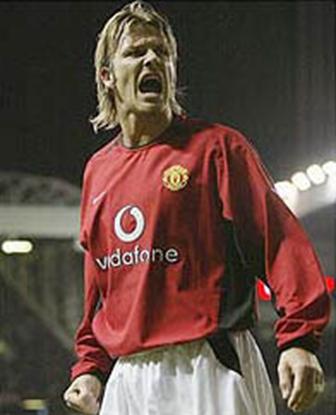 <![endif]>
Ruud Van Nistelrooy tries to make progress with Raul Bravo,                                                           David Beckham celebrates the first goal
Ian Harte and Lucas Radebe in pursuit
<![if !vml]>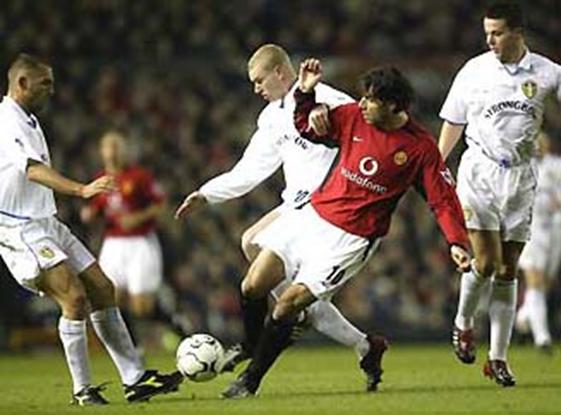 <![endif]>         <![if !vml]>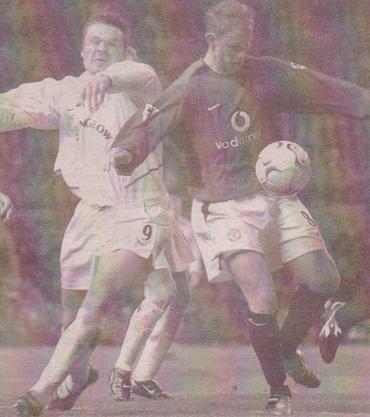 <![endif]>
Raul Bravo, Seth Johnson and Ian Harte combine to dispossess Ruud Van Nistelrooy        Mark Viduka lets Nicky Butt know he is around
Players:
<![if !vml]>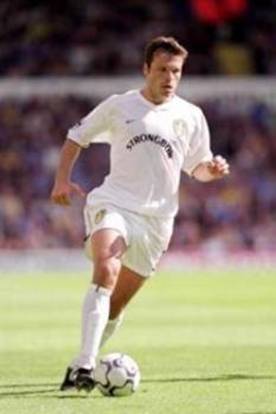 <![endif]>       <![if !vml]>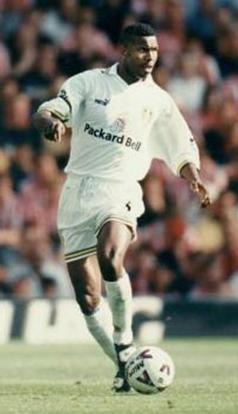 <![endif]>       <![if !vml]>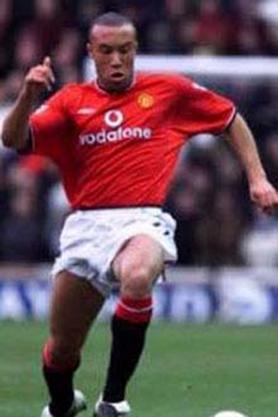 <![endif]> 
Mark Viduka equalised an own goal from Lucas Radebe, but Mikael Silvestre headed the winner                     
<![if !vml]>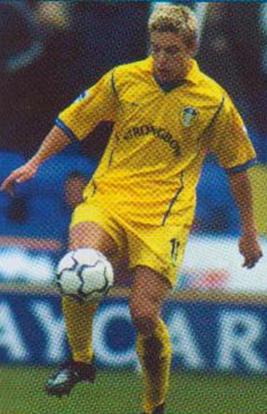 <![endif]> <![if !vml]>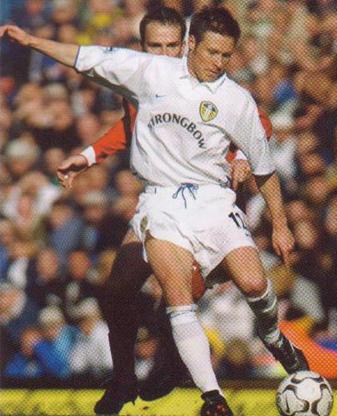 <![endif]>                 <![if !vml]>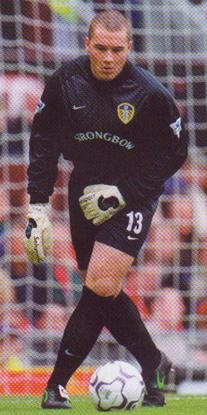 <![endif]>
Alan Smith and Nick Barmby ran their socks off. Paul Robinson was unlucky to concede an own-goal after a great save
<![if !vml]>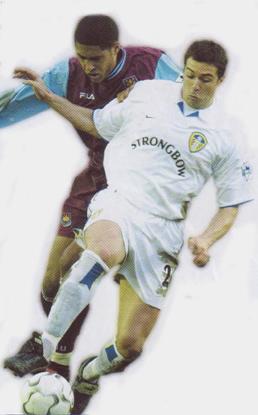 <![endif]>  <![if !vml]>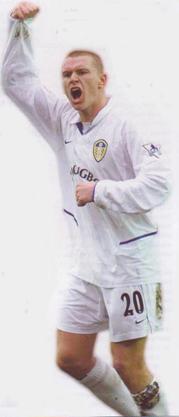 <![endif]>            <![if !vml]>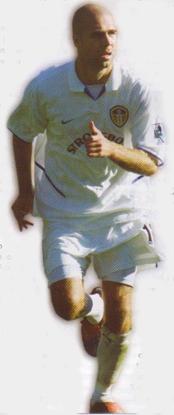 <![endif]>            <![if !vml]>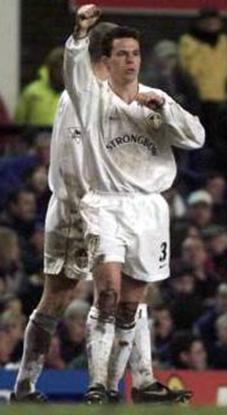 <![endif]>
Paul Okon made a telling contribution helped by Seth Johnson                      Teddy Lucic got better                 Ian Harte's pinpoint free-kick
                                                                                                                             as the game wore on                     brought the Leeds goal
<![if !vml]>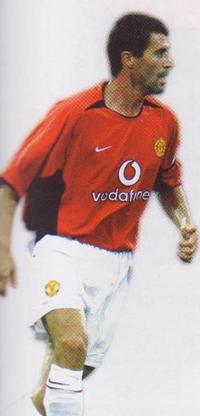 <![endif]>   <![if !vml]>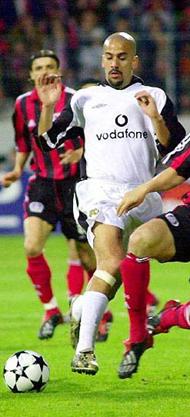 <![endif]>   <![if !vml]>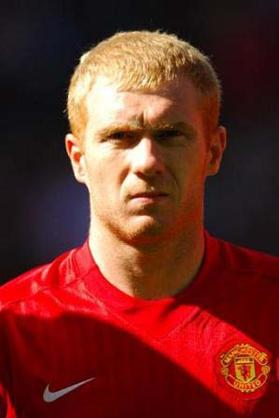 <![endif]>     <![if !vml]>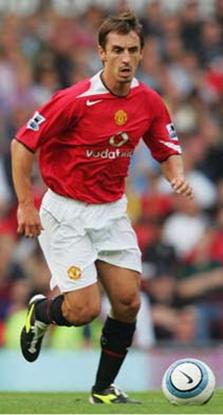 <![endif]>
Manchester's big guns Roy Keane, Juan Sebastian Veron and Paul Scholes were back and Gary Neville came on as a substitute
<![if !vml]>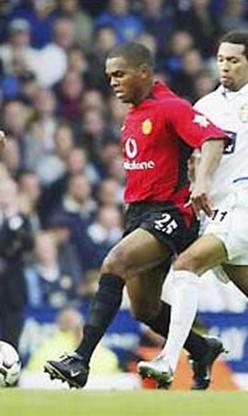 <![endif]>                       <![if !vml]>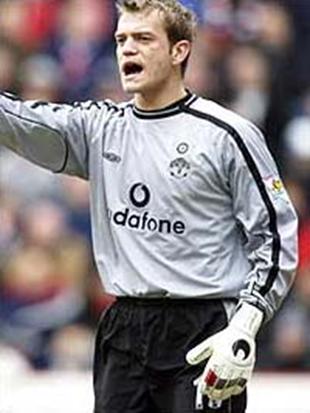 <![endif]> <![if !vml]>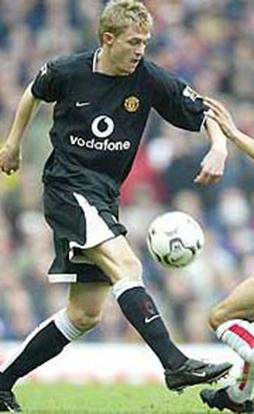 <![endif]>
Quinton Fortune started                                             Roy Carroll and Darren Fletcher were unused substitutes