<![if !vml]>
<![endif]>
Date: Saturday, 5th May 1990.
Venue: Dean Court, Bournemouth.
Competition: Second Division.
Score: Bournemouth 0 Leeds United 1
Scorers: Bournemouth Nil. Leeds United: Chapman.
Attendance: 9,918.
Teams:
<![if !vml]>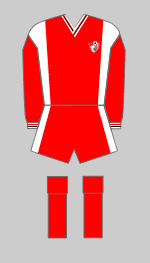 <![endif]> <![if !vml]>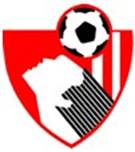 <![endif]>
Bournemouth: Peyton; Bond, Coleman; Shearer, Miller, Peacock (Cadette); O'Driscoll, Brooks, Aylott, Lawrence, Blissett.
<![if !vml]>
<![endif]><![if !vml]>
<![endif]>
Leeds United: Day; Sterland, Beglin; Jones, Fairclough, Haddock; Strachan, Kamara, Chapman, Davison (Shutt, Batty), Speed.
Referee: R.Gifford (Mid-Glamorgan).
There are days to remember and days to forget for all football supporters, and few Leeds United fans will ever lose the memory of 5th May 1990.
<![if !supportLineBreakNewLine]>
<![endif]>
It's a date that is etched into the history books for all manner of reasons, not least because the ninety degree heat of the Bank Holiday weekend made for the highest temperature ever recorded in the fifth month of the year.
<![if !supportLineBreakNewLine]>
<![endif]>
It was also the date that Millwall's only stay in the top-fight came to an end while, at the other end of the country, Middlesbrough were only spared relegation to the third tier of the English game after beating close rivals Newcastle 4-1 at Ayresome Park. In the west country, the pair of Bristols were rejoicing after they both won promotion to the Second Division and, elsewhere, Liverpool were celebrating their fifth trophy in as many seasons under the guidance of Kenny Dalglish. But all those historical facts matter little if you are a Leeds United supporter. For, the weekend of May 5th, is remembered as the day that Leeds United re-joined the footballing elite.
<![if !supportLineBreakNewLine]>
<![endif]>
The trip to the south coast was the culmination of a season that had seen Leeds lead the way in the race for promotion from the Second Ddivision. United had recovered from a 5-2 opening day thrashing at Newcastle to overhaul the Geordies as early pace setters, and Howard Wilkinson's side had staved off the challenge of Sheffield United to ensure that they held the key to their own destiny at Bournemouth. A win would secure the title and promotion, anything else would leave it all wide open.
<![if !supportLineBreakNewLine]>
<![endif]>
Thousands of Leeds fans headed for Dorset on the Friday evening and by Saturday lunchtime there was an estimated 5,000 basking in the heat in Bournemouth. Back home, thousands more headed for Roundhay's Astoria Ballroom, the Colosseum on Cookridge Street, Leeds University's Refectory, and Armley Sports Centre, to watch the game live on a TV beam-back. If the atmosphere was hot inside the screening venues, then it was tense at Dean Court. Pre-match disturbances had added to the tension and with just one thousand seven hundred Leeds fans inside the ground, you could almost taste the anxiety. When the crunch came, United stood their ground and answered the challenge in a truly professional way. Ten months of planning preparation and sheer hard work was encapsulated in this final ninety minutes and that summed how crucial this game at Dean Court was.
<![if !supportLineBreakNewLine]>
<![endif]>
Bournemouth were a point ahead of closest rivals Middlesbrough, who were entertaining promotion outsiders Newcastle, and their own Second Division status was at stake, but all the hype centred around Leeds and whether they could end their exile. What followed was a nervous, edgy game. Leeds had the better of the contest, but the scores remained goalless at half-time. With Boro already crushing Newcastle, a point would have been enough to secure promotion, but Sheffield United's early goals at Leicester put them in command in the title race.
<![if !supportLineBreakNewLine]>
<![endif]>
Then, shortly before , it happened. Chris Kamara whipped over a cross and Lee Chapman headed beyond the reach of Bournemouth goalkeeper Gerry Peyton. It was over. There were forty-one minutes of the contest remaining, but the hosts sank to their knees. Their fate had been sealed. They knew it and Leeds knew it. The crescendo of noise from the away section grew louder and louder, as the final rites were played out and when referee Roger Gifford blew the final whistle, the hordes from Yorkshire moved onto the pitch to celebrate.
<![if !supportLineBreakNewLine]>
<![endif]>
The Leeds players appeared briefly in the stand to salute the supporters before heading to the dressing room for a champagne frenzy ahead of the trip home. While the party continued all the way back to Yorkshire, many more headed to the town's beach to toast the win on the south coast and, after eight years of waiting, Leeds were finally back in the big time.
It had been a long haul and very taxing on the players and thirty-four-year-old captain Gordon Strachan, who had played all forty-six League games, was glad when it was all over and promotion had been achieved. He Commented. "Having so many games to get through takes a heavy toll both mentally and physically. I have picked up twelve or thirteen medals in my career but I can honestly say that none have been harder to win than this Division Two medal."
<![if !vml]>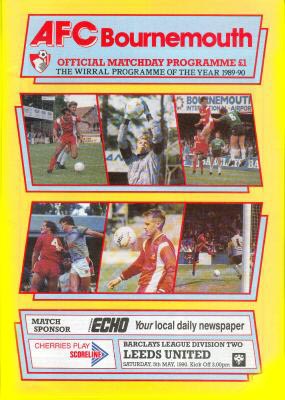 <![endif]>
Match Action:
<![if !vml]>
<![endif]>
Lee Chapman heads the winner
Teams:
<![if !vml]>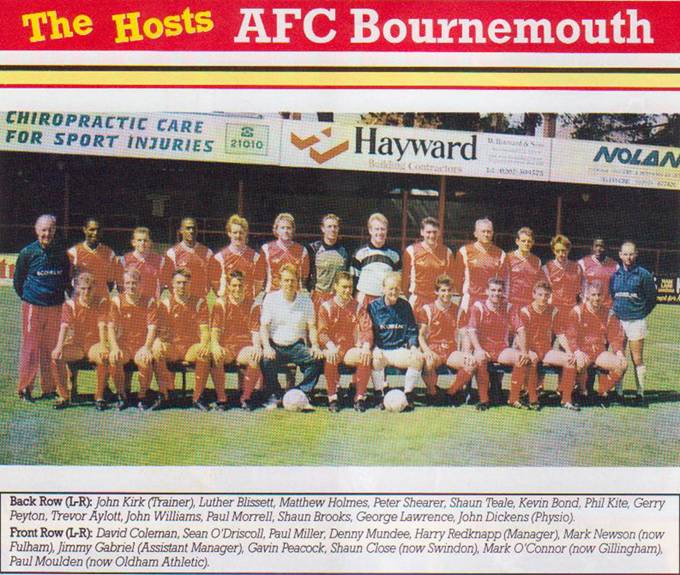 <![endif]>
<![if !vml]>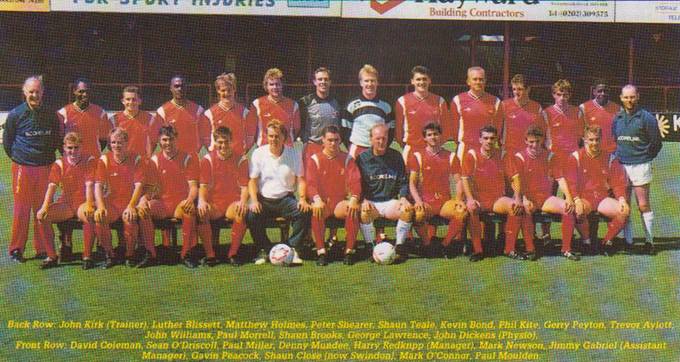 <![endif]>
<![if !vml]>
<![endif]>
Leeds United: 1989-90: Second Division Champions
Back Row: Alan Sutton (Physio), Mervyn Day, Peter Haddock, Bobby Davison, Andy Williams,
Chris Fairclough, Mike Whitlow, Jim Beglin, John McClelland, Carl Shutt, John Pearson,
Mel Sterland, Chris Kamara, Vinnie Jones, Lee Chapman.
Front Row: John Hendrie, Dylan Kerr, Imre Varadi, Howard Wilkinson (Manager, Glynn Snodin,
Gordon Strachan, Gary Speed, David Batty.
Players:
<![if !vml]>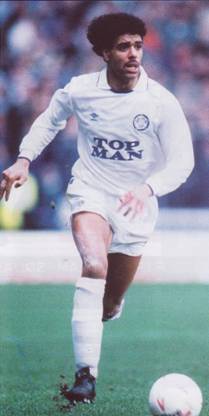 <![endif]> <![if !vml]>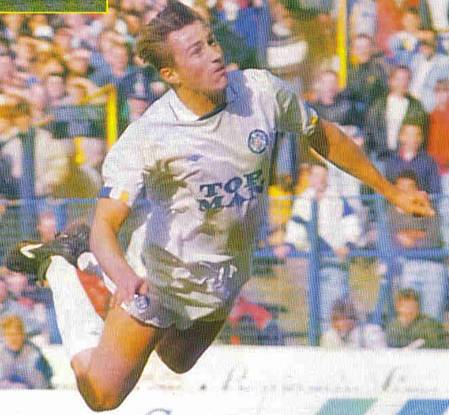 <![endif]> <![if !vml]>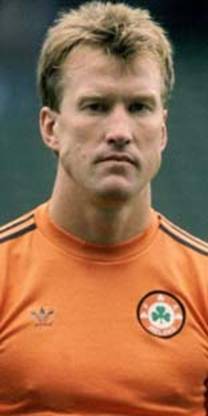 <![endif]>
Chris Kamara put in the cross, Lee Chapman got in the header and Gerry Peyton could not stop the winning goal for Leeds
The Leeds team was:
<![if !vml]>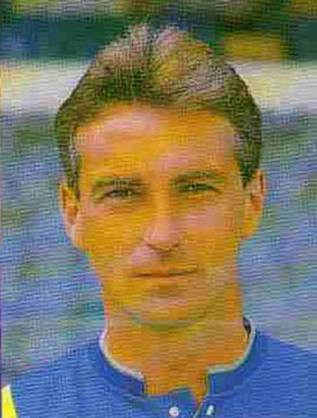 <![endif]>                <![if !vml]>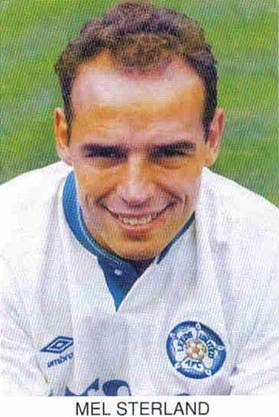 <![endif]> <![if !vml]>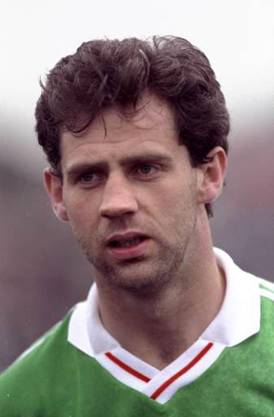 <![endif]>
Goalkeeper: Mervyn Day                                                     Full Backs: Mel Sterland and Jim Beglin
<![if !vml]>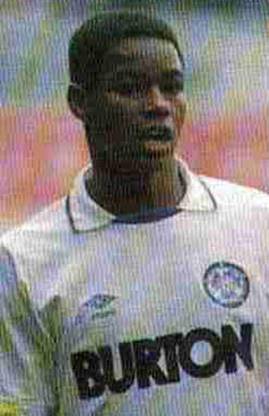 <![endif]> <![if !vml]>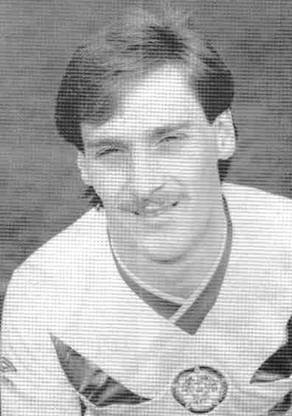 <![endif]>  <![if !vml]>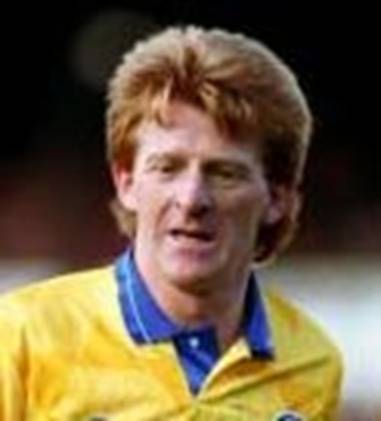 <![endif]> 
 Central Defence:  Chris Fairclough and Peter Haddock                                                    Midfield: Gordon Strachan,
<![if !vml]>
<![endif]> <![if !vml]>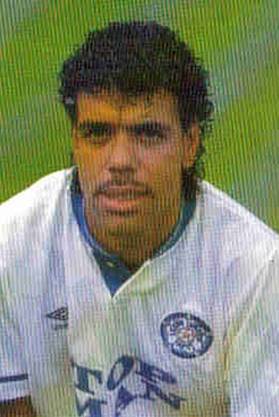 <![endif]> <![if !vml]>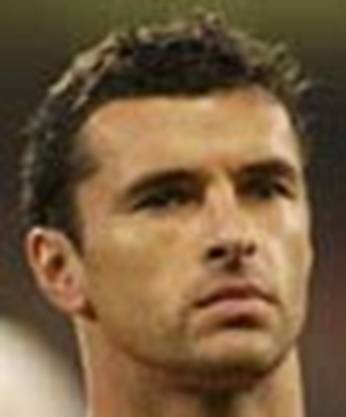 <![endif]>
                                                    Vinnie Jones, Chris Kamara and Gary Speed
<![if !vml]>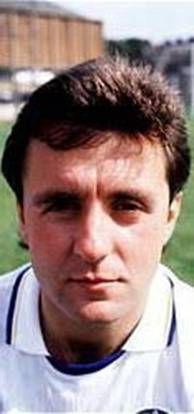 <![endif]> <![if !vml]>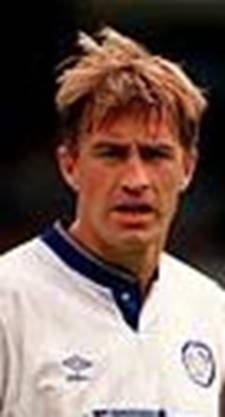 <![endif]>   <![if !vml]>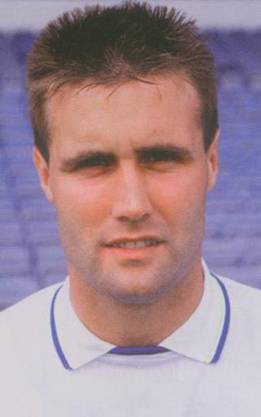 <![endif]> <![if !vml]>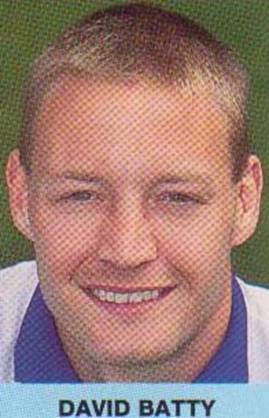 <![endif]>
                      Strikers: Bobby Davison and Lee Chapman                                Substitutes: Carl Shutt and David Batty