<![if !vml]>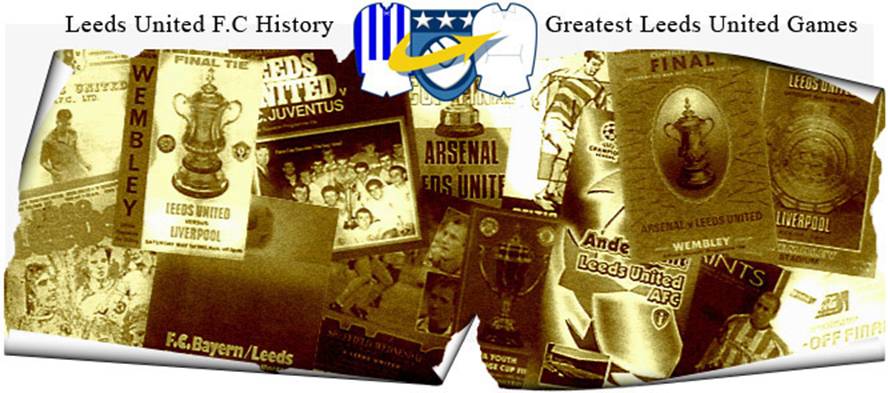 <![endif]>
Date: Friday, 9th October 1992.
Venue: Nou Camp Stadium, Barcelona, Spain.
Competition: European Cup First Round Replay.
Score: Leeds United 2 VfB Stuttgart 1
Scorers: Leeds United: Strachan, Shutt. VfB Stuttgart: Golke.
Attendance: 7,400.
Teams:
<![if !vml]>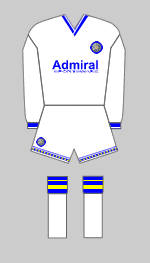 <![endif]><![if !vml]>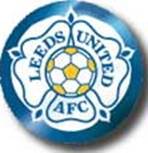 <![endif]>
Leeds United: Lukic; Newsome, Dorigo; Batty, Fairclough, Whyte; Strachan (Rocastle), Cantona (Shutt), Chapman, McAllister, Speed.
<![if !vml]>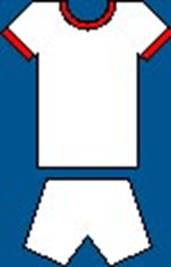 <![endif]> <![if !vml]>
<![endif]>
VfB Stuttgart: Immel; Schafer, Frontzeck; Dubajic, Strunz (Strehmel), Buchwald; Buck, Sverrisson (Knup), Walter, Golke, Kogel.
Referee: Fabio Baldas (Italy).
After the incredible fight back by Leeds at Elland Road no one realized that there had been an anomaly by the German coach in the use of his foreign players as substitutes. It emerged that Stuttgart had breached the tournament rules by using four 'foreign' players, rather than the three allowed. UEFA awarded the game to United 3-0 which left the clubs level on aggregate at 3-3 and decreed that a play-off game should take place in Barcelona.
Now having a second chance, United were no going to pass it up easily, and the lined up in an almost empty Nou Camp Stadium in Barcelona in front of an estimated 10,000 crowd in a 120,000 capacity stadium. The game was played in an eerie atmosphere with United's travelling support situated in a small section of the upper tier of one stand.
Jon Newsome had recovered from injury and returned at right-back with David Batty reverting to his usual midfield role.
Super-sub Carl Shutt fired himself into Leeds United folklore with the winning goal against Stuttgart at the Nou Camp. Extra-time was looming when Shutt, thirty-one years old the previous Saturday, came off the bench to earn United a birthday bonus. Only seven thousand four hundred were in Barcelona's vast Nou Camp bowl to see United triumph 2-1. Most were curious local school children, who had been let in free, but an estimated two thousand five hundred Leeds fans were present in Catalonia. This was remarkable considering that the match was arranged at such short notice. As UEFA had ruled the tie to be a category A match, the same reason why they had trimmed the capacity at Elland Road, saw thousands of Spanish police and Barcelona officials on duty to oversee just a handful of fans.
In a controlled opening United seized the initiative with a cracking twenty-five yard effort from skipper Gordon Strachan. United's lead only lasted seven minutes, as Stuttgart midfielder Andre Golke headed home Alexander Strehmel's low centre and the match remained deadlocked until fifteen minutes from time when Howard Wilkinson made an inspired substitution. Carl Shutt replaced the ineffectual Eric Cantona and within sixty seconds he was back defending a corner. It was Shutt that charged down Andreas Buck's attempted cross and headed the ball to Tony Dorigo and moved up in support, racing towards the Stuttgart goal. The Australian full-back played the ball into space ahead of the on-rushing Shutt who controlled it before gliding past Gunther Shaefer and firing home an angled drive to claim the winner on a glorious night for Leeds United. Carl Shutt remembered the occasion well. "It was a great night," he said. "There weren't many fans but they made a lot of noise and it was great to reward them." The stunning victory set up "The Battle of Britain" against Glasgow Rangers, who were hailed as one of the best-ever sides to come out of Scotland.
<![if !vml]>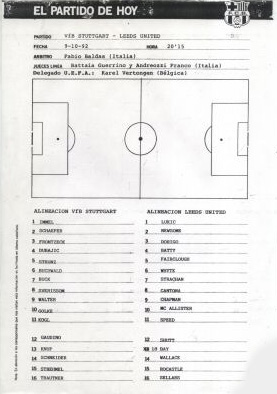 <![endif]> <![if !vml]>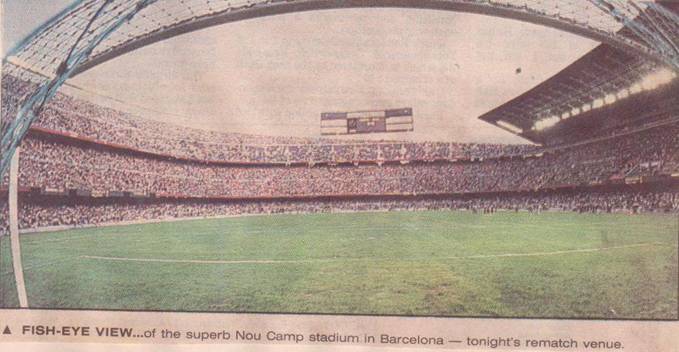 <![endif]>
Match Action:
<![if !vml]>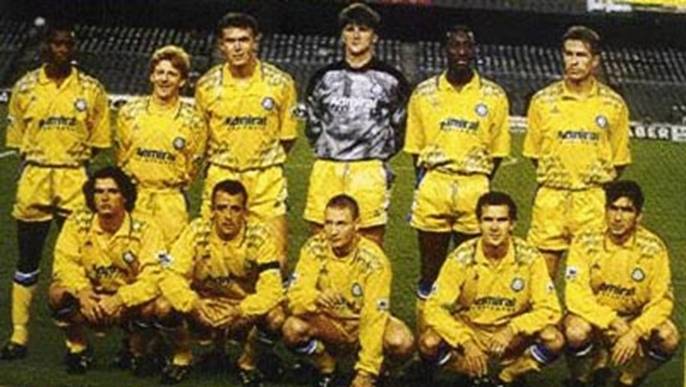 <![endif]>
Leeds United Team that started the game against VfB Stuttgart at the Nou Camp Barcelona
Back Row: Chris Fairclough, Gordon Strachan, Jon Newsome, John Lukic, Chris Whyte, Lee Chapman.
Front Row: Gary Speed, Gary McAllister, David Batty, Tony Dorigo, Eric Cantona.
<![if !vml]>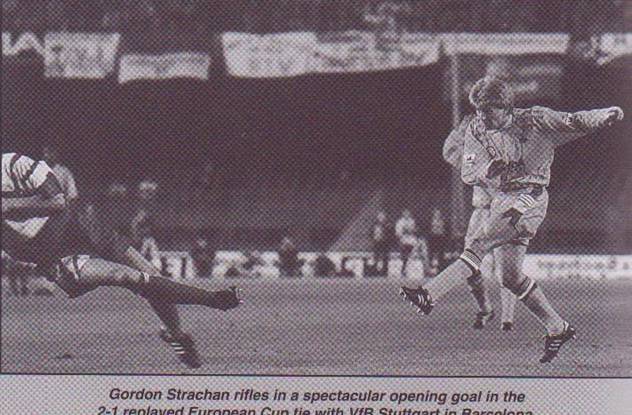 <![endif]>             <![if !vml]>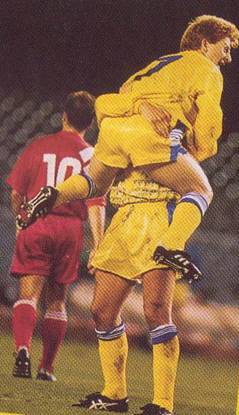 <![endif]>
                                                                                                                                                                            Gordon Strachan celebrates his goal
<![if !vml]>
<![endif]> 
<![if !vml]>
<![endif]>
Gordon Strachan jumps for joy after his goal surrounded by team-mates Eric Cantona, Gary McAllister, Gary Speed, David Batty and Tony Dorigo
<![if !vml]>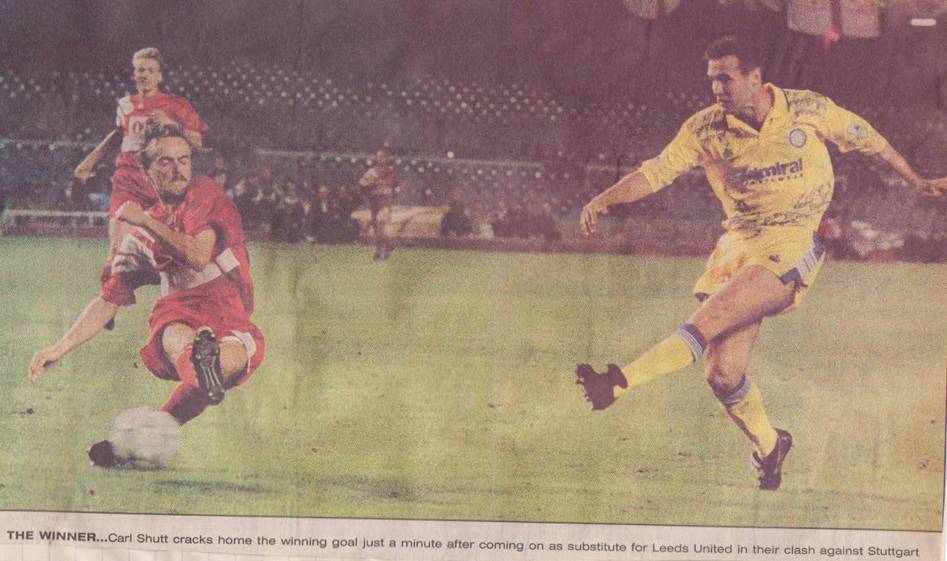 <![endif]> 
<![if !vml]>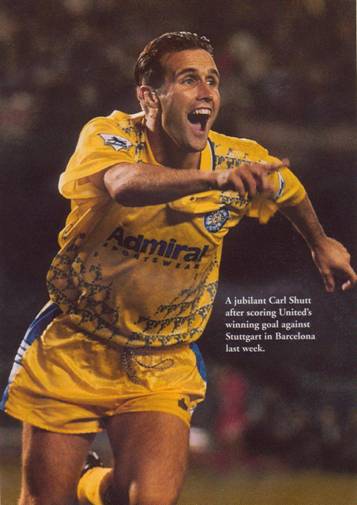 <![endif]>    <![if !vml]>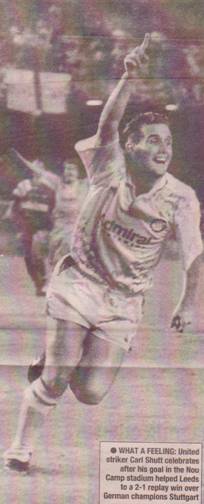 <![endif]>     <![if !vml]>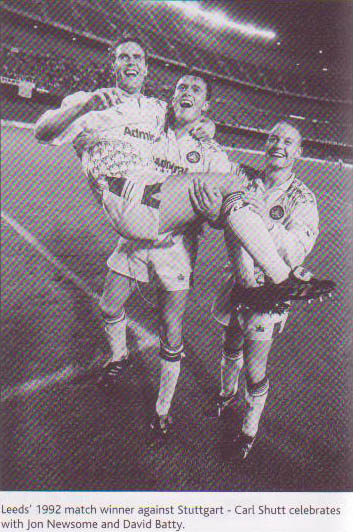 <![endif]>     
<![if !vml]>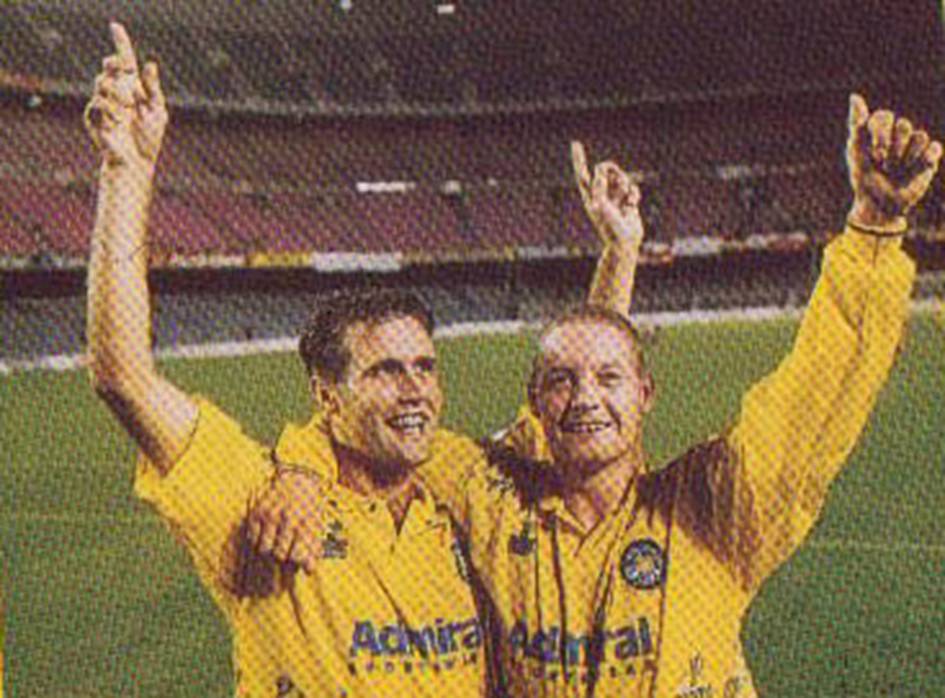 <![endif]>
Carl Shutt and David Batty celebrate at the Nou Camp
<![if !vml]>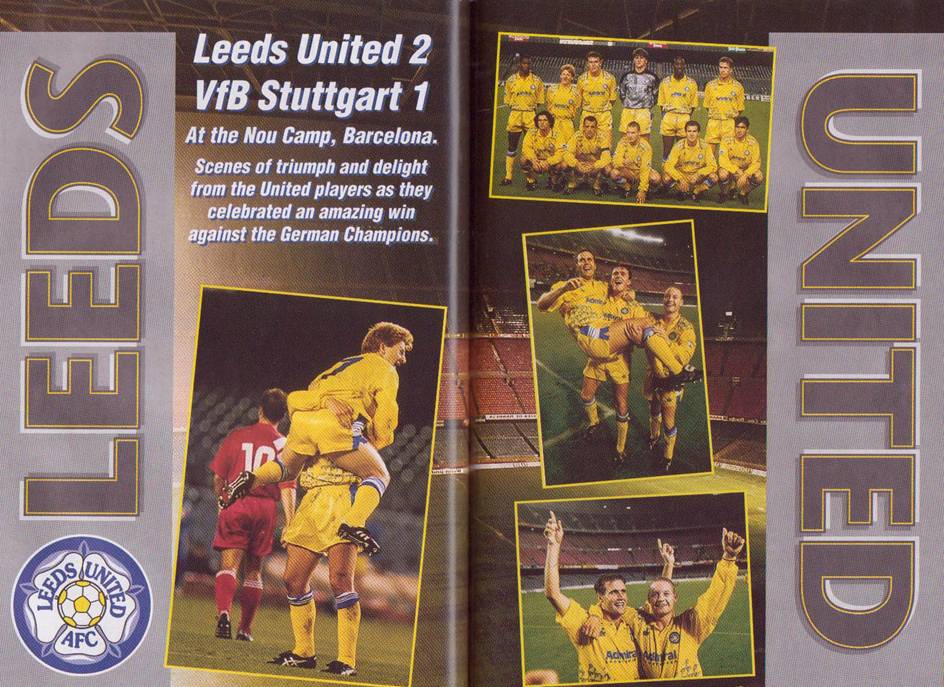 <![endif]>
Teams:
<![if !vml]>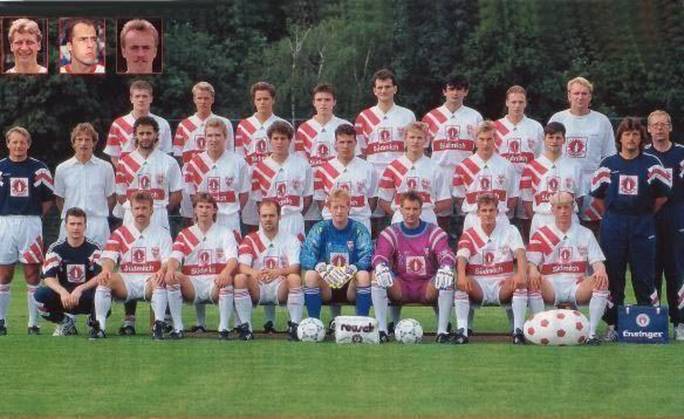 <![endif]>
VfB Stuttgart 1992-93:
Inset: Guido Buchwald, Michael Frontzeck, Günther Schäfer.
Back Row: Thomas Strunz, Eyjölfur Sverrisson, Thomas Schneider, Markus Beierle, Jovica Simanic,  
Slobodan Dubajic, Uwe Schneider, (Assistant Coach).
Middle Row: Lorenz-Günther Köstner (Assistant Coach), Christoph Daum (Coach), Maurizio Gaudino,
Adrian Knup, Marc Kienle, Jochen Endress, Harald Preuss, Alexander Strehmel, Oliver Otto,  
Gerhard Wörn (Physio), Jochen Seitz (Kit Manager).
Front Row: (Assistant Coach), Fritz Walter, Ludwig Kögl, Andre Golke, Eberhard Trautner, Eike Immel,
Andreas Buck, Marcus Ziegler.
<![if !vml]>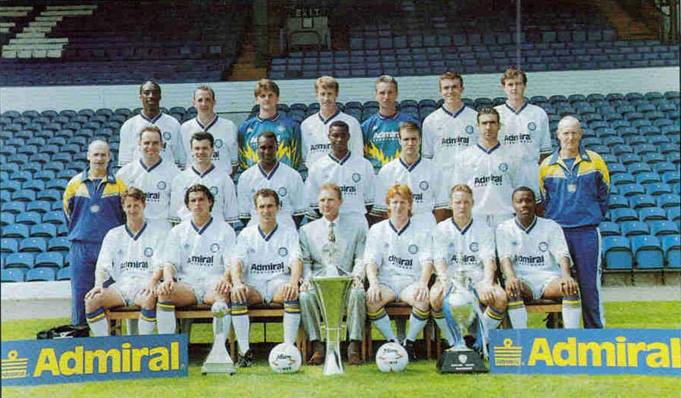 <![endif]>
Leeds United 1992-93:  with 1991-92 League Championship Trophy
Back Row: Chris Whyte, Gary McAllister, John Lukic, Lee Chapman, Mervyn Day, Jon Newsome,
David Wetherall.
Middle Row: Alan Sutton (Physio), Mel Sterland, Steve Hodge, David Rocastle, Chris Fairclough,
Carl Shutt, Eric Cantona, Mick Hennigan (Coach).
Front Row: Scott Sellars, Gary Speed, Tony Dorigo, Howard Wilkinson (Manager), Gordon Strachan,
David Batty, Rod Wallace.
Players:
<![if !vml]>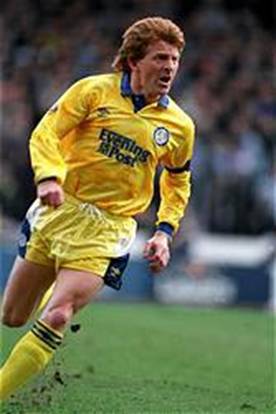 <![endif]> <![if !vml]>
<![endif]>   <![if !vml]>
<![endif]>
Gordon Strachan and Substitute Carl Shutt scored the Leeds goals                                          Eric Cantona made way for Carl Shutt
<![if !vml]>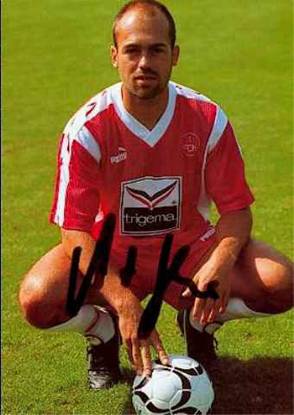 <![endif]>   <![if !vml]>
<![endif]>
 Andre Golke headed VfB Stuttgart's goal       Alexander Strehmel provided the cross
<![if !vml]>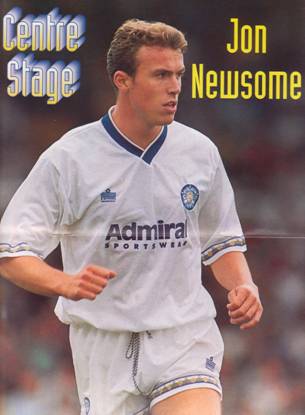 <![endif]> <![if !vml]>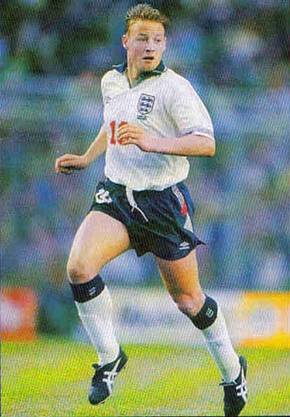 <![endif]> 
 The return of Jon Newsome in defence allowed David Batty to go back into midfield