<![if !vml]>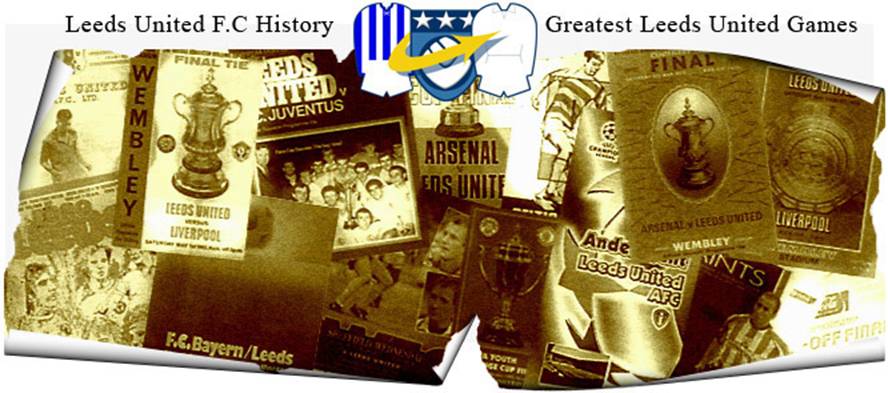 <![endif]>
Date: Thursday, 9th December 1999.
Venue: Elland Road, Leeds.
Competition: UEFA Cup, Third Round, Second Leg.
Score: Leeds United 1 Spartak Moscow 0.
Scorers: Leeds United: Radebe. Spartak Moscow: Nil.
Attendance: 35,732.
Teams:
<![if !vml]>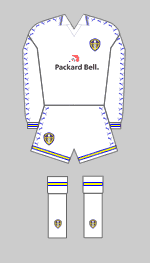 <![endif]><![if !vml]>
<![endif]>
Leeds United: Martyn; Kelly, Woodgate, Radebe, Harte; Bakke, Bowyer, McPhail, Kewell; Bridges, Smith (Huckerby). Unused Subs: Haaland, Hiden, Mills, Jones, Duberry, Robinson.                            
<![if !vml]>
<![endif]><![if !vml]>
<![endif]>
Spartak Moscow: Filimonov (Smetanin); Khlestov, Bouschmanov, Evseev, Parfianov; Baranov, Bulatov, Tikhonov, Titov; Robson, Schirko. Unused Subs: Ananko, Ketchinov, Peniche, Meleschin, Mor, Bezrodnyi.
Referee: Antonio Lopez-Nieto (Spain).
Captain Lucas Radebe sparked wild celebrations when he gave United the lead just six minutes before the final whistle with a fine header from a beautifully delivered Stephen McPhail corner to settle a tie that produced some fine football and could have gone either way. That it went to Leeds was a testimony to the fantastic progress that the young Leeds team had made in that record breaking season and a tribute to the never say die attitude which brought another victory right at the death when it seemed that the lights were just about to go out on their European campaign. The win was by the finest of margins with Harry Kewell's goal in Sofia taking United through on the away goal rule after the scores were locked in a 2-2 aggregate.
United had waited until the last possible minute before ruling out David Batty whose Achilles tendon problem was not up to the rigours of such an important match and Eirik Bakke continued in midfield. Spartak made the early running to get that vital away goal and Victor Bulatov gave Leeds a scare with some good work down the left flank and Alexandr Schirko got in the first shot of the match which flew past Nigel Martyn's left hand post. Alan Smith got a little too physical and got a yellow card as early as the sixth minute. Two minutes later Victor Bulatov won a corner and from it United had a big escape as it found the unmarked Luis Robson, but he shot straight at Nigel Martyn. Michael Bridges scuffed his shot at the other end before Spartak won another corner in the eleventh minute and another fine chance was missed by Victor Bulatov who blasted high over the bar.
The Russians were starting to get on top but Alan Smith ballooned a chance at the other end. Then Harry Kewell tried his luck from thirty yards but it skidded past a post, while Jonathan Woodgate came to United's rescue with a timely header to stop Luis Robson getting on the end of a Victor Bulatov cross. After twenty-two minutes Michael Bridges hit a post from an Ian Harte free-kick, which was followed quickly by another shot from the striker which went just over as United got back into the game. A blazing drive from Harry Kewell brought Alexandr Filimonov to his knees and moments later the keeper was in trouble and had to be stretchered off. His replacement Andrei Smetanin was soon in the thick of the action as United pressed and Lee Bowyer's header from an Ian Harte free-kick was only marginally too high, While Egor Titov's excellent curling shot went tantilisingly close to the United post as Spartak retaliated.
The game was still goal-less at half-time but United signalled their intention on the restart when a superbly flighted ball from Eirik Bakke fell straight into the path of Harry Kewell who sent a left foot shot flashing across the face of the goal, then the same pair combined again to play in Lee Bowyer, whose shot was smothered by Andrei Smetanin at the expense of a corner. In the fifty-fifth minute Evgeni Bouschmanov was yellow carded for time wasting, which had started to become prevalent by the Spartak players as they saw the game going their way as United failed to get on the score-sheet. Dmitri Parfionov had a good shot from distance and Vassili Baronov missed a good chance when he shot straight at Nigel Martyn, as Spartak started to retaliate, but an Ian Harte free-kick was also just over as United kept up their pressure. Andrei Smetanin made a hero of himself when he brilliantly tipped over a twenty-five yard free-kick from Michael Bridges that was heading for the top corner in the sixty-ninth minute. The play was end to end, as both sides tried to regain the ascendancy.
Finally with just six minutes to go Michael Bridge's persistency won a corner and Leeds tried a variation on their usual procedure with Stephen McPhail taking a left-footed corner for Lucas Radebe to rise above everybody to head firmly into the net for his second European goal of the season and then it was a backs-to-the-wall effort by United for the rest of the game as they repelled the Russians to hang on for a famous victory.
<![if !vml]>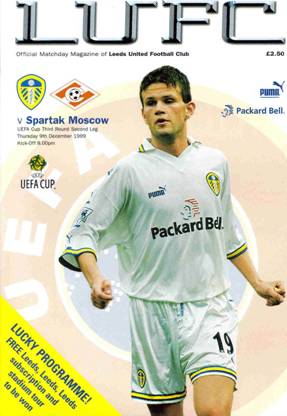 <![endif]>
Match Action:
<![if !vml]>
<![endif]> 
<![if !vml]>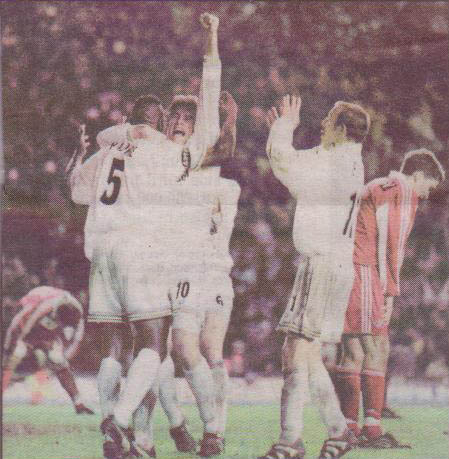 <![endif]>   <![if !vml]>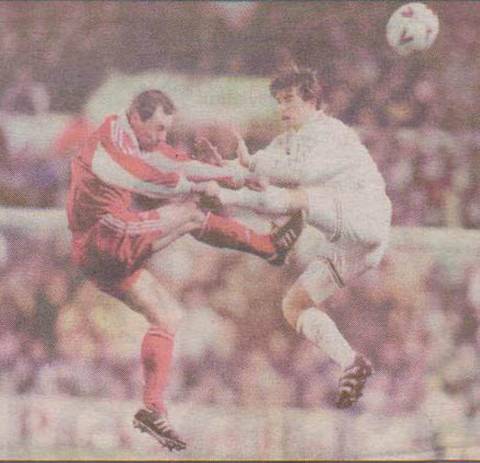 <![endif]>
Harry Kewell and Lee Bowyer congratulate Lucas Radebe                   Harry Kewell and Egor Titov in mid-air clash
<![if !vml]>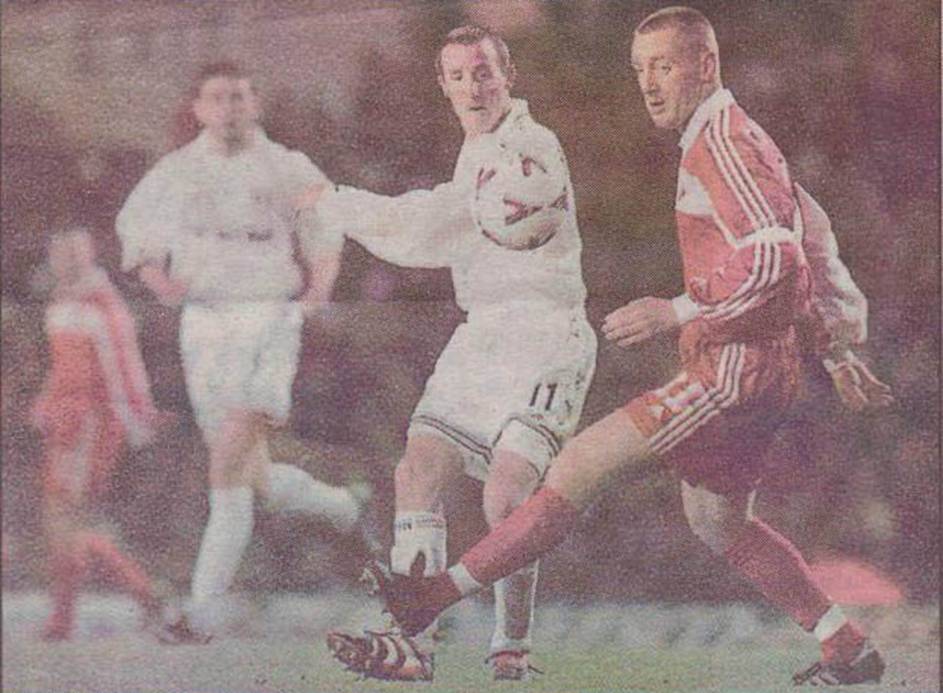 <![endif]> 
Lee Bowyer gets the ball past Andrei Tikhonov
<![if !vml]>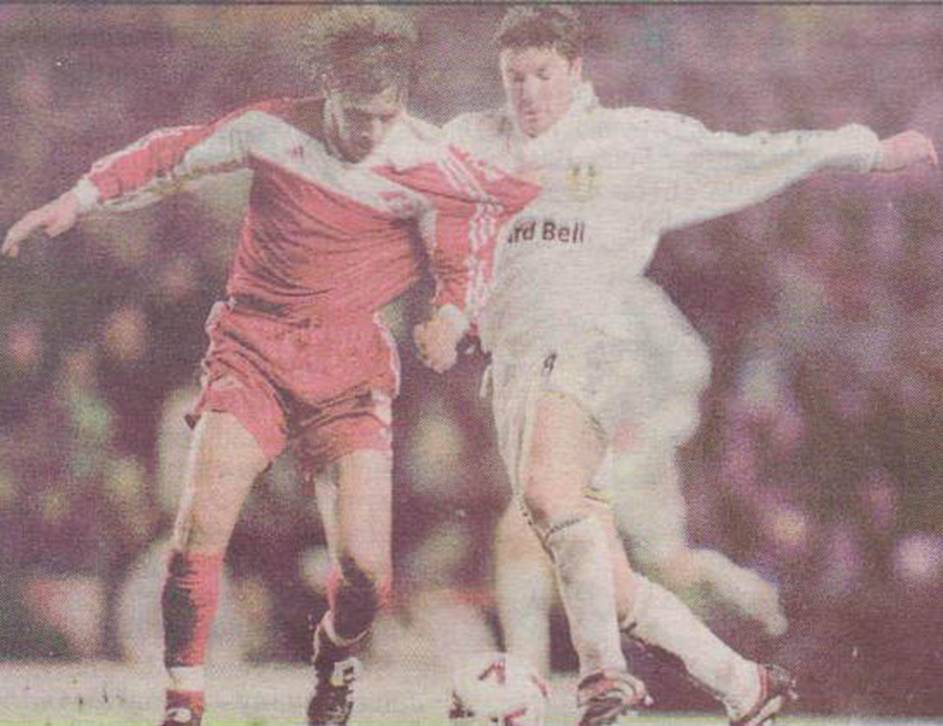 <![endif]>
Michael Bridges holds off Evgeni Bouschmanov
<![if !vml]>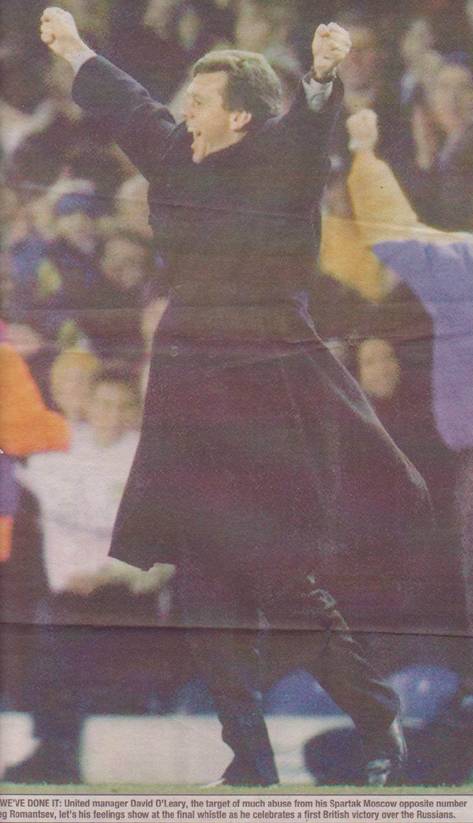 <![endif]>
Players:
<![if !vml]>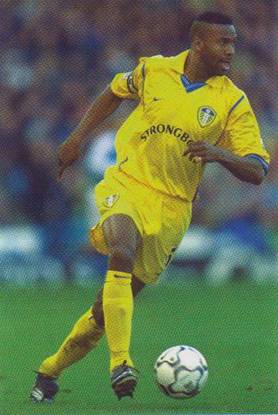 <![endif]>           <![if !vml]>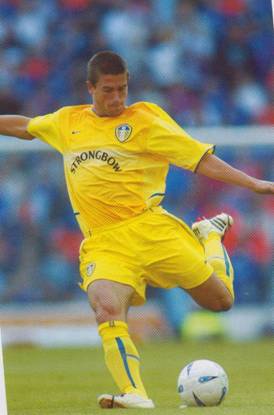 <![endif]>      <![if !vml]>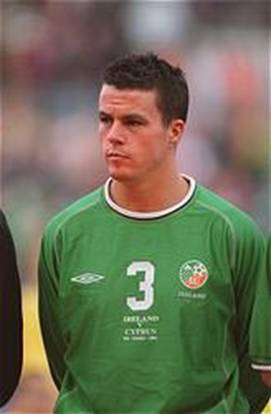 <![endif]> 
Lucas Radebe scored the vital Leeds goal           Harry Kewell went close from distance           Ian Harte's precision kicks caused trouble
<![if !vml]>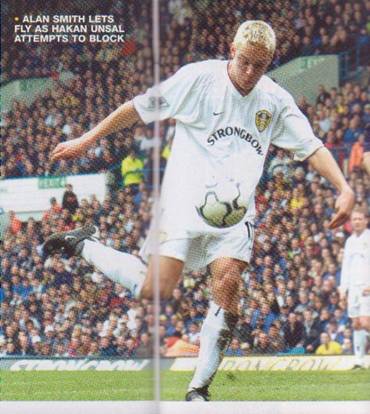 <![endif]>    <![if !vml]>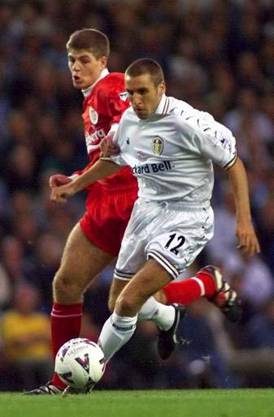 <![endif]>       <![if !vml]>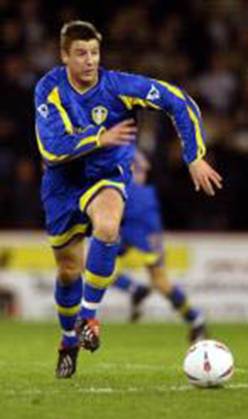 <![endif]>
Alan Smith was yellow carded                                                Darren Huckerby replaced Alan Smith           Michael Bridges had several goal attempts
<![if !vml]>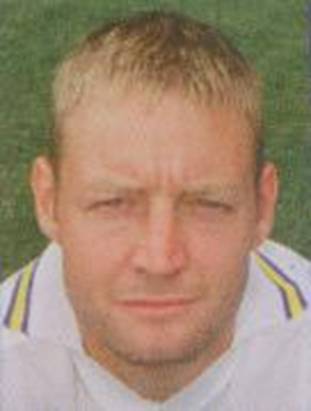 <![endif]>  <![if !vml]>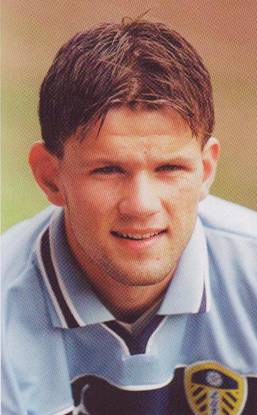 <![endif]>       <![if !vml]>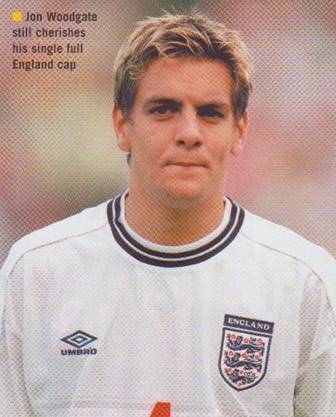 <![endif]>
David Batty was declared unfit and Eirik Bakke deputised magnificently                                Jonathan Woodgate headed clear.
<![if !vml]>
<![endif]>   <![if !vml]>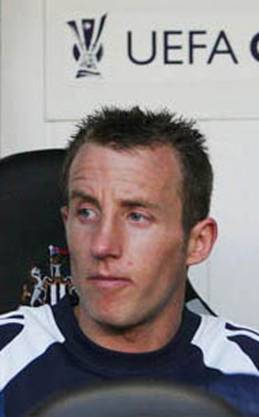 <![endif]>   <![if !vml]>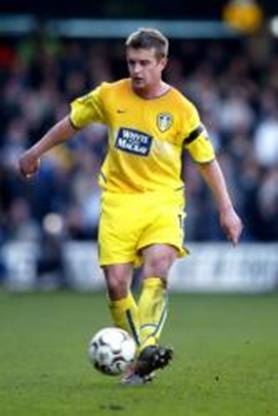 <![endif]>   <![if !vml]>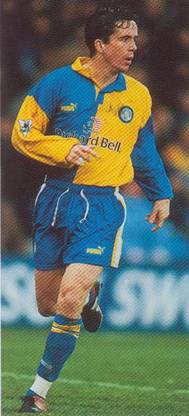 <![endif]>
Nigel Martyn kept                Lee Bowyer was tireless as ever.             Stephen McPhail involved in the goal.          Gary Kelly was right-back
clean sheet.                                                                                               
<![if !vml]>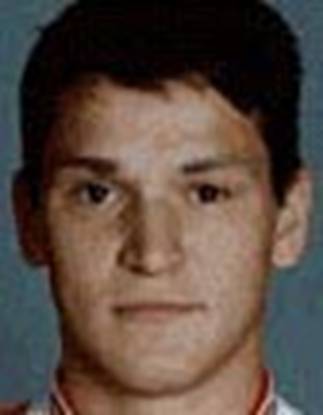 <![endif]> <![if !vml]>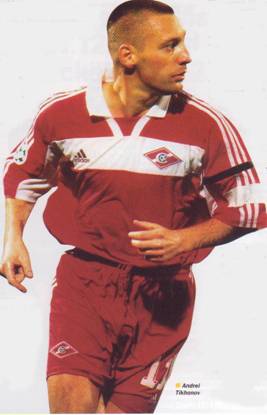 <![endif]>     <![if !vml]>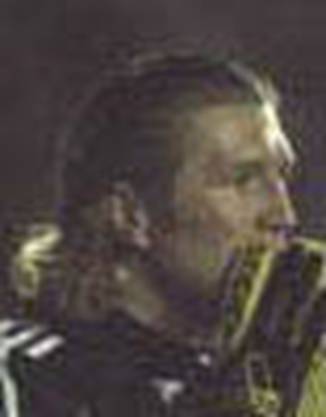 <![endif]>
Vadim Evseev and Andrei Tikhonov came into the team for the second leg                               Goalkeeper Andrei Smetinin was substitute
                                                                                                                                                           for the injured Alexandr Filimonov
<![if !vml]>
<![endif]> <![if !vml]>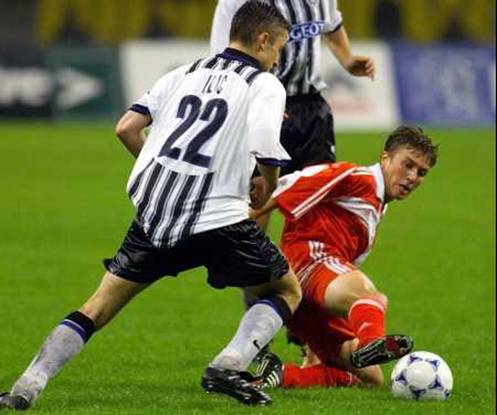 <![endif]>
                             Dmitri Anonko and Valeri Ketchinov were unused substitutes