<![if !vml]>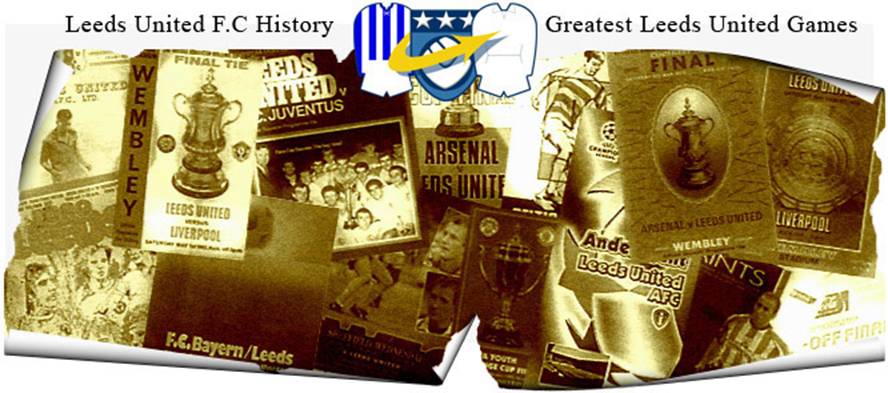 <![endif]>
Date: Saturday, 10th September 1988.
Venue: Elland Road, Leeds.
Competition: Second Division.
Score: Leeds United 1 Manchester City 1
Scorers: Leeds United: Blake. Manchester City: McNab (pen).
Attendance: 23,677.
Teams:
<![if !vml]>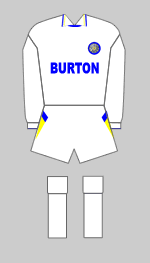 <![endif]><![if !vml]>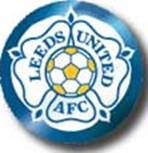 <![endif]>
Leeds United: Day; G. Williams, Adams (Aspin); Aizlewood, Blake, Ashurst; Batty, Sheridan, Baird, Davison (Pearson), Hilaire.
<![if !vml]>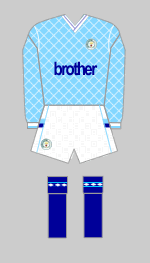 <![endif]><![if !vml]>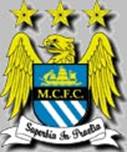 <![endif]>
Manchester City: Dibble; Seagraves, Hinchcliffe; Gayle, Brightwell, Redmond; White, Moulden, McNab, Lake, Morley.
Referee: R. Nixon (Wirral).
Stumbling starts to the 1988-89 season had left Leeds United and Manchester City without a victory, so there was understandably plenty of tension in the air when the two sides met in a Second Division game at Elland Road in mid-September 1988. Billy Bremner's men had opened the season with a disappointing home draw against Oxford United and a 4-0 hammering away to Portsmouth, while City had kicked off with a 1-0 defeat at Hull City and a 4-1 home drubbing at the hands of Oldham Athletic.
The Football League's fifth highest attendance of the day, 23,677, was at Elland Road to see the game but it proved to be foul-littered, Referee Bob Nixon blowing for fifty fouls, thirty-one of them against City, and there were many other stoppages for offside.
Although lacking match practice following an operation for the removal of part of a cartilage in his right knee, John Sheridan was pressed back into service for United and, though he produced the occasional bit of inventiveness, this was an ingredient in short supply in a game neither side dared to lose. United also had full-back Gary Williams returning to action after injury and welcomed back young David Batty to midfield as United showed an improvement in defence, Noel Blake coming to the rescue in a couple of dangerous situations.
United felt they should have had a penalty when Steve Redmond appeared to punch the ball away as Bobby Davison challenged, but the referee had no doubt when he awarded a penalty to City shortly afterwards. Left in a desperate situation by Neil McNab's superb defence splitting pass, Mervyn Day brought down Trevor Morley and from the resultant spot-kick McNab fired City into a seventy-sixth minute lead.
John Sheridan, who had made a vain attempt to play McNab offside in the build up to the penalty, came to United's rescue two minutes from time, when he floated a free-kick over the City defence for Noel Blake to side-foot the ball under the diving Andy Dibble.
United followed this result with another draw, this time a goalless one, at Bournemouth but goals from Bobby Davison and Vince Hilaire earned a 2-0 home win over Barnsley in their next game. But United then lost 2-0 at home to Chelsea and though his side won the first leg of a League Cup encounter at Peterborough on the twenty-seventh of September it was not sufficient to save him. Billy Bremner was sacked the following day, his side having dropped twelve of the eighteen points played for. Howard Wilkinson's appointment as his successor followed a couple of weeks later and under his early guidance United climbed the table to finish tenth. City for their part picked up strongly and finished by winning promotion as runners up.
Several Alternate Reports (Courtesy Mark Ledgard)
YEP 1: John Sheridan's value to Leeds United, even when not fully fit, was underlined in a hard fought but far from attractive 'Roses' battle against Manchester City at Elland Road. The Republic of Ireland International was lacking in match practice and fitness after undergoing an operation for the removal of part of the cartilage in his right knee but he still managed to provide the occasional piece of much needed inventiveness. Regrettably for the League's fifth highest attendance of the day, 23,122, this ingredient was in short supply in a match that neither of these well supported sides dare lose. Stumbling starts to the season had left United and City without a victory to shout about and there was plenty of tension in the air, and on the pitch, as the two sides produced a foul-littered clash. There were so many stoppages, referee Bob Nixon blew for fifty fouls, thirty-one against City, and a further seventeen halts for offside decisions, it was small wonder that the game never really flowed. In addition to John Sheridan's return, United also welcomed back Gary Williams to the right back role and David Batty to midfield, and although United improved on their performance at Portsmouth a week previous, there was still a need for more. City, too, were in the same situation but at least both sides could point to better defensive work than they had shown in recent times, Noel Blake saving United on two particularly dangerous situations and Steve Redmond turning in a no-nonsense display for City. Defences were very much on top and City's was particularly uncompromising as the hard-working Ian Baird would doubtless testify. He seemed to be singled out for heavy treatment and once required attention for a head injury. But he stood his ground well and never gave up the battle. The game gradually began to produce a few chances in the second half, Paul Moulden missing out on a close in header after Andy Hinchcliffe's excellent centre produced the opening, a glancing header from Ian Baird to Vince Hilaire's cross was saved by Andy Dibble and David Batty shot wide following a well flighted John Sheridan corner. Sheridan's free-kick skills almost gave United the lead in the seventy-first minute, when he curled the ball over City's defensive barrier, the ball just passing outside the top corner and following another free-kick Bobby Davison found himself through but shot against Dibble. The ball bounced off the keeper and when Davison ran on to challenge he lost out to Redmond who appeared to punch the ball away. Claims for a penalty fell on deaf ears but the match official awarded against United moments later when Mervyn Day, left in a desperate situation by Neil McNab's superb defence-splitting pass, brought down Tony Morley. McNab, who had played for United on loan a few years previous, drilled the spot-kick home to put City into a seventy-eighth minute lead. But John Sheridan, who had tried in vain to play McNab offside in the move that led to the penalty, came to United's rescue. Hid eighty-eighth minute free-kick floated over the City defence and landed perfectly at the feet of Noel Blake, who side-footed the ball home under Andy Dibble's despairing dive for his first goal for United.
YEP 2: Noel Blake's eighty-eighth minute face-saver for Leeds United might turn out to be the club's most Important goal for 1988-89, the one that sparked off their season. On the little evidence that had been presented so far, that may have been optimistic but there were a few crumbs of comfort both Leeds and Manchester City and Leeds could take from a dreadful match. It was hard to watch and probably hard to play in. It badly lacked inventiveness and had it not been for the final twelve minutes, it would have been reasonable to say the 23,122 crowd had been denied their money's worth. In fact a lot of them had left before Noel Blake claimed his first goal for the club by nipping round the blind side of City's defence to side-foot the ball home from close range. But those who were around the last time Leeds dragged themselves out of the Second Division, twenty-four years previous, would have seen a lot of similarities in their fashion of play. The overwhelming memory of the previous promotion season was of a Leeds side regularly involved in blunt, hard-nosed games. The was no Paul Reaney, Jack Charlton, Norman Hunter, Willie Bell defence this time, but the taste of times past was about the rest of the side at Elland Road in this game. Billy Bremner knew just what was needed to get a side up. He was part of that Leeds push the last time and had tasted promotion as a Manager 8in the lower Divisions. He would have loved his Leeds side to have got away to a flier this time but maintained, "Invariably the quality sides push their way into contention when it matters most and with that season even longer than before with forty-six matches, I don't think you can read too much into the form over the first couple of weeks. I expect ourselves and City to be there at the end of the season." It was interesting to look at how far the promotion-winners of the previous season, Aston Villa, Millwall and Middlesbrough had progressed at the same point in their previous year's campaign. Villa had two points from four games and the other two four points from three games. All three were in the wrong half of the table. However, both Leeds and City would have to add flair to their repertoires for success to make them worth watching this time. Bremner had made the point that he could not remember a clash between the two clubs in his time that had not been entertaining. It was not the case this time. Soon John Sheridan will help the Leeds cause. Neil McNab showed with the one gem of the match, his defence-splitting which sent Tony Morley clear in the seventy-eighth minute, that he could mastermind things for City. But this was not a game for artists even though Sheridan back for hid first game of the season along with David Batty and Gary Williams, did have the last laugh. He hoisted the late free-kick over the City defence for Noel Blake's vital touch after he had looked rusty but ready, right from his first minute fifty-fifty centre-field challenge with Neil McNab. After that the game ran up fifty free-kicks, thirty-one against City and seventeen more for offside decisions. Andy Hinchcliffe, Micky Adams, Brian Gayle and Gary Williams were booked, it was not a pretty sight. City had most of the half openings on offer for the first hour and just as Leeds were about to take control, Steve Redmond appeared to handle away the ball as Bobby Davison moved in for the kill. From the possible penalty City went off downfield and Neil McNab soon produced his searching pass. It left Mervyn Day unprotected and the goalkeeper brought down Tony Morley as the striker tried to take the ball round him. McNab knocked home the penalty and then Noel Blake stepped in.
YEP3: Noel Blake, point-clinching hero of the home draw against Manchester City with his first goal for the club, was keen to step up his output to assist Leeds United's bid for honours in that season. The burly Jamaican defender's eighty-eighth minute strike against the men from Maine Road brought him his first League goal in nineteen months but he was a firm believer in defenders making their contribution to the team's goal tally. "I think that a team should be able to count on ten goals from defenders in a season and I would hope we can achieve that at Leeds this season. I normally get a handful myself and I am out to improve on that this time," added Blake who was delighted at notching his first strike since joining United in the summer on a free-transfer from Portsmouth. "It was a great ball from John Sheridan. I think Manchester were playing for offside, but the ball landed at my feet and I just knocked it in." he said. Blake said he felt that there had been a big improvement in United's play, especially in defence. "WE are getting better. We have fought back twice from being a goal down. The fighting spirit is there and although we are still scratching around a bit, once we get our first win everything will be all right," he added. Manager Billy Bremner was happier with his side's display and gave his players a pat on the back for the way they stuck to their task and battled back for their last gasp equaliser. "I was proud of the way the players kept going until the end. At Portsmouth we just lay down in the second half, but we showed our spirit to get the equaliser against City," he said. "Even though we are not playing as well as we can I think that late equaliser will do us a lot of good. Because of the start we have made there was a lot of tension in the game. The players were up-tight and edgy, but I was delighted they stuck at it the way they did," he added. Micky Adams was treated over the weekend for a hamstring injury, which caused his substitution in the second half.
Allison's View: Ex-Boss Malcom Allison took his first look at City in four years, but did not like what he saw. Big Mal flew out to America that week for talks with his old pal Rodney Marsh, who wanted him to coach Tampa Bay Rowdies. But, after yawning his way through a bad-tempered, drab Roses battle, Allison complained, "It will have to be a bad League if, as they say, City and Leeds are promotion sides. There were never more than two or three passes strung together. "City were the better team on the day and have some very promising youngsters in Andy Hinchcliffe, Ian Brightwell and Paul Lake. But mostly I was disappointed." Neil McNab's seventy-ninth minute penalty should have booked City their first win of the season. But with just two minutes left Noel Blake stole in to side-footed an equaliser.
More Allison Views: Malcolm Allison remembered tis fixture when First Division Championships were at stake and the pitch was adorned by great players, but times had changed. Allison was sixty-one and out of work, and those once-powerful clubs were at that time reduced to scrapping for their first Second Division victory of that season. The former Maine Road boss said, "I read something by Leeds Manager Billy Bremner saying these two teams had enough quality to be up near the top at the end of the season. From what I have seen Leeds and City could be challenging each other for relegation." The only other English game Allison had viewed that season was at Newcastle and he found a distinct similarity with the fare on show at Leeds. "You go to St James' and the atmosphere is tremendous," he explained, "The atmosphere at Leeds was tremendous as well, but after half a dozen games they will be absolutely sick with the way their teams are shaping." City deserved to win this game and in young midfielder Paul Lake possessed the finest player on the field. Clearly the pressure of being expected to win promotion that season was inhibiting the Leeds players. They needed to relax and play instead of snapping and snarling throughout every fixture.
Another View: Leeds chose a shocking day to honour the legendary Don Revie and Malcolm Allison, who was in the crowd, obviously felt he had had a wasted journey to Elland Road. On that day United named their re-modelled Kop after Revie. It was a fitting tribute, but on the pitch the present-day United team turned in a threadbare performance against the committed youngsters from across the Pennines. It left most spectators convinced that clubs like these, each with a considerable pedigree, could forget their lofty ambitions for that season, unless they could get their acts together quickly and consistently. For these pre-season promotion favourites produce a shambles of a game, almost devoid of sparkle until the closing stages. Nevertheless City Manager Mel Machin was delighted with the commitment of his young side. "We were unlucky not to get a win. The lads thought they should have won it, they were the better team. There are not too many teams who can compete as we did today," he added. The hame was littered with stoppages, there was a free-kick awarded every one-and-a-half minutes. But City unquestionably had the edge through the raw spirit of Andy Hinchcliffe and the midfield skills of Paul Lake. Leeds had nothing to check Lake's growing stature and ability. Things improved after the interval when John Sheridan, just back from a cartilage operation, at last found something approaching his true touch. Rash first half tackles earned Hinchcliffe a yellow card for a challenge on Vince Hilaire and Micky Adams was also booked for a 'professional' foul on David White. Sheridan at last found the form that had deserted him in the first half. His true touch lifted Leeds at a vital time and one free-kick from the Irish star went agonisingly close before City snatched the lead in the seventy-eighth minute. Neil McNab, who had been on loan to Leeds five years previous, made a mockery of United's efforts to play striker Tony Morley offside. The big man was picked out by McNab as he went down the middle but he was floored as he rounded Mervyn Day. McNab himself stepped forward to ram home the penalty and the home fans roared their disagreement with Mr Nixon's penalty award. Were City going to get some revenge against the side which had dented their previous season's promotion bid? It certainly looked that way, but a couple of glorious chances were squandered and with two minutes to go United claimed a crucial equaliser. Sheridan, it just had to be him, wrong-footed City's otherwise reasonably-assured back four with a floated free-kick towards the far post. It found big defender Noel Blake unmarked, and he wasted no time in giving United a share of the points.
<![if !vml]>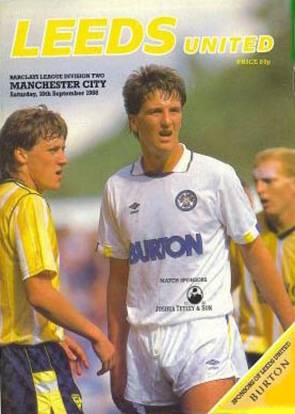 <![endif]>
Match Action: (Courtesy Mark Ledgard)
<![if !vml]>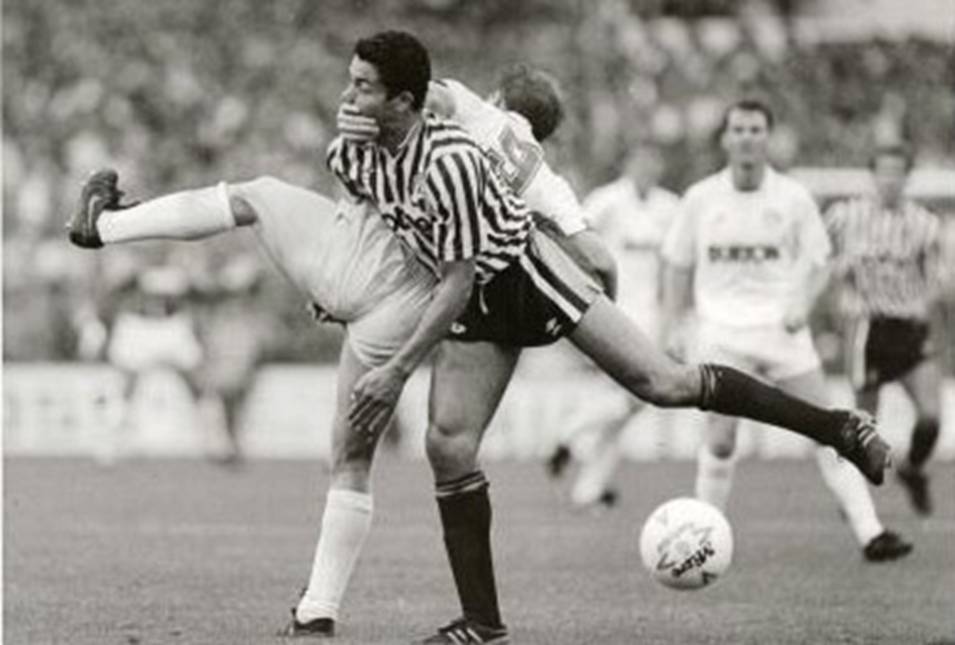 <![endif]>
Ian Baird and Brian Gayle in a rare old tangle!
<![if !vml]>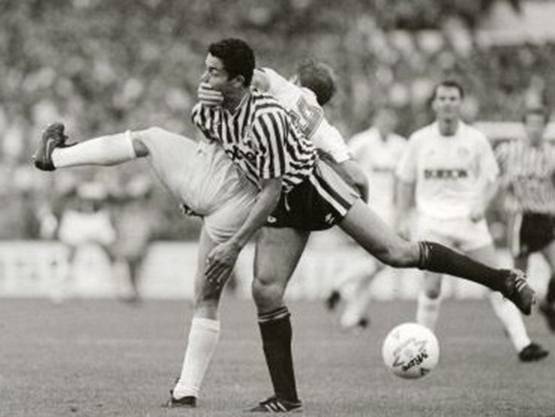 <![endif]> <![if !vml]>
<![endif]>
<![if !vml]>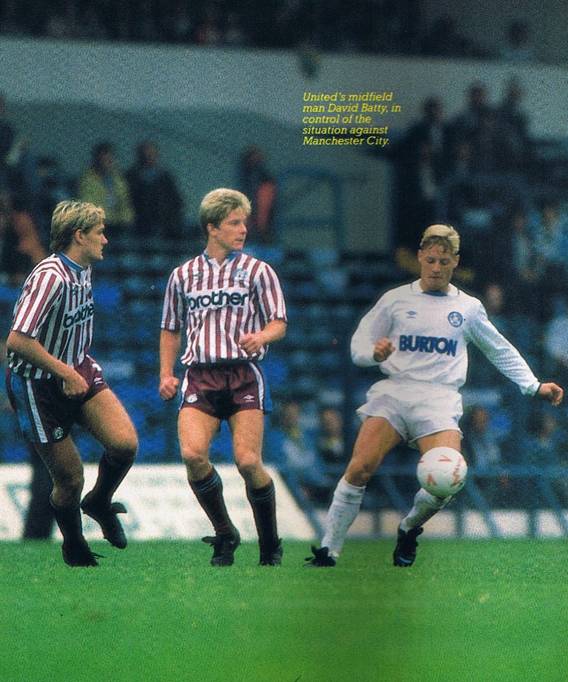 <![endif]>                     <![if !vml]>

<![endif]>
<![if !vml]>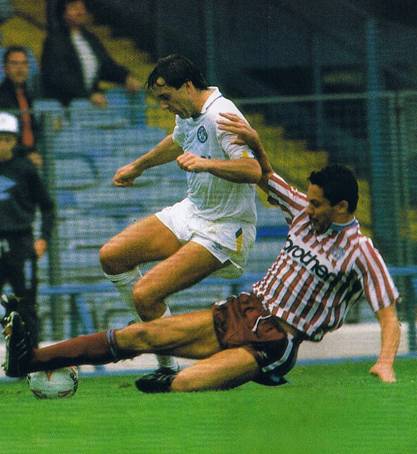 <![endif]>     <![if !vml]>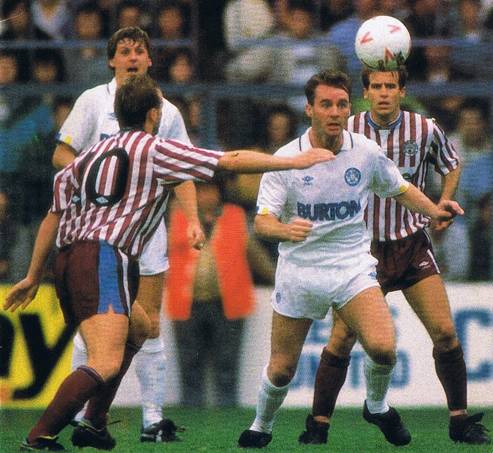 <![endif]>
Brian Gayle slides in on Bobby Davison                                           John Sheridan and Paul Lake both have their eyes on the ball
Teams:
<![if !vml]>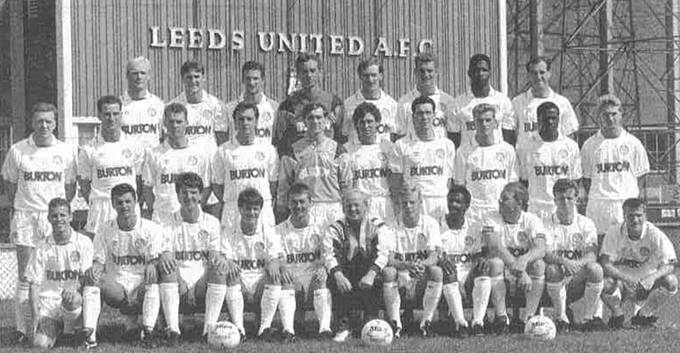 <![endif]>
Leeds United 1988-89:
Back Row: Neil Aspin, Jack Ashurst, Simon Grayson, Mervyn Day, Peter Haddock, Peter Swan,
Noel Blake, David Rennie.
Middle Row: Brendan Ormsby, Mark Aizlewood, John Sheridan, Bobby Davison, Ronnie Sinclair,
Gary Williams, Bob Taylor, Peter Maguire, Kevin Noteman, Peter Mumby.
Front Row: Nigel Smith, Gary Speed, John Pearson, Mickey Adams, Glynn Snodin,
Billy Bremner (Manager), David Batty, Vince Hilaire, Ian Baird, John Stiles, Vince Brockie.
<![if !vml]>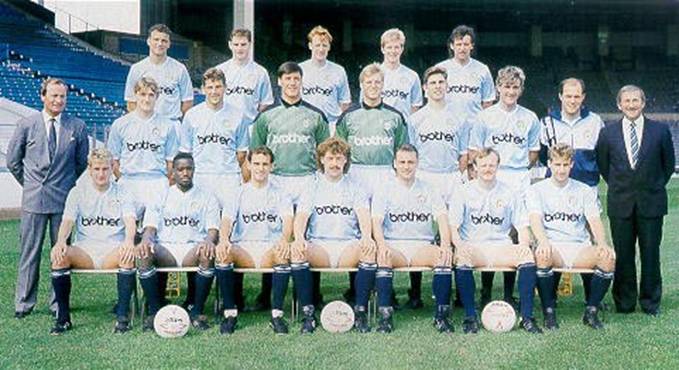 <![endif]>
Manchester City 1988-89:
Back Row: Paul Stewart, Steve Redmond, Tony Adcock, Ian Brightwell, John Gidman.
Middle Row: Mel Machin (Team Manager), Andy Hinchcliffe, David White, Eric Nixon,
Perry Suckling, Paul Lake, Kevin Langley, Roy Bailey (Physio), Jimmy Frizzell (Manager).
Front Row: Ian Scott, Earl Barrett, Imre Varadi, Kenny Clements, Paul Simpson, Neil McNab,
Paul Moulden.
Players:
<![if !vml]>
<![endif]> <![if !vml]>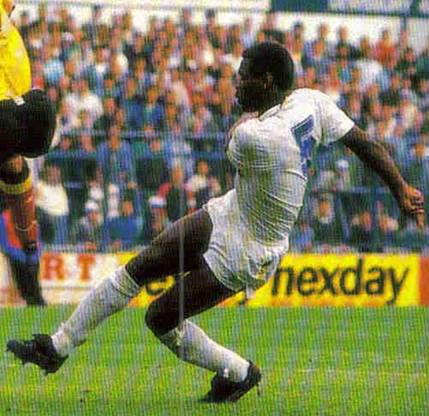 <![endif]> <![if !vml]>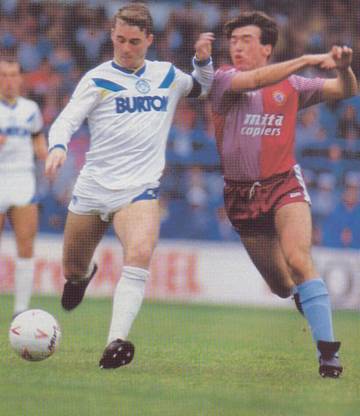 <![endif]>
Neil McNab opened the                                but Noel Blake equalised                                        John Sheridan was pressed to return early from injury
scoring for Man City from the spot
<![if !vml]>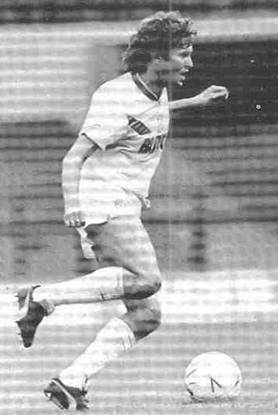 <![endif]>             <![if !vml]>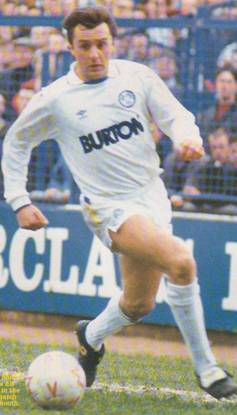 <![endif]> <![if !vml]>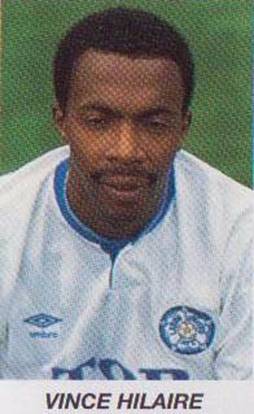 <![endif]>
Gary Williams returned from injury                  Bobby Davison and Vince Hilaire scored in the later game with Barnsley
<![if !vml]>
<![endif]> <![if !vml]>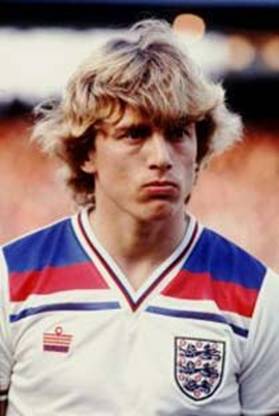 <![endif]> <![if !vml]>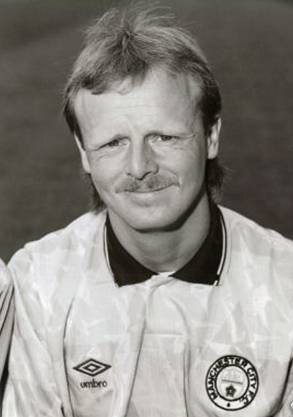 <![endif]>
Mervyn Day had to bring down Trevor Morley after the United defence had been split by a Neil McNab through ball. McNab scored from the ensuing penalty
<![if !vml]>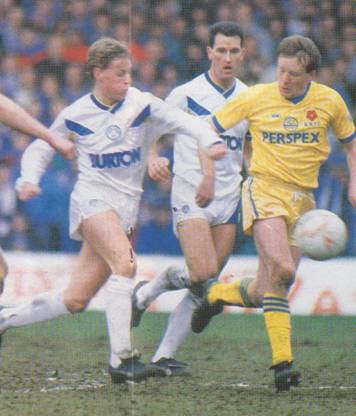 <![endif]>    <![if !vml]>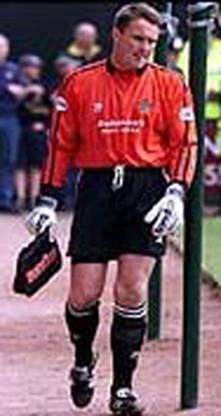 <![endif]>               <![if !vml]>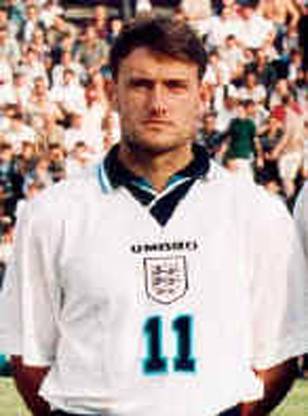 <![endif]>    
David Batty also made a return. Andy Dibble was in the Man City goal. Andy Hinchcliffe was at left-back
<![if !vml]>

<![endif]>  <![if !vml]>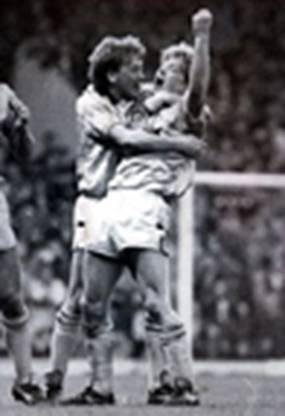 <![endif]>     <![if !vml]>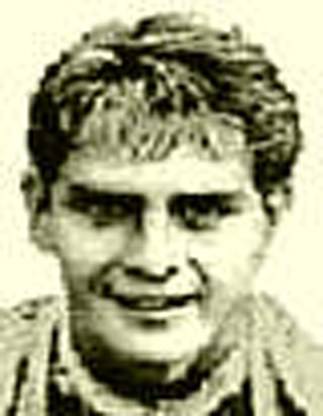 <![endif]>
Brian Gayle and Ian Brightwell were in central defence along with Steve Redmond, who was lucky not to concede a penalty.
<![if !vml]>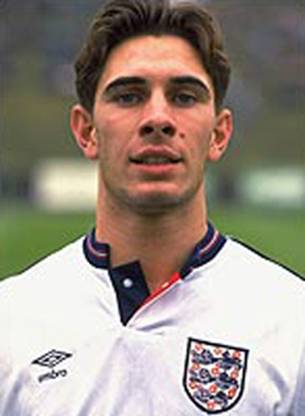 <![endif]>         <![if !vml]>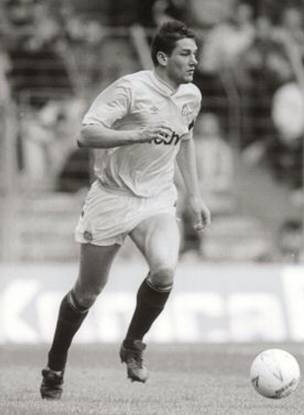 <![endif]> 
                                                Paul Lake and David White were quiet