<![if !vml]>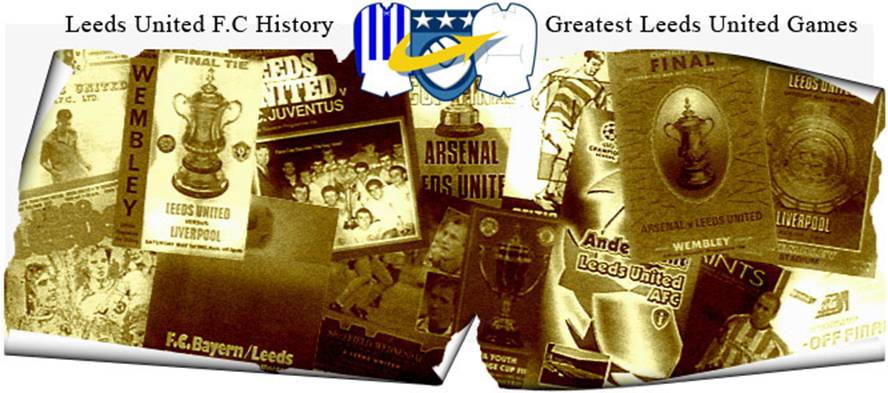 <![endif]>
Date: Wednesday, 11th November 1964.
Venue: Elland Road Leeds.
Competition: First Division.
Score: Leeds United 3 Arsenal 1
Scorers: Leeds United: Charlton, Belfitt, Storrie. Arsenal: Sammels.
Attendance: 38,620.
Teams:
<![if !vml]>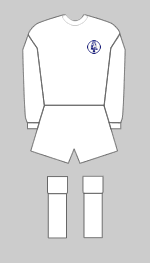 <![endif]><![if !vml]>
<![endif]>
Leeds United: Sprake; Reaney, Bell; Bremner, Charlton, Hunter; Giles, Storrie, Belfitt, Collins, Johanneson.
<![if !vml]>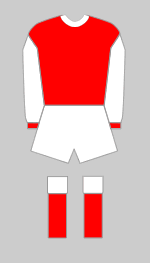 <![endif]><![if !vml]>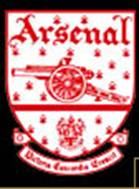 <![endif]>
Arsenal: Burns; Howe, McCullough; McLintock, Neill, Court; Anderson, Sammels, Baker, Eastham, Armstrong.
Referee: Mr J.K. Parr (Blackpool).
Jim Storrie was always popular with the fans, who recognised him as a key player in United's rise from the depths of the Second Division obscurity to a team challenging for the top spot in top division. He had a scoring record that any striker would be proud of and amassed fifty-eight goals in his one hundred and twenty-three appearances for United. It never worried Jim how the ball got in the net and would use any part of his anatomy to achieve his objective. In this game he surpassed himself by scoring a goal from the top drawer to seal United's 3-1 victory.
United, in their first season back in the top flight, had shot up to a top three placing with a string of five impressive wins, beating Stoke City, Tottenham Hotspur, Burnley, Sheffield United and Everton before Arsenal visited Elland Road. Suggestions had already been made that the Second Division Champions of the previous season might now be serious challengers for the League's top honour.
Arsenal, always solid opposition, boasted players of the class of Don Howe, Frank McLintock, Joe Baker, George Eastham and George Armstrong in their ranks, and they thought they were in with a chance of stopping United's run. Indeed it was they who took the lead after twenty minutes when Jon Sammels scored following a flowing move featuring Baker, Eastham, Armstrong and McLintock.
Bobby Collins and Billy Bremner were running the show in midfield and United quickly hit back. Collins swung a forty-yard free-kick into the goalmouth, where Jack Charlton gracefully back-headed the ball out of the reach of goalkeeper Tony Burns. Playing in front of the second highest crowd of the season the near 40,000 crowd had to wait until the sixty-eighth minute to see United take the lead. Rod Belfitt hammered the ball home via a post, after the unfortunate Don Howe had knocked the ball into his path, while trying to deal with a speculative shot from Norman Hunter.
Diamond Jim's moment of glory followed two minutes later when he scored with a great shot after a run of forty yards. It was described as "spectacular" and "glorious" by the newspapers on the following day. United's sixth successive League victory had put Don Revie's men within one win of equalling a record which had stood for forty years and this was duly achieved in the next game when they humbled Birmingham City 4-1 at Elland Road.
<![if !vml]>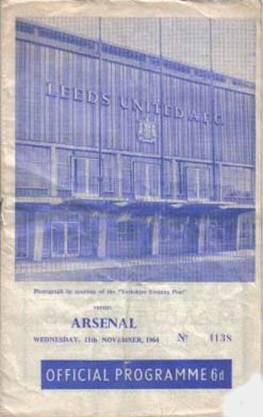 <![endif]>
Teams:
<![if !vml]>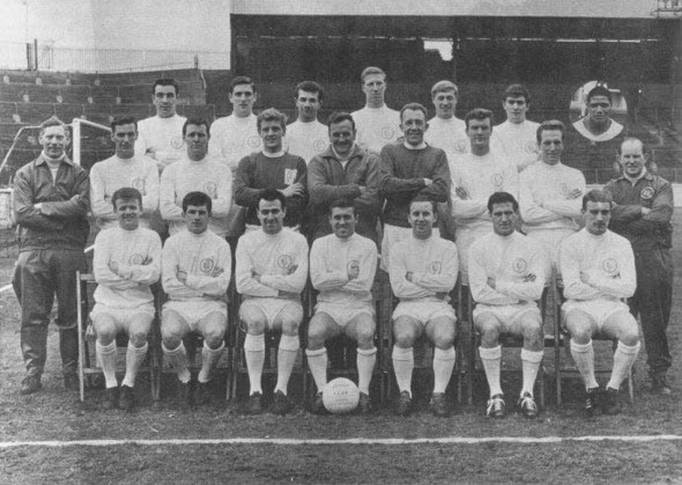 <![endif]>
Leeds United 1964-65:
Back Row: Willie Bell, Norman Hunter, Paul Reaney, Jack Charlton, Jimmy Greenhoff,
Terry Cooper.
Inset: Albert Johanneson.
Middle Row: Syd Owen (Coach), Alan Peacock, Ian Lawson, Gary Sprake, Don Revie (Manager),
Brian Williamson, Paul Madeley, Barry Wright, Bob English (Physio).
Front Row: Billy Bremner, Johnny Giles, Jim Storrie, Bobby Collins (Captain), Tommy Henderson,
Don Weston, Rod Johnson.
<![if !vml]>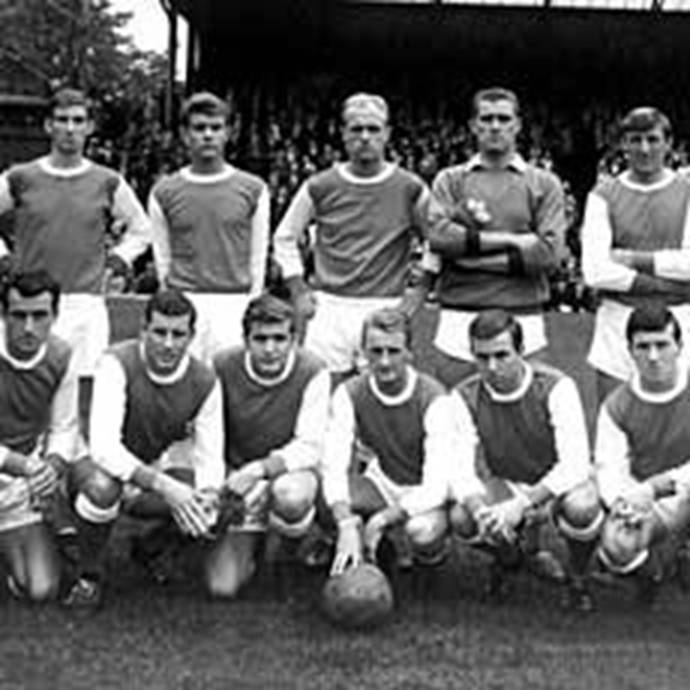 <![endif]>
Arsenal 1964-65:
Back Row: David Court (4), Peter Simpson (6), Don Howe (2), Jim Furnell (1),
Billy McCullough (3).
Front Row: Alan Skirton (7), Terry Neill (5), Joe Baker (9), George Eastham (10),
Jon Sammels (8), George Armstrong (11).
Players:
<![if !vml]>
<![endif]>  <![if !vml]>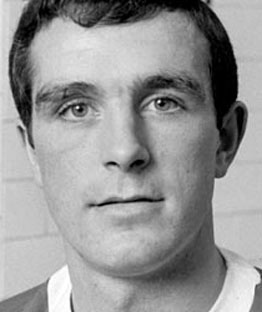 <![endif]>  <![if !vml]>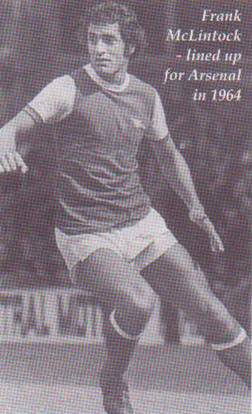 <![endif]> 
Arsenal Keeper Tony Burns                                   Arsenal Right-Winger Terry Anderson
<![if !vml]>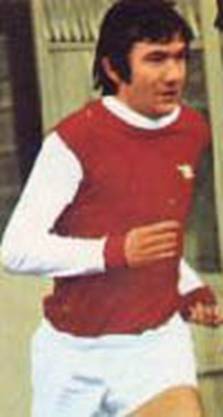 <![endif]> <![if !vml]>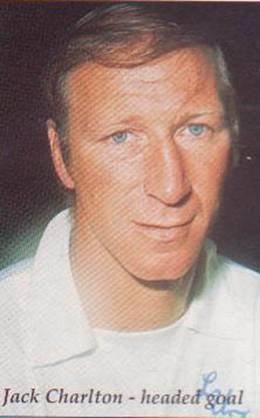 <![endif]> <![if !vml]>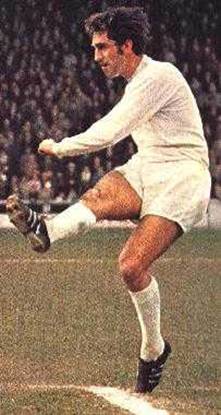 <![endif]> <![if !vml]>
<![endif]>
Jon Sammels: Arsenal goal-scorer   Jack Charlton headed a goal               Rod Belfitt: Leeds scorer                Jim Storrie scored a gem for Leeds