<![if !vml]>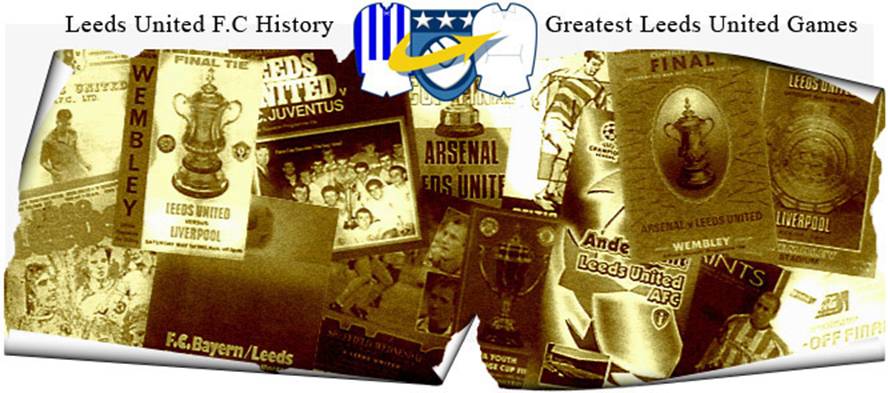 <![endif]>
Date: Tuesday, 12th September 1995.
Venue: Stade Louis II, Monaco.
Competition: UEFA Cup, First Round First Leg.
Score: AS Monaco 0 Leeds United 3
Scorers: AS Monaco: Nil. Leeds United: Yeboah (3).
Attendance: 12,500.
Teams:
 <![if !vml]>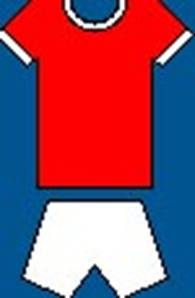 <![endif]> <![if !vml]>
<![endif]> 
AS Monaco: Piveteau (Delaroche replaced by Puel); Valery, Di Meco, Boli, Thuram; Dumas, Dos Santos, Legwinski (Henry); Anderson, Scifo, Wreh. Subs not used: Madar, Viaud.
<![if !vml]>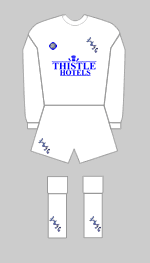 <![endif]><![if !vml]>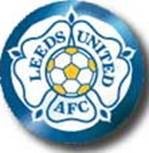 <![endif]>
Leeds United: Lukic; Kelly, Pemberton, Wetherall, Dorigo (Beesley); Whelan, McAllister, Palmer, Speed; Deane, Yeboah. Subs not used: White, Tinkler, Couzens, Beeney.
Referee: Jose Maria Garcia-Aranda Encinar (Spain).
Howard Wilkinson took a big gamble when he had bought Ghanaian International Tony Yeboah to fill the goal-scoring boots of Lee Chapman. However, the risk paid off in spectacular fashion as his goals became the springboard to United's charge into Europe. Despite initial doubts about his fitness, Yeboah proved to be a clinical finisher with a powerful shot and he looked well worth his £3.4million transfer fee that United had paid to Eintracht Frankfurt to add firepower to a previously wilting United attack.
United were looking for a gentle reintroduction to European football but had been paired with star-studded Monaco, the champions of France. It turned out that the United fans had a new goal hero to cheer in Tony Yeboah, who scored a stunning hat-trick in Monaco to continue his sizzling start with Leeds. Snapped up the previous January from Eintracht Frankfurt in Germany, the Ghanaian star's goals had helped United put together a great late run to clinch a place in Europe. The draw had not been kind to United, pairing them with star-studded French champions Monaco, who had been European Cup Semi-Finalists in the previous season before bowing out to AC Milan, but they were simply brushed aside by Tony Yeboah's superb finishing.
It took the star of Africa only three minutes to open the scoring when Monaco goalkeeper Fabien Piveteau collided with his central defender Lillian Thuram, dropped the ball and the alert Tony Yeboah hooked it over his head into the empty net. Monaco had plenty of possession, but United's defence, with David Wetherall and John Pemberton in particular, was in determined mood and the French side driven forward by Belgian midfield star Enzo Scifo, were unable to carve out too many chances. Up front Tony Yeboah's strike partner Brian Deane put in an enormous amount of work in attack.
United grew in confidence as the game went on and, after sixty-five minutes, Tony Yeboah brought Leeds fans in the Stade Louis II to their feet with a stunning second goal. Receiving Gary McAllister's throw-in from the left, he turned superbly beyond his marker to create the space to curl a magnificent shot beyond the reach of Marc Delaroche, who had come on for the injured Piveteau at half-time.
It simply went from bad to worse for Monaco. Ten minutes from the end there was more misery for Delaroche when he was involved in a sickening collision with defender Basile Boli as the cunning Yeboah lobbed him for his hat-trick goal. Delaroche and Boli were both stretchered off after receiving prolonged attention and Monaco brought on outfield player Claude Puel in goal for the final minutes.
Yeboah, who scored another stunning treble in United's 4-2 win at Wimbledon eleven days later, was hailed by his manager Howard Wilkinson. "Words cannot describe Tony Yeboah nor his importance to the team", purred the Leeds boss. "He's always been able to score straightforward goals, but increasingly he is scoring more difficult ones. That is a great result for us." Monaco coach, Jean Tigana said," It was a horrible night for us. Not only did we lose the match but we also lost two players. I have no hope for the return match."
United may have had all the luck that was going but the tried and trusted Championship-winning midfielders Gary McAllister and Gary Speed, together with the £2.6million signing from Sheffield Wednesday, Carlton Palmer, were the men responsible were the men responsible for supplying Tony Yeboah with the ammunition, but he certainly pulled the trigger.
Another report said:
There's no doubting that Monaco is a wonderful place to be - provided, that is, if you have the necessary cash to splash and make the most of it - and maybe that is why Leeds United were in a hurry to leave the principality as soon as possible after their UEFA Cup triumph there in Sept 1995!
The Ghanaian striker, Tony Yeboah, was the man of the moment. Everyone wanted an interview with him, which was hardly surprising in view of the fact he had just scored one of the finest hat-tricks ever seen. His treble shattered the much-fancied AS Monaco side and gave United a 3-0 score-line to take home to Elland Road for the second leg.
Yeboah put United ahead in the third minute when he hooked the ball over his head and into the net after goalkeeper Fabien Piveteau had the ball knocked out of his hands by teammate, Lilian Thuram, who had inexplicably charged into him.
His second goal, in the sixty-fourth minute, was a real beauty. He took a throw in from Gary McAllister and there seemed little danger until the United striker suddenly unleashed a curling shot into the top corner of the goal. "I had noticed before their goalkeeper tended to come off his line so I thought why not give it a try. I did and it went in," Yeboah explained.
With time beginning to run out for them, Monaco sent on an18-year-old, as then unknown, forward by the name of Thierry Henry but it made little difference. Yeboah completed his hat-trick nine minutes from time with a neat lob after his pace took him clear of Basile Boli. Monaco's substitute keeper Marc Delaroche unsuccessfully tried to close Yeboah down. He was involved in a sickening collision with Boli and they were both carried off.
To have gained such a commanding lead against a side which, the season before, had reached the semi-final of the European Cup, was no small feat and, not surprisingly, the champagne flowed as Leeds flew back through the night from Monaco. Even the thunderstorm they encountered for a time on the flight home could not dampen the spirits of those on board. The toast was 'Tony Yeboah' and manager Howard Wilkinson said of his striker: "Frankly, I have not come across anybody quite like him. He will tell you that if he gets the ball in the box he will score, and he does.'' Wilkinson also paid tribute to his team as a whole and, as well as Yeboah, and also singled out Noel Whelan and David Wetherall for telling performances.
Unfortunately, United lost the home leg 1-0 to go through on a 3-1 aggregate but they came a cropper in the second round, losing 8-3 on aggregate to PSV Eindhoven, after having lost the home leg 5-3. So a European campaign which began so brightly was soon extinguished.
<![if !vml]>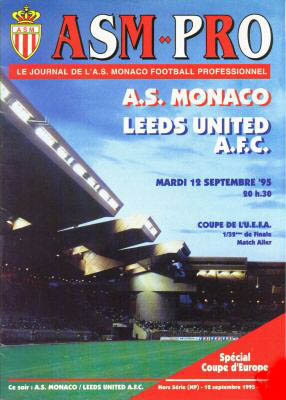 <![endif]> <![if !vml]>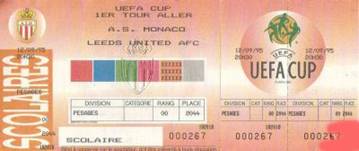 <![endif]>
Match Action:
<![if !vml]>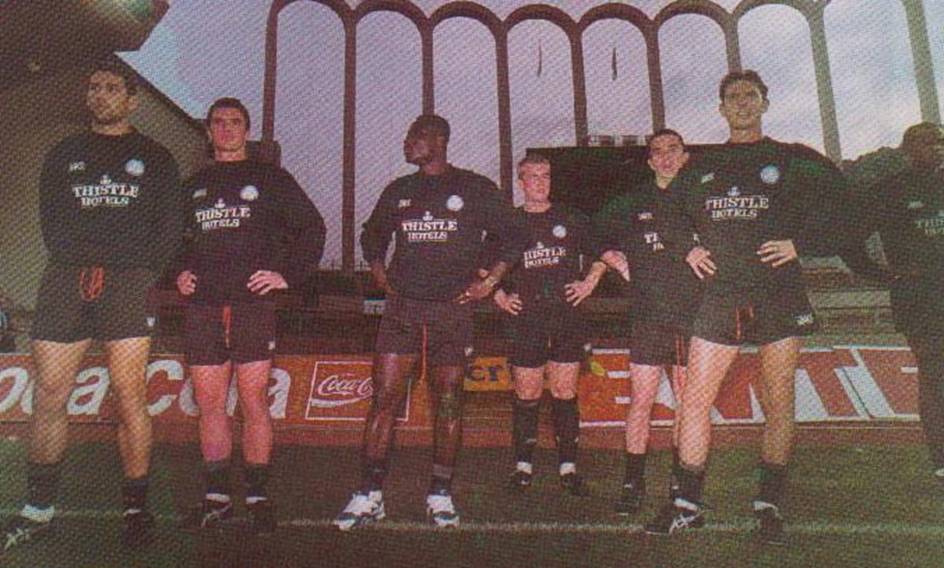 <![endif]>
United in training: David White, Gary Speed, Tony Yeboah, Kevin Sharp, Gary Kelly, Noel Whelan and Philomen Masinga
<![if !vml]>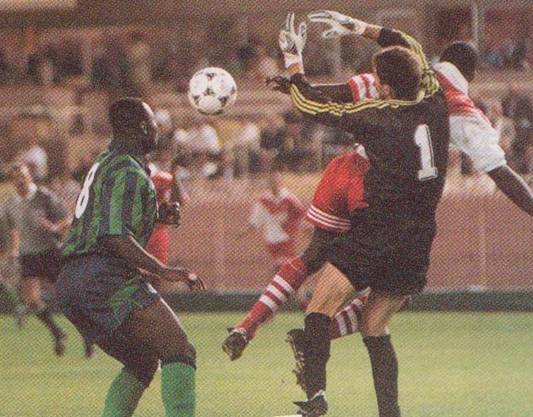 <![endif]>  <![if !vml]>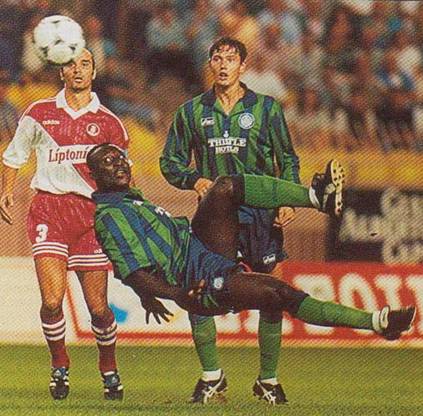 <![endif]>
Fabien Pivateau and Lilian Thuram get in each others' way and                                Noel Whelan looks on in amazement as Tony Yeboah
Tony Yeboah pounced for the first goal                                                                         hooks the first goal
<![if !vml]>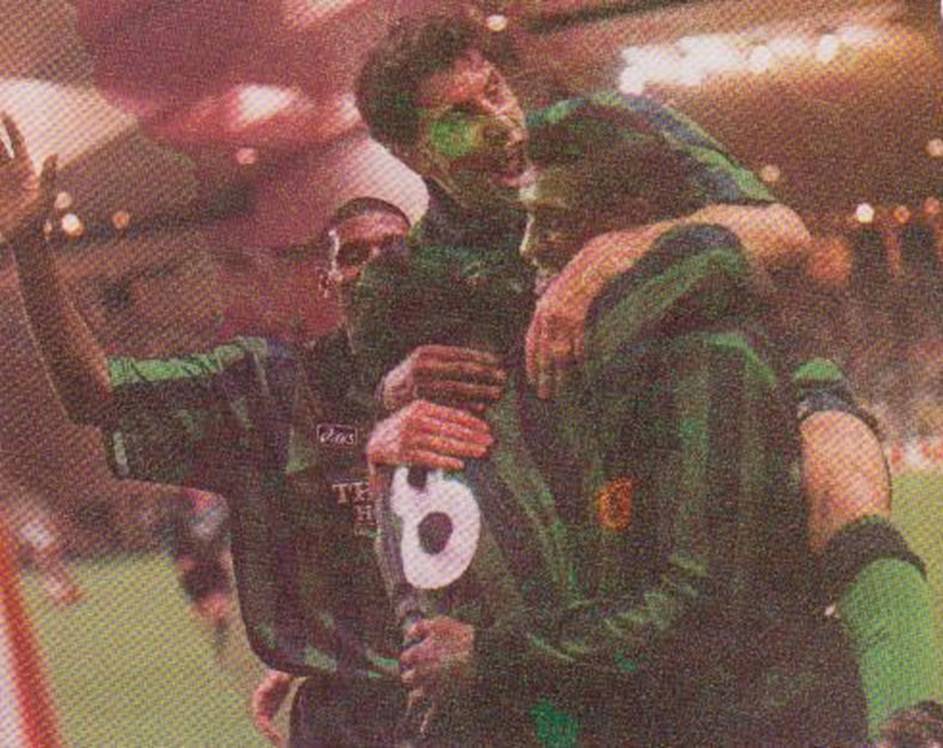 <![endif]>
Carlton Palmer, Paul Beesley and Brian Deane congratulate Tony Yeboah
<![if !vml]>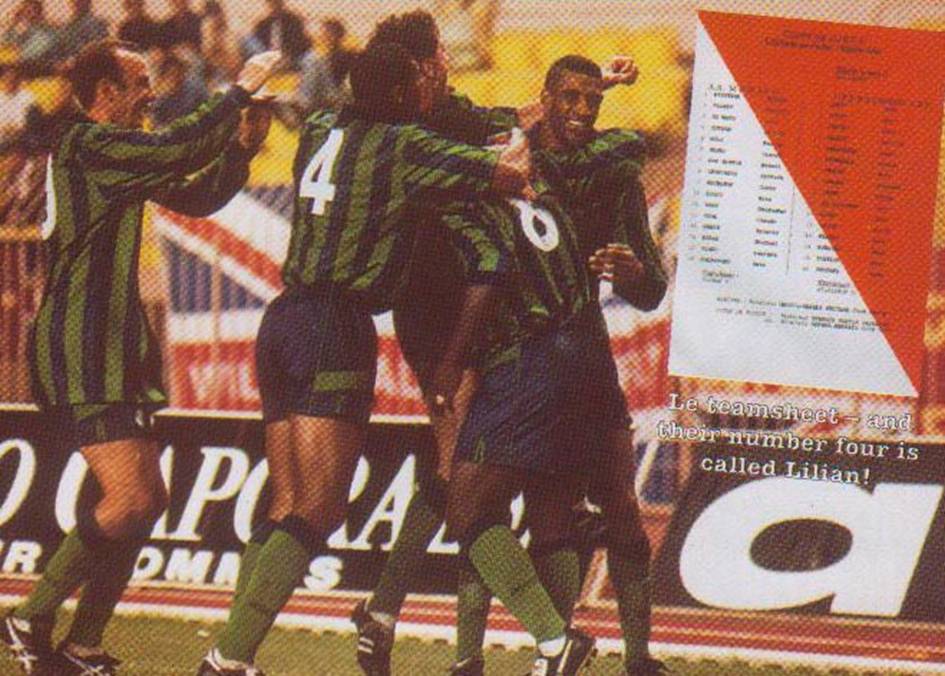 <![endif]>
as Captain Gary McAllister rushes to join them
<![if !vml]>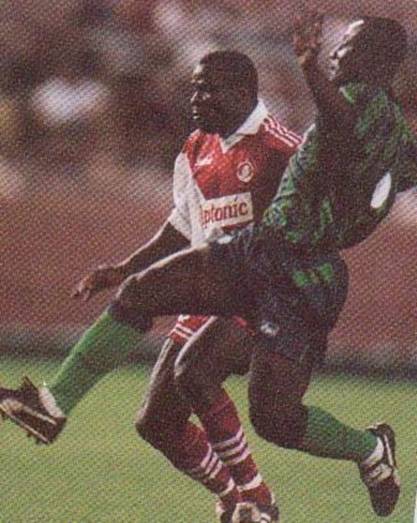 <![endif]>  <![if !vml]>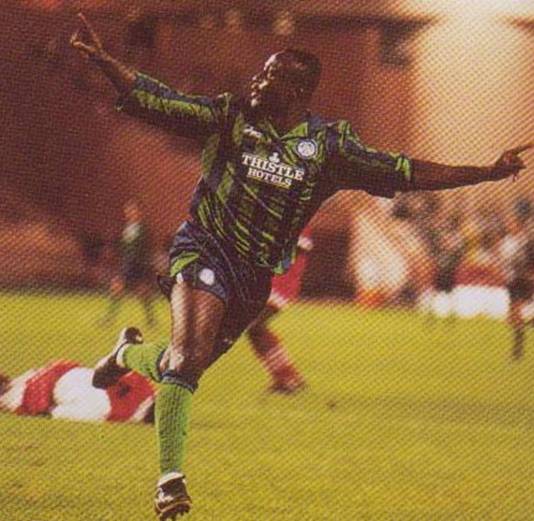 <![endif]>
Tony Yeboah leaves Basile Boli in his wake as he completes       Tony Yeboah celebrates his hat-trick 
his hat-trick     
<![if !vml]>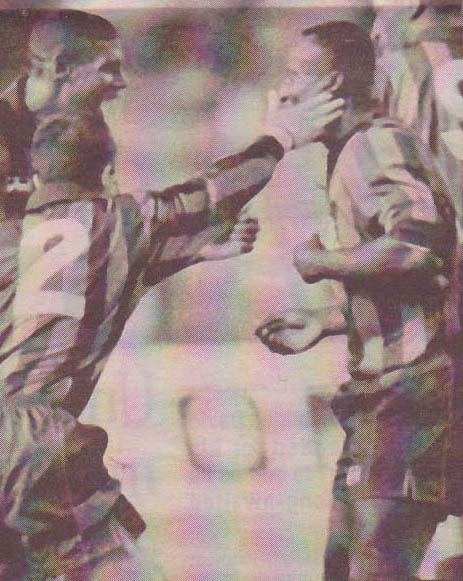 <![endif]> <![if !vml]>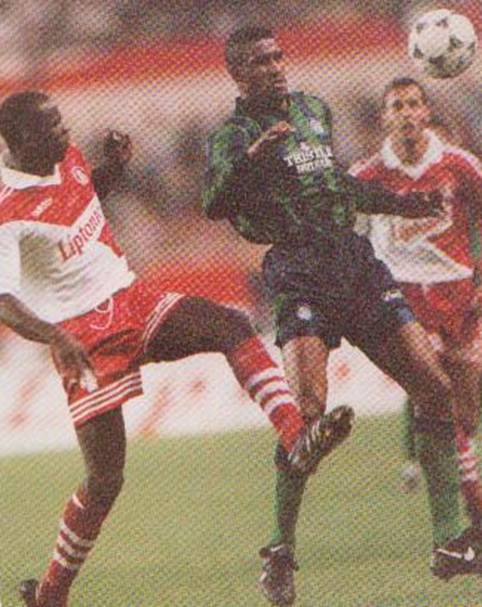 <![endif]>
Carlton Palmer and Gary Kelly congratulate him                                          Brian Deane takes on the Monaco defence
<![if !vml]>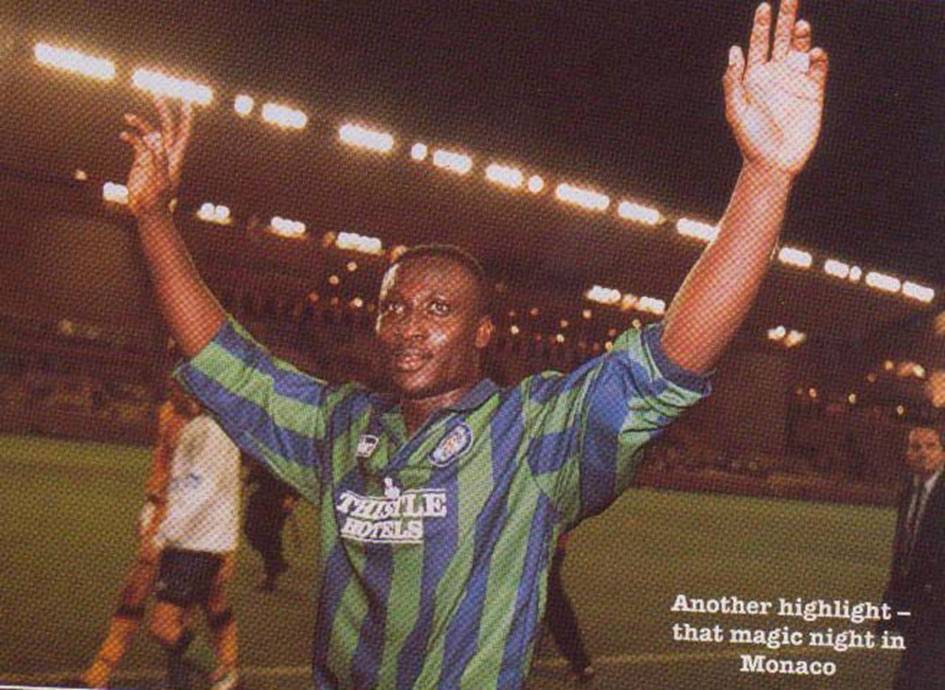 <![endif]>
Tony Yeboah salutes the crowd at the end of the game
Teams:
<![if !vml]>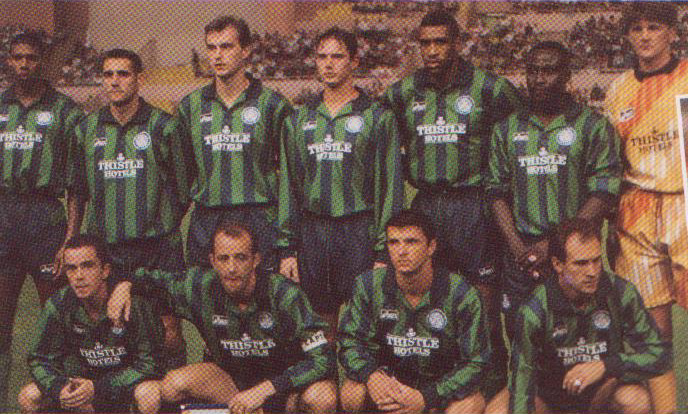 <![endif]>
Leeds United 1995-96: The starting team at Monaco
Back row: Carlton Palmer, John Pemberton, David Wetherall, Noel Whelan, Brian Deane,
Tony Yeboah, John Lukic.
Front row: Gary Kelly, Gary McAllister, Gary Speed, Tony Dorigo.
<![if !vml]>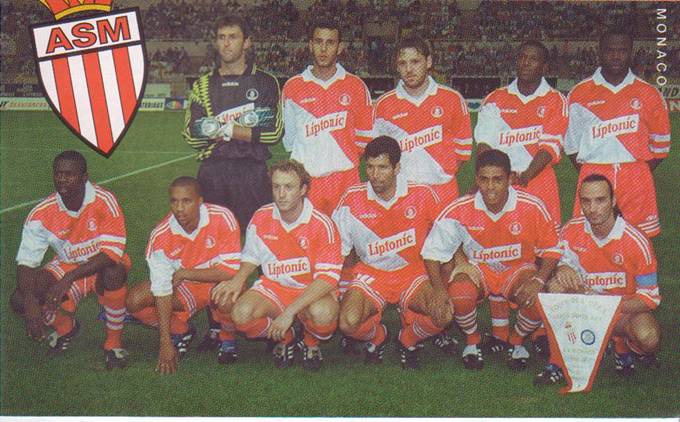 <![endif]>
AS Monaco 1995-96:
Players:
<![if !vml]>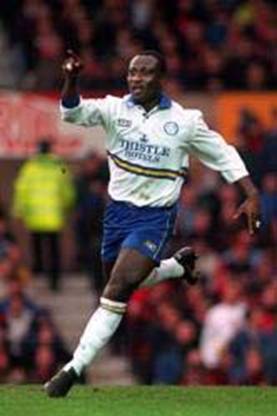 <![endif]> <![if !vml]>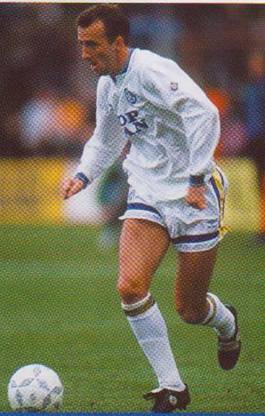 <![endif]>   <![if !vml]>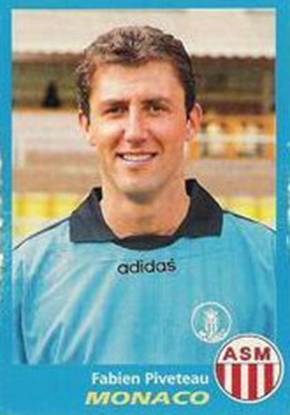 <![endif]> <![if !vml]>

<![endif]>
Hat-trick hero Tony Yeboah                        Captain Gary McAllister started               Fabien Piveteau started in goal but was injured and replaced
                                                                       the move for the second goal                      by Marc Delaroche, who also had to leave the field injured
<![if !vml]>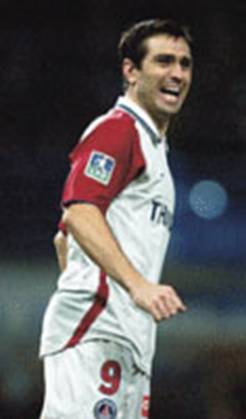 <![endif]>                    <![if !vml]>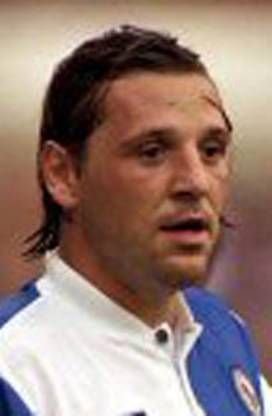 <![endif]> <![if !vml]>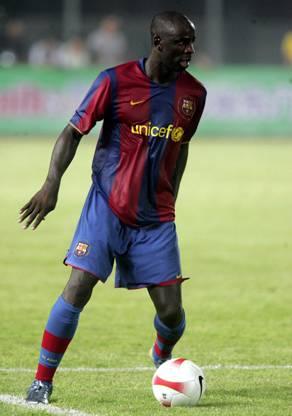 <![endif]>
Defender Claude Puel had to play                         Patrik Valery and Lilian Thuram were the full-backs
in goal for the last few minutes
<![if !vml]>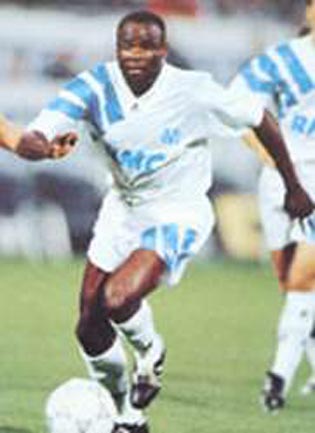 <![endif]> <![if !vml]>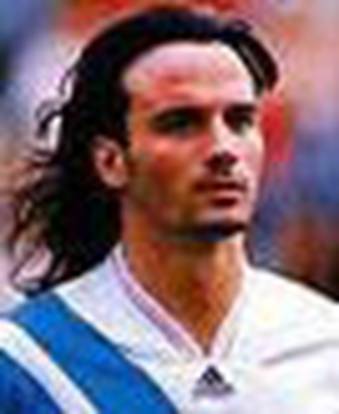 <![endif]> <![if !vml]>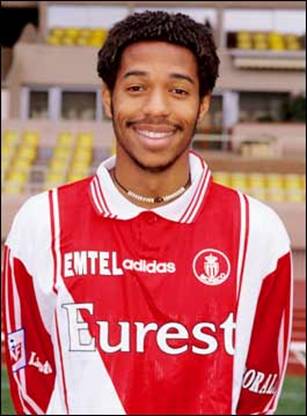 <![endif]>
                     Basile Boli and Eric Di Meco were the central defensive partnership                               A very young Thierry Henry was substitute
<![if !vml]>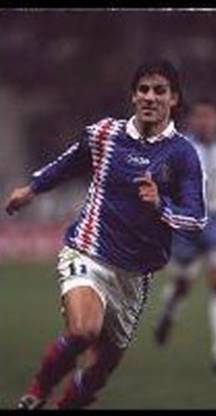 <![endif]> <![if !vml]>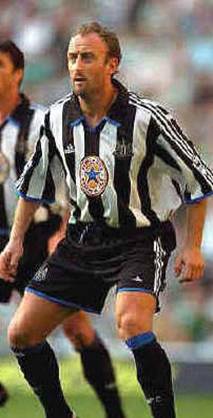 <![endif]> <![if !vml]>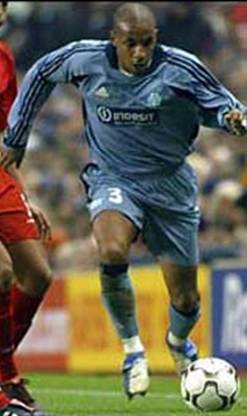 <![endif]> <![if !vml]>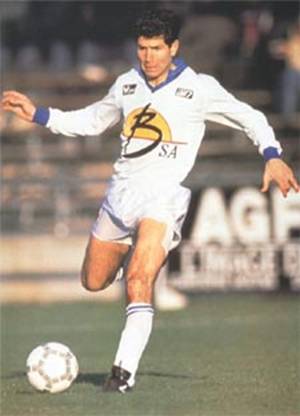 <![endif]>
Mickael Madar did not leave the bench but was in the starting eleven at Elland Road. Franck Dumas, Manuel Dos Santos and Enzo Scifo
<![if !vml]>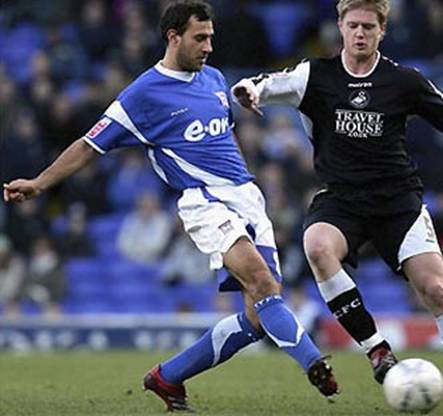 <![endif]>   <![if !vml]>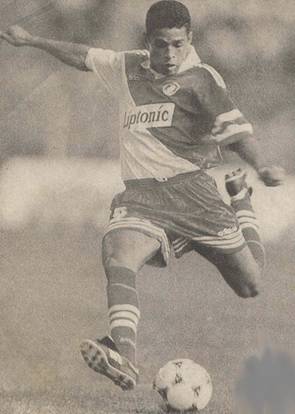 <![endif]> <![if !vml]>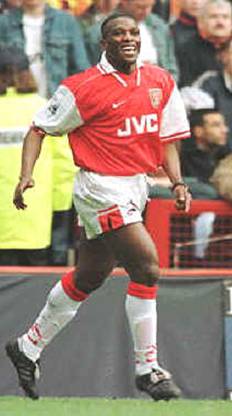 <![endif]>
and Sylvain Legwinski were in midfield. While upfront Sonny Anderson and Christopher Wreh were the strikers