<![if !vml]>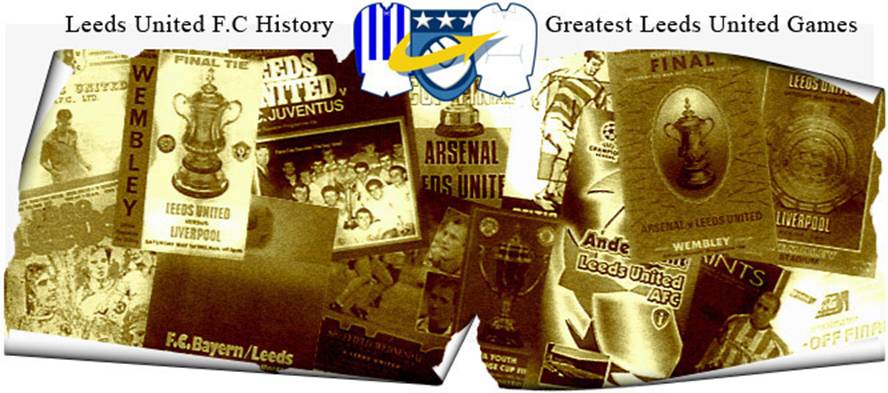 <![endif]>
Date: Tuesday, 13th February 2001.
Venue: Elland Road, Leeds.
Competition: ECL, 2nd Stage Group D: Match 3.
Score: Leeds United 2 Anderlecht 1.
Scorers: Leeds United: Harte, Bowyer. Anderlecht: Stoica.
Attendance: 36,064.
Teams:
<![if !vml]>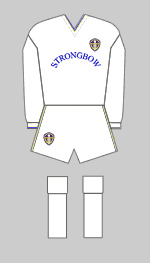 <![endif]><![if !vml]>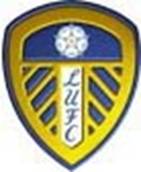 <![endif]>
Leeds United: Martyn; Mills, Ferdinand, Radebe, Harte; Bowyer, Batty, Dacourt (Bakke), Matteo (Kewell); Smith, Viduka. Unused Subs: Woodgate, Wilcox, Burns, Robinson.                           
<![if !vml]>
<![endif]><![if !vml]>

<![endif]>
Anderlecht: Milojevic; Crasson, Ilic, De Boeck, Vanderhaeghe; Goor, Dheedene, Bassegio, Stoica; Koller, Radzinski. Unused Subs: Van Dieman, Hasi, Pirard, Dindane, Youla, Traore, Carlier.
Referee: Karl-Erik Nilsson (Sweden).
Although Robbie Keane was scoring regularly in the League he was not eligible to play in the ECL, having already played in the competition for Inter Milan, but the ever improving Rio Ferdinand was available for the first time as United faced a potentially hard fixture with a home tie against Anderlecht. The six foot eight inch striker Jan Koller and the smaller but speedy Tomasz Radzinski were expected to test Rio and his fellow defenders to the limit and indeed the signs were ominous as, after having the majority of possession, they went behind in the sixty-fifth minute. However, thanks to late goals from Ian Harte, from a twenty-five yard free-kick, and Lee Bowyer, who crowned a superb display, when he collected a fine through ball from Alan Smith to beat the keeper and give United a deserved 2-1 victory.
Once again United scaled the heights against the dream teams of Europe and treated them as if they were a minor impediment on their journey. Anderlecht, the Belgian Champions, went the same way as Italian giants AC Milan and Lazio on their trip to Elland Road. It seemed as if the bigger the reputation of the team, the bigger the performance from United, and if Anderlecht thought they had got through the first hour unscathed and the battle was over they were spectacularly wrong. They reckoned without United's two most potent weapons. They were the deadly accuracy of Ian Harte's free-kicks and the uncanny predatory instincts of Lee Bowyer. Allied with a compelling raw-edge midfield performance of David Batty, the extra-ordinary talent of Harry Kewell and the assuredness of central defenders Lucas Radebe and Rio Ferdinand, these were insuperable strengths.
Anderlecht had a reputation for not being good travellers, but they were not evident as they employed high-speed, one-touch football which often threatened to pay dividends. Too often though they failed to deliver on what they had promised and they were left to regret their obsequiousness. After just four minutes Lee Bowyer had time to line himself up for a volley after good work from Dominic Matteo but shot well over the bar. David Batty scythed down Bart Goor twenty-five yards out, and after Didier Dheedene's shot cannoned of the wall Alin Stoica lashed in a shot which Nigel Martyn held. United had a lucky let off after nine minutes as Bertrand Crasson's low cross from the right was missed firstly by Jan Koller and then Bart Goor as he slid in. Alan Smith got in a good header from an Olivier Dacourt free-kick but Zvonko Milojevic diving to his right saved well. Alan Smith was getting in several flick headers as United gradually found their stride and won their first corner after sixteen minutes, but Lee Bowyer's kick was cleared. Then Alan Smith floored strike partner Mark Viduka as they contested a Lee Bowyer free-kick from the right.
David Batty did some clever work on the edge of the box to create an opening for Ian Harte to get a shot in from distance which Zvonko Milojevic did well to save at the foot of a post. Alan Smith worked hard to release Mark Viduka whose shot was turned away by the keeper for a corner and from Lee Bowyer's kick Dominic Matteo was not too far away with a header.  In an Anderlecht raid Alin Stoica's speculative effort was always going wide and as the half hour came and went Olivier Dacourt's free-kick drifted harmlessly by. Lucas Radebe was alert to whip the ball off Bart Goor's toes as he shaped to shoot and then after a Rio Ferdinand stumble allowed Tomasz Radzinski in, his finish was poor. An intricate move on the edge of the box allowed Yves Vanderhaeghe to get in a shot which Nigel Martyn handled with ease and half-time came with the game still goalless.
After the interval a poor clearance from Yves Vanderhaeghe let in Mark Viduka but again his finish was poor. A huge roar greeted the appearance of Harry Kewell just nine minutes into the half as he replaced Dominic Matteo and he announced his arrival with a drive that Zvonko Miljevic had to be alert to keep out and Bertrand Crasson gave Harry Kewell a nasty nudge and next there were vain appeals for a United penalty as Lee Bowyer went down in the area. Then Anderlecht went ahead against the run of play after sixty-five minutes. Bart Goor and Alin Stoica played a nice one-two before the Romanian international Stoica picked his spot from ten yards. The Belgians having gained the advantage started playing possession football for a sustained period of time, but then United broke free to equalize just nine minutes later. It was an Ian Harte special as he took a free kick, twenty-five yards out, and unleashed a fearful drive of great velocity into the near bottom corner with Zvonko Milojevic clutching at thin air.
Nine minutes from time Tomasz Radzinski's cross just evaded the head of the giant Jan Koller and then a minute later they repeated the raid and this time Koller got his angles all wrong and his header sailed harmlessly over. They were two fine chances and United had lived dangerously, but they stole it four minutes from the end when Yves Vanderhaeghe stumbled, Glen De Boeck hesitated and Alan Smith nipped in between them to find Lee Bowyer running on. Bowyer, despite his awkward angle, fired the ball across Zvonko Milojevic and into the far corner to send Elland Road into raptures. Walter Bassegio's shot was brilliantly tipped round the post by Nigel Martyn in injury time and the victory was assured.
<![if !vml]>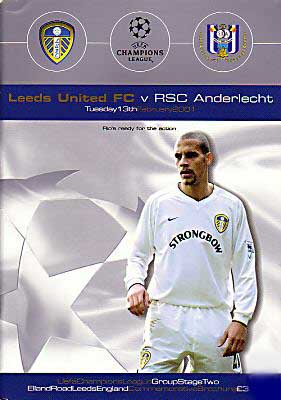 <![endif]> <![if !vml]>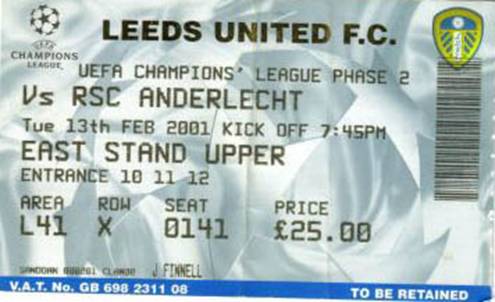 <![endif]>
Match Action:
<![if !vml]>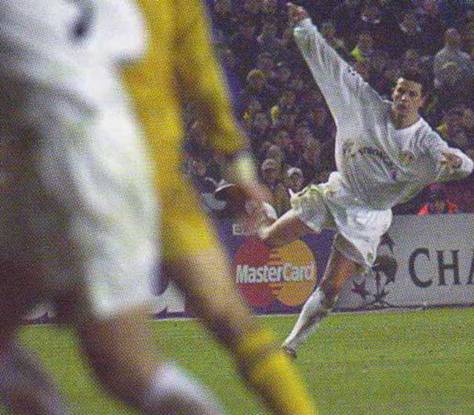 <![endif]>   <![if !vml]>
<![endif]>
Ian Harte opens the scoring for United                                                          Lee Bowyer gets United's second
<![if !vml]>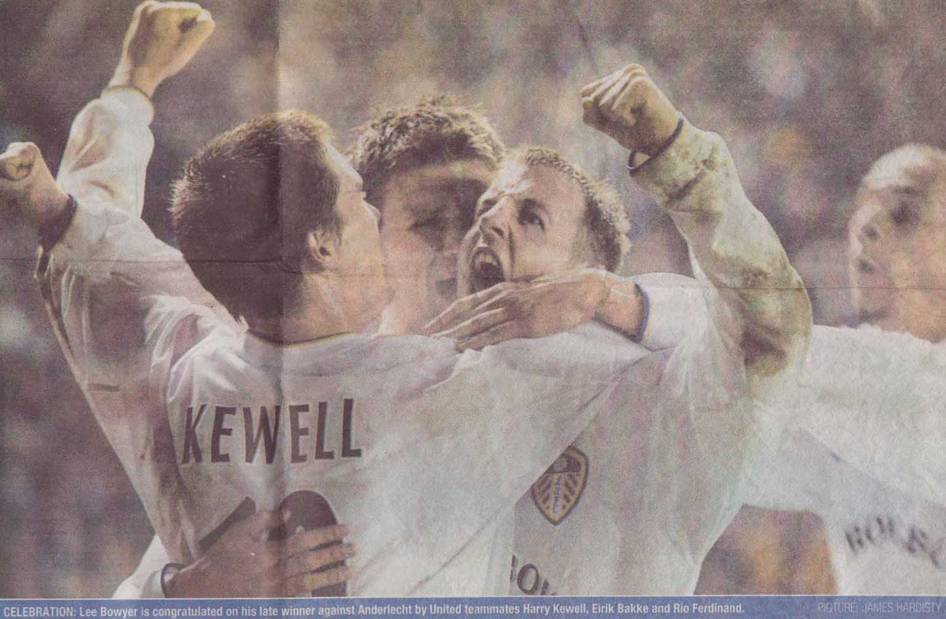 <![endif]>
<![if !vml]>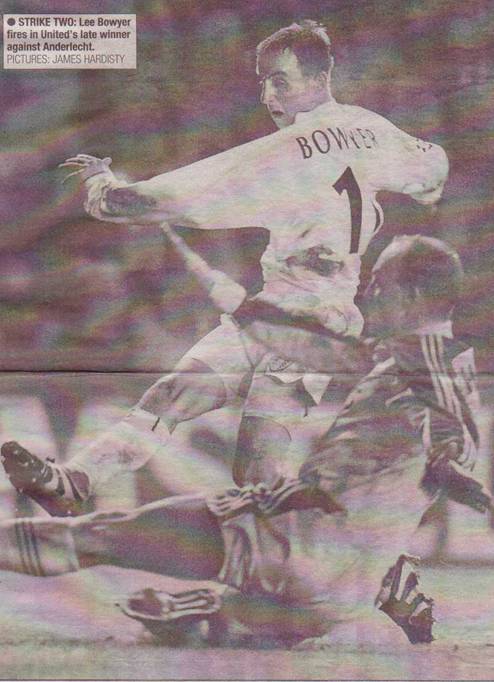 <![endif]> <![if !vml]>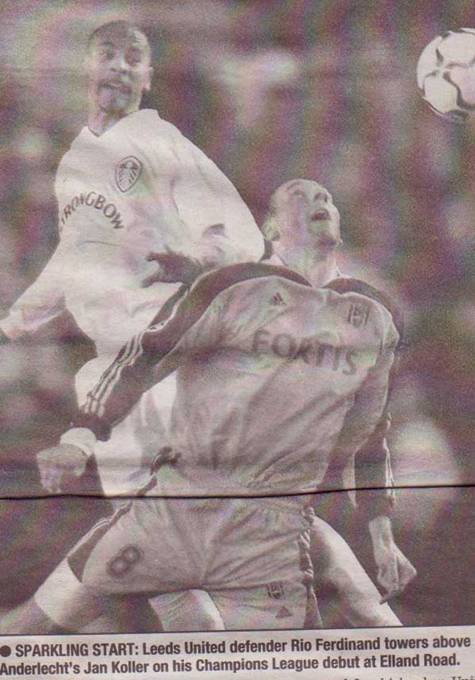 <![endif]>
<![if !vml]>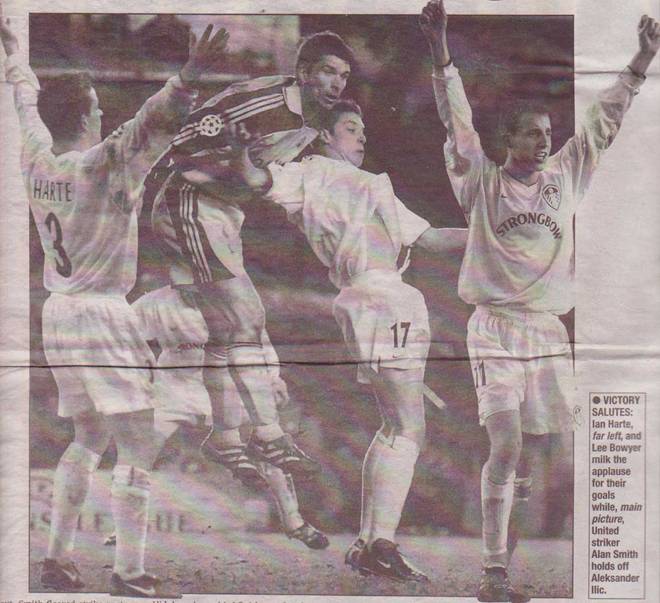 <![endif]>   <![if !vml]>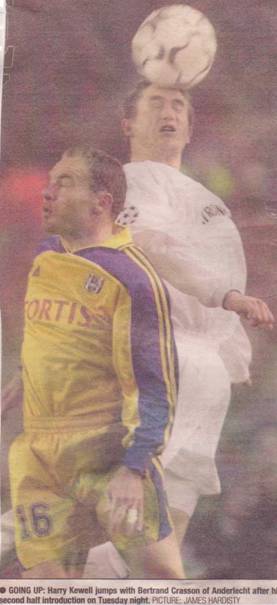 <![endif]>
<![if !vml]>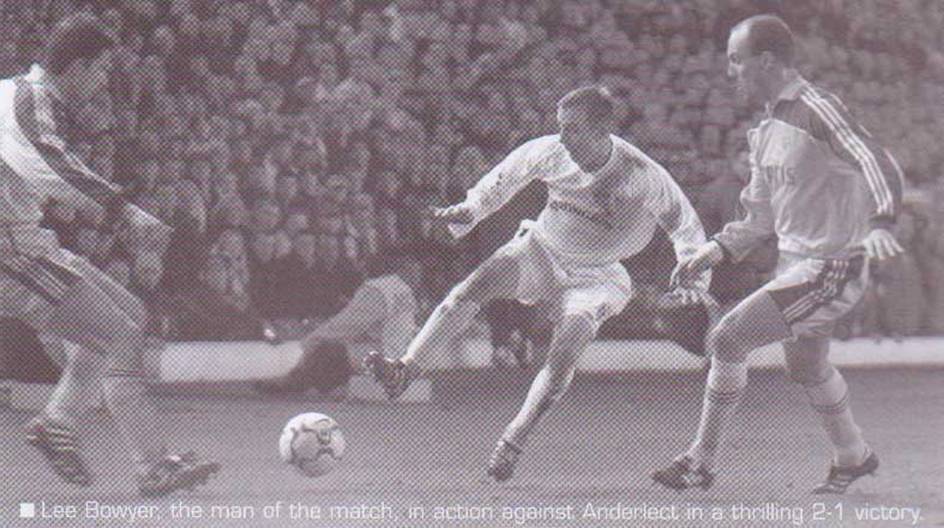 <![endif]> 
<![if !vml]>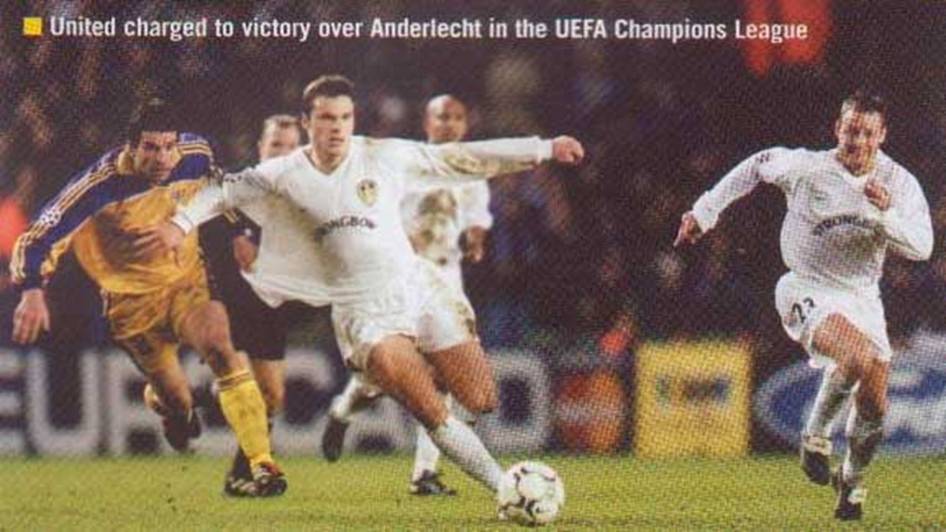 <![endif]>
<![if !vml]>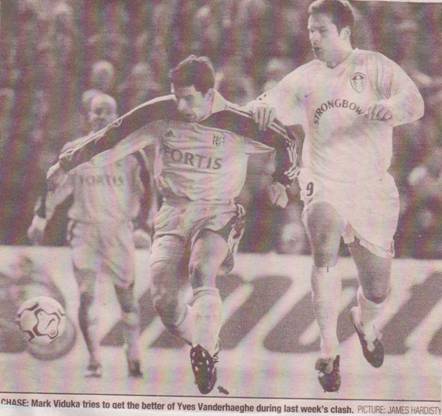 <![endif]> <![if !vml]>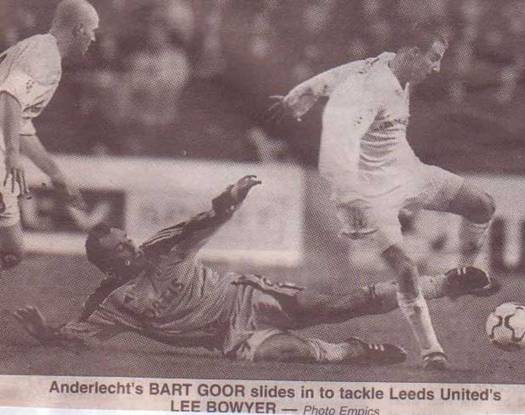 <![endif]>
Players:
<![if !vml]>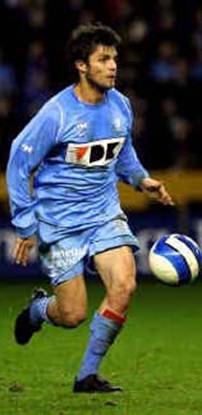 <![endif]>  <![if !vml]>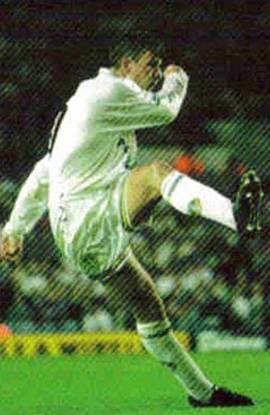 <![endif]>  <![if !vml]>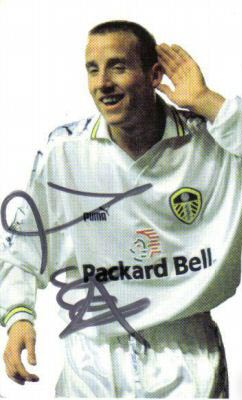 <![endif]>    <![if !vml]>
<![endif]> 
Alin Stoica opened the                Ian Harte scored the Leeds equaliser       Man of the Match Lee Bowyer               Alan Smith's fine pass led to
scoring for Anderlecht                                                                                     got the winner                                            the second goal
<![if !vml]>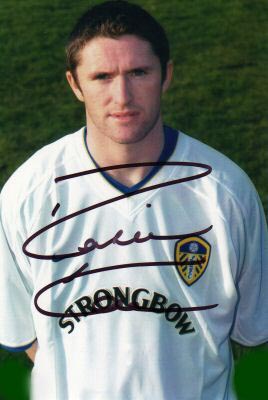 <![endif]> <![if !vml]>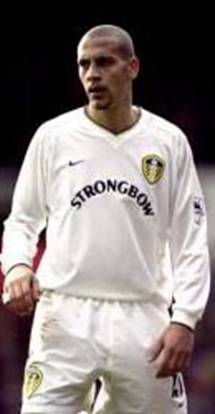 <![endif]> <![if !vml]>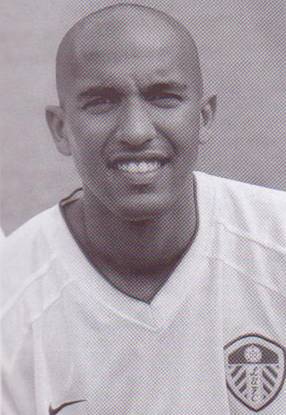 <![endif]> <![if !vml]>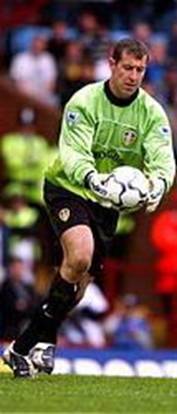 <![endif]>
Robbie Keane was not available in Europe but Rio Ferdinand made               Olivier Dacourt was off target                       Nigel Martyn saved in
his debut                                                                                                                                                                                         the final minute
<![if !vml]>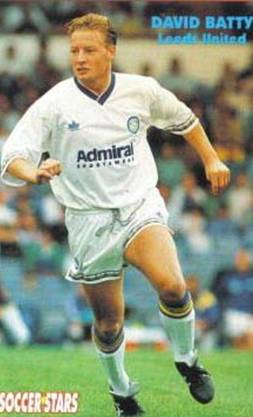 <![endif]> <![if !vml]>
<![endif]> <![if !vml]>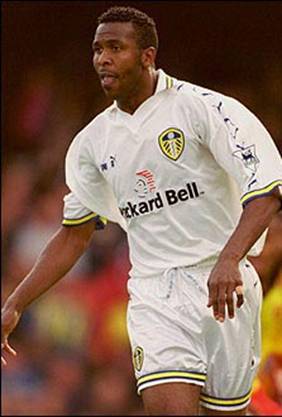 <![endif]> <![if !vml]>
<![endif]>
David Batty was the raw edge in midfield while Harry Kewell          Lucas Radebe was assured in defence        Dominic Matteo set up Lee Bowyer
showed his extra-ordinary talents
<![if !vml]>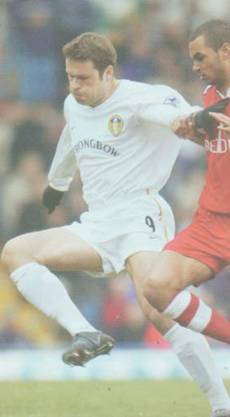 <![endif]> <![if !vml]>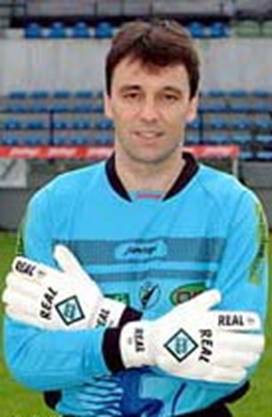 <![endif]> <![if !vml]>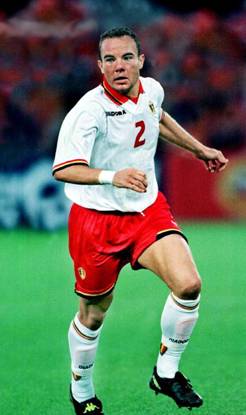 <![endif]> <![if !vml]>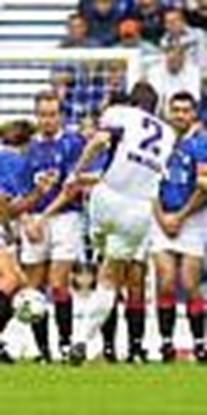 <![endif]>
Mark Viduka was foiled by the Anderlecht keeper Zvonko Milojevic              Bertrand Crasson and Aleksander Ilic were the full-backs
<![if !vml]>
<![endif]> <![if !vml]>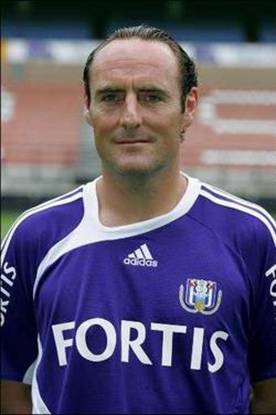 <![endif]> <![if !vml]>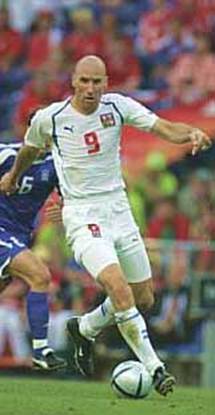 <![endif]> <![if !vml]>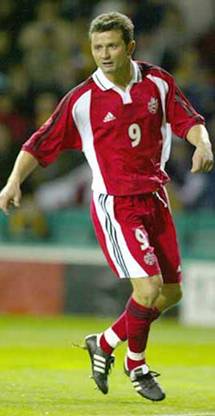 <![endif]>
Glen De Boeck and Yves Vanderhaeghe were the central defenders                           Jan Koller and Tomasz Radzinski were the strikers
<![if !vml]>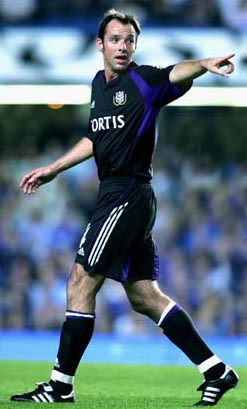 <![endif]>  <![if !vml]>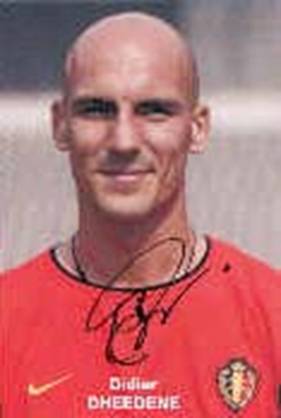 <![endif]>  <![if !vml]>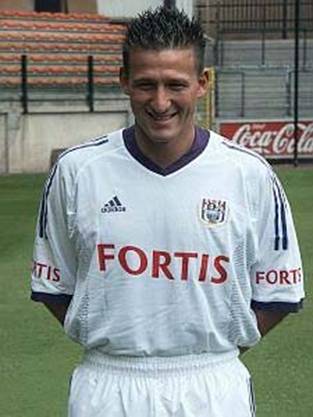 <![endif]>  
Anderlecht's midfield was Bart Goor, Didier Dheedene, Walter Bassegio and goal-scorer Alin Stoica                                     
<![if !vml]>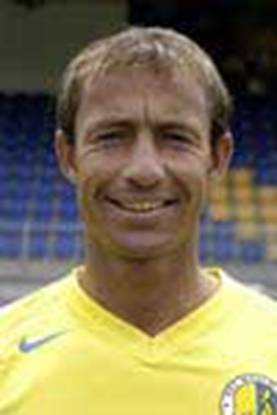 <![endif]> <![if !vml]>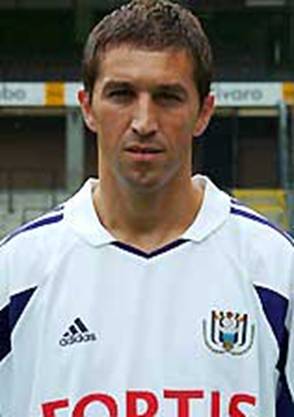 <![endif]> <![if !vml]>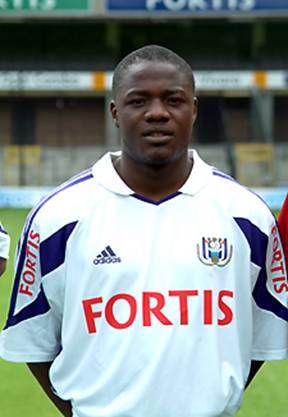 <![endif]> 
Patrick Van Diemen, Besnik Hasi, Aruna Dindane,
<![if !vml]>
<![endif]> <![if !vml]>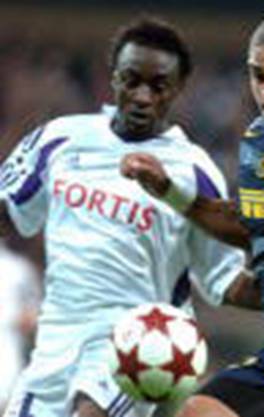 <![endif]> 
Soulymane Youla and Lamine Traore were five of the unused substitutes