<![if !vml]>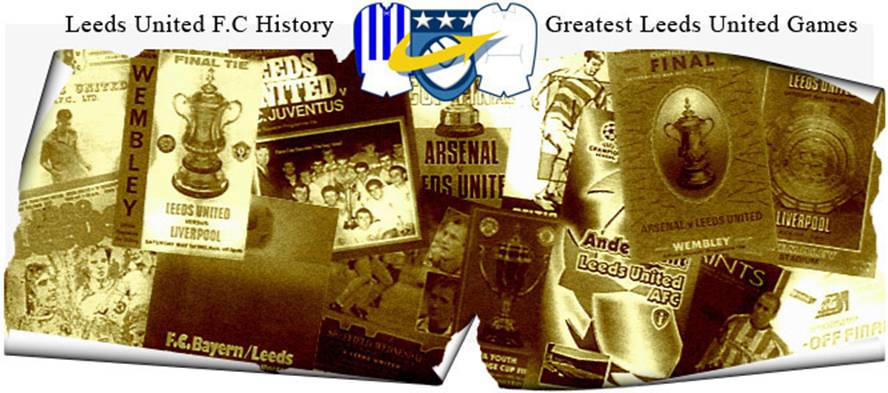 <![endif]>
Date: Thursday, 13th May 1993.
Venue: Elland Road, Leeds.
Competition: FA Youth Cup Final, Second Leg.
Score: Leeds United 2 Manchester United 1
Scorers: Leeds United: Forrester, Smithard. Manchester United: Scholes (pen).
Attendance: 31,037.
Teams:
<![if !vml]>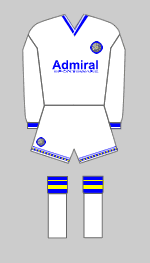 <![endif]><![if !vml]>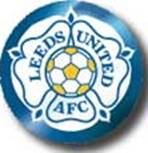 <![endif]>
Leeds United: Pettinger; Couzens, Sharp; Tinkler, Daly, Bowman (Tobin); Smithard, Ford, Whelan, Oliver (Byrne), Forrester.
<![if !vml]>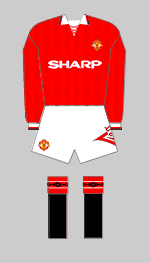 <![endif]><![if !vml]>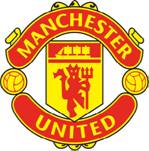 <![endif]>
Manchester United: †Whitmarsh, P. Neville, Riley, Casper, G.Neville; Gillespie, Scholes, Beckham, Irving (Murdoch); Savage, Thornley.
Referee: Mr P.Durkin (Portland).
For the Second Leg 31,037 fans flocked to Elland Road in anticipation of silverware success and to see if the Leeds youngsters could finish the job. It didnít take United long to extend their aggregate lead with a stunning overhead kick from Jamie Forrester. Paul Scholes levelled on the night with a penalty, but within a minute Leeds made the aggregate score 4-1 with a Matthew Smithard goal.
There were no more goals in the second-half, so skipper Mark Ford hoisted the FA Youth Cup and led his jubilant players on a lap of honour. It was a great triumph for former United star Paul Hart, who was in his first season as Director of Youth Coaching at Elland Road. Five of the Leeds players, Jamie Forrester, Noel Whelan, Rob Bowman, Kevin Sharp and Mark Tinkler were all in the England Under-Eighteen squad which won the European Championship. Those five, plus Mark Ford, who also represented England at under-Eighteen level and Andy Couzens, who gained England under-Twenty-one honours, all progressed to play for the Leeds senior team. Of the Manchester United players, brothers Gary and Phil Neville, David Beckham, Nicky Butt, and Paul Scholes were capped for England at full level, while Keith Gillespie and Robbie Savage were similarly capped by Northern Ireland and Wales respectively.
<![if !vml]>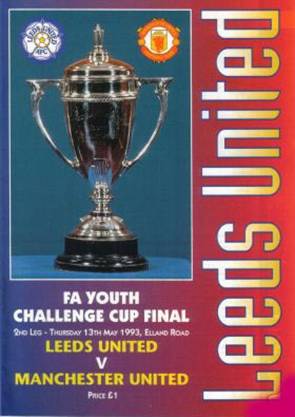 <![endif]>† <![if !vml]>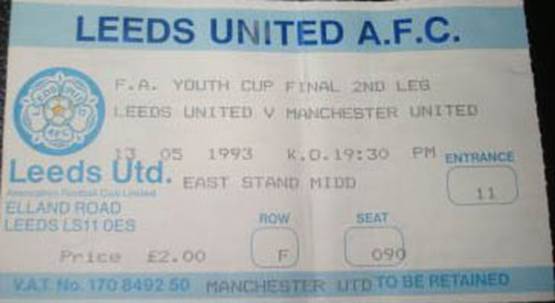 <![endif]>
Match Action:
<![if !vml]>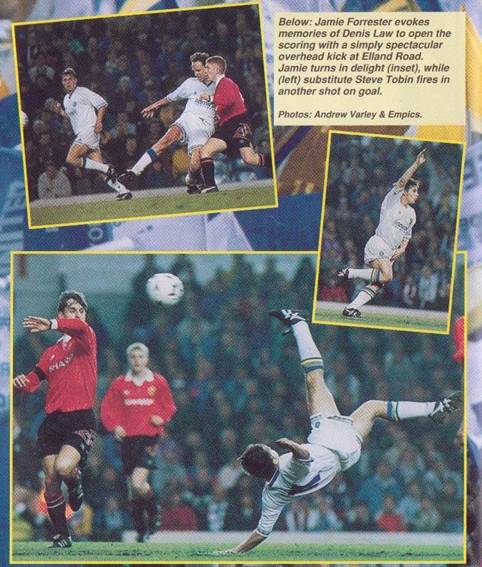 <![endif]>† <![if !vml]>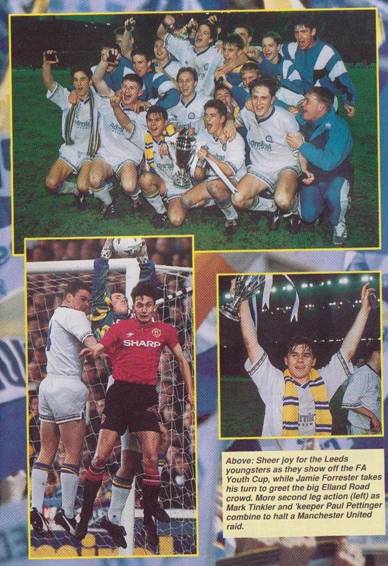 <![endif]>
<![if !vml]>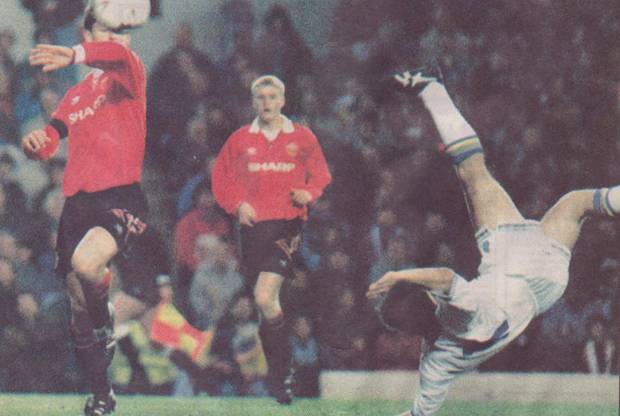 <![endif]>††† <![if !vml]>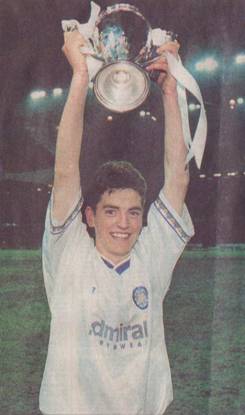 <![endif]>
Jamie Forrester scoring the spectacular overhead bicycle kick which opened the scoring††††††††††††† Captain Mark Ford with the Cup
in the 1992-93 F.A. Youth Cup Final Second Leg at Elland Road 13th May 1993.
<![if !vml]>
<![endif]>†††††††††††††††† <![if !vml]>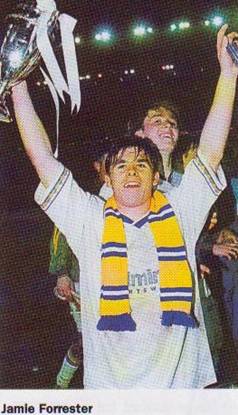 <![endif]>
<![if !vml]>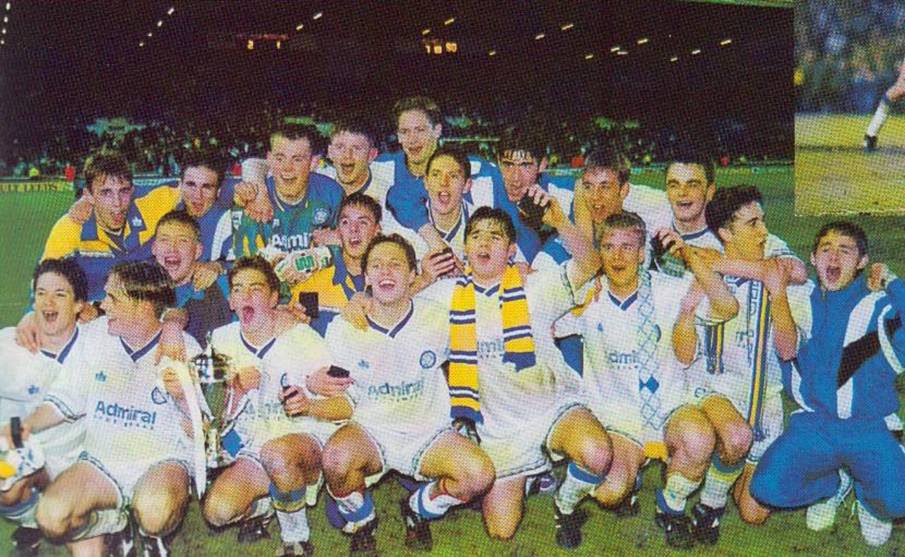 <![endif]>
Leeds team celebrate
Teams:
<![if !vml]>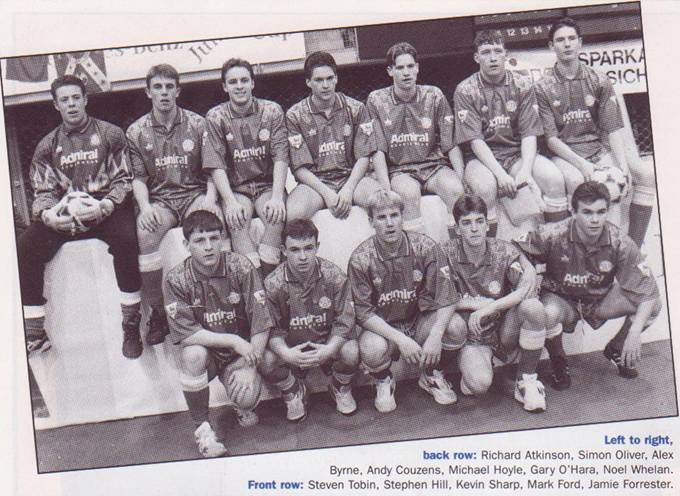 <![endif]>
<![if !vml]>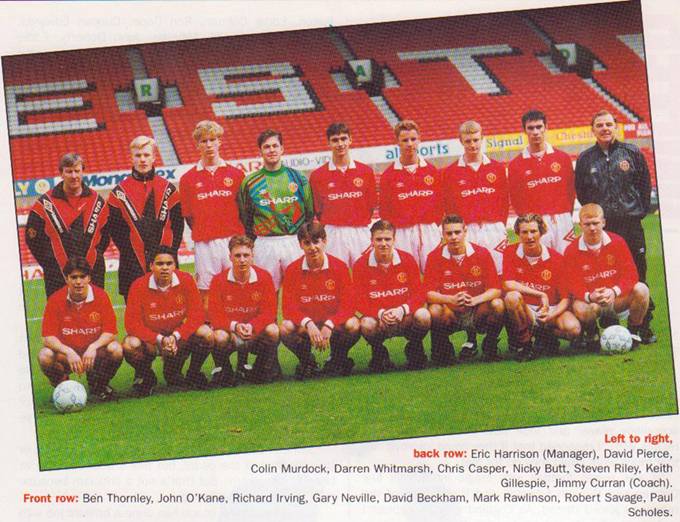 <![endif]>
Players:
<![if !vml]>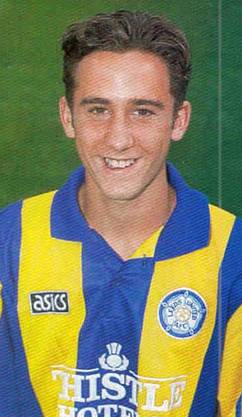 <![endif]>†<![if !vml]>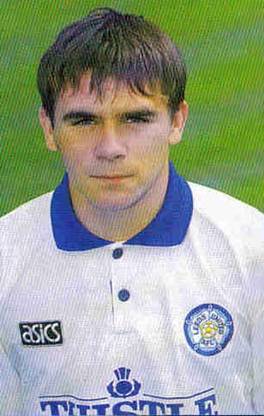 <![endif]>†† <![if !vml]>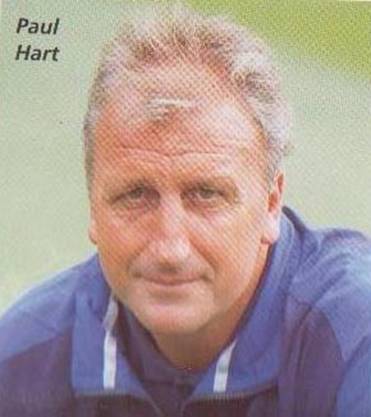 <![endif]>
Matthew Smithard and Jamie Forrester got the Leeds goals†††††††††††††††††††††††††††††††† Paul Hart was the Leeds Coach
Paul Scholes replied for Manchester
<![if !vml]>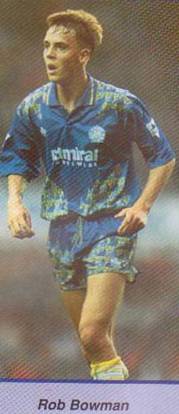 <![endif]>†<![if !vml]>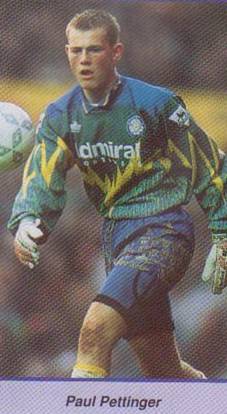 <![endif]>†<![if !vml]>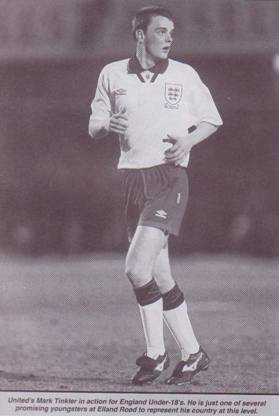 <![endif]>†<![if !vml]>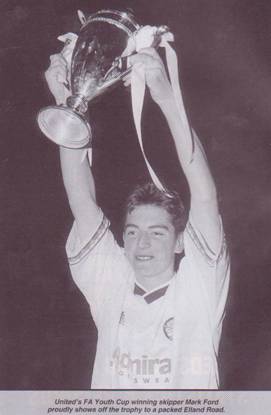 <![endif]>
<![if !vml]>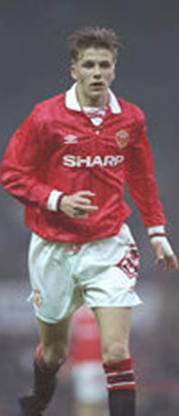 <![endif]>†<![if !vml]>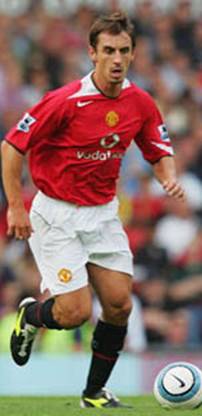 <![endif]>†<![if !vml]>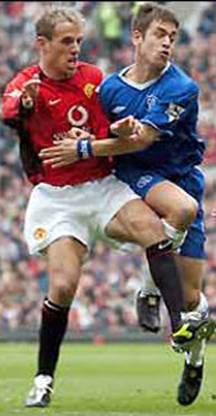 <![endif]>†<![if !vml]>
<![endif]>†<![if !vml]>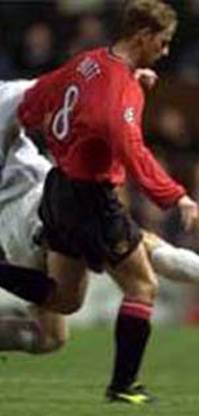 <![endif]>
David Beckham, Gary Neville, Phil Neville, Paul Scholes and Nicky Butt went on to represent England at International level
<![if !vml]>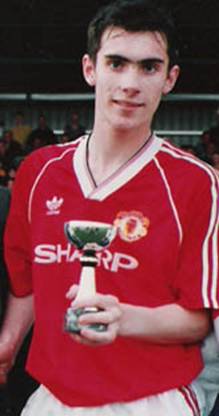 <![endif]>†<![if !vml]>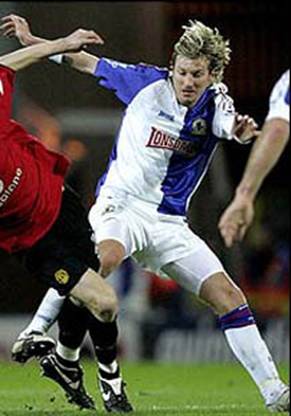 <![endif]>†† ††††††<![if !vml]>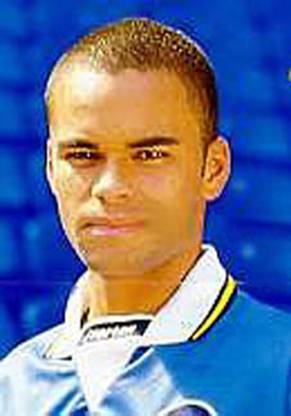 <![endif]>
Keith Gillespie represented Northern Ireland and Robbie Savage Wales††††† John OíKane found regular football with Everton
<![if !vml]>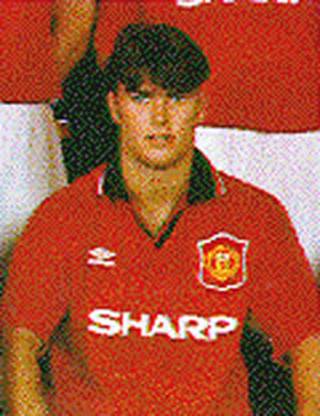 <![endif]>† ††<![if !vml]>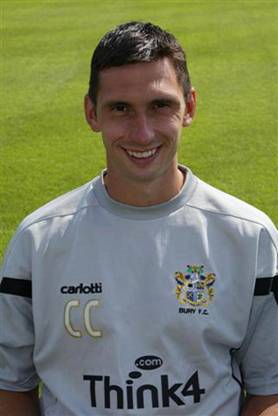 <![endif]>
Left-Winger Ben Thornley and Central Defender Chris Casper made the Manchester first-team
<![if !vml]>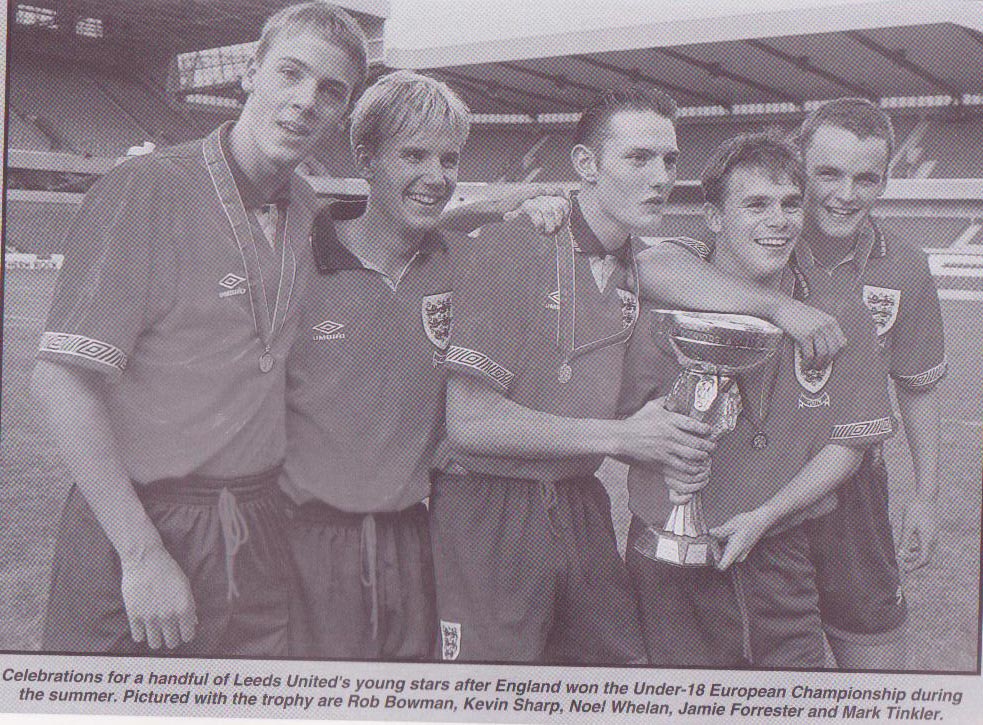 <![endif]>
Five of the Leeds team played for the England Under-Eighteen team that year