<![if !vml]>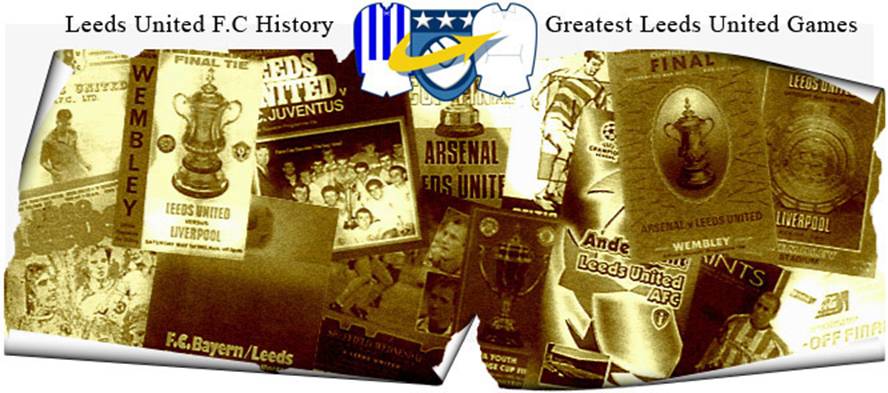 <![endif]>
Date: Tuesday, 15th September 1998.
Venue: Elland Road, Leeds.
Competition: UEFA Cup, First Round, First Leg.
Score: Leeds United 1 CS Maritimo 0.
Scorers: Leeds United: Hasselbaink. CS Maritimo: Nil.
Attendance: 38,033.
Teams:
<![if !vml]>
<![endif]><![if !vml]>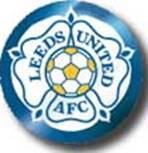 <![endif]>
Leeds United: Martyn; Hiden, Molenaar, Radebe, Harte; Hopkin (Sharpe), Haaland (Ribeiro), Bowyer, Kewell; Wijnhard (Lilley), Hasselbaink.Unused Subs: Wetherall, Halle, Granville, Robinson.                           
<![if !vml]>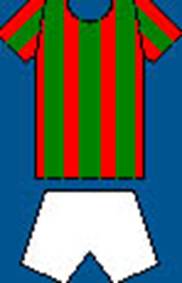 <![endif]><![if !vml]>

<![endif]>
CS Maritimo: Van Der Straeten; Jorge, Soares, Serges, Eusebio; Oscar, Antonio (Gama), Da Silva, Lopez (Cruz); Duveau (Moreiri), Bunbury. Unused Subs: Bach, Jokonovic, Fernandez, Nelson Vasco.
Referee: Alain Sars (France).
Hard task-master George Graham preached patience after seeing United hit a brick wall on their return to Europe after a three year absence. He had skillfully steered his team into the UEFA Cup where they received stubborn resistance from their First Round opponents, little known Portuguese side Maritimo from the island of Madiera.
Jimmy Hasselbaink found the key to unlock Maritimo's defensive door just as the bolts were being slammed into place to give United a slight edge in this UEFA Cup-tie. The eighty-fourth minute goal that he drilled in from one of United's intricate set-piece situations might well have proven to be a precious commodity when George Graham's men had to make the trip to Madeira for the second leg in Funchal two weeks later, but for long periods it looked as though Maritimo's resolute and uncompromising tackling would earn them the goalless draw they wanted as they attempted to smother United under a blanket defence.
It was a typical display from a visiting European side with a packed defence which was technically very sound and well organized, the Maritimo back four had the height and steel and were quick to close down the United forwards. Star striker Alex Bunbury had admitted that would be his side's tactics and that he hoped to nick a goal at the other end. That would have been the unfancied Portuguese team's ideal outcome, but in reality, Robert Molenaar and Lucas Radebe kept a firm grip on the lone attacker and generally there was little worry for the Leeds rearguard. United battled away in midfield but did not have the creativity to break the Maritimo midfield that were just intent on defence.
Leeds went hunting for an early goal but did not get it. There was a snapshot from Clyde Wijnhard, following a cross from Martin Hiden which Belgian keeper Yves Van Der Straeten kept out with his boot. A left-foot shot from Jimmy-Floyd Hasselbaink was hit straight at the keeper. United then looked to Harry Kewell to provide the answer but he volleyed wide from a David Hopkin cross. Just before the hour Jimmy-Floyd Hasselbaink, who had hit a hat-trick, when he was in Portugal with Boavista, the last time he played against them, thumped a shot against an upright. Lee Bowyer then hammered a shot just over the bar as United tried to take advantage of their limited opportunities. Jimmy-Floyd Hasselbaink claimed he had been pushed in the area but the referee saw nothing amiss and the 38,000 crowd had to endure more frustration as Jimmy-Floyd Hasselbaink twice shot wide before just on the hour David Hopkin hit the foot of the post.
George Graham tried to freshen things up by introducing first Derek Lilley for Clyde Wijnhard, just after the hour mark, and then Bruno Ribeiro for Alfie Haaland, five minutes later, and finally Lee Sharpe for David Hopkin, with fifteen minutes left on the clock, but no reward came until six minutes from time. Mario Antonio brought down Jimmy-Floyd Hasselbaink just outside of the penalty area and, from a well practiced set-piece, Bruno Ribeiro pushed the ball to Lee Sharpe, who set up Jimmy-Floyd Hasselbaink to fire a low angled shot into the corner of the net wide of the diving Yves Van Der Straeten in the Maritimo goal. Lee Sharpe later almost made it 2-0 but the alert Yves Van Der Straeten palmed his shot round the post. United now knew the strength of the Maritimo defence, but their attack remained an unknown quantity since, apart from some wild speculative long-range shots, they failed to test Nigel Martyn in the Leeds goal.
George Graham summed up the match and European frustrations. "I was despairing that the goal would never come. We expected them to defend and I thought they did it well but this is something the players and the fans are going to have to live with. European games can be frustrating and your patience can wear a bit thin. But I think we got what we deserved by winning the game."
<![if !vml]>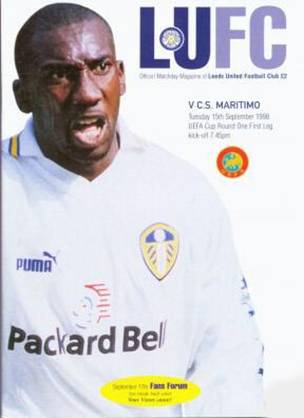 <![endif]> <![if !vml]>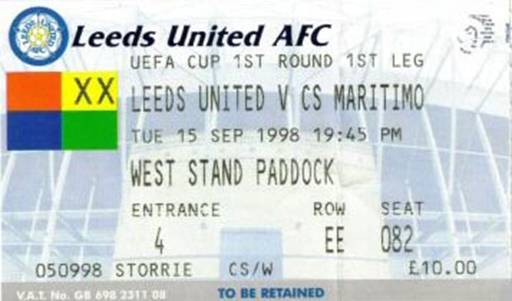 <![endif]>
Match Action:
<![if !vml]>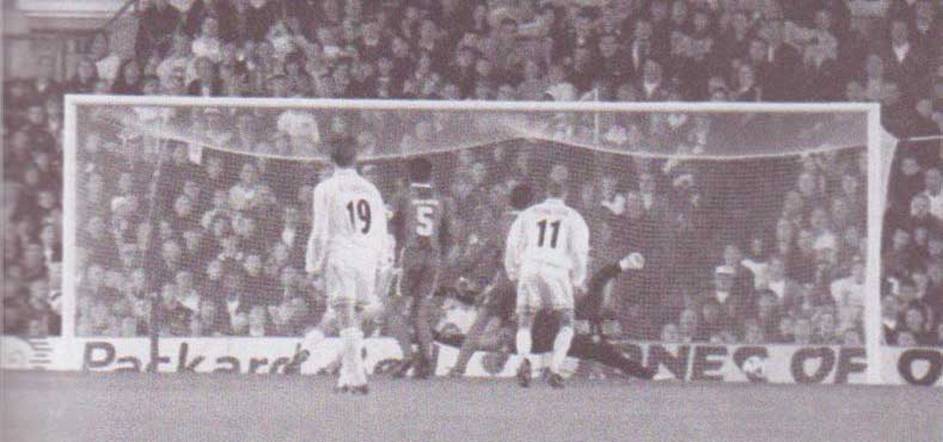 <![endif]>
Jimmy-Floyd Hasselbaink scores the only goal
<![if !vml]>
<![endif]> 
<![if !vml]>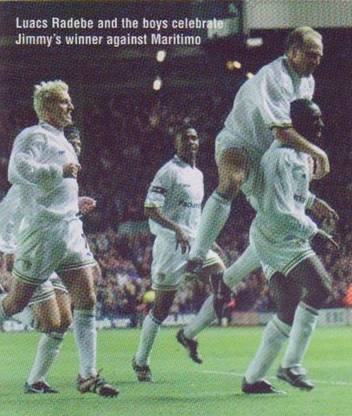 <![endif]> <![if !vml]>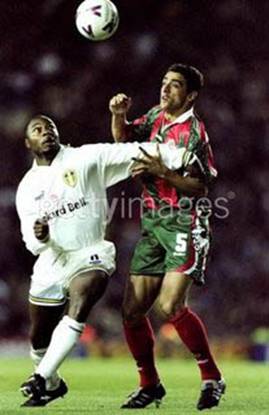 <![endif]> <![if !vml]>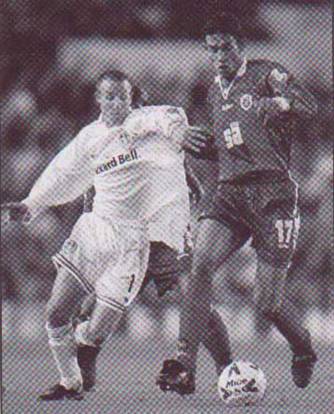 <![endif]>
                                                                                          Clyde Wijnhard wins a header                  Lee Bowyer gets in a tackle
<![if !vml]>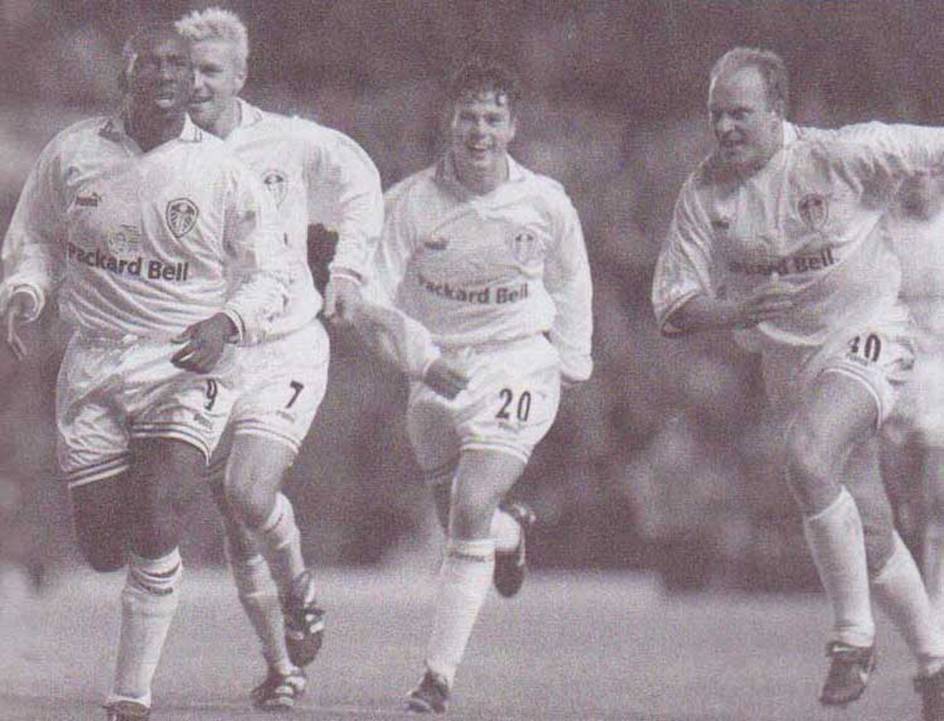 <![endif]> 
Scorer Jimmy-Floyd Hasselbaink is pursued by Lee Sharp Ian Harte and Robert Molenaar
<![if !vml]>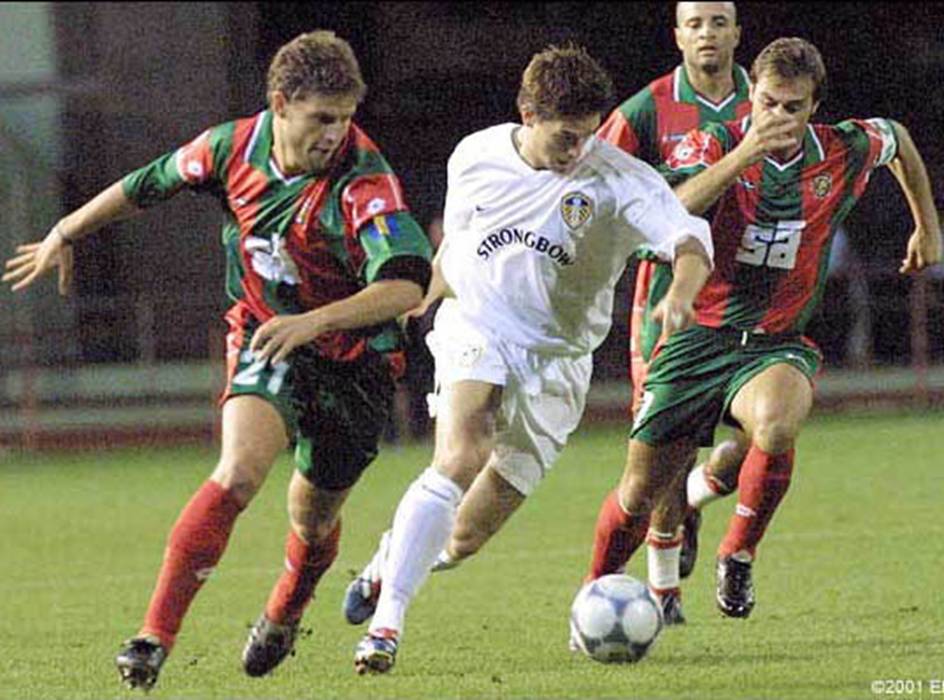 <![endif]>
Harry Kewell leads the Maritimo defence a merry dance
<![if !vml]>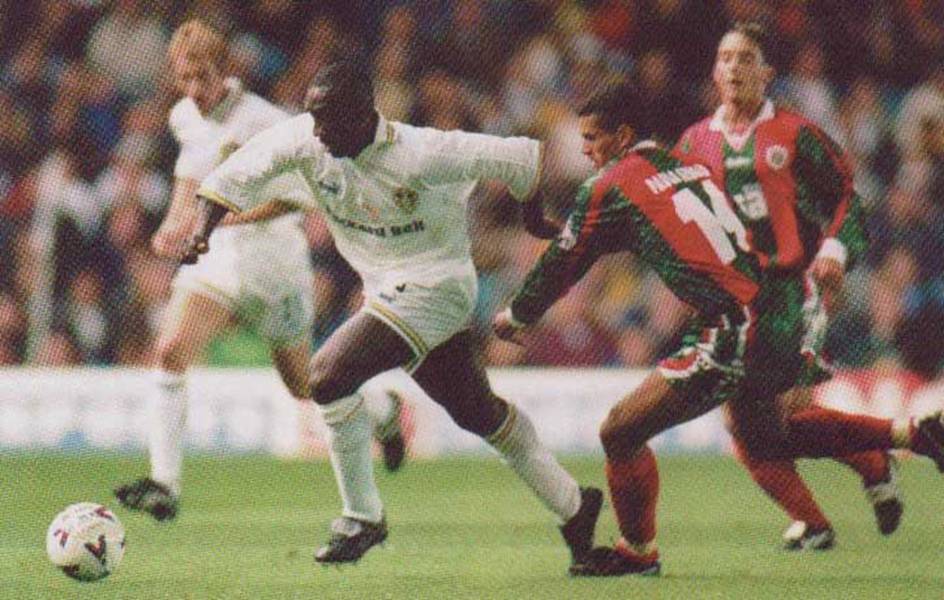 <![endif]> 
Jimmy-Floyd Hasselbaink breaks through the Maritimo defence                                              
<![if !vml]>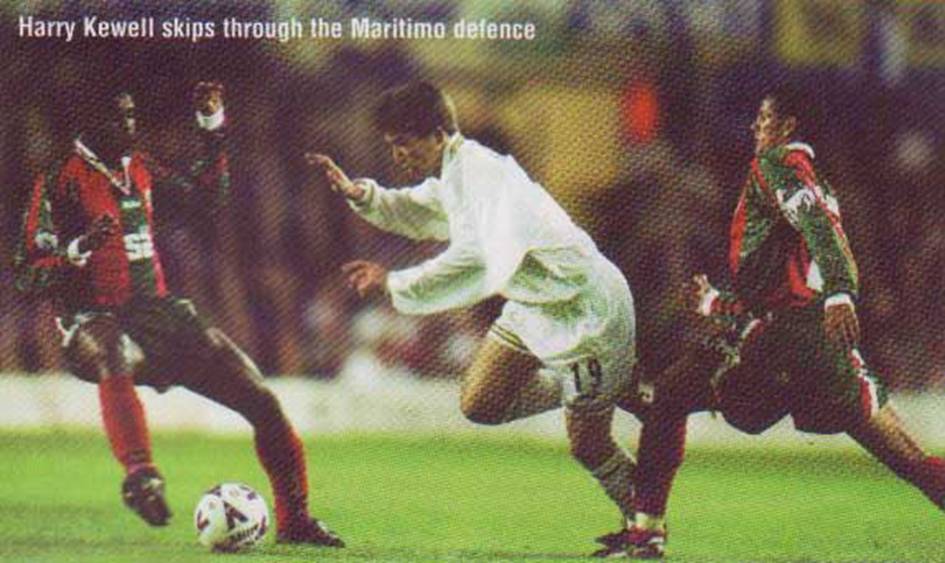 <![endif]> 
<![if !vml]>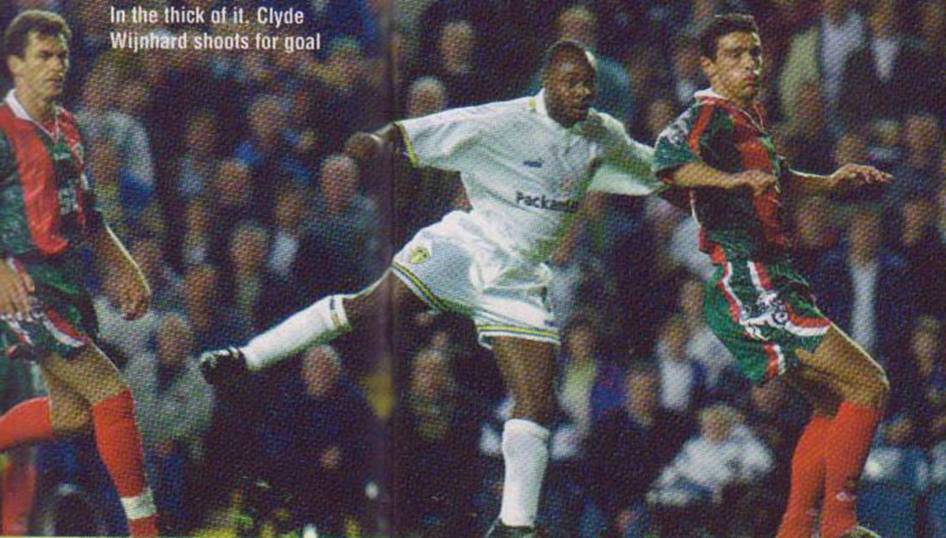 <![endif]> 
<![if !vml]>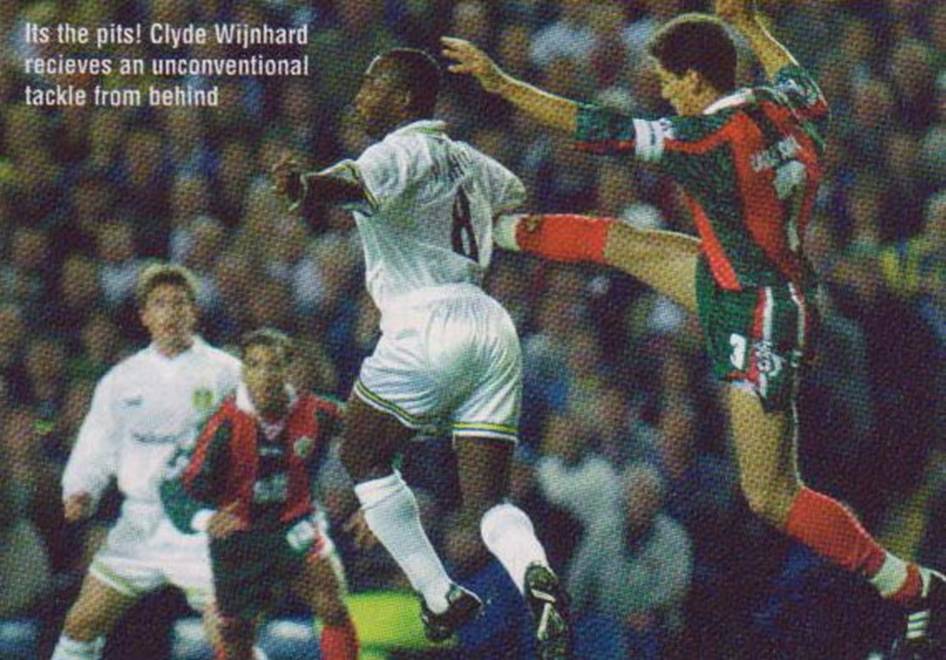 <![endif]> 
<![if !vml]>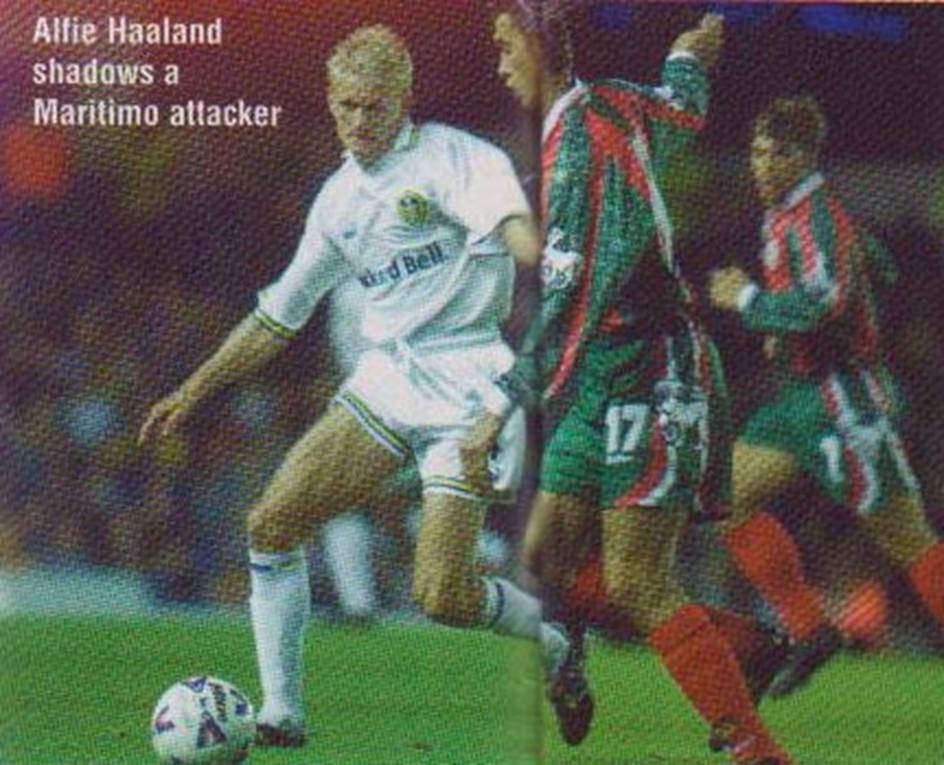 <![endif]>
<![if !vml]>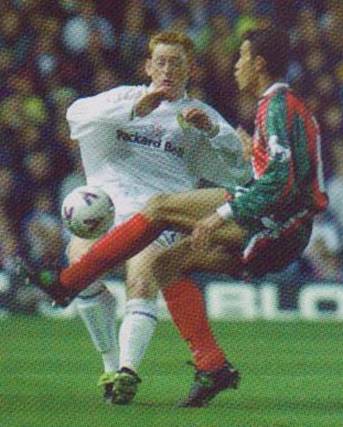 <![endif]>  <![if !vml]>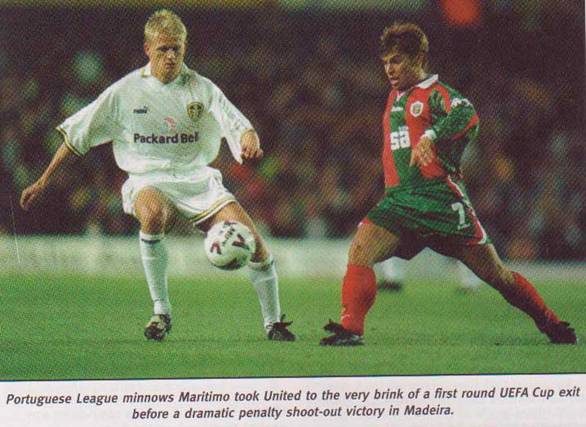 <![endif]>
David Hopkin goes in hard
Players:
<![if !vml]>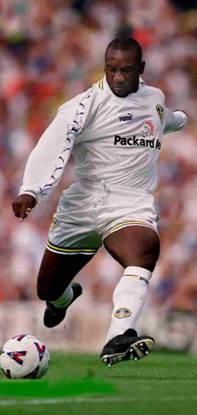 <![endif]>   <![if !vml]>
<![endif]> <![if !vml]>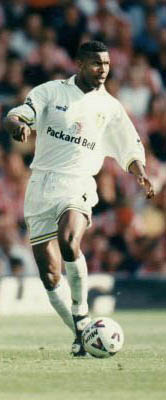 <![endif]>  <![if !vml]>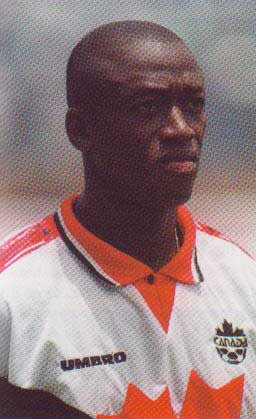 <![endif]> 
Jimmy-Floyd Hasselbaink         Robert Molenaar and Lucas Radebe kept a tight hold on the lone attacker Alex Bunbury
scored the only goal
<![if !vml]>
<![endif]>   <![if !vml]>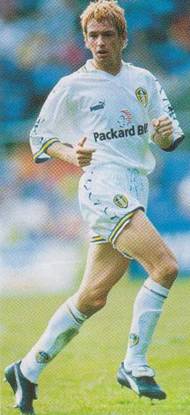 <![endif]>   <![if !vml]>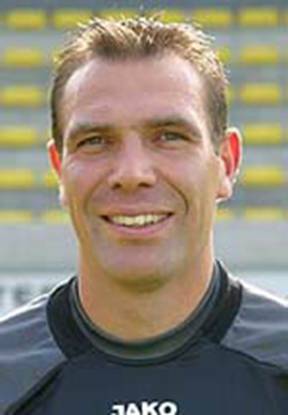 <![endif]> 
Clyde Wijnhard got in a snapshot after Martin Hiden crossed but keeper Yves Van Straeten saved with his foot          
<![if !vml]>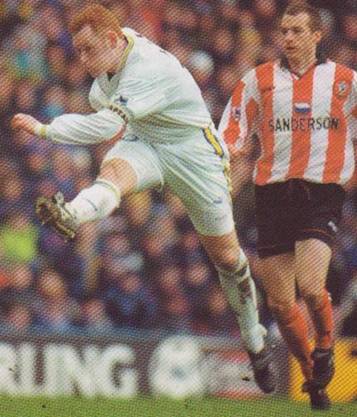 <![endif]>   <![if !vml]>
<![endif]>   <![if !vml]>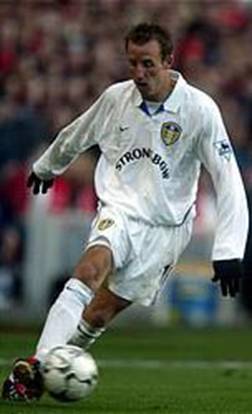 <![endif]>   
David Hopkin got in a cross but Harry Kewell volleyed wide                                              Lee Bowyer's shot was just over
<![if !vml]>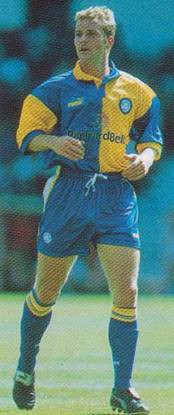 <![endif]>   <![if !vml]>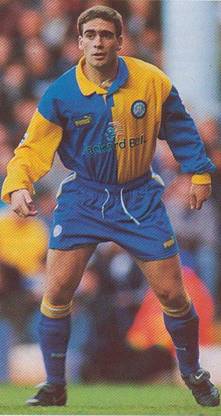 <![endif]>   <![if !vml]>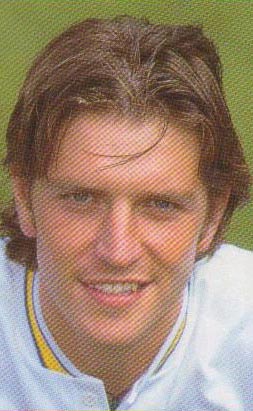 <![endif]>
Derek Lilley, Bruno Ribeiro and Lee Sharpe all came on as substitutes
<![if !vml]>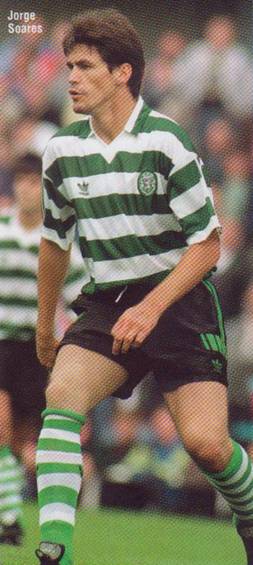 <![endif]>  <![if !vml]>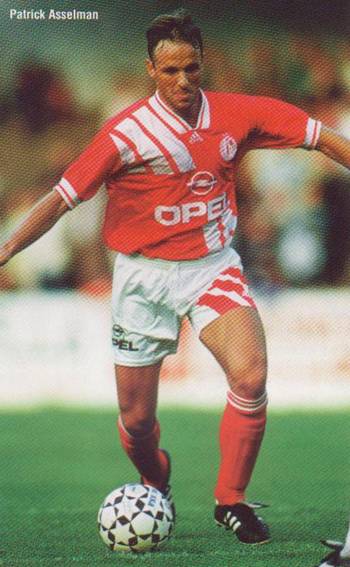 <![endif]>  <![if !vml]>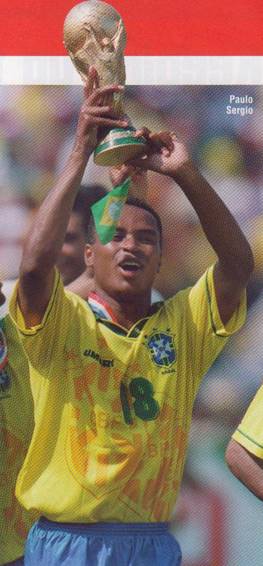 <![endif]>
Defender Jorge Soares had                   Forward Patrick Asselman had experience with            Midfielder Paulo Sergio Da Silva had
joined from Benfica in the summer        Standard Liege in Belgium but did not play                   been signed from Coritiba in Brazil