<![if !vml]>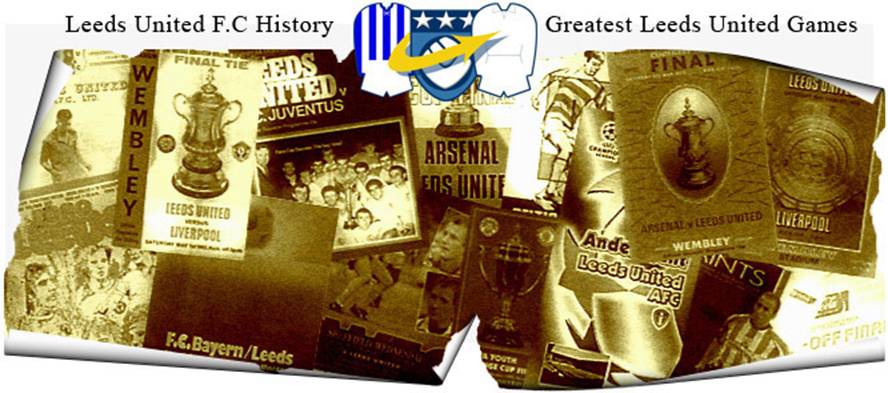 <![endif]>
Date: Saturday, 17th March 1990.
Venue: Elland Road, Leeds.
Competition: Second Division.
Score: Leeds United 3 West Ham United 2
Scorers: Leeds United: Chapman (2), Strachan. West Ham United: Morley, Chapman (o.g.).
Attendance: 32,356.
Teams:
<![if !vml]>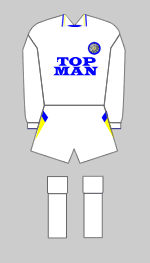 <![endif]><![if !vml]>
<![endif]>
Leeds United: Day; Sterland, G. Snodin; Jones, Fairclough, Haddock; Strachan, Speed, Chapman, Varadi (Shutt), Hendrie (Kerr).
<![if !vml]>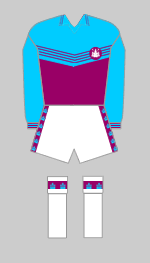 <![endif]><![if !vml]>
<![endif]>
West Ham United: Miklosko; Slater, McQueen; Parris (Brady), Foster, Gale; Bishop, Allen, Quinn, Keen, Morley.
Referee: K. Redfern (Whitley Bay).
Forget the likes of Ian Rush and Peter Beardsley, lanky striker Lee Chapman was tops when it came to goalscoring. That, at least, was the view of West Ham United central defender Colin Foster after Leeds United had beaten the Hammers 3-2 in a Second Division match at Elland Road in March 1990. Chapman, who had joined Unitedís promotion bid only a couple of months before in a £400,000 move from Nottingham Forest, recorded his third double blast to increase his goal tally to eight in ten League outings for his new club. ďI first played against Lee when I was with Orient and he was with Sheffield Wednesday. He scored two goals that day and he has haunted me ever since. I have faced the top strikers in the First Division and I rate him the best of the lot. Players such as Rush and Beardsley have tremendous pace and may look spectacular but Lee is awkward to deal with and such a dangerous customer,Ē Foster said.
Elland Road, packed with a crowd of 32,500, the biggest crowd anywhere in the Second Division that day, not to mention an expectant crowd at Upton Park to watch a live beam-back of the game, was a stadium filled with the air of expectancy as Second Division pacesetters United set out in search of another much needed victory
The excitement reached fever pitch in the seventeenth minute when Chapman drilled in a perfectly placed left foot shot from twelve yards to give his side the lead, and when he ghosted through the West Ham defence four minutes from half-time to head in Unitedís second the cheering was almost deafening. While Chapman was demonstrating what a deadly finisher he could be, there was no doubt that the man who really made United tick, Gordon Strachan, was at his influential best.
The wily Scot who had recently turned thirty-three, was the real difference between the two sides. It was he who raced into the penalty area to back-heel the ball to Chapman for the first goal and he was the provider again with a perfectly weighted cross for the second strike. However, the comfort of a two goal lead was suddenly taken away from United when Trevor Morley took advantage of a move involving first Tommy McQueen and then Jimmy Quinn in the fifty-first minute.
Strachan restored Unitedís advantage when he struck home Unitedís third goal, and his fifteenth of the season, from John Hendrieís neat little cross, but the Hammers were still not finished and they made it 3-2 in the sixty-eighth minute when Foster challenged for a left-wing cross which went in off Chapman for an own goal. ďI am always happy to give Lee his hat-trick,Ē quipped Foster afterwards. There was no further addition to the score-line and United held on to their four point lead at the top of Division Two over neighbours Sheffield United, who brushed aside sixth placed Wolves 3-0.
<![if !vml]>
<![endif]>†<![if !vml]>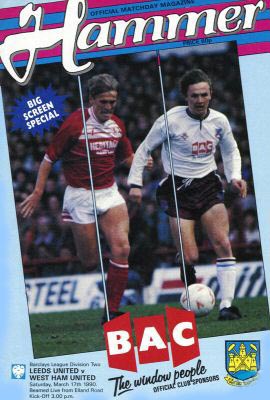 <![endif]>
Match Action:
<![if !vml]>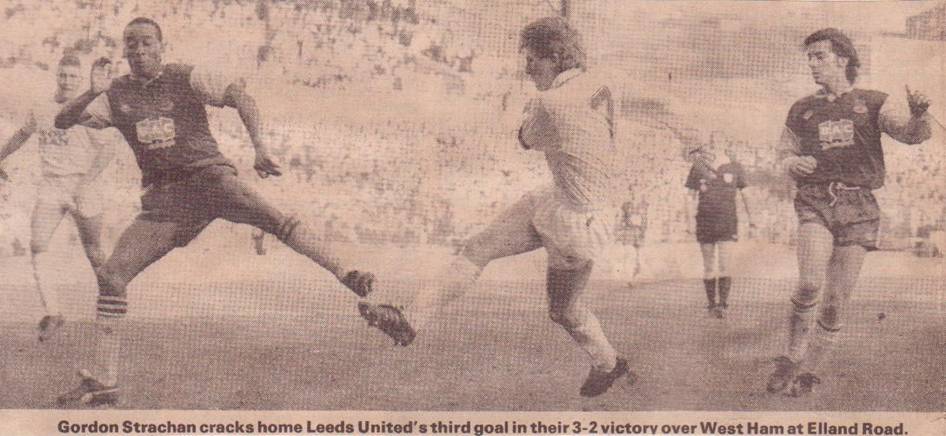 <![endif]>
<![if !vml]>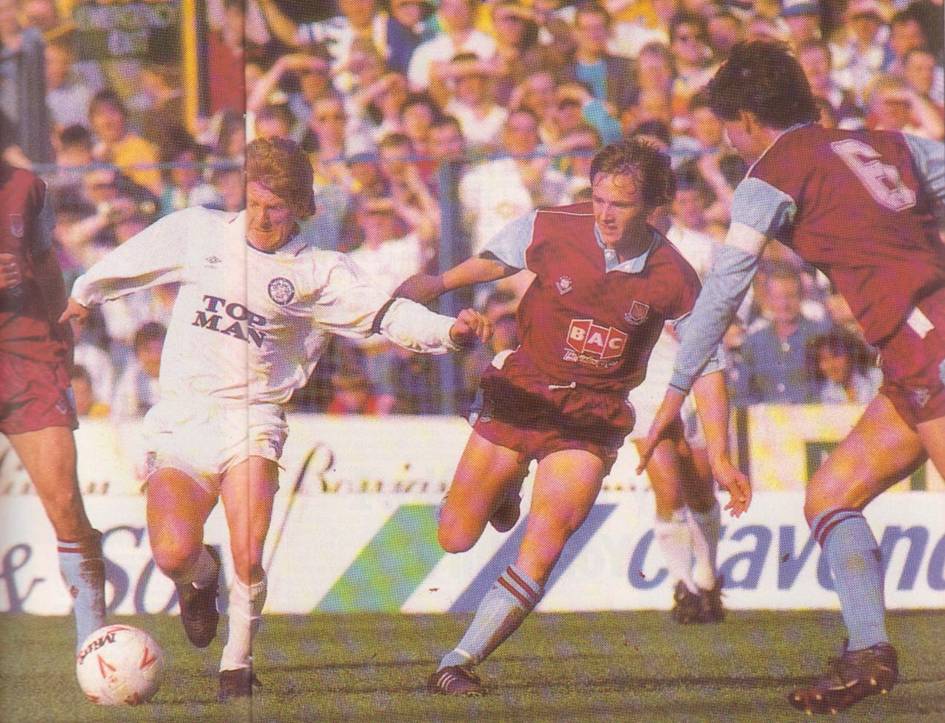 <![endif]>
Gordon Strachan takes on three West Ham United defenders
<![if !vml]>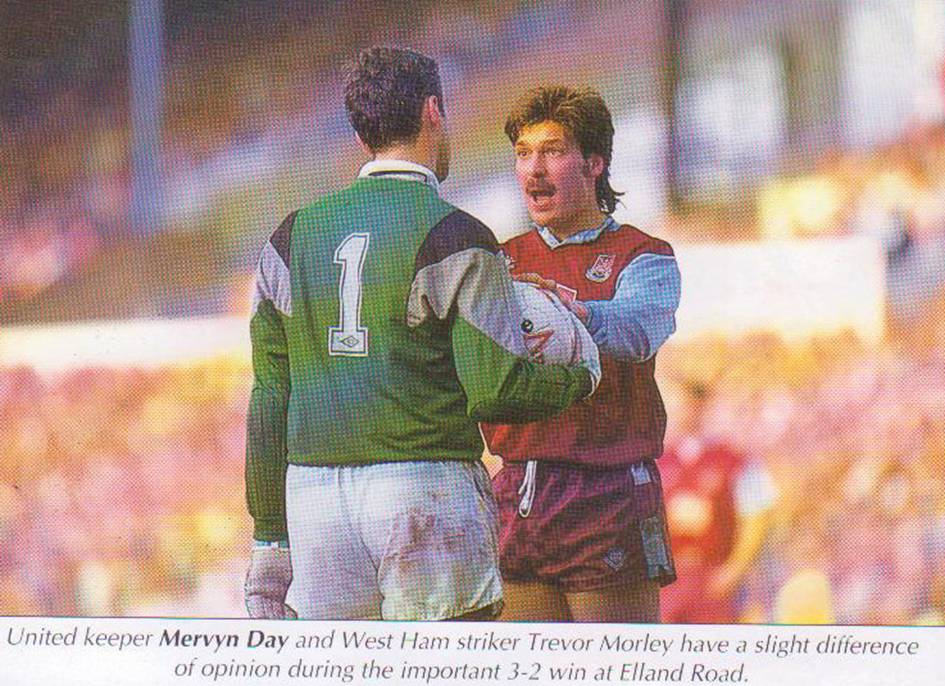 <![endif]>†
<![if !vml]>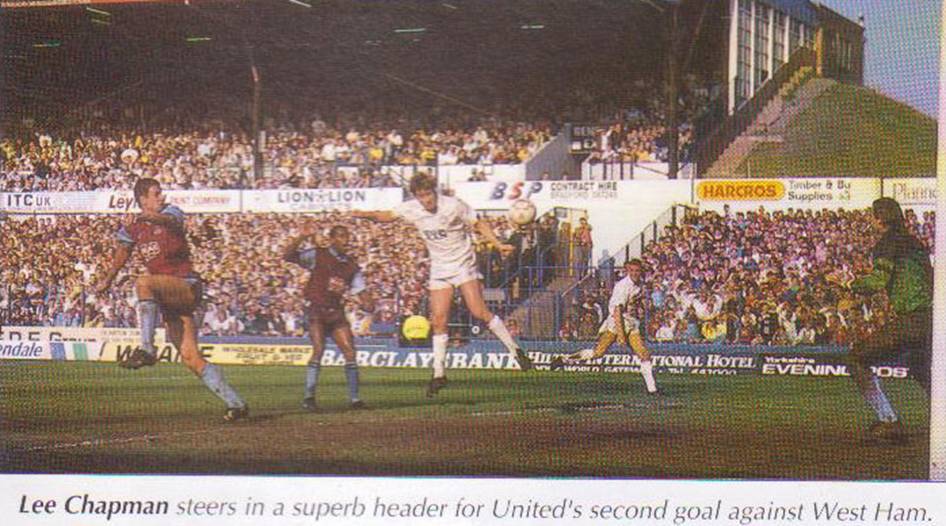 <![endif]>
<![if !vml]>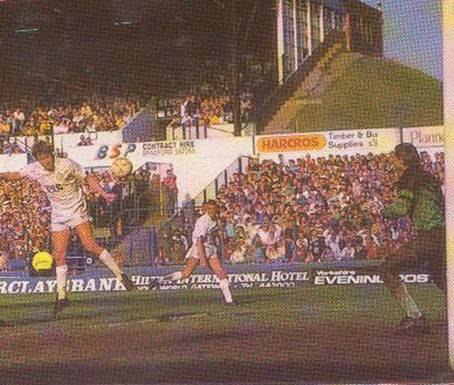 <![endif]>†† <![if !vml]>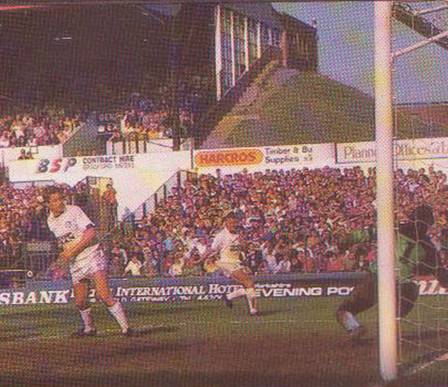 <![endif]>
Lee Chapman rises to head Unitedís second goal††††††††††††††††††††††††††††††††††† Lee Chapman watches the second goal go in
<![if !vml]>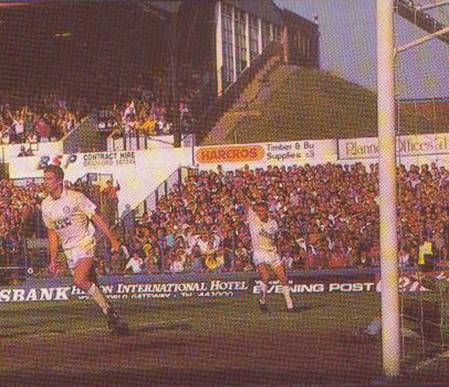 <![endif]>†<![if !vml]>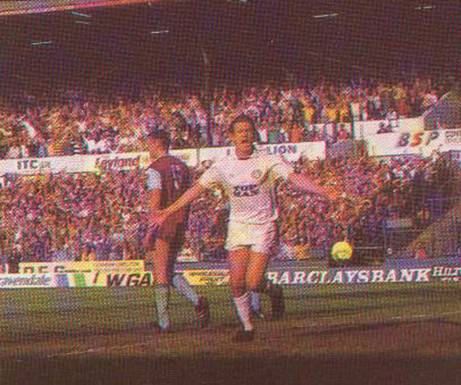 <![endif]>
Lee Chapman turns away after scoring Unitedís second goal††††††††††††† Lee Chapman celebrates Unitedís second goal
Teams:
<![if !vml]>
<![endif]>
<![if !vml]>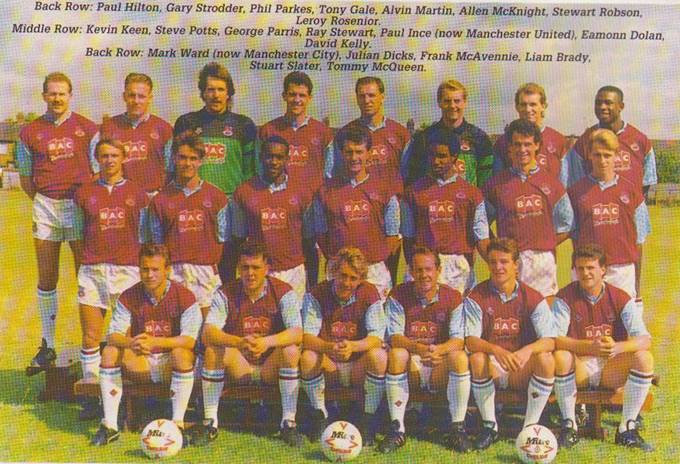 <![endif]>
Players:
<![if !vml]>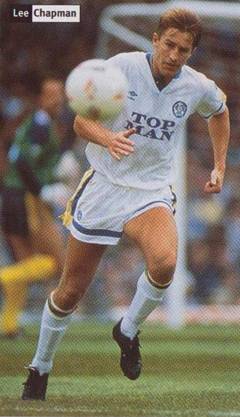 <![endif]>†<![if !vml]>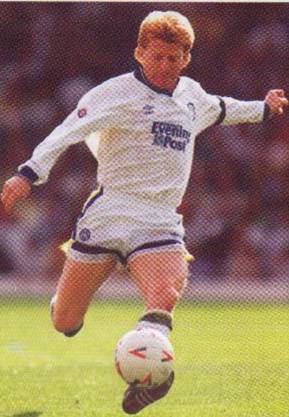 <![endif]>† <![if !vml]>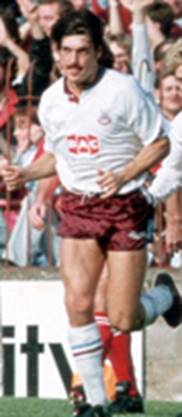 <![endif]>†<![if !vml]>
<![endif]>
Lee Chapman (2) and Gordon Strachan scored for Leeds and Trevor Morley scored for West Ham†††††††††††††††† John Hendrie made the third goal
and Chapman own goaled
<![if !vml]>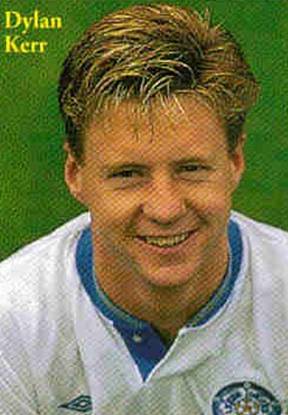 <![endif]>†<![if !vml]>

<![endif]>†<![if !vml]>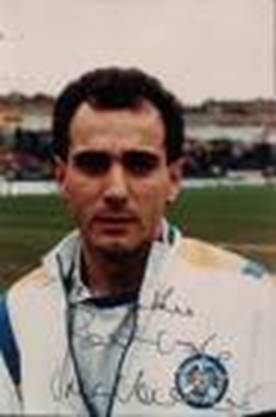 <![endif]>†<![if !vml]>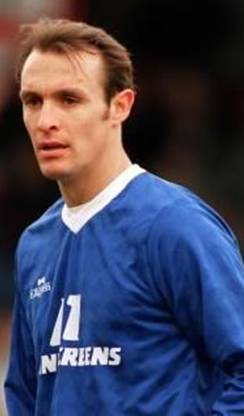 <![endif]>
Dylan Kerr came on as substitute†††††††††††† Gary Speed was in midfield†††† Imre Varadi was substituted†††††††††††††††††† Jimmy Quinn was involved in the first
†††††††††††††††††††††††††††††††††††††††††††††††††††††††††††††††††††††††††††††††††††††††††††††††††††††††††††††††††††††††††††††††††††††††††††††††††††††††††††††††††††††††††††††††††††††††† West Ham goal
<![if !vml]>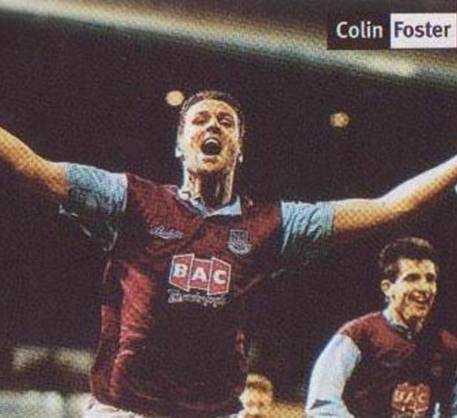 <![endif]>†<![if !vml]>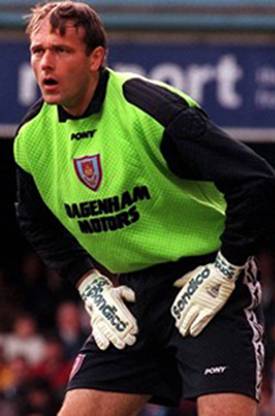 <![endif]>†<![if !vml]>
<![endif]>
Colin Foster was happy for Lee Chapmanís unusual Ďhat-trick톆††††††††† Ludek Miklosko was in goal for West Ham and Ian Bishop was in midfield
†