<![if !vml]>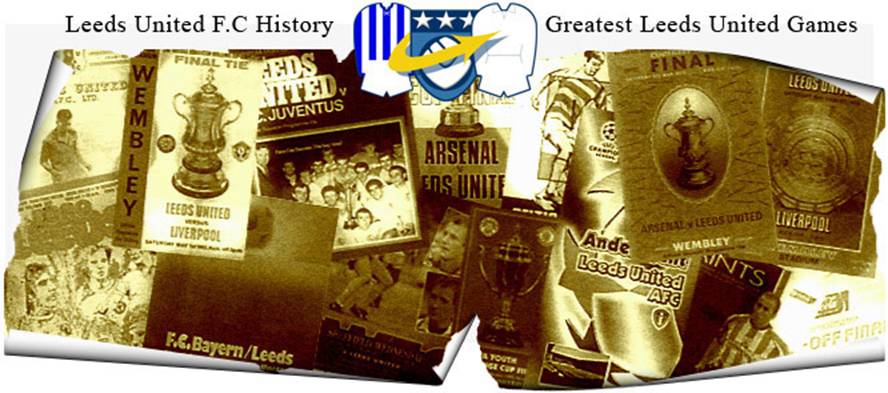 <![endif]>
Date: Saturday, 18th October 2003.
Venue: Elland Road, Leeds.
Competition: English Premier League.
Score: Leeds United 0 Manchester United 1.
Scorers: Leeds United: Nil. Manchester United: Keane.
Attendance: 40,153
Teams:
<![if !vml]>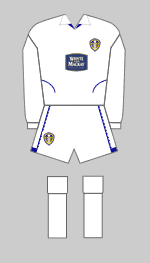 <![endif]><![if !vml]>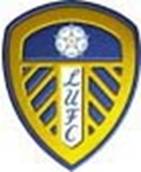 <![endif]>
Leeds United: Robinson; Kelly, Camara, Matteo, Johnson; Pennant (Lennon), Batty, Olembe, Milner (Sakho); Smith, Viduka (Bridges). Unused Subs: Roque Junior, Carson.
<![if !vml]>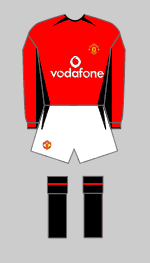 <![endif]><![if !vml]>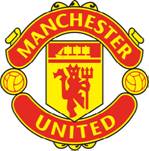 <![endif]>
Manchester United: Howard; G. Neville, Ferdinand, Silvestre, P. Neville; Ronaldo (Butt), Fletcher (Forlan), Keane, Fortune (O'Shea); Scholes, Van Nistelrooy. Unused Subs: Djemba-Djemba, Carroll.
Referee: Mr G. Poll (Tring, Hertfordshire).
It was a case of so near yet so far when gallant Leeds United took a trip down Quality Street on this Saturday. Gutsy Leeds defended like Trojans throughout against Manchester United, but fell short of securing a hard-earned point when Roy Keane grabbed a late winner for the visitors. It was cruel luck on a Leeds side who deserved full credit for restricting their classy opponents to just a handful of chances, but the fact that it was Keane who scored the winner, from a Gary Neville cross, just rubbed salt into the wound. Neville, who celebrated the goal by running across the front of the West Stand like a deranged chimpanzee, wasn't the most popular player to grace Elland Road, but even he was more welcome than Keane.
<![if !supportLineBreakNewLine]>
<![endif]>
United fans still hadn't forgiven Keane for his horrific challenge on Alfie Haaland six years previous and the Irish international was reviled among Leeds supporters. Ironically, Alf-Inge Haaland was sat high in the stand on Saturday and he would have felt a bitter taste when Roy Keane headed beyond the reach of Paul Robinson to settle the Roses battle nine minutes from time. Roy Keane may have been about as welcome at Elland Road as Osama bin Laden was at the White House, but few would argue that the long-serving midfielder had an outstanding game for the visitors and was the key to their victory. He was instrumental in everything the Reds created and, like former United star Rio Ferdinand, he responded to the hostility with a competent performance.
<![if !supportLineBreakNewLine]>
<![endif]>
But Roy Keane wasn't the only experienced midfield man to shine. David Batty looked equally at home in the United engine room and he played a major role in breaking play down. His passing was top drawer and, while the home side's defenders would have taken the plaudits had Leeds snatched a draw, Batty would have been the real reason. The thirty-four-year-old looked like he had never been away and his presence brought a real solidarity to the Leeds midfield. He plugged the hole well in front of the defence and kept tabs on England international Paul Scholes for much of the contest. When Paul Scholes did find space he was a threat, but David Batty's workmanlike display restricted his movement to such an extent that the visitors only created a handful of chances.
<![if !supportLineBreakNewLine]>
<![endif]>
At the back, Zoumana Camara dealt with everything that was thrown at him and there could be no doubt that his partnership with Dominic Matteo was getting stronger by the game. Camara and Matteo were kept busy throughout, but they shackled Ruud Van Nistelrooy so well that the Dutchman only had one real chance to net his first goal against Leeds. That came from a first half free-kick when he was handed a free header, but other than that Dominic Matteo and Zoumana Camara won the battle well. Salomon Olembe was another who emerged with great credit. He was a no-fuss defender who looked to offload the ball quickly and he looked like the answer to Peter Reid's left-side problems. The Cameroon international nullified any threat from the appalling Darren Fletcher and, when the defensive lines were breached, he was on hand to clear a Ruud Van Nistelrooy shot off the line in the dying minutes.
<![if !supportLineBreakNewLine]>
<![endif]>
It was important for Leeds draw on the positives from this game, rather than lament on what was a little loss of face in the first Roses battle of the season. Few seriously expected Leeds to win the game yet for long periods they were hanging in there in the vain hope that they could snatch a goal themselves on a rare break. Leeds attacks were few and far between, they didn't have a serious opportunity, but Alan Smith worked his socks off clinging onto his dream that he would score the winner.
For possibly the first time since his acrimonious departure from Elland Road, Rio Ferdinand showed the class and quality that made him a record breaking transfer coup two summers before. Admittedly, he wasn't tested to the full by Mark Viduka, but he shrugged off a turbulent fortnight by digging in when it mattered most. Last season he wilted in the intimidating atmosphere, but the Leeds crowd were strangely muted throughout what was, on the whole, a fairly dour affair. There were a few lively challenges in keeping with the theme of the contest, but it was all a bit meek and mild and the clash failed to live up to it's billing as a true war of the Roses. The only time it threatened to spark into life was when Cristiano Ronaldo performed an excellent impression of American diver Greg Louganis after a non-contact challenge from Gary Kelly. The Portuguese winger was handed a yellow card for his antics and drifted out of the game soon afterwards. He even earned the wrath of Roy Keane for his actions. Ryan Giggs he certainly wasn't!
<![if !supportLineBreakNewLine]>
<![endif]>
The cynics were predicting a cricket score pre-match, but there was no question of that happening as Leeds defended doggedly. Manchester United did knock the ball around at will on occasions, but such was Leeds' presence at the back that the visitors rarely looked like hurting them. Ruud Van Nistelrooy's first half header was the closest either side came to breaking the deadlock until Paul Robinson pulled off a stunning reflex block to deny Paul Scholes on fifty minutes. The Reds did look sharper in the second half, but Leeds mounted a couple of raids and that man Gary Neville denied the waiting Alan Smith after David Batty delivered a good cross from the right.
<![if !supportLineBreakNewLine]>
<![endif]>
As the clock ticked to eighty minutes it looked like a matter of Leeds weathering one last storm, but their defences were finally broken when over-ambitious substitute Lamine Sakho paid the price for complacency. He was caught in possession and when Gary Neville whipped in the cross Roy Keane arrived at the far post to head home. It was a killer blow and one which Leeds were never going to recover from. The visitors had one good chance afterwards, but Leeds remained under the cosh and the final whistle simply confirmed the inevitable. It was a battling effort, but the extra quality told in the end, and Leeds had to take heart from their superb rearguard effort and take that to Liverpool the following weekend. The fixtures didn't get any easier, but Leeds were definitely looking an improved outfit. A lack of chances was still a worry, but Peter Reid had shored up the defence to such an extent that any more avalanches now look unlikely. It was a case of the manager building on the limited resources he had available.
<![if !vml]>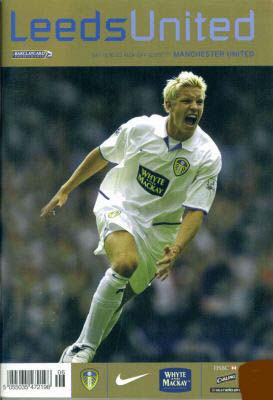 <![endif]>
Match Action:
<![if !vml]>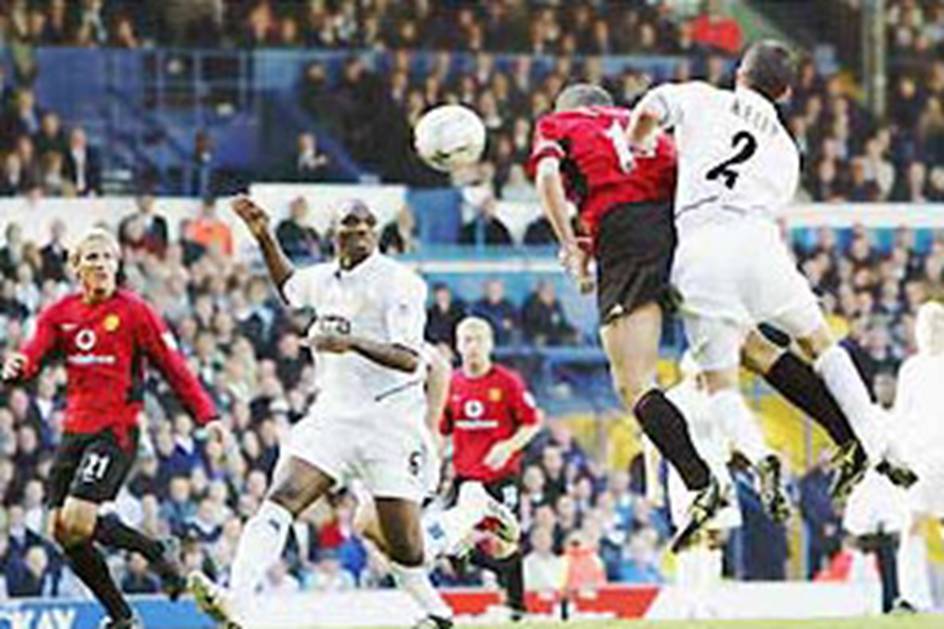 <![endif]> 
Roy Keane beats Gary Kelly to head the winner
<![if !vml]>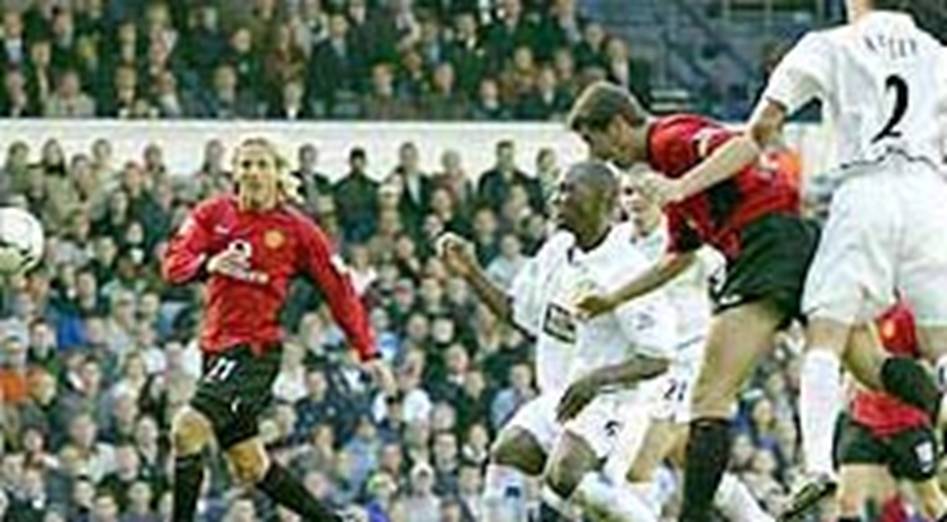 <![endif]> 
Roy Keane is not picked up by the static United defence
<![if !vml]>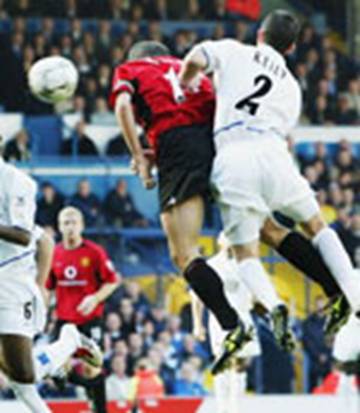 <![endif]>   <![if !vml]>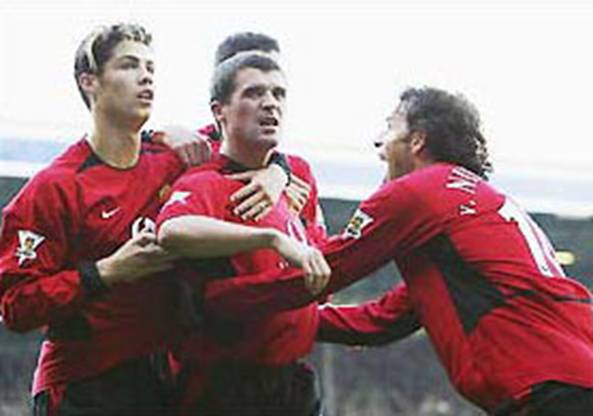 <![endif]> 
and easily beats Gary Kelly to the header                        Ruud Van Nistelrooy and Cristiano Ronaldo congratulate Roy Keane                                 
<![if !vml]>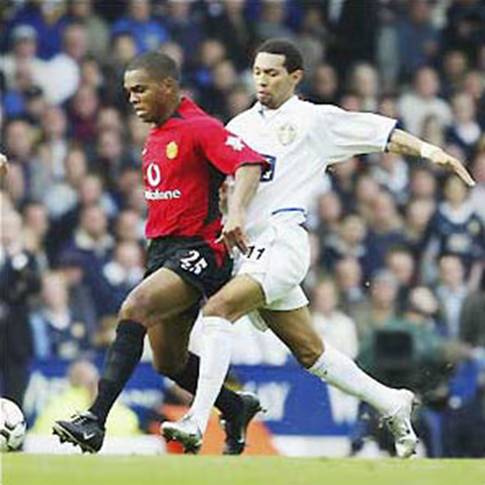 <![endif]> <![if !vml]>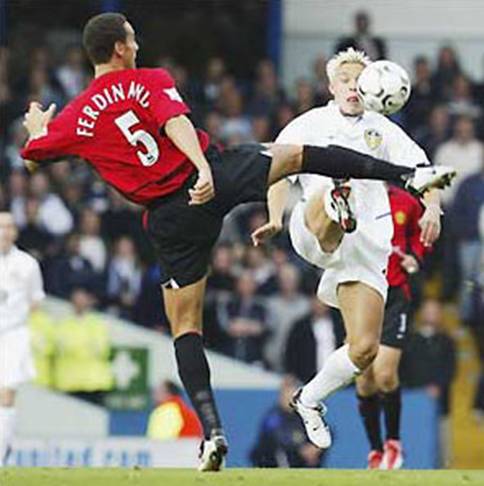 <![endif]>
Quinton Fortune holds off Jermaine Pennant                                                 High kicking by Rio Ferdinand and Alan Smith
<![if !vml]>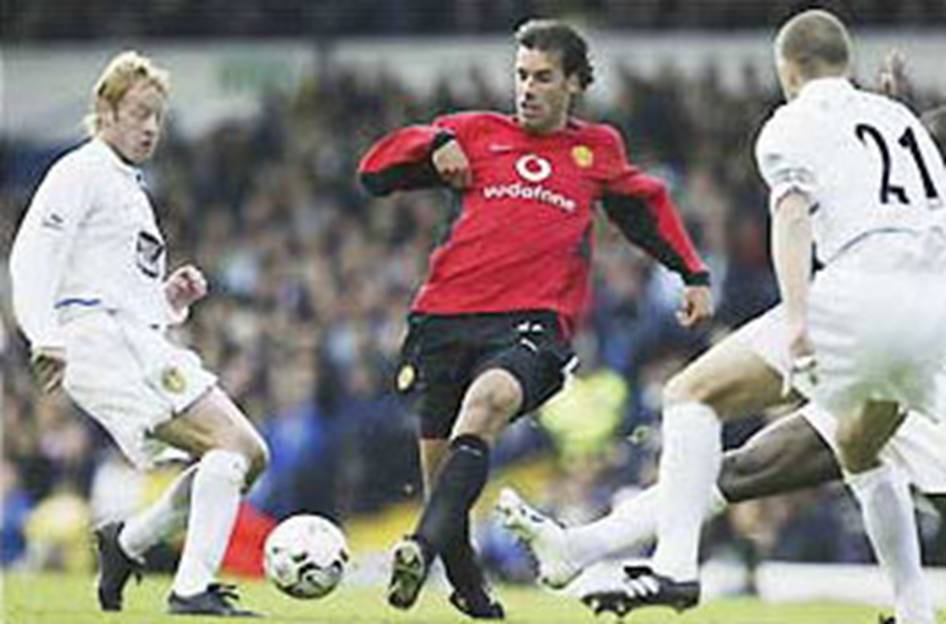 <![endif]>     
David Batty and Dominic Matteo join Zoumana Camara  to close down Ruud Van Nistelrooy
<![if !vml]>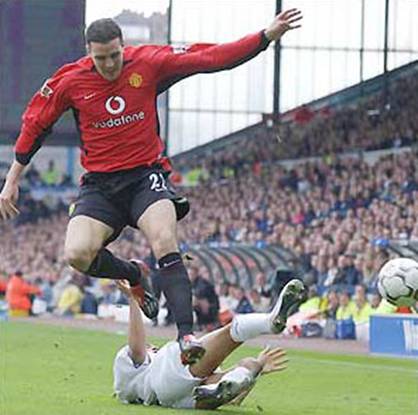 <![endif]>           <![if !vml]>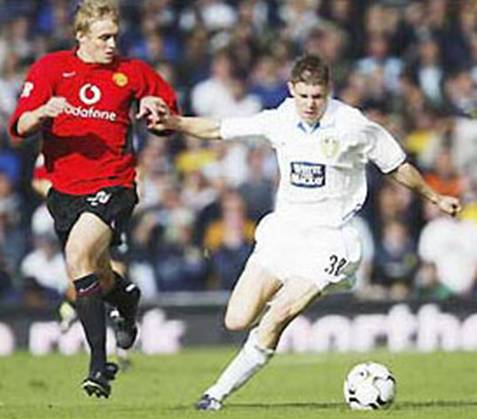 <![endif]>
John O'Shea is dispossessed by a sliding Alan Smith                            James Milner holds off Darren Fletcher
<![if !vml]>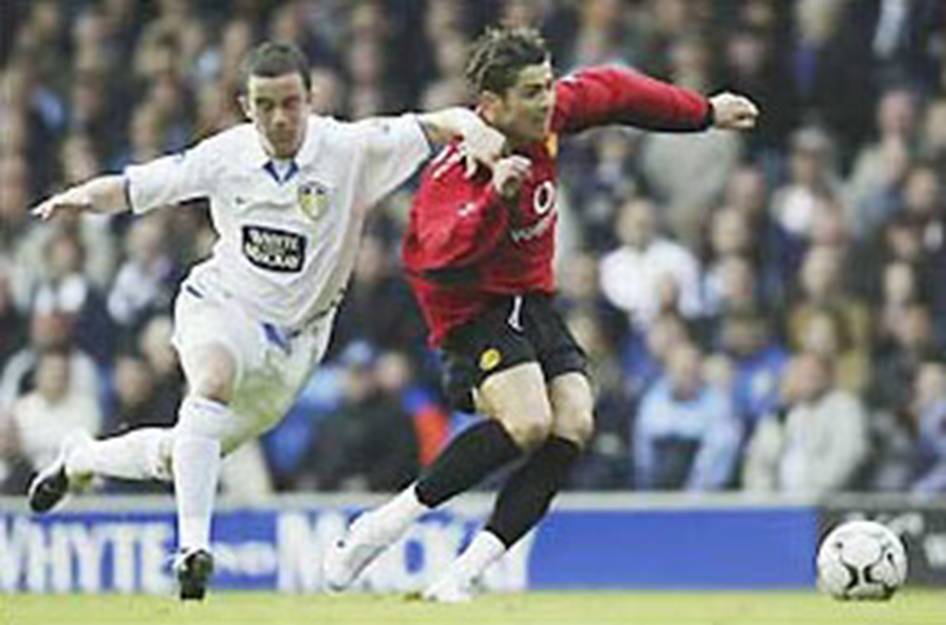 <![endif]>
Gary Kelly holds back Cristiano Ronaldo
<![if !vml]>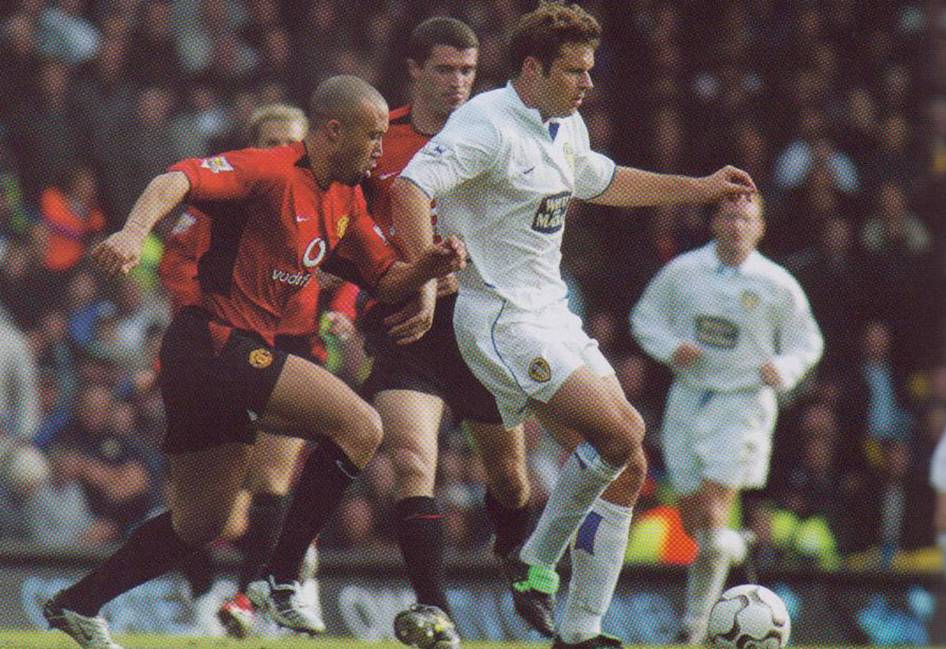 <![endif]> 
Mark Viduka holds up the ball as Mikael Silvestre and Roy Keane try to close him down
<![if !vml]>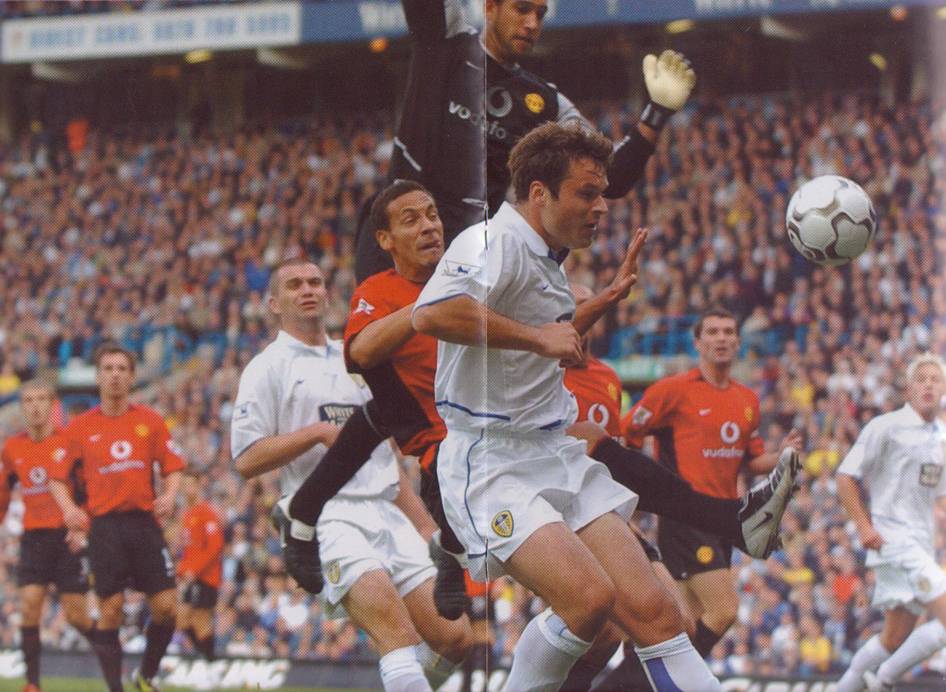 <![endif]>
Mark Viduka beats Rio Ferdinand and goalkeeper Tim Howard to the ball
<![if !vml]>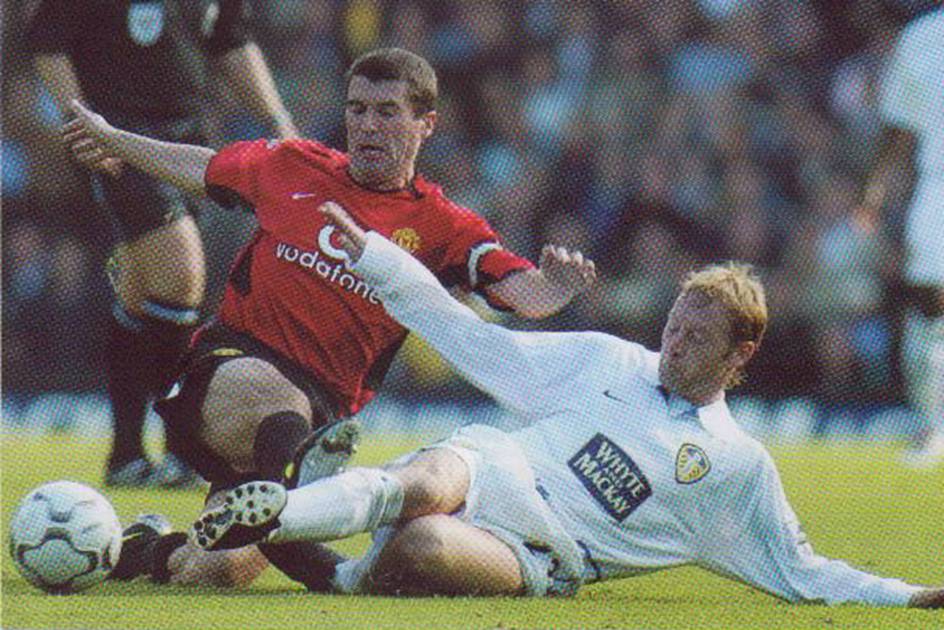 <![endif]>
David Batty gets to the ball just before Roy Keane and cops a stray boot
<![if !vml]>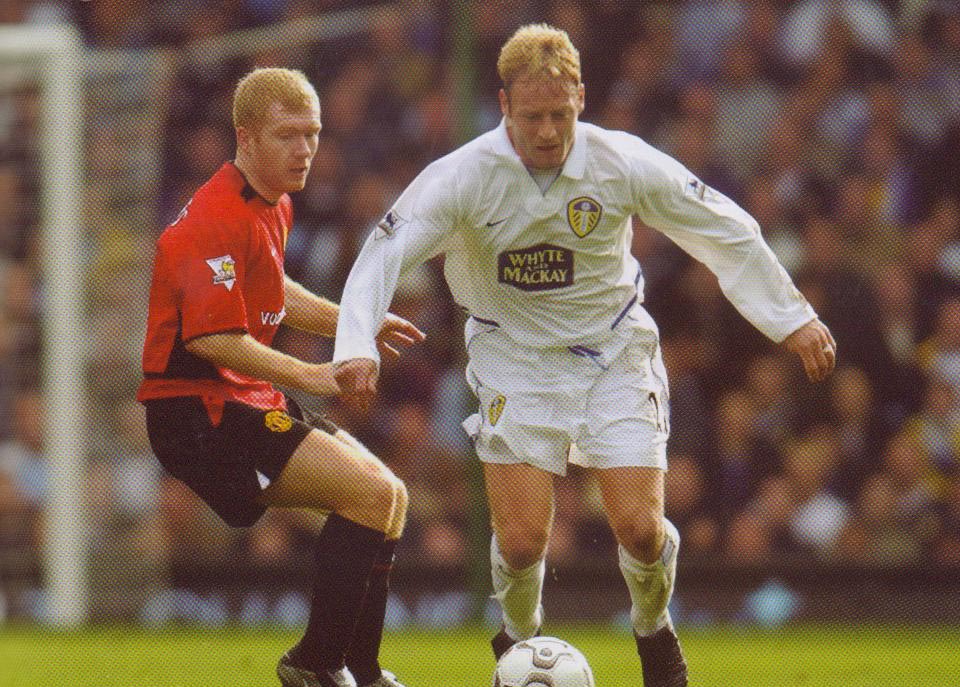 <![endif]>
David Batty was in charge in his battle with Paul Scholes and glides past him
<![if !vml]>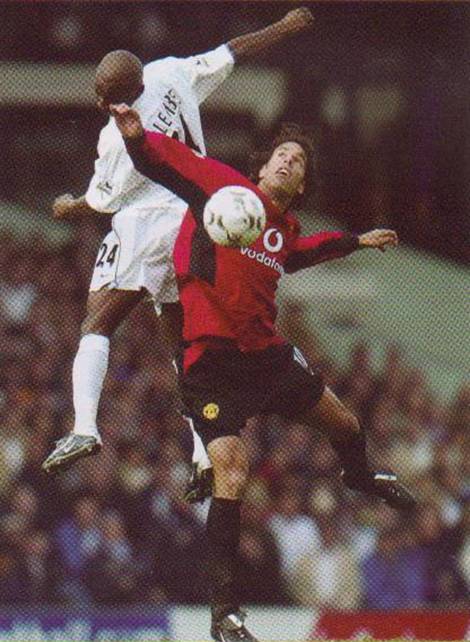 <![endif]> <![if !vml]>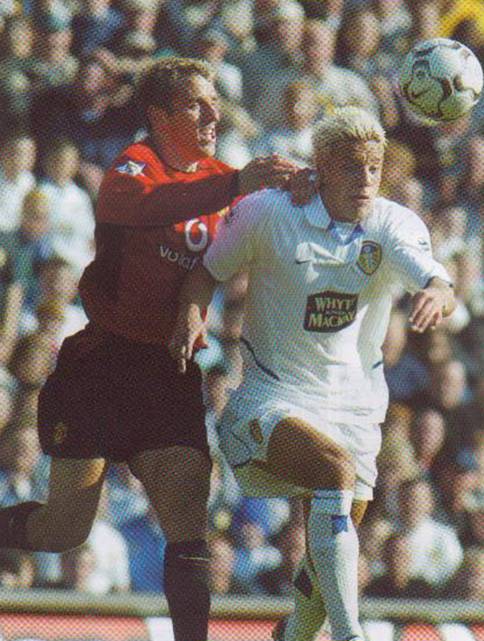 <![endif]>
Salomon Olembe flies high to beat Ruud Van Nistelrooy                          Alan Smith gets in front of Philip Neville in a race for the ball
<![if !vml]>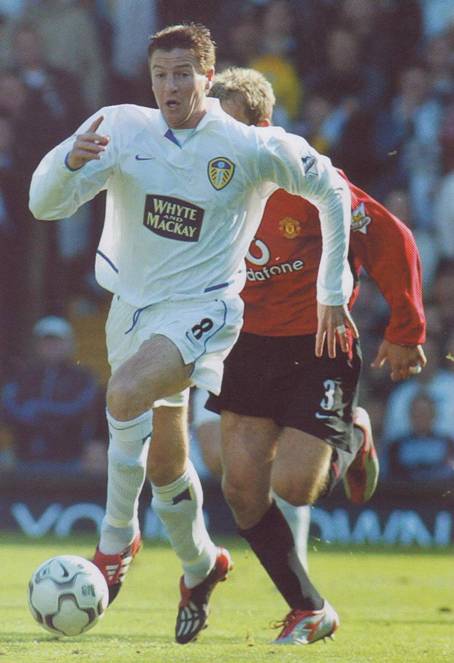 <![endif]> <![if !vml]>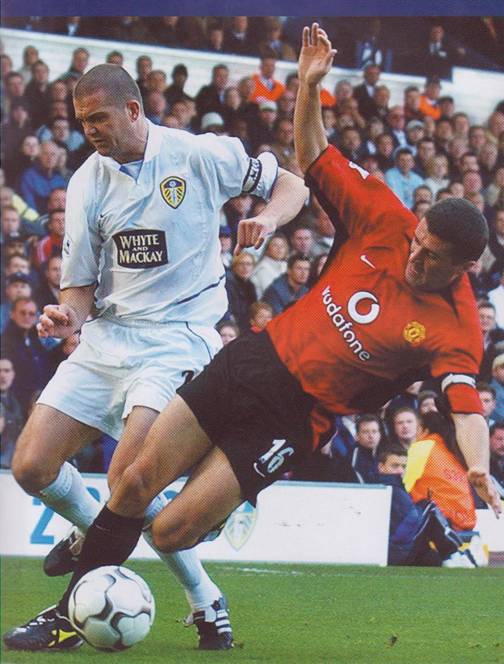 <![endif]>
Michael Bridges leaves Phil Neville in his wake                                    Dominic Matteo gives Roy Keane some of his own medicine
<![if !vml]>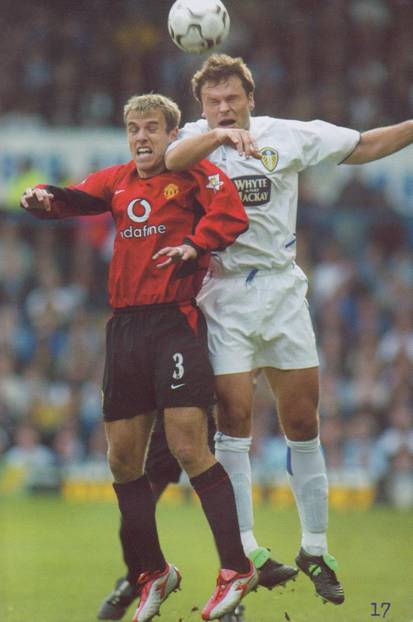 <![endif]> <![if !vml]>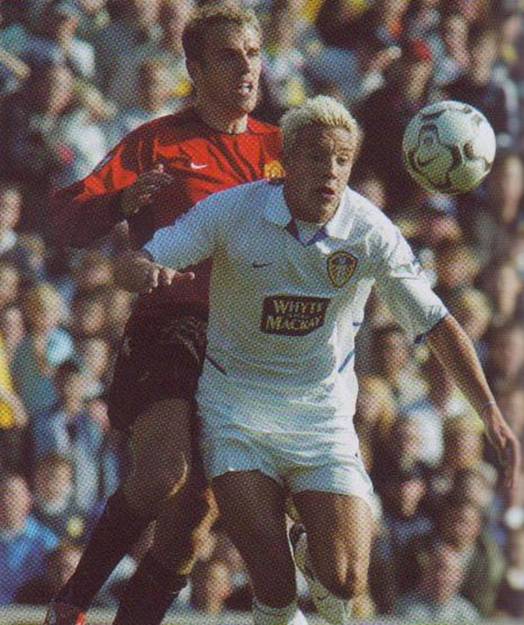 <![endif]>
Mark Viduka beats Philip Neville to a header                              Alan Smith gets to the ball before Philip Neville
<![if !vml]>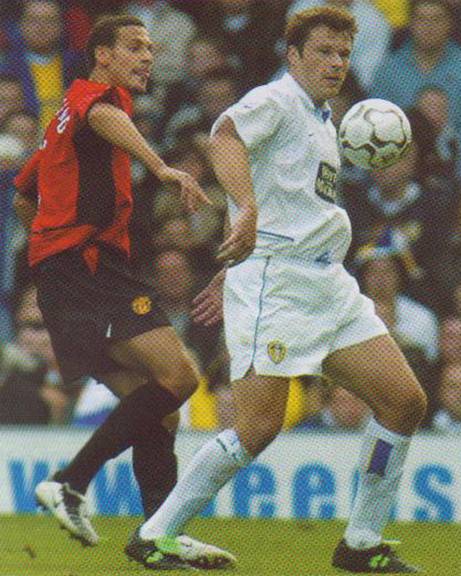 <![endif]>            <![if !vml]>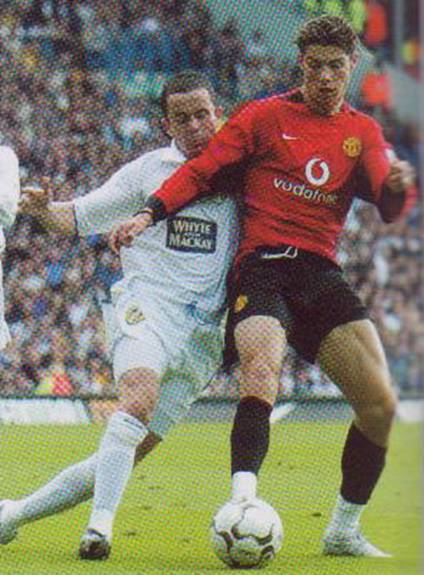 <![endif]>
Mark Viduka shields the ball from Rio Ferdinand                                              Gary Kelly lets Cristiano Ronaldo know he wants the ball
<![if !vml]>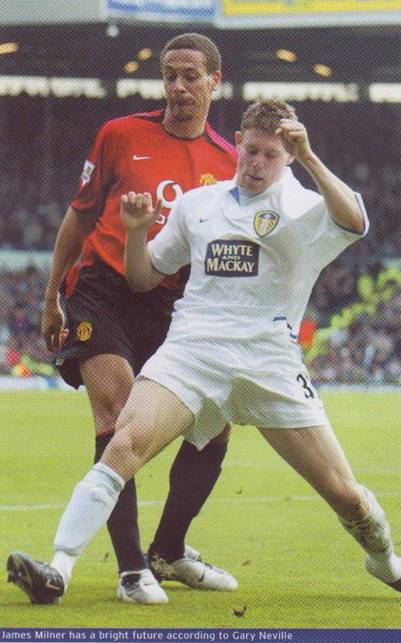 <![endif]> <![if !vml]>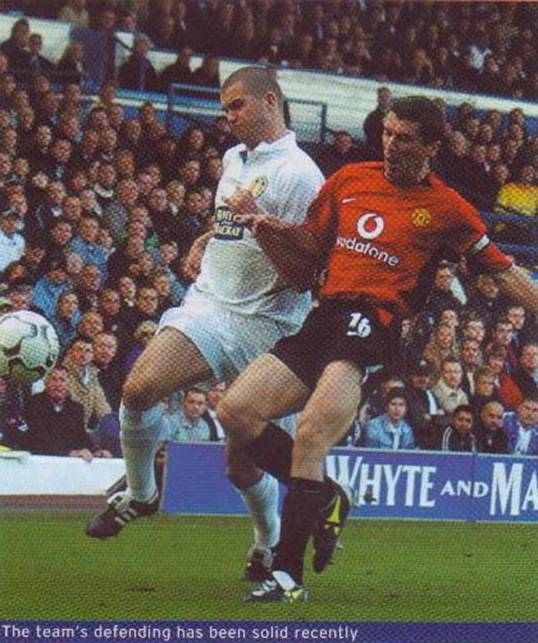 <![endif]> 
Players:
<![if !vml]>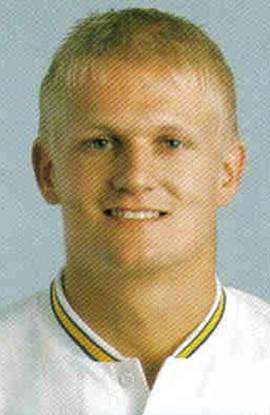 <![endif]>   <![if !vml]>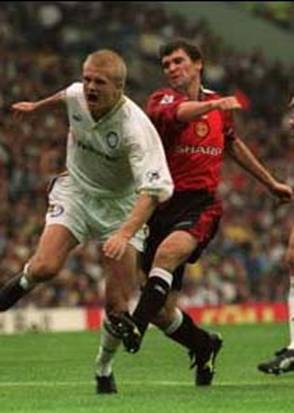 <![endif]>   <![if !vml]>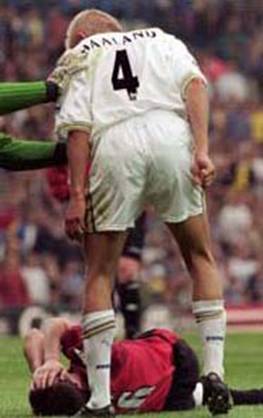 <![endif]>
Alf-Inge Haaland watched from the stand as United fans recalled an unsavoury incident involving Roy Keane
<![if !vml]>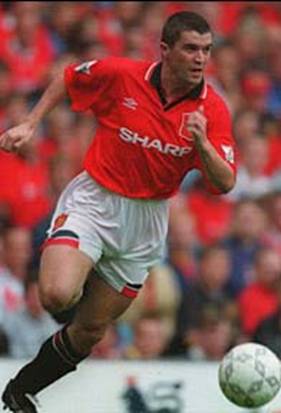 <![endif]> <![if !vml]>

<![endif]> <![if !vml]>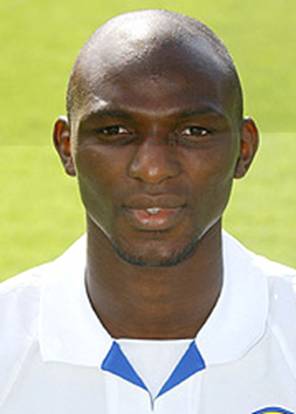 <![endif]> <![if !vml]>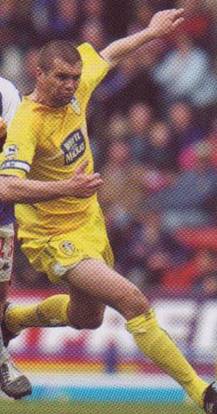 <![endif]> 
Roy Keane scored the only goal                  David Batty at home in   Zoumana Camara and Dominic Matteo were forming a strong partnership
                                                                        the engine room
<![if !vml]>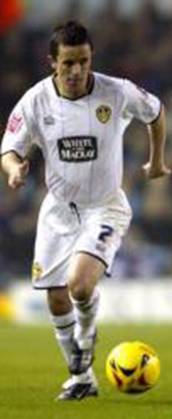 <![endif]>      <![if !vml]>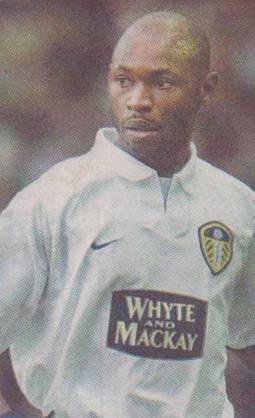 <![endif]>      <![if !vml]>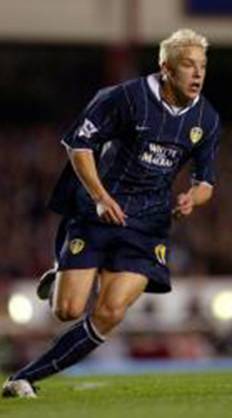 <![endif]>         <![if !vml]>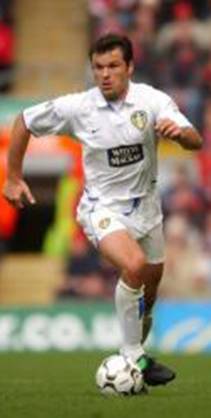 <![endif]>
Gary Kelly had to put up        Salomon Olembe emerged with                   Alan Smith worked his socks off              Mark Viduka did not fully
with Ronaldo's antics             great credit                                                                                                                       test Rio Ferdinand
<![if !vml]>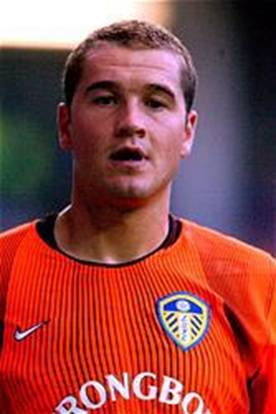 <![endif]>    <![if !vml]>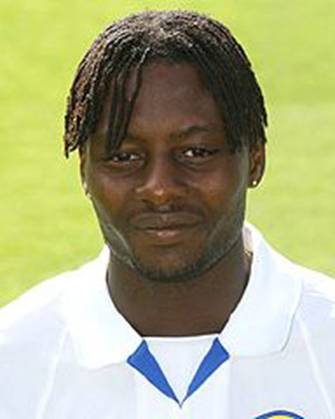 <![endif]>      <![if !vml]>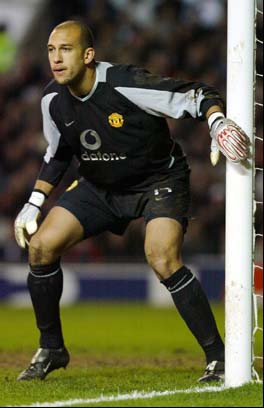 <![endif]>
Paul Robinson pulled off a stunning                Lamine Sakho's complacency cost United the             Tim Howard was in the Manchester goal
reflex block                                                       winning goal
<![if !vml]>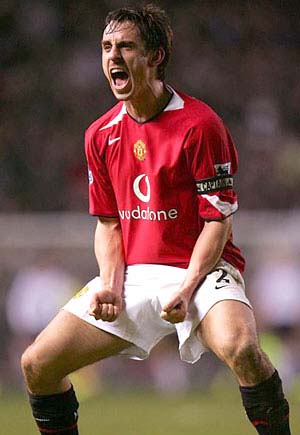 <![endif]>  <![if !vml]>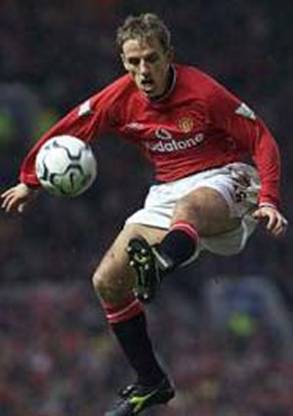 <![endif]>   <![if !vml]>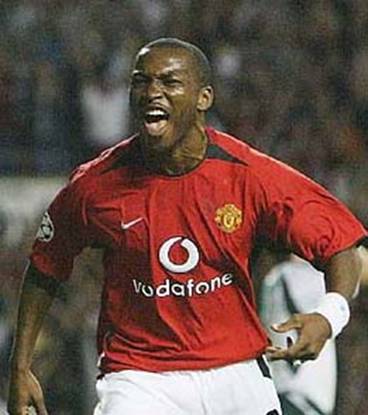 <![endif]>
Gary Neville, seen here doing his demented chimpanzee impersonation,                                 Eric Djemba-Djemba was an unused substitute
partnered his brother Philip at full back
<![if !vml]>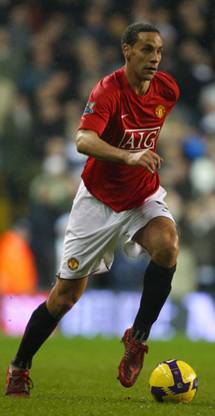 <![endif]>    <![if !vml]>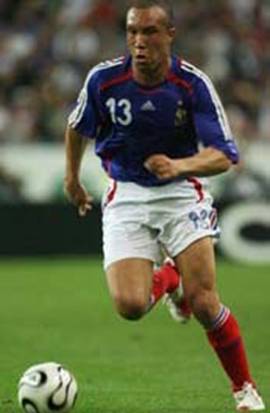 <![endif]>                               <![if !vml]>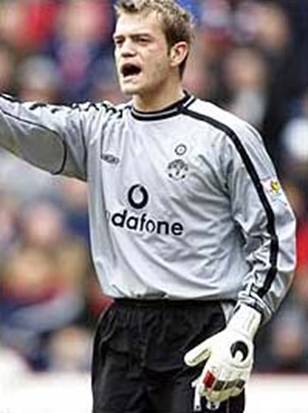 <![endif]> 
Ex-United player Rio Ferdinand partnered Mikael Silvestre in central defence                               Roy Carroll was an unused substitutes
<![if !vml]>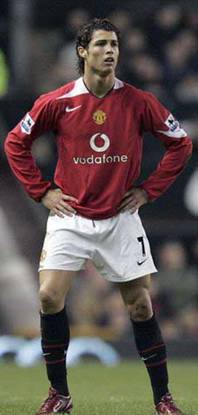 <![endif]> <![if !vml]>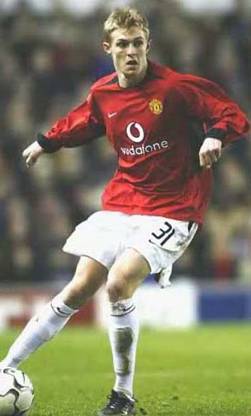 <![endif]> <![if !vml]>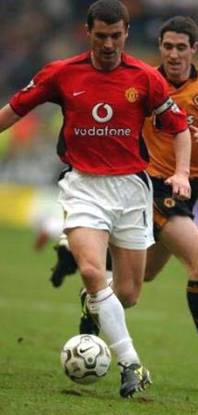 <![endif]> <![if !vml]>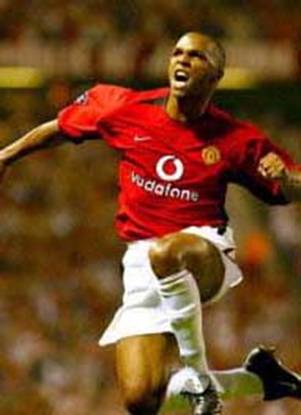 <![endif]>
Cristiano Ronaldo, Darren Fletcher, Roy Keane and Quinton Fortune were the starting Manchester midfield
<![if !vml]>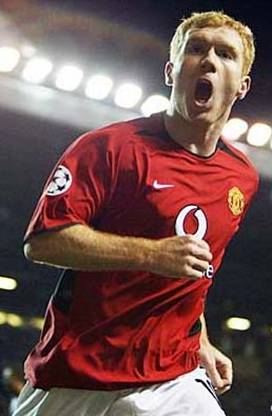 <![endif]>    <![if !vml]>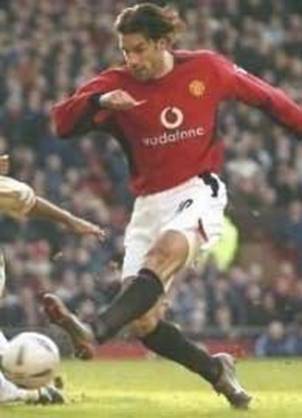 <![endif]>     
Paul Scholes and Ruud Van Nistelrooy were the strikers                                            
<![if !vml]>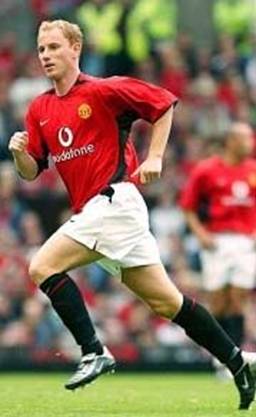 <![endif]>   <![if !vml]>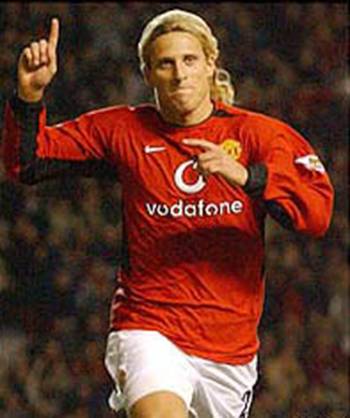 <![endif]>   <![if !vml]>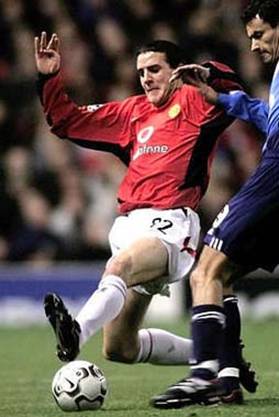 <![endif]>
Nicky Butt, Diego Forlan and John O'Shea were the used substitutes