<![if !vml]>
<![endif]>
Date: Thursday, 20th April 2000.
Venue: Elland Road, Leeds.
Competition: UEFA Cup, Semi-Final, Second Leg.
Score: Leeds United 2 Galatasaray 2.
Scorers: Leeds United: Bakke (2). Galatasaray: Hagi (pen), Sukur.
Attendance: 38,406.
Teams:
<![if !vml]>
<![endif]><![if !vml]>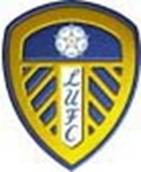 <![endif]>
Leeds United: Martyn; Mills, Woodgate, Radebe, Harte (Huckerby); Bakke, Bowyer, McPhail, Wilcox; Bridges, Kewell. Unused Subs: Haaland, Hopkin, Smith, Jones, Duberry, Robinson.                           
<![if !vml]>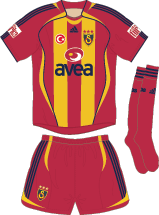 <![endif]><![if !vml]>
<![endif]>
Galatasaray: Taffarel; Popescu, Korkmaz, Ergun, Suat (Yildirim); Belozoglu, Okan (Sas), Capone, Hagi; Erdem (Unsal), Sukur. Unused Subs:Akyel, Davala, Inan, Marcio.
Referee: Lubos Michel (Slovakia).
Leeds United's seven-month magical mystery tour of Europe ended at their Elland Road home, where much of its planning had been done, and it was a pity that the last leg provided so little to savour. The farewells were being waved as early as the fourth minute when Jonathan Woodgate produced an ill-timed tackle in the area on Hakun Sukur and Gheorghe Hagi scored impeccably from the spot. Catch-up headers from Eirik Bakke, identically from Jason Wilcox corners, gave United a draw on the night as the free-scoring Hakan Sukur got the second for Galatasaray, but it was not enough.
Slovakian referee Lubos Michel did not help matters when he dubiously sent off Harry Kewell, and Emre Belozoglu, in an ugly final five minutes of the first half. The ten-a-side second half produced many wide open spaces and could have resulted in many more goals but the two goal deficit from the first leg, which quickly expanded to three, was always going to be a mountain too high to climb in whatever circumstances.
United were without Gary Kelly with a groin strain and Danny Mills deputised. A sombre mood pervaded and both teams wore black armbands in memory of the two Leeds fans murdered in Istanbul and a minute's silence was also observed. United had the bit between their teeth as Harry Kewell, twice in the first three minutes, forged an opening. The hectic start by Leeds was soon brought to an abrupt halt by Jonathan Woodgate conceding a penalty for Gheorghe Hagi to put Galatasaray in front on the night. But Michael Bridges fired in a shot which Claudio Taffarel could not hold and Eirik Bakke earned a corner with his follow up shot as United attempted to lift themselves.
Jason Wilcox won a left-wing corner after fifteen minutes and when his cross came across Eirik Bakke rose above everyone to head home off the inside of a post. It was United's first goal in over seven hours and the relief to everyone was visible. After Lee Bowyer had battled to win the ball on the edge of the area, Harry Kewell brought Claudio Taffarel to his knees to save. On the half hour another Jason Wilcox corner brought trouble for the visitors and a thundering header from Ian Harte brought a fine diving save from Claudio Taffarel, who was again immediately in action as he saved from Eirik Bakke with his knees. Hagi got a free-kick out of Lee Bowyer after thirty-six minutes but lofted the free-kick over the bar. Jason Wilcox was causing all kinds of trouble with his corners and Jonathan Woodgate just failed to make contact at the far post as the interval approached. Harry Kewell, who had done all the hard work, decided to pass instead of shoot and another opening had gone begging, but the Galatasaray marksman, Hakan Shuker, showed how it was done, with a shimmy and a turn he put the ball in the far corner of the net to give the visitors a forty-second minute lead.
Harry Kewell's response was to chase a long punt upfield from Nigel Martyn and he became unintentionally entangled with Gheorghe Popescu and was inexplicably shown a red card. The deepening antagonism saw Emre Belozoglu fell Lee Bowyer and he too was shown a red card where normally a yellow card would have sufficed. For the second half both teams made tactical changes due to the reduction of their teams with Ian Harte being sacrificed for Darren Huckerby and Arif Erdem making way for Hakan Unsal. With a veritable mountain to climb, United started the half on the attack with both Eirik Bakke and Michael Bridges failing with headers. Newly-arrived Hakan Unsal roared through and chipped just over while in the fifty-fifth minute Michael Bridges was fouled twenty yards out, but Danny Mills scooped the ensuing free-kick well over.
Michael Bridges, too, skied a good opportunity three minutes later and then a terrific reflex save from Claudio Taffarel kept out a deflection from his skipper, Bulent Korkmaz, in the sixty-eighth minute. From the corner Jason Wilcox's cross created a carbon copy of Eirik Bakke's first goal. Michael Bridges then fired narrowly wide and Jason Wilcox forced Claudio Taffarel to a diving save, but the clock was beginning to beat them. Darren Huckerby tried his luck but his shot was scooped up by the keeper before Michael Bridges tried an injury-time lob which failed to catch out Claudio Taffarel.
There was no shame in going out to a team of such high European pedigree as Galatasaray, who moved on to meet and beat Arsenal in the Copenhagen final. On the contrary, it was a fantastic effort to eliminate such fine teams as Spartak Moscow and Roma along the way and in the process had won many admirers and remained unbeaten at Elland Road into the bargain. They now had to win their last five matches of their EPL programme to once again pit their skills against the finest in Europe. They did not achieve that, but remained unbeaten in those five games with two wins and three draws and thanks to a final day miracle in which Bradford City maintained their EPL status with a win over Liverpool which caused them to allow United to limp home above the scousers they did qualify in third spot for the ECL in the following season.
<![if !vml]>
<![endif]> <![if !vml]>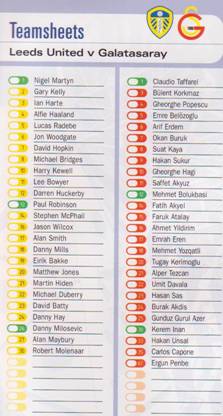 <![endif]> <![if !vml]>
<![endif]>
Match Action:
<![if !vml]>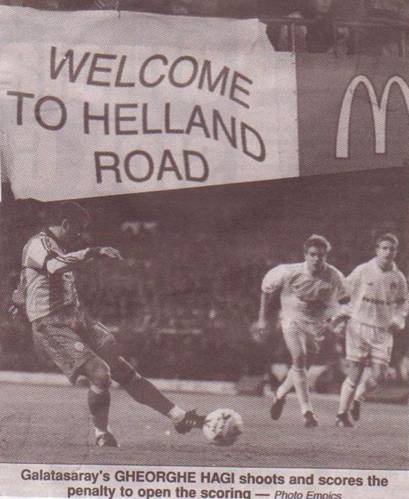 <![endif]> <![if !vml]>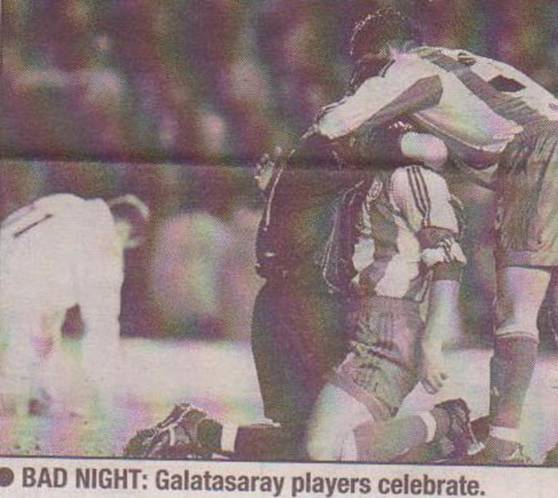 <![endif]>
<![if !vml]>
<![endif]> <![if !vml]>
<![endif]>
<![if !vml]>
<![endif]> <![if !vml]>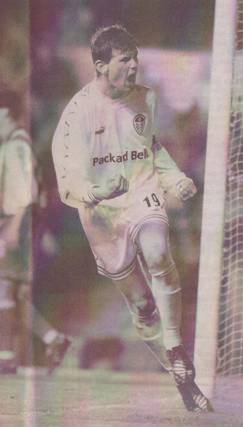 <![endif]>
Eirik Bakke heads past Claudio Tafferel for his second goal                                                                                 and celebrates
<![if !vml]>
<![endif]>    <![if !vml]>
<![endif]>
<![if !vml]>
<![endif]> <![if !vml]>
<![endif]> <![if !vml]>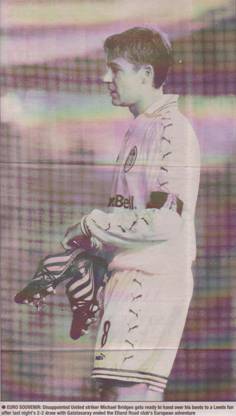 <![endif]> 
<![if !vml]>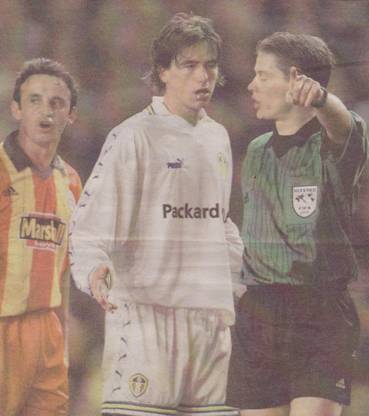 <![endif]> <![if !vml]>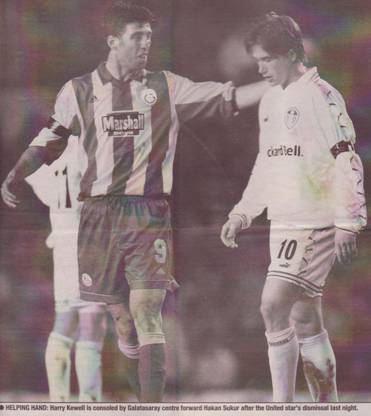 <![endif]> <![if !vml]>
<![endif]>
<![if !vml]>
<![endif]> 
Danny Mills wins a header with the help of Jonathan Woodgate
Teams:
<![if !vml]>
<![endif]>
The Galatasaray team that beat Arsenal in the Final in Copenhagen
Back Row: Taffarel, Capone, Popescu, Ümit Davala, Bülent Korkmaz, Hakan Şükür.
Front Row: Okan Buru, Hagi, Suat Kaya, Arif Erdem, Ergün Penbe.
Players:
<![if !vml]>
<![endif]>     <![if !vml]>

<![endif]> <![if !vml]>
<![endif]>      <![if !vml]>
<![endif]> 
Eirik Bakke scored both Leeds goals.                           Gheorghe Hagi, from the spot, and Hakan Sukur                   Lucas Radebe led by example.
                                                                                          scored in reply.
<![if !vml]>
<![endif]>    <![if !vml]>
<![endif]>   <![if !vml]>
<![endif]>   <![if !vml]>
<![endif]> 
Nigel Martyn long clearance.    Jason Wilcox corners resulted    Lee Bowyer was felled                             Darren Huckerby was the substitute
                                                     in both goals
<![if !vml]>
<![endif]> <![if !vml]>
<![endif]> <![if !vml]>
<![endif]> <![if !vml]>
<![endif]>
Jonathan Woodgate conceded the penalty  Ian Harte was sacrificed              Harry Kewell was mysteriously shown red  Michael Bridges tried a lob
<![if !vml]>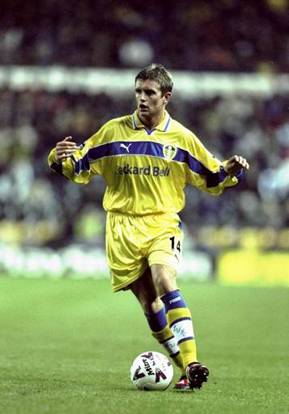 <![endif]>        <![if !vml]>
<![endif]> <![if !vml]>
<![endif]>
  Stephen McPhail was outgunned                         Fatih Akyel was an unused substitute in both games while Umit Davala was unused at Leeds   
<![if !vml]>
<![endif]>
Tugay Kerimoglu could not even make the bench!