<![if !vml]>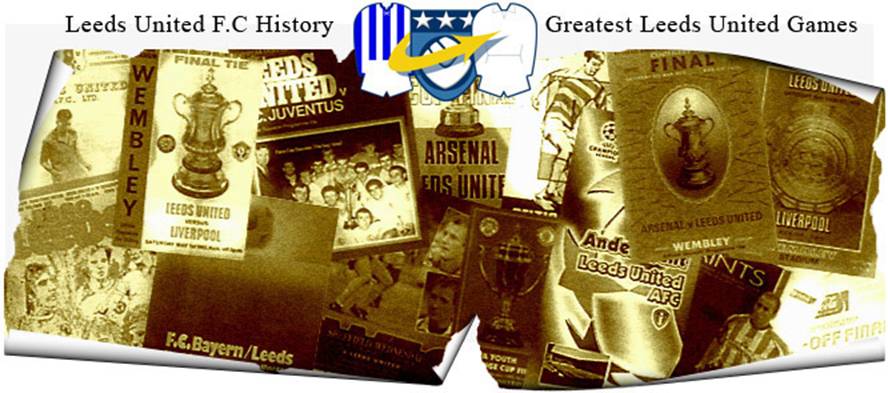 <![endif]>
Date: Wednesday, 20th December 1967.
Venue: Elland Road Leeds.
Competition: Inter-Cities Fairs Third Round, First Leg.
Score: Leeds United 1 Hibernian 0
Scorers: Leeds United: E. Gray. Hibernian: Nil.
Attendance: 31,522.
Teams:
<![if !vml]>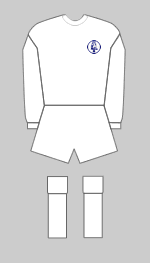 <![endif]>†<![if !vml]>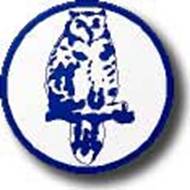 <![endif]>
Leeds United: Sprake; Reaney (Madeley), Cooper; Bremner, Charlton, Hunter; Greenhoff, Lorimer, Jones, E. Gray, Giles.
<![if !vml]>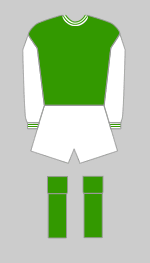 <![endif]>†<![if !vml]>

<![endif]>
Hibernian: Wilson, Duncan, Davis; Stanton, Madsen, McGraw; Scott, Quinn, Stein (OíRourke), Cormack, Stevenson.
Referee: Jack Russell (Northern Ireland).
In the Third Round of the Inter-Cities Fairs Cup Don Revie came upon a familiar name as his adversary. Bill Shanklyís brother Bob was the Manager of Unitedís opponents, Hibernian, and he had masterminded a remarkable comeback by the Edinburgh club in the Second Round.† Hibernian had blitzed Napoli, who had the young and later to be well renowned Dino Zoff in goal, 5-0 at Easter Road to pull back a 4-1 deficit from their away leg in Naples. They also had several fine players who were later to make their mark in English football or were already Scottish Internationals. Players like Peter Cormack, Colin Stein, Pat Quinn, Jimmy OíRourke, Bobby Duncan and Pat Stanton. They were running a sturdy third behind the Glasgow giants Celtic and Rangers and United knew they were in for a hard fight if they were to progress.
After Hibernianís feat of the previous round there were many backers for the Scottish team, particularly north of the border. United welcomed the return of Giles and Jones to European action after lengthy absences due to injury but Mike OíGrady was still a long-term absentee. Manager Revie pulled Paul Madeley out of his proposed England under-23 debut at centre-half against Italy at Nottingham, as the game took place on the same night as the clash with Hibs. He reasoned that United were paying his wages and he was in such good form that his England under-23 debut was a future formality.
Billy Bremner must have reflected that he could have been lining up for the Edinburgh club, if he had not changed his mind during his period of home-sickness for the nearby Stirling. And so five days before Christmas he led out a team containing fellow Scots Eddie Gray and Peter Lorimer to face a team from their homeland capital. United had had several listless performances and Don Revie was prompted to bring back Mick Jones, who had been out injured since September and Johnny Giles, who had not played for eight weeks as he too was injured. He could not have had a better start and ironically it was a Scotsman, Eddie Gray, who opened the scoring after only four minutes as Hibernian keeper Willie Wilson sent a goal kick straight to Jimmy Greenhoff, who beat Joe Davis and crossed for Eddie Gray to shoot. The ball struck John Madsen but rebounded to Gray, who made no mistake with his second attempt and the Elland Road crowd settled back contemplating a goal feast. It didnít happen as, while Gary Sprake was a virtual spectator, United played probably their worst display in European competition and when it came to putting the ball in the Hibernian net nothing went right.
Despite the worst possible start, Hibernian had settled down to run midfield where the skilful Peter Cormack outmanouvred Billy Bremner and only excellent defensive play by Norman Hunter kept the Scottish side at bay. Colin Stein though he had equalised in the twenty-first minute when he challenged Gary Sprake on the goal line The Welsh keeper grabbed the ball and when he bounced it to clear Stein prodded it into the net. The Irish referee awarded a goal but then disallowed it on the advice of his linesman who was of the view that Stein had got the ball into the net through dangerous play. It was to be Steinís last meaningful contribution to the game as he had to leave the field injured a couple of minutes later. Leeds also had a goal disallowed just after the hour when Peter Lorimer had the ball in the net from a Mick Jones pass but was ruled offside.
In a frantic finish, Willie Wilson made a point-blank save from Mick Jones, while at the other end Gary Sprake foiled Alex Scott in a rare Hibernian raid. United had struggled to find their rythmn on a bone hard pitch but the surface did not stop Peter Cormack putting on a super showand it was no real surprise to those watching that he went on to make a big impression in English football with Nottingham Forest and Liverpool.
So United took a slender one goal lead north of the border to the Scottish capital for the return leg, knowing that their performance could only improve.
<![if !vml]>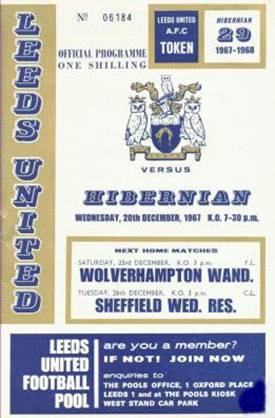 <![endif]>
Match Action:
<![if !vml]>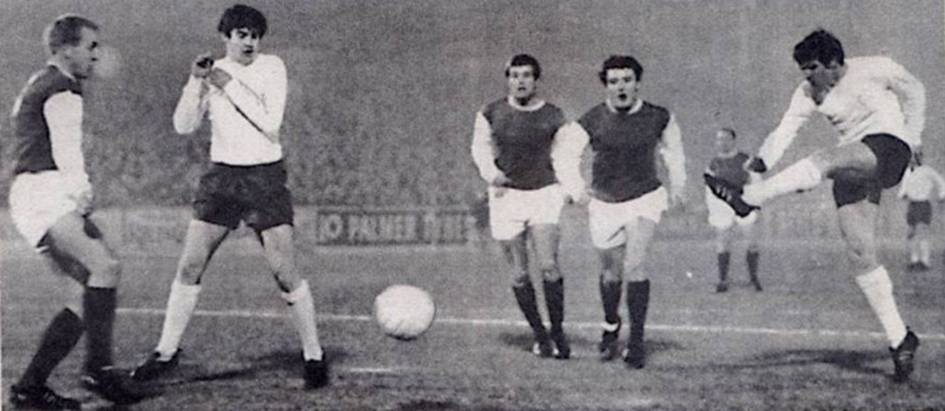 <![endif]>
Eddie Gray scores for Leeds
<![if !vml]>
<![endif]>††††††††††††
Gary Sprake saves at the feet of Colin Stein
Teams:
<![if !vml]>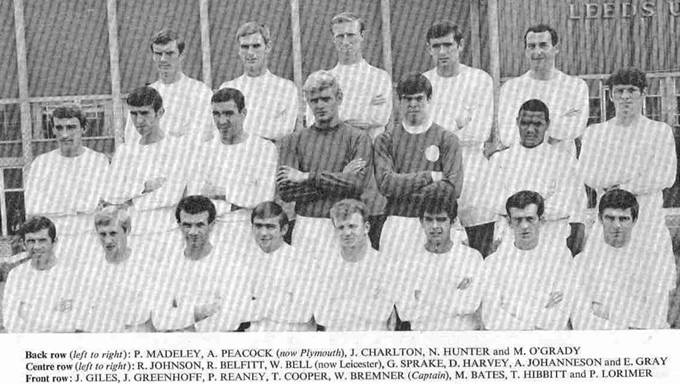 <![endif]>
<![if !vml]>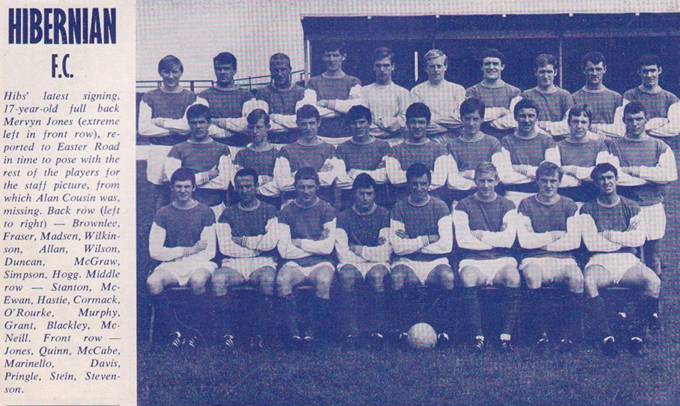 <![endif]>
Players:
| | |
| --- | --- |
| Hibernian full-back Joe Davis scores from the spot against Hearts | Bobby Duncan |
| | | |
| --- | --- | --- |
| Peter Cormack | Jim OíRourke | Pat Stanton |
<![if !vml]>
<![endif]>††††††††††††† <![if !vml]>
<![endif]>†††††††††††††††<![if !vml]>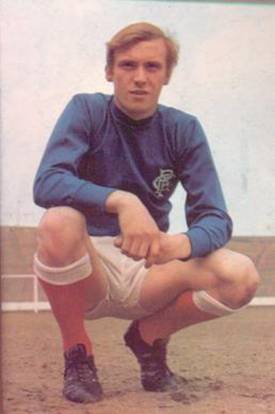 <![endif]>
Eric Stevenson, Pat Quinn and Colin Stein were the danger men up front for Hibernian
| | |
| --- | --- |
| Willie Wilson | John Madsen |
<![if !vml]>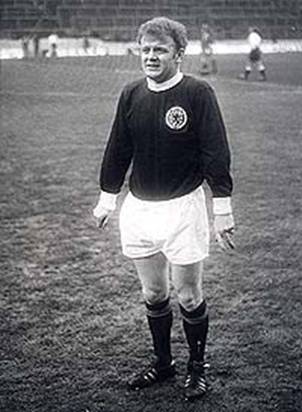 <![endif]>†<![if !vml]>
<![endif]>†<![if !vml]>
<![endif]>
Billy Bremner, Eddie Gray and Peter Lorimer were facing their fellow countrymen