<![if !vml]>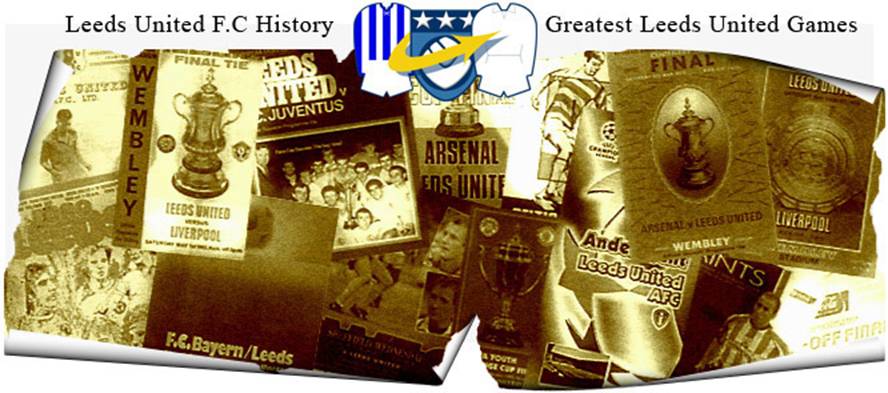 <![endif]>
Date: Sunday, 21st May 2006.
Venue: Millenium Stadium, Cardiff.
Competition: Coca-Cola Football League Championship Pay-off Final.
Score: Leeds United 0 Watford 3.
Scorers: Leeds United: Nil. Watford: DeMerit, Sullivan (o.g.), Henderson (pen).
Attendance: 64,736.
Teams:
<![if !vml]>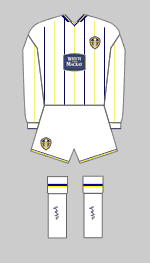 <![endif]><![if !vml]>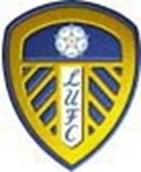 <![endif]>
Leeds United: Sullivan; Kelly, Butler, Gregan (Bakke), Kilgallon; Douglas, Derry, Miller (Healy); Richardson (Blake), Hulse, Lewis. Unused Subs: Stone, Bennett.
<![if !vml]>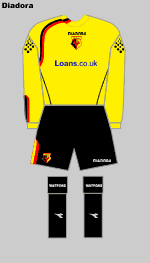 <![endif]><![if !vml]>

<![endif]>
Watford: Foster; Doyley, DeMerit, McKay, Stewart, Chambers (Bangura); Spring, Mahon, Young; King, Henderson. Unused Subs: Eagles, Bouzza, Mariappa, Chamberlain.
Referee: Mr M. Dean (Heswall, Wirral).
The interest in United was intense as the mad scramble for the prized tickets took place. All of a sudden there were 40,000 fans that were lucky enough to get a ticket, and many thousands who were not so fortunate. Then there were the millions who watched the game on TV.
I was one of the fortunate 40,000, thanks to a long time friend and United fanatic, to whom I am eternally grateful. I could write a book on the story of the intrigues which took place before I finally had the prized piece of paper in my hand. We were on the road before the sparrows were awake and were soon joined by the exodus of United fans which came from all corners of the globe and clogged every motorway and by-way heading for the capital of the principality. The day was similar to my first taste of a major final at the country's finest venue (1965 Liverpool at Wembley, after nearly twenty years of supporting mediocrity!). The dark clouds had gathered and the heavens had opened. Fortunately the Millennium was much more modern and its retractable roof ensured that at least the supporters would not get soaked to the skin as was the case in 1965! Cardiff was also inundated by the invading hordes, from Watford and Leeds, but thankfully there was no trouble between the fans but rather much bonhomie and friendliness between them.
The scene was set for the return to the EPL of one of its best supported teams. Unfortunately the team did not turn up, but rather a pale imitation of the team that had comeback so valiantly against all the odds at Southampton, played Crystal Palace off the park in their own backyard and prevailed in the physical battle at Deepdale.
The team that took the field showed several changes from their Deepdale triumph. Captain Paul Butler had recovered from injury and took the place of the suspended Stephen Crainey, with Matthew Kilgallon switching to left back. The suspended Richard Cresswell could not take his place on the bench and Manager Kevin Blackwell went for safety first, and included keeper Ian Bennett on that bench.
It was a disastrous day for United and their expectant fans. They had no arguments they were outplayed, outfought and totally outthought by a Watford team who were better in all departments. The display was much at odds with their performance at Preston when they were strong, robust, physical and clinical. None of those qualities were apparent, but rather they lacked any creativity or invention in midfield and Watford dominated this area for the whole match and their quick and interchangeable forwards pulled the United rearguard all over the park and created holes at will. There had been a glimpse of hope early in the game as Shaun Derry had a shot deflected to safety by a Watford defender. It set the tone of the game, as United failed to capitalize on early match nerves, and a suggested instability in the Watford defence, but it soon passed and with it any chance that United may have had of prevailing. It was soon the Leeds defence that looked vulnerable.
It came as no surprise when Jay DeMerit powered in to head home a corner in the twenty-fifth minute, with Rob Hulse holding his head in his hands for not tracking him. Shaun Derry did try hard in midfield but Frazer Richardson was not the success he was at Preston and was replaced by Robbie Blake at the start of the second half, while both Liam Miller and Jonathan Douglas were anonymous and United seemed to be seeing their hopes go down the drain by half-time as they surrendered the midfield. Rob Hulse was hauled down by the Watford keeper just before half-time but the fans hopes were dashed as the referee called the ball back for a previous infringement by a United player.
With the introduction of Robbie Blake, he went up to join the attack as Kevin Blackwell changed from 4-3-3 to 4-4-2, but it made little difference and United were lucky not to go two behind early in the second half. Ex-Leeds striker Marlon King played in Darius Henderson, but, with another ex-Leeds player Matthew Spring running into space, his final pass was poor and the chance was lost. The warning was not heeded and in the fifty-seventh minute Watford doubled their lead as James Chambers turned Eddie Lewis in the box and his shot looped off the winger's boot and onto the post before rebounding off the diving Neil Sullivan and into the net. Maybe a lucky goal but no more than Watford deserved and it finished the game as a contest.
United visibly wilted and despite the efforts of Paul Butler, Sean Gregan and Shaun Derry to breathe life into the United effort they got little response. It was as if Leeds had hoisted the white flag, even though there was half an hour remaining. David Healy, a somewhat surprise omission from the team to date, came on for the ineffective Liam Miller and he did test the Watford keeper, Ben Foster, with a low drive. Sean Gregan headed over the bar, Eddie Lewis tested the keeper with a skimming shot and Shaun Derry, United's best player by a country mile and one of the few seeming to care, had an header cleared off the line and must have known it was not going to be his day. At the other end Malky MacKay had an header cleared off the line before the Shaun Derry was adjudged to have unfairly brought down Marlon King in the area, with six minutes to go, and Darius Henderson put the final nail in United's coffin by converting the resultant penalty. It was all over and even Shaun Derry conceded it was all over and the clock was wound down as Eirik Bakke relieved Sean Gregan from further suffering for the last five minutes.
United's pain was there for all to see and the final ceremony was played out to banks of unoccupied seats at the Leeds End as the Leeds players held their heads in shame. It was painful to watch and the disappointment set in as once again I realized that Leeds had faltered at the last hurdle in another quest for some glory and a Radio Aire/Leeds interviewer stuck his microphone in front of my mouth and asked the immortal moronic question "How do you feel". I suppressed the urge to strangle the life out of him for posing such an unfeeling and imbecilic question and said "I have supported Leeds for so long that I am used to failure at the last hurdle. I feel, now, that this is just the most recent in a long line of such disappointments which started for me at Wembley in 1965 and have continued with monotonous regularity culminating with today's abject disappointment. I am as usual uncomfortably numb"
And then there was the four hour journey to reach the outskirts of Cardiff before encountering further congestion on the Motorways clogged by equally disappointed Leeds fans. I was thankful that my friend drove the whole way to his home where we arrived at and ultimately I arrived "home" in Leeds at and got some shuteye before facing the journey back to Oz. Happy Days! So came down the curtain on a season which had several times promised so much and yet finished with nothing. Some things never change.
Coca-Cola CHAMPIONSHIP Play-off final overview
 
It wasn't supposed to end like this. The Coca-Cola Championship Play-off final was supposed to be a day of celebration, a day when everyone with blue, white and yellow running through their veins celebrated the re-birth of Leeds United. Those well-documented years of trauma and hurt were due to come to an end with, like the phoenix, Leeds United rising from the ashes to reclaim their rightful place among the footballing elite. The fact that this resurrection was scheduled to take place in Cardiff was all the more significant, given the fact that one of the oft talked about starting points of the club's decline came just a few miles down the road at Ninian Park with FA Cup defeat in 2002.
<![if !supportLineBreakNewLine]>
<![endif]>
To add to the occasion, in the region of 40,000 Leeds fans had descended on the capital for a day of celebration. It was a day for rejoicing, it was a time for shouting "United are back", and the Leeds supporters in Wales were determined to party. They had travelled on trains, planes and automobiles to get there. Some, like the players and management, were also veterans of a forty-six-game league season that had taken in the likes of Crewe, Brighton and Millwall. As the club anthem goes, they'd been through it all together and they'd had their ups and downs. Others were seasoned campaigners returning for one final blast or newcomers who were at Cardiff looking to enjoy the experience. Whatever, it all added up. Leeds were on the verge of returning to the big time.
 
Sadly, the scriptwriters didn't see it that way, and those pesky Hornets from Watford ensured a sting in the tail, and made sure there was no happy ending. When Jay DeMerit headed Watford into the lead, you sensed it wasn't going to be United's day. When James Chambers scored a fluky second you knew it wasn't. And when Darius Henderson slotted home a late penalty it was time for tears. Most Leeds fans are hardened to disappointment, yet that doesn't make it any easier to swallow. For whatever reason, and there would be plenty of recriminations, the Leeds team which went head-to-head with Watford yesterday were beaten by the better side. United may have outplayed Watford in the league at Elland Road and may have had more big-game experience than their opponents, but there was only one real winner yesterday. There could be no real grumbles. The bottom line was that the better team won.
<![if !supportLineBreakNewLine]>
<![endif]>
The Hornets fans at the Millennium Stadium may have been outnumbered and outsung, but Premiership status wasn't judged on support alone. If it were, Leeds would be there. There could be no mistake about that. No, Premiership football was judged on who the best side was over a season and, however you chose to look at it, after Reading and Sheffield United, Watford were the third best side to grace the Coca-Cola Championship that season. They didn't have any airs and graces, they had no history of European conquests, and, without wishing to sound unkind, had none of the star names often associated with clubs making a bid for promotion. But in season 2005-06, under the guidance of former Elland Road head coach Adie Boothroyd, they were marginally better than Leeds over forty-six league games and in the one that really mattered, they were decidedly better over ninety minutes.
<![if !supportLineBreakNewLine]>
<![endif]>
United manager Kevin Blackwell admitted afterwards that his side had, to coin a footballing phrase "not turned up". He was right. The robust physical edge that had bullied Leeds to Cardiff was non-existent, and the old familiar failing of not creating enough decent chances was there for all to see. Then there was the luck. A denied penalty perhaps when Rob Hulse was bundled to the ground by Watford goalkeeper Ben Foster?  Shaun Derry twice had shots cleared off the line when a goal looked certain. And the throw-in which led to Watford's second goal should have been awarded to Leeds. But you can't rely on ifs, ands, or what might have beens. The harsh reality was that Blackwell's Leeds had jostled behind the leading pack over the past nine months without ever getting their noses in front, and when it came to down the final fence, they stumbled and allowed Watford to romp home.
<![if !supportLineBreakNewLine]>
<![endif]>
As Leeds floundered at that last hurdle, Watford steamed clear. The hordes that had arrived to inject a little bit of Yorkshire into the Welsh capital slowly started to filter out of the stadium. There were understandable grumbles and complaints, and the masses that streamed out into the early evening sunshine in Cardiff were somewhat quieter than two hours previously. The bullish bravado had gone. As had Leeds United's hopes of returning to the Premiership. Some had experienced it before, Leeds lost the 1987 play-off final to Charlton Athletic after a replay, while for others it was a new experience. Not an experience they would be keen to repeat I suspect.
<![if !supportLineBreakNewLine]>
<![endif]>
A post-match dressing room inquest was succinct and straight to the point with the players, who moments earlier had lain prostrate on the Millennium turf after the final whistle confirmed their knock-out blow, admitting that their performance just had not been good enough. Leeds would have to go away and re-group. Both chairman and manager had said that the club was ahead of schedule by edging into the play-offs and next season was supposed to be the one when United would make their serious assault.
In the ensuing weeks, there would be plenty of soul searching and a few changes to personnel would be inevitable, but, for that moment, the dust needed to settle. And it would. It might take a few days, it might even take a few weeks, but by the time the fixtures were released at the end of the following June and trips to Southend and Colchester were confirmed in black and white, the reality would finally hit home. It was a case of so near yet so far. Then Leeds United had to look to do it all over again the following season.
<![if !vml]>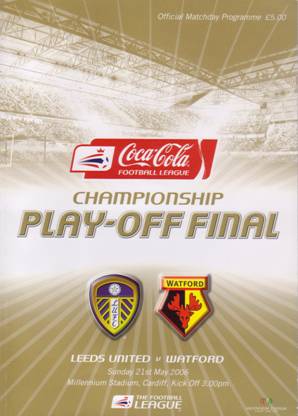 <![endif]> <![if !vml]>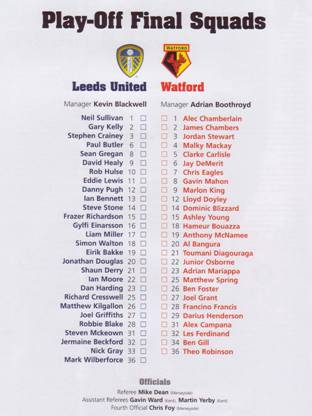 <![endif]> <![if !vml]>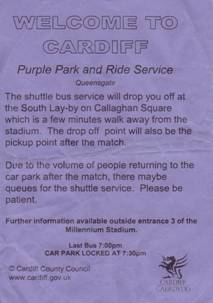 <![endif]> 
  <![if !vml]>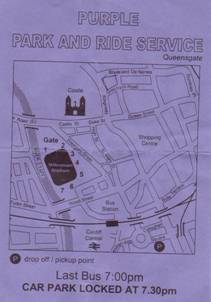 <![endif]>            <![if !vml]>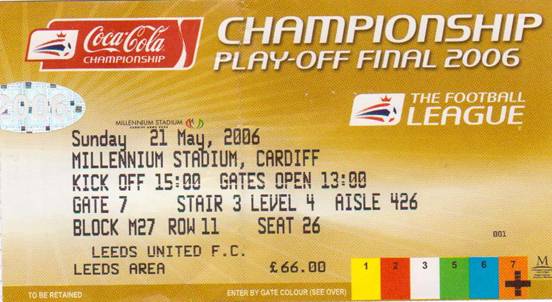 <![endif]>
Match Action:
<![if !vml]>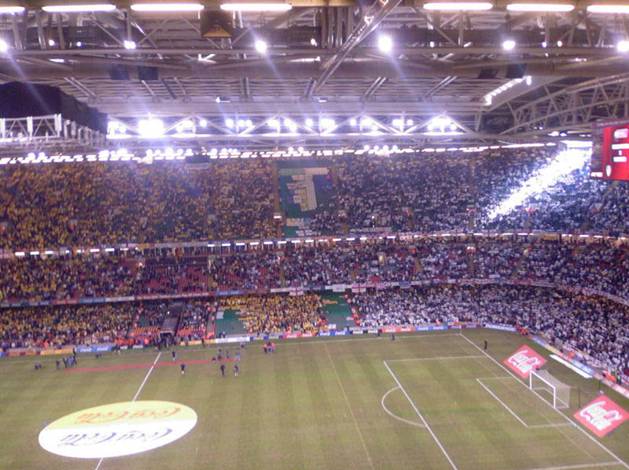 <![endif]>    <![if !vml]>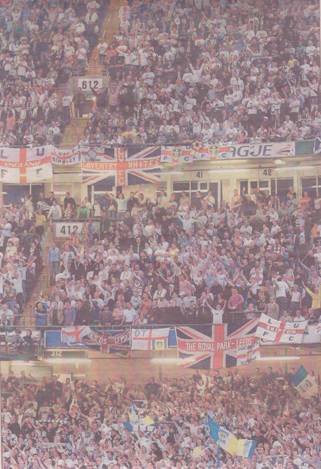 <![endif]>
A capacity crowd was in attendance at the Millenium Stadium Cardiff with United very well represented
<![if !vml]>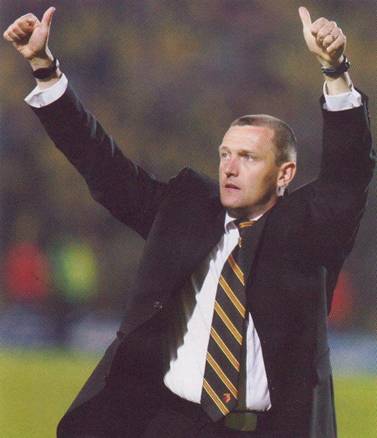 <![endif]>   <![if !vml]>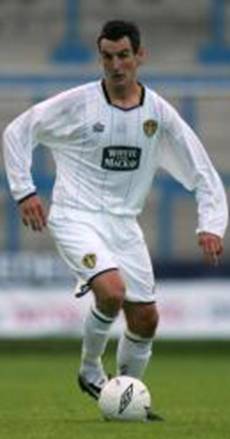 <![endif]>   <![if !vml]>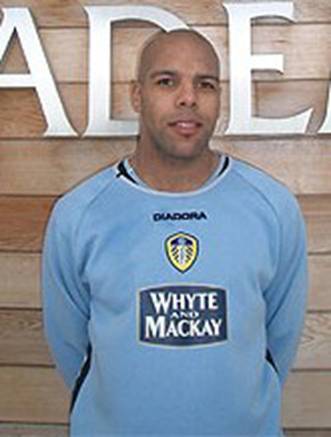 <![endif]> 
Watford had a decidedly "Leeds" look about them with Aidie Boothroyd as Manager, Matthew Spring and Marlon King on the pitch
<![if !vml]>
<![endif]>      <![if !vml]>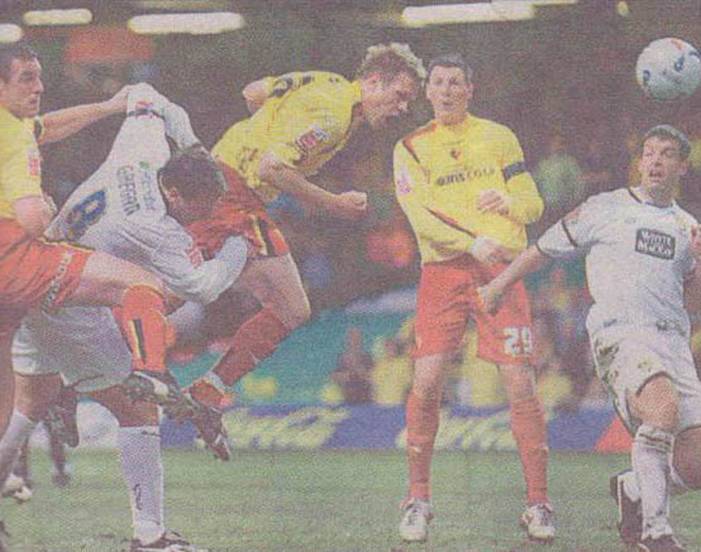 <![endif]>
and Clarke Carlisle watching                  Jay DeMerit powers through flimsy defence to head Watford's opener
from the sidelines
<![if !vml]>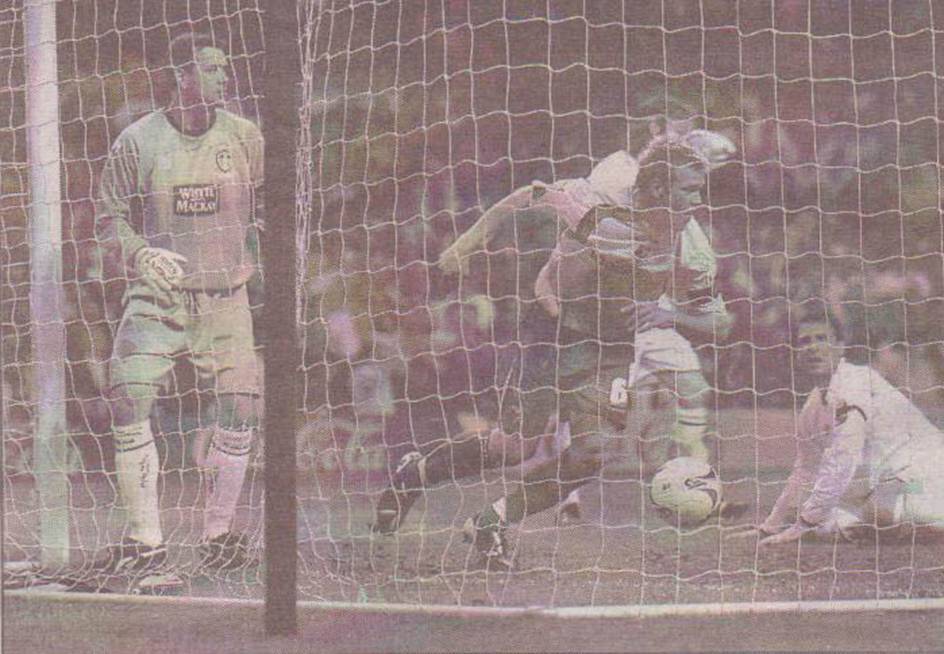 <![endif]>
Neil Sullivan and Sean Gregan look on as Jay Demerit celebrates his goal
<![if !vml]>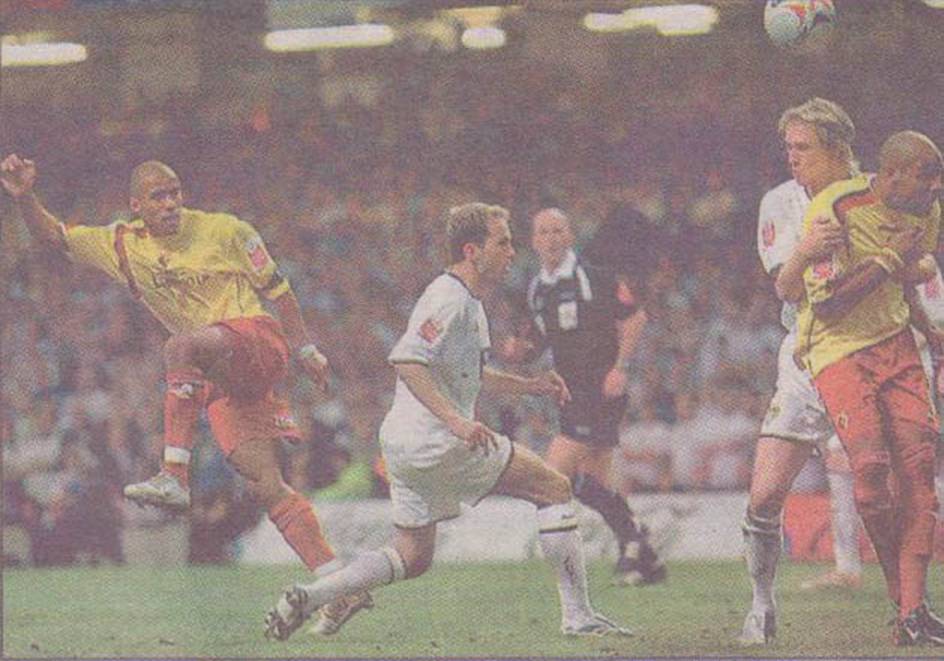 <![endif]> 
James Chambers gets in the shot that resulted in Watford's second goal
<![if !vml]>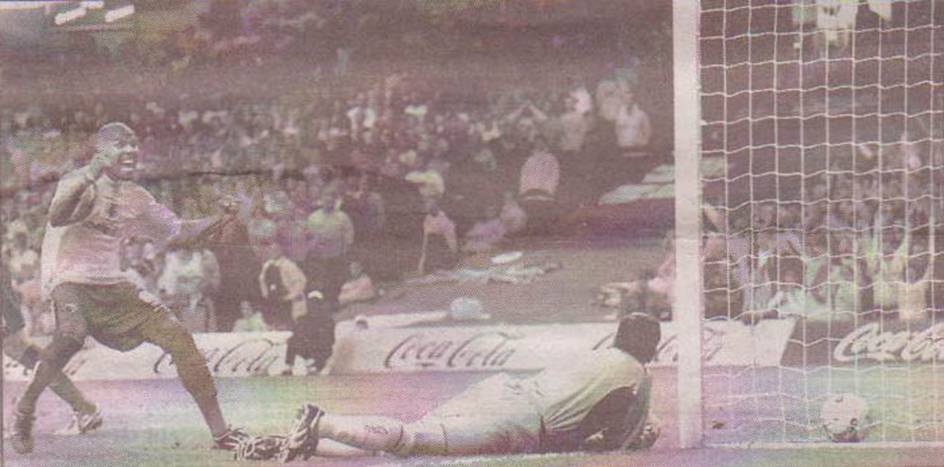 <![endif]>     
Marlon King celebrates after James Chamber's shot deflected off Eddie Lewis, hit the post and rebounded into the net off the prostrate Neil Sullivan       
<![if !vml]>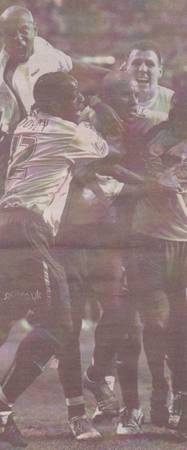 <![endif]> <![if !vml]>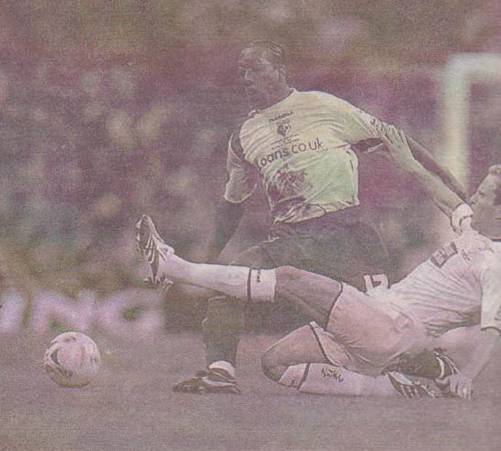 <![endif]> <![if !vml]>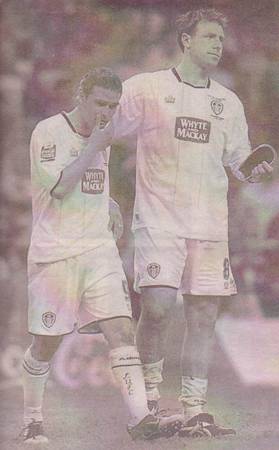 <![endif]>
Watford players celebrate    Eddie Lewis slides in on Lloyd Doyley                                                                David Healy and Sean Gregan
the second goal                                                                                                                                                     leave the arena
<![if !vml]>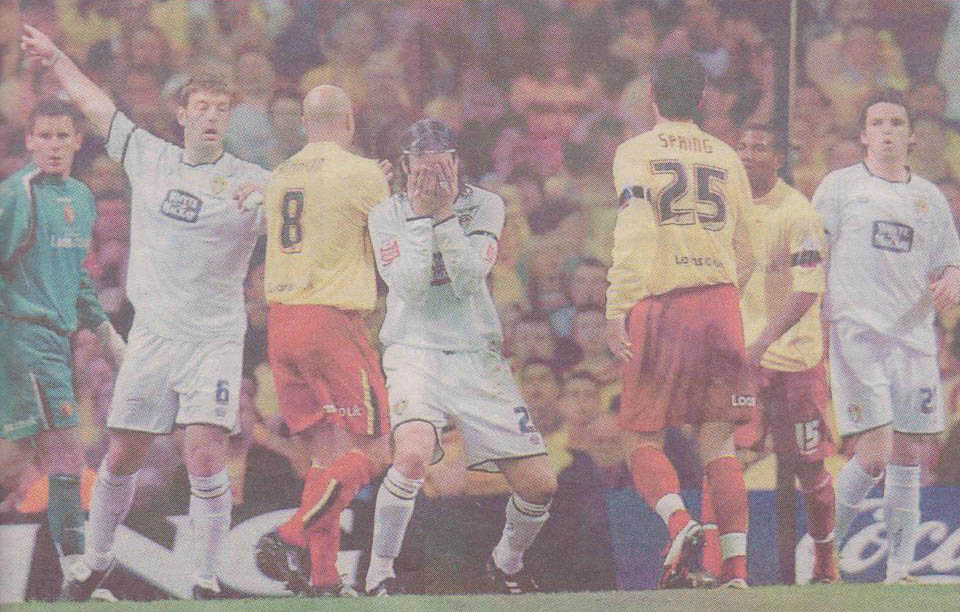 <![endif]> 
Shaun Derry holds his head as his shot misses the target
<![if !vml]>
<![endif]>
Liam Miller looks to dispossess Matthew Spring
<![if !vml]>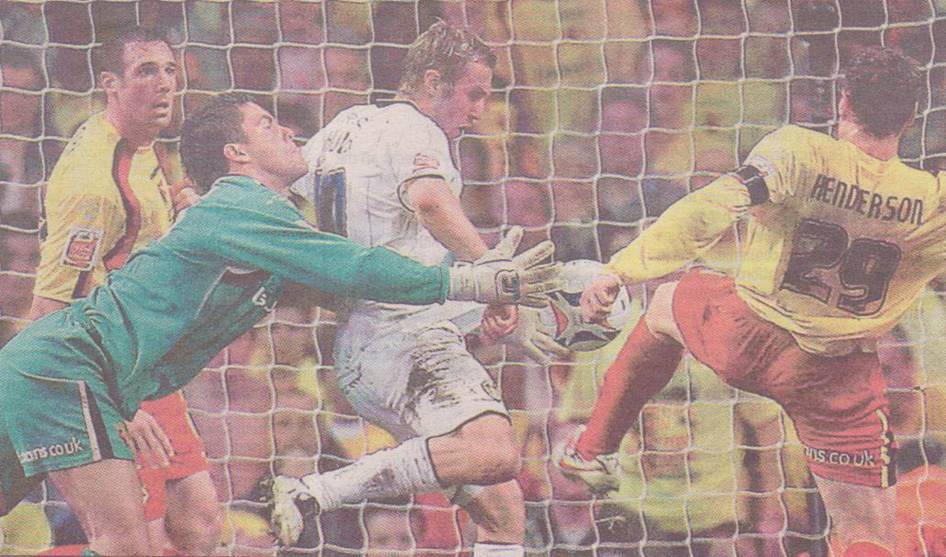 <![endif]> 
Ben Foster appears to impede Rob Hulse
<![if !vml]>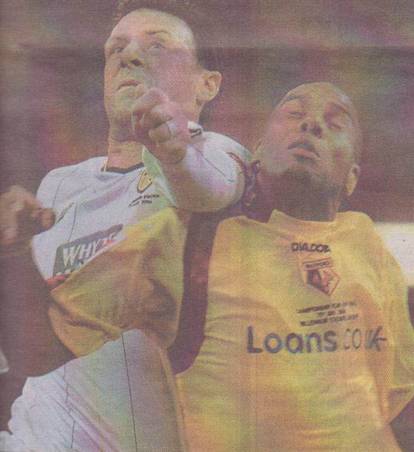 <![endif]> <![if !vml]>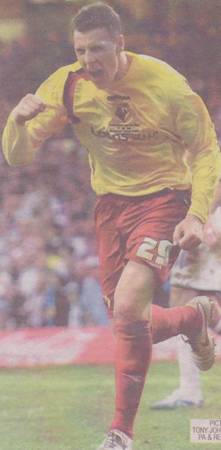 <![endif]> <![if !vml]>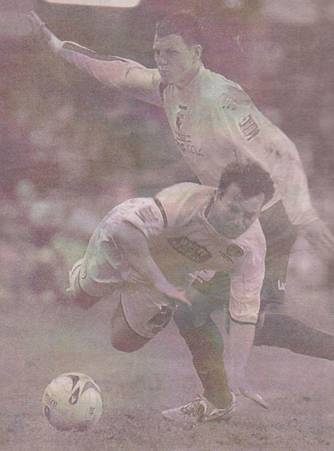 <![endif]>
Sean Gregan and Marlon King ask no quarter                            Darius Henderson celebrates        Darius Henderson upends Robbie Blake
                                                                                                         his penalty success
<![if !vml]>
<![endif]> <![if !vml]>
<![endif]>
Jonathan Douglas takes on Al Bangura                                                       Darius Henderson tries to hold off Liam Miller
<![if !vml]>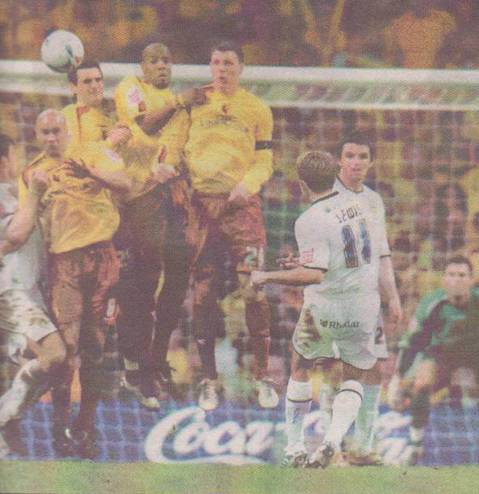 <![endif]>        <![if !vml]>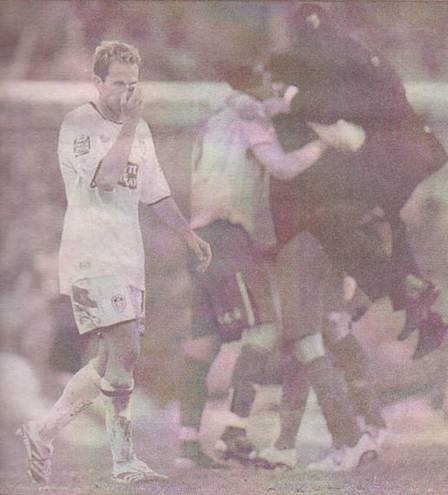 <![endif]>
Eddie Lewis tries to beat the wall with a free-kick                                              Eddie Lewis leaves the field as Watford celebrate
<![if !vml]>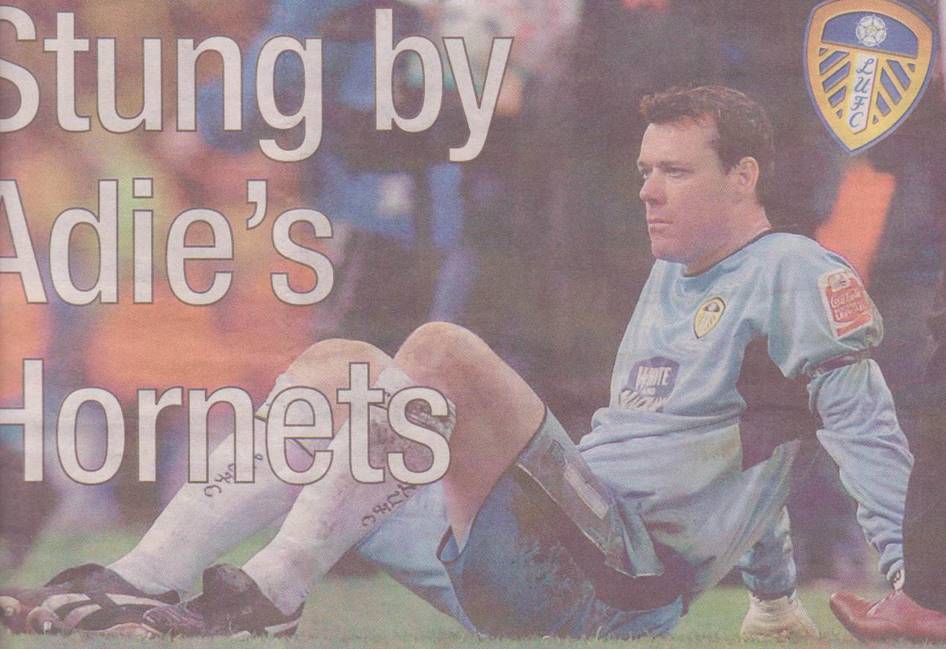 <![endif]> 
Neil Sullivan sits on the pitch after the game reflecting on what might have been
<![if !vml]>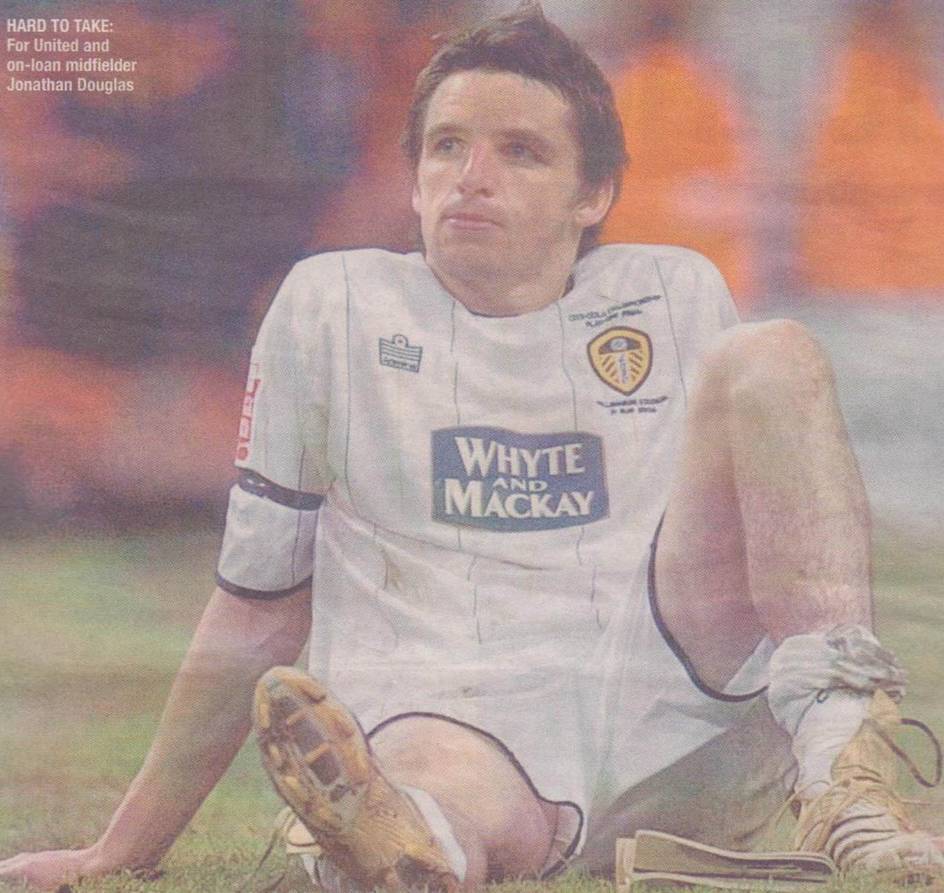 <![endif]>
<![if !vml]>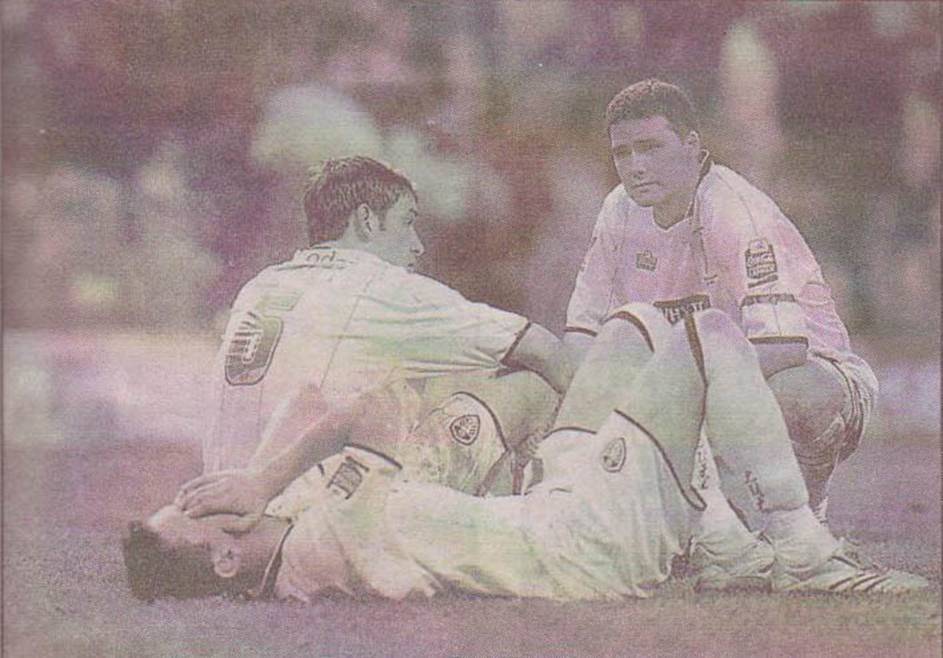 <![endif]>          
Eirik Bakke, Paul Butler and David Healy on the pitch after the game                       
Players:
<![if !vml]>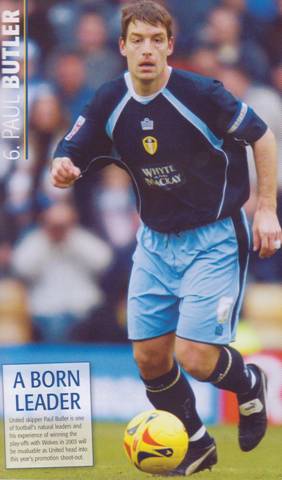 <![endif]>     <![if !vml]>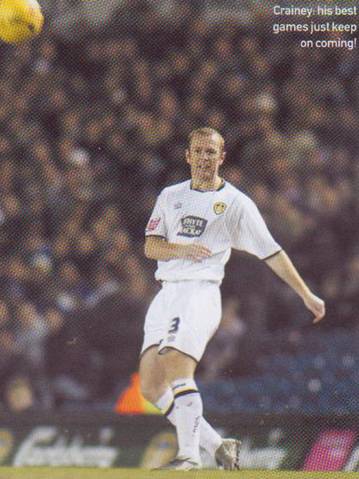 <![endif]> <![if !vml]>
<![endif]> 
Captain Paul Butler returned after injury         Stephen Crainey was suspended and replaced by Matthew Kilgallon          
<![if !vml]>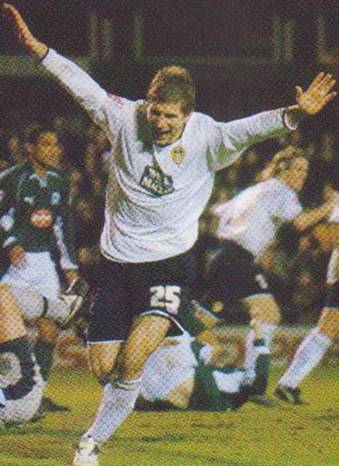 <![endif]> <![if !vml]>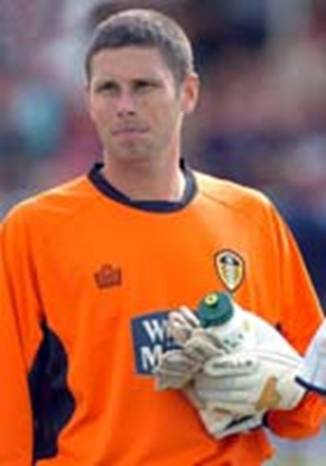 <![endif]>   <![if !vml]>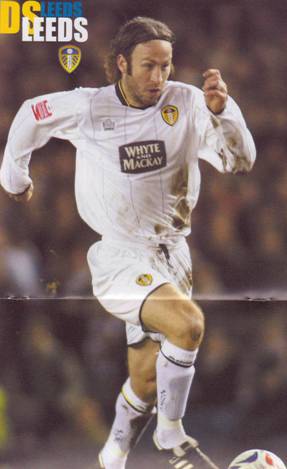 <![endif]>  
Richard Cresswell was also suspended                      Safety first saw Ian Bennett take his place              Shaun Derry had a shot deflected      
<![if !vml]>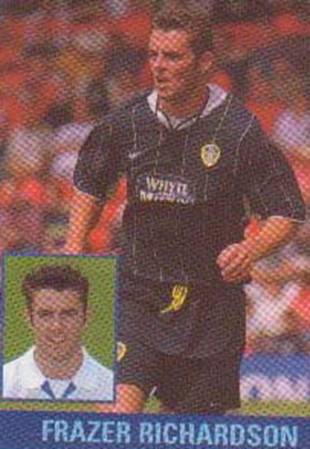 <![endif]> <![if !vml]>
<![endif]> <![if !vml]>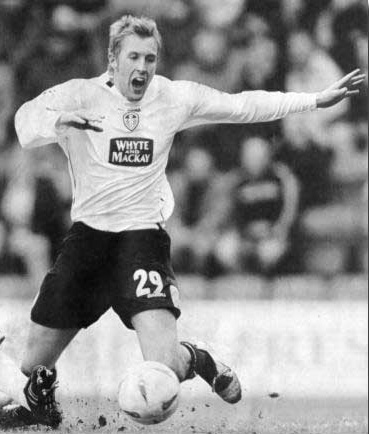 <![endif]>
Frazer Richardson was ineffective and was replaced by Robbie Blake                                Rod Hulse should have picked up Jay DeMerit    
<![if !vml]>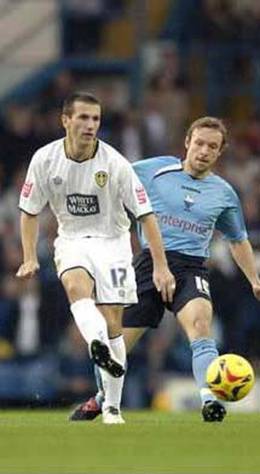 <![endif]>  <![if !vml]>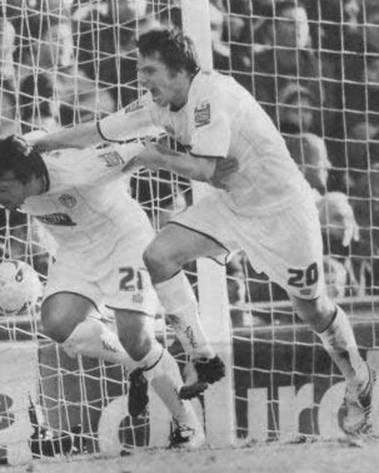 <![endif]>   <![if !vml]>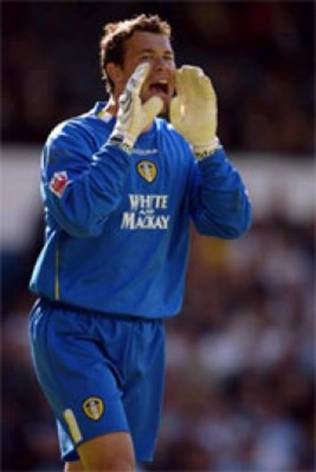 <![endif]> 
Liam Miller and Jonathan Douglas were anonymous                                                                               Neil Sullivan was unlucky with the own goal
<![if !vml]>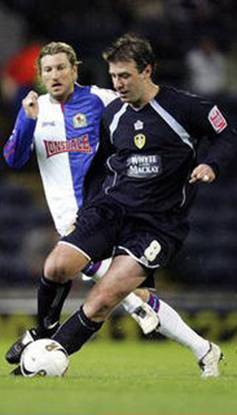 <![endif]>  <![if !vml]>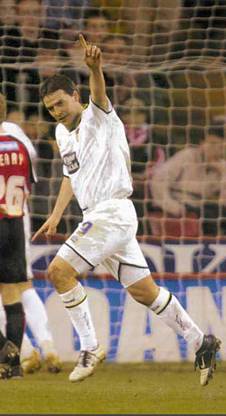 <![endif]>   <![if !vml]>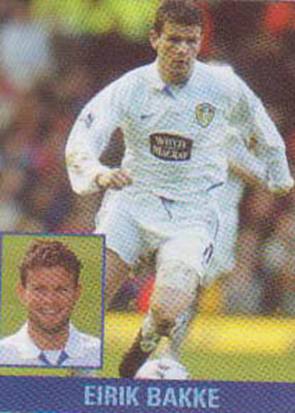 <![endif]>    <![if !vml]>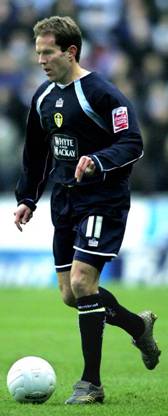 <![endif]>
Sean Gregan headed over                  David Healy replaced the                 Eirik Bakke replaced Sean Gregan                   Eddie Lewis tested
                                                              ineffective Liam Miller                    near the end                                                         the keeper
<![if !vml]>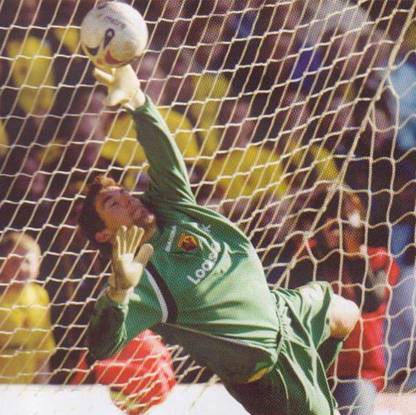 <![endif]>      <![if !vml]>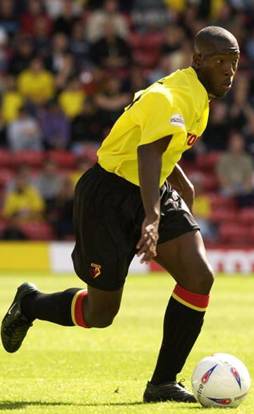 <![endif]> <![if !vml]>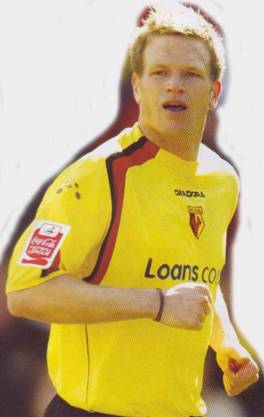 <![endif]>
Ben Foster was in goal                                                                         Lloyd Doyley,                                         Jay DeMerit,
<![if !vml]>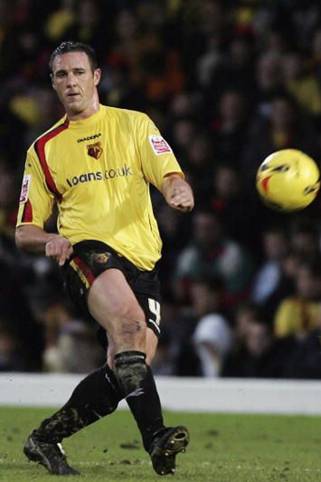 <![endif]>   <![if !vml]>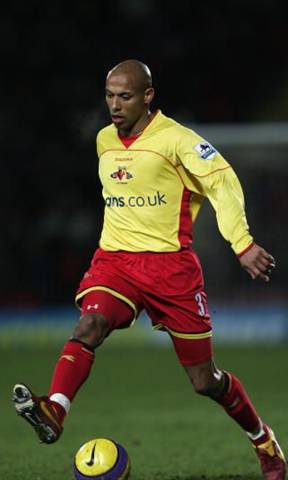 <![endif]>   <![if !vml]>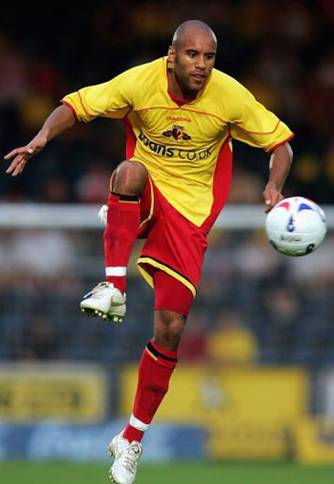 <![endif]>
Malky MacKay,                                                        Jordan Stewart                                                 and James Chambers were in defence     
<![if !vml]>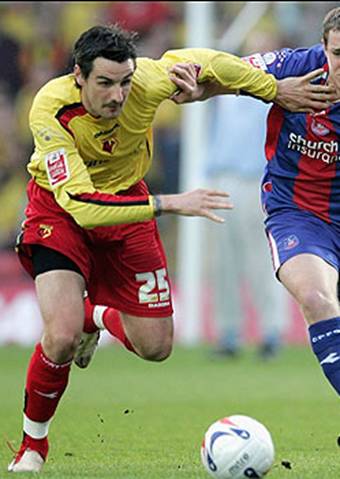 <![endif]>     <![if !vml]>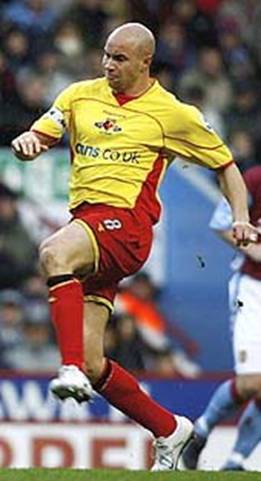 <![endif]>     <![if !vml]>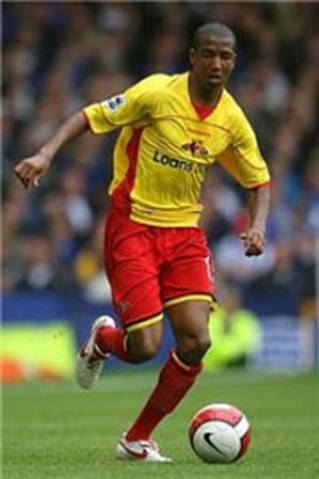 <![endif]>  
 Matthew Spring,                                                             Gavin Mahon                                                and Ashley Young were in midfield
<![if !vml]>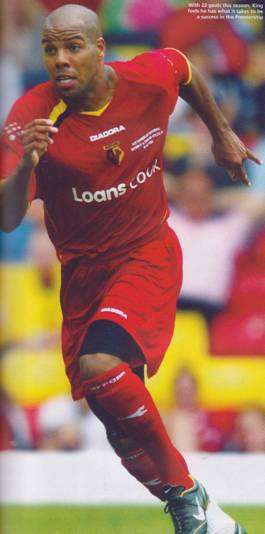 <![endif]> <![if !vml]>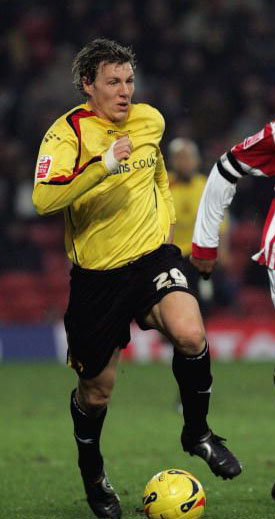 <![endif]>     <![if !vml]>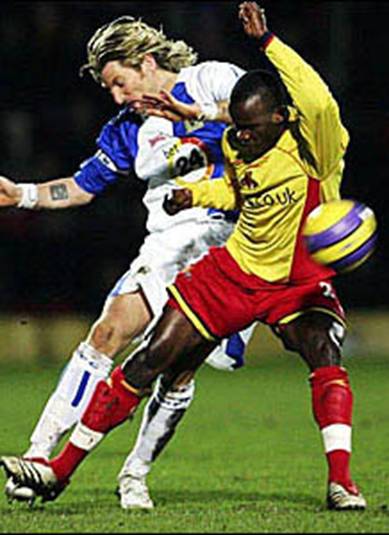 Marlon King and Darius Henderson were the strikers.     Al Bangura came on as a substitute
<![if !vml]>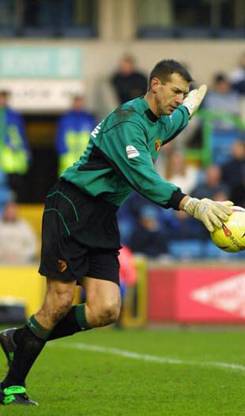 <![endif]>   <![if !vml]>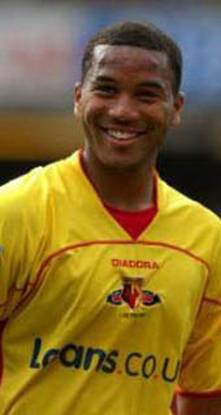 <![endif]>   <![if !vml]>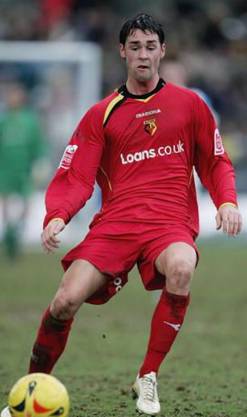 <![endif]>   <![if !vml]>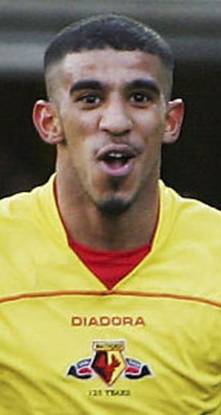 <![endif]>
Alec Chamberlain, Adrian Mariappa, Chris Eagles and Hameur Bouazza remained unused on the bench
<![if !vml]>
<![endif]> <![if !vml]>
<![endif]> <![if !vml]>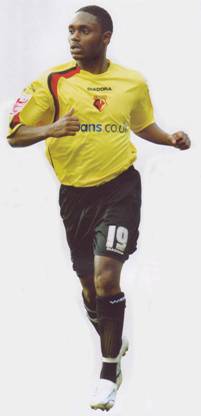 <![endif]> <![if !vml]>
<![endif]>
Clarke Carlisle,                           Dominic Blizzard,                            Anthony McNamee,                  Joel Grant,
<![if !vml]>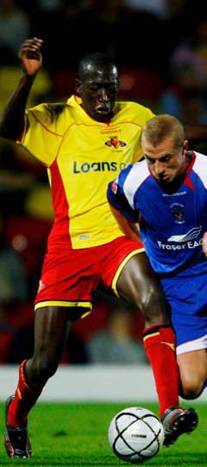 <![endif]>    <![if !vml]>
<![endif]>    <![if !vml]>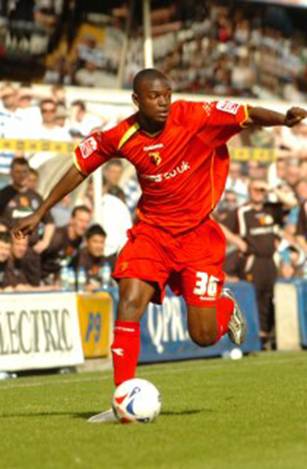 <![endif]>
Toumani Diagouraga,                    Ben Gill                                                                                 and Theo Robinson had to be content being spectators