<![if !vml]>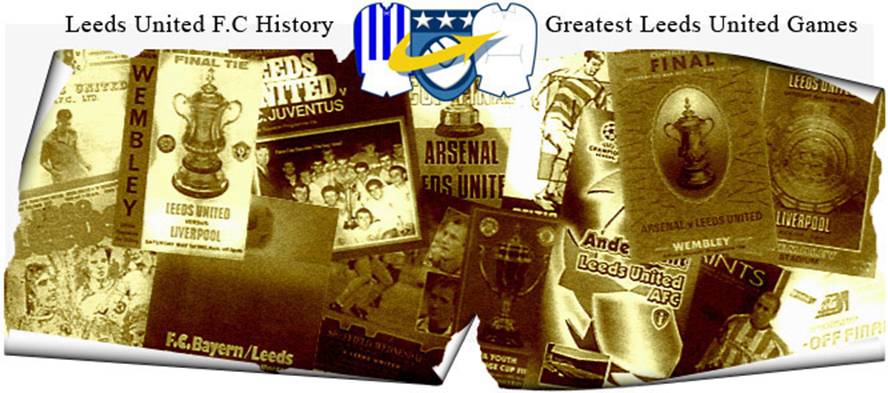 <![endif]>
Date: Monday, 25th March 1989.
Venue: Elland Road, Leeds.
Competition: Second Division.
Score: Leeds United 1 Portsmouth 0
Scorers: Leeds United: Baird. Portsmouth: Nil.
Attendance: 27,049.
Teams:
<![if !vml]>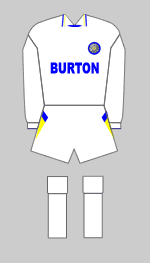 <![endif]> <![if !vml]>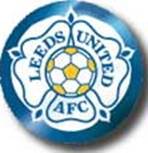 <![endif]>
Leeds United: Day; Aspin, G. Snodin; Aizlewood, Blake, Fairclough; Strachan, Sheridan (A. Williams), Baird, Davison (Pearson), Hilaire.
<![if !vml]>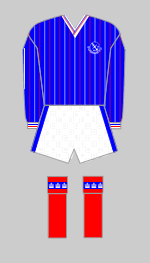 <![endif]><![if !vml]>
<![endif]>
Portsmouth: Gosney; Neill, Whitehead (Beresford); Kuhl, Hogg, Maguire; Chamberlain (Fillery), Moncur, Quinn, Aspinall, Wigley.
Referee: Mr E.J. Parker (Preston).
Portsmouth's visit to Elland Road for a Second Division game in March 1989 might not appear to be a fixture that would arouse any particular or notable memories. At first glance it certainly doesn't. On closer inspection it can be marked down as an important milestone for Leeds United as Howard Wilkinson laid the foundation for what was to be the start of United's long awaited rise from Second Division obscurity. There is nothing remarkable about the score-line, though United won by a single goal scored by Ian Baird.
What does set it aside from other fixtures was that it marked the debut for United of Gordon Strachan and Chris Fairclough, who had both been signed in advance of the transfer deadline for the 1988-89 season. Strachan had been enticed from Old Trafford for £300,000, and given the mission of "get us out of the Second Division inside two years". It was a feat which the then thirty-two-year-old carried out to the letter. Central defender Chris Fairclough was signed from Nottingham Forest, initially on loan until the end of the season, when it was agreed that Leeds could make the move permanent by paying £500,000. This they did and it is now history that the pair went on to not only gain promotion the following season in 1989-90 but were still an integral part to the Championship winning side of two years later in 1991-92.
The capture of the aging Scottish international and the much younger England Under twenty-one international had an immediate effect on the attendance which jumped to 27,000 rather than the usual 18,000. The extra 9,000 meant that £30,000 was injected into the Elland Road coffers and while the game never reached any great heights, Strachan did not disappoint the fans who made him welcome. As early as the first minute Strachan surged forward into the Portsmouth penalty area, where he was brought down for what looked like a penalty. The referee waived play on but in the twelfth minute he pointed to the spot after Ian Baird had been fouled. Unfortunately John Sheridan's weak effort was saved.
United did not open the scoring until twenty minutes before the end, when Ian Baird got his thirteenth goal of the season with a powerful far post header after some smart work by Strachan. The little midfield man had been sent sprawling and with Pompey slow to regroup he quickly got the ball placed and hit a precise pass to Sheridan whose centre found the unmarked Baird and that was game, set and match.
Alternate Reports: (Courtesy Mark Ledgard)
YEP: The touch of class that could still have lifted Leeds into a promotion play-off place was just enough to beat a competitive Portsmouth at Elland Road in this game. It came from Gordon Strachan just when Leeds needed it most with Portsmouth looking as though they would spoil the welcome party for the experienced Scot and Chris Fairclough from Spurs. Howard Wilkinson the Leeds Manager had warned his men that Portsmouth could feed off the rarified atmosphere which had built up following the £800,000 imports and which was backed up by a big crowd just as well as they could. And true enough, Portsmouth were firing on all cylinders But they could not match the agile mind of Gordon Strachan in the sixty-ninth minute. He was sent flying by an heavy tackle from Mike Fillery on the right wing touchline and while others were catching their breath Strachan was bouncing to his feet demanding the loose ball from the ball-boy twenty yards away. The former Manchester United winger lifted the free-kick into John Sheridan's path and though he had hitherto had a wretched afternoon, the Eire International took the ball coolly on his chest before lobbing the ball to the far post in one sweet movement. The rest was easy for the unmarked Ian Baird ten yards out, the striker heading his thirteenth goal of the campaign with a strong dive to match the effort he threw at his old team all the game.
Baird was at the centre of all the really important events of an incident packed and often bad tempered game which culminated with a punch up at one end of the field and then a clash between Baird and Graeme Hogg at the other which got Baird a booking and Hogg his marching orders for retaliating. The punch up could have been costly for Leeds had they lost their goalkeeper for somehow Mervyn Day got involved with Gavin Maguire after Mick Quinn and Noel Blake, also a former Portsmouth player, had clashed. It was hard to see how the referee could not take some action, but then it was hard to see how he could ignore the claims of Leeds for a penalty, first when Gordon Strachan went down heavily in the opening minute then when Bobby Davison went sprawling over Andy Gosney after the Leeds striker pushed the ball beyond the goalkeeper in a clean breakaway in the fifty-eighth minute. There were bookings regularly though. John Sheridan was cautioned in the opening minute and Clive Whitehead and Mark Aizlewood were booked before Portsmouth were reduced to ten men. There was even a twelfth minute penalty with Strachan and Baird again taking centre stage. Strachan's cross not reaching the centre forward when he was knocked away by Gavin Maguire. John Sheridan's side footed effort never had enough venom in it to give Andy Gosney much trouble and after what was his third miss from the spot that season the time may have arrived to let Strachan take over as penalty taker. Certainly Leeds could have settled into their task with more comfort with the help of an early breakthrough. Instead they had their work cut out in what became a frenzied contest. The calm assurance that Fairclough added to the Leeds defence was invaluable, while the width and ideas that Strachan provided, together with the speed of Davison and Baird, looked as though it could be decisive. Yet Mervyn Day had to save well from Mick Quinn, John Moncur and Mike Fillery and Quinn had the ball in the net once but from an offside position before Baird struck. It was clear, then, that the euphoria of the week could have backfired on Leeds. "I am pleased to have got that one out of the way. I hope we can settle down and start running normally again now," said a relieved, yet very pleased Wilkinson.
New signings shine: Leeds United got an instant dividend from their £800,000 investment when the First Division boys arrived at Elland Road for this game. The smooth and calm authority Chris Fairclough added to the defence insisted that he had been a part of the Leeds side all season and not a £500,000 import just added from Spurs just forty-eight hours earlier. But it was the alert and bright Gordon Strachan who sent most of the 27,000 crowd home singing. "I am as pleased as he will be about his debut," preened the Leeds Manager Howard Wilkinson. "It was brilliant how he created the winner. He saw the situation so early." Fairclough, before flying back to London for twenty-four hours to be with his wife Mandy, who is expecting their first child this week, revealed that the signing of Strachan on the Wednesday before he signed had a very big bearing on his move to Leeds. "It showed they have ambition," he said. "It's home from home for me with this crowd," said Strachan. "But there is one big difference from Manchester United, there is no Alex Ferguson shouting at me from the touchline, in fact I thought I had gone deaf for a while today." Graeme Hogg, formerly Strachan's team-mate at Old Trafford, who admitted he had lost his temper before he was sent off after an incident with Ian Baird said. "Strachan will do great things for Leeds. It was his First Division thinking that brought the goal." John Gregory, Portsmouth's Manager agreed. "He'll be a great asset for Leeds. We paid the penalty for not being awake when he set up the goal." He said that Hogg was punished in the way he should have been. "He got what he deserved and he will be disciplined by the club," said Gregory.
<![if !vml]>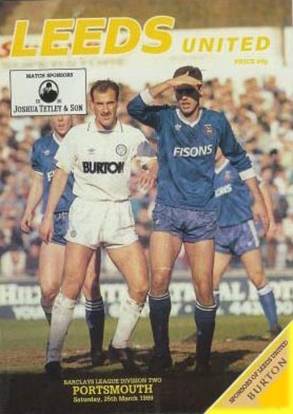 <![endif]>
Match Action:
<![if !vml]>
<![endif]>
<![if !vml]>
<![endif]>
<![if !vml]>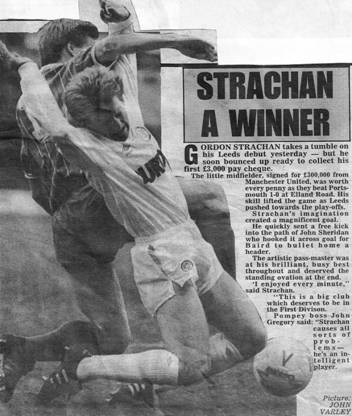 <![endif]>          <![if !vml]>
<![endif]>
<![if !vml]>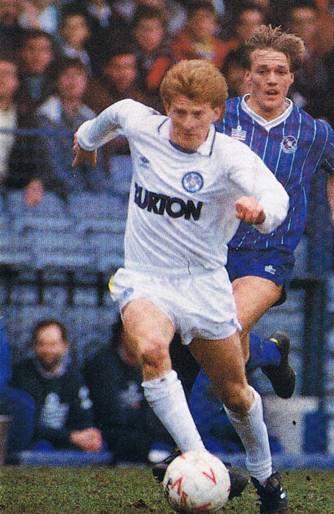 <![endif]>             <![if !vml]>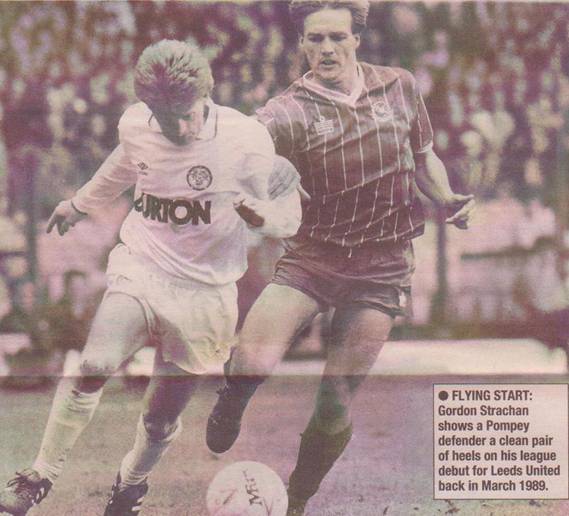 <![endif]> 
(Above five items of Match Action Courtesy Mark Ledgard)
<![if !vml]>
<![endif]>
Teams:
<![if !vml]>
<![endif]>
<![if !vml]>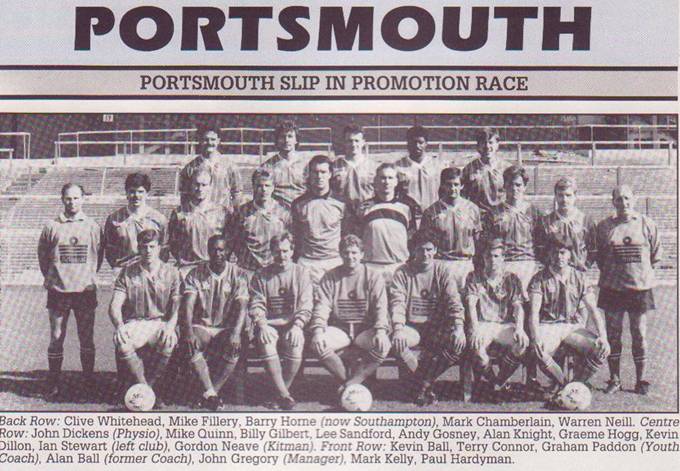 <![endif]>
Players:
<![if !vml]>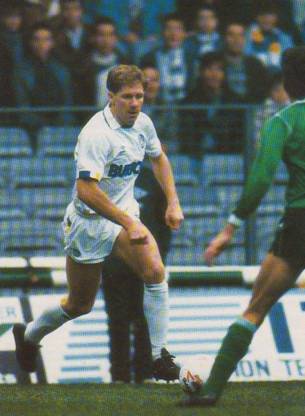 <![endif]>        <![if !vml]>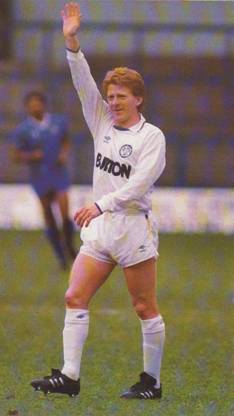 <![endif]> <![if !vml]>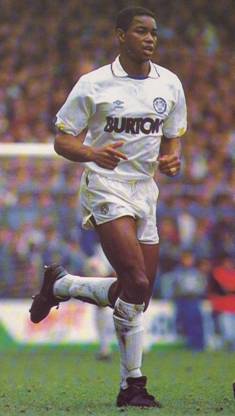 <![endif]> 
Ian Baird got the only goal of the game                   Gordon Strachan made his debut for Leeds, as did Chris Fairclough
<![if !vml]>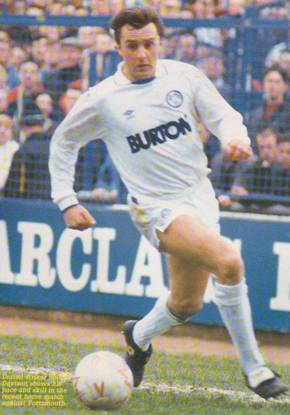 <![endif]>     <![if !vml]>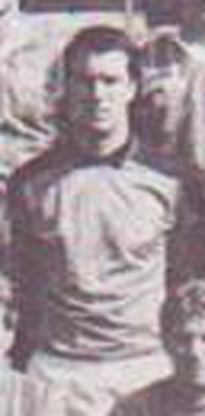 <![endif]>   <![if !vml]>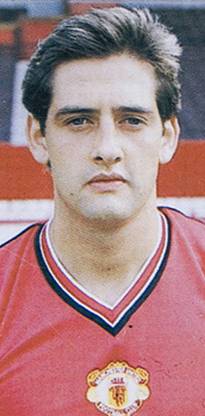 <![endif]> <![if !vml]>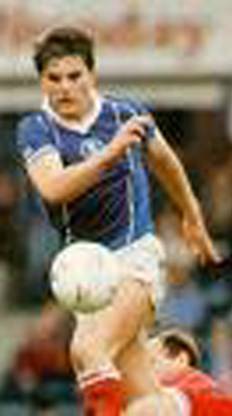 <![endif]>
Bobby Davison was replaced by John Pearson   Andy Gosney was in goal          Graeme Hogg and Martin Kuhl were the central defenders
<![if !vml]>
<![endif]> <![if !vml]>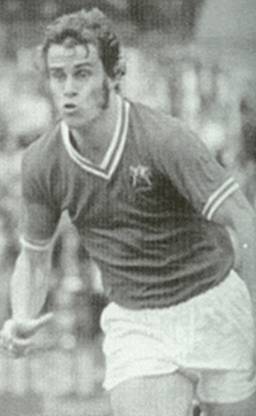 <![endif]> <![if !vml]>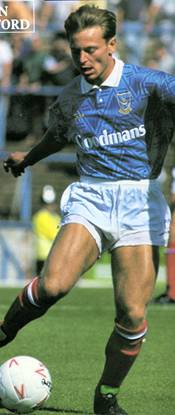 <![endif]> <![if !vml]>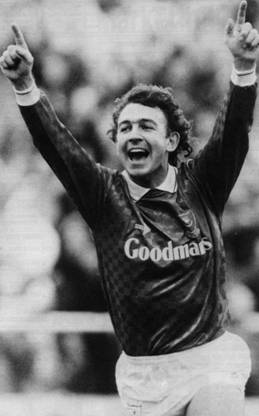 <![endif]>
Warren Neill and Clive Whitehead were the Full-Backs.                                          John Beresford made his debut as a substitute with Mike Fillery
<![if !vml]>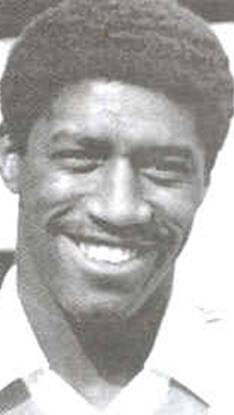 <![endif]>  <![if !vml]>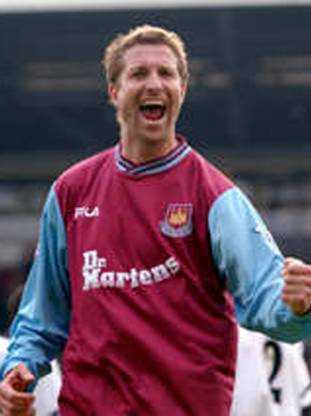 <![endif]> <![if !vml]>
<![endif]> <![if !vml]>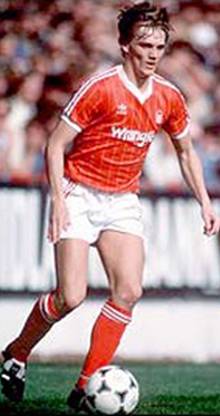 <![endif]>
Mark Chamberlain, John Moncur, Gavin Maguire and Steve Wigley were in the midfield
<![if !vml]>
<![endif]> <![if !vml]>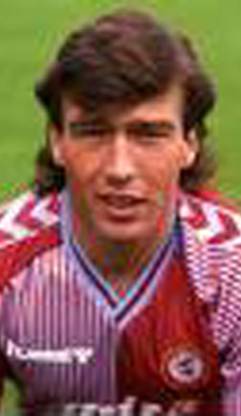 <![endif]> 
Jimmy Quinn and Warren Aspinall were the front-runners