<![if !vml]>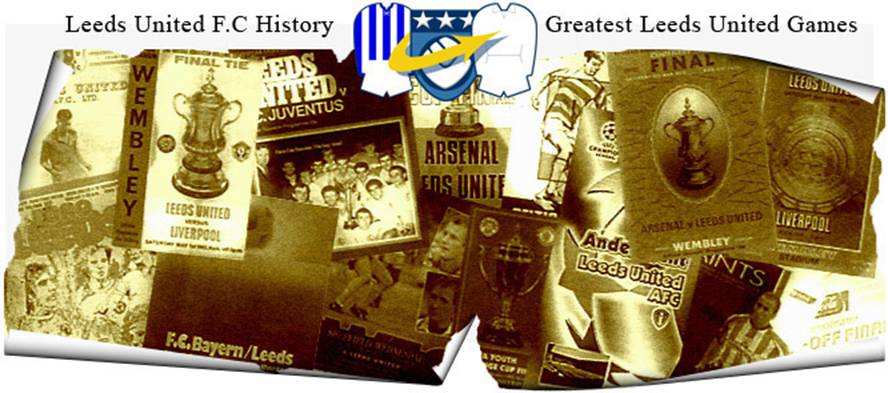 <![endif]>
Date: Saturday, 27th October 2001.
Venue: Old Trafford, Manchester.
Competition: English Premier League.
Score: Manchester United 1 Leeds United 1
Scorers: Manchester United: Solskjaer. Leeds United: Viduka.
Attendance: 67,555.
Teams:
<![if !vml]>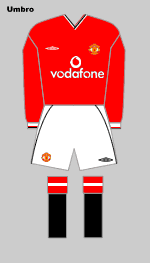 <![endif]><![if !vml]>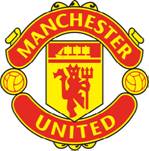 <![endif]>
Manchester United: Barthez; G. Neville, Brown, Blanc, Silvestre; Beckham, Butt (Solskjaer), Veron, Giggs; Scholes, Van Nistelrooy. Unused Subs: P. Neville, Yorke, Chadwick, Carroll.
<![if !vml]>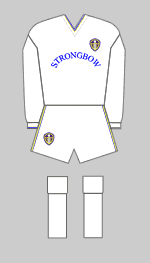 <![endif]><![if !vml]>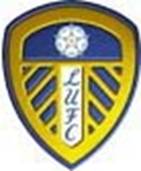 <![endif]>
Leeds United: Martyn; Mills, Ferdinand, Matteo, Harte; Bowyer, Bakke, Dacourt, Kewell (Smith); Keane (Batty), Viduka. Unused Subs: Woodgate, Johnson, Robinson.
Referee: Mr D. Gallagher (Banbury).

Leeds United will never have a better chance to kill their Old Trafford hoodoo and come away with the maximum spoils. After eighty-eight minutes of pulsating football they were leading by a Mark Viduka strike and looking odds-on favourites to earn their first win at the 'Theatre of Dreams' since 1981. If Leeds had decided to keep on attacking the home team, most likely they would have prevailed, but unfortunately they decided on the alternative course of action, sitting back and allowing one of Europe's most dangerous attacking machines to pound them with strike after strike.
It was enough to make any manager pull his hair out, especially if you were David O'Leary and you had seen your team totally outplay the reigning EPL champions for the majority of the second half. If you believe in rumours, O'Leary was being lined up as the natural replacement for Sir Alex Ferguson's Old Trafford throne. The Manchester United directors watching from the stands could not have failed to be impressed.
Even as the Reds pushed forwarding search of an equaliser they were met by the resolute defence of Messrs Ferdinand, Matteo and Martyn, who gave everything to prevent the hosts from levelling matters. However, not even they could prevent Ole Gunnar Solskjaer. The baby-faced assassin applied the finishing touch win a superb header, in the right place at the right time, as he so often is.
From seemingly being so comfortable at one stage and certainly looking suitably on top, United almost threw it away as the Red Devils piled forward for a late, late winner. It would have been so cruel on United, who had performed so brilliantly and showed they truly deserved the tag of Premiership title contenders.
David O'Leary, while disappointed at not winning, was delighted with the performance of his side. "We definitely should have won the game. If you have got to be super-critical of my players, they have got to learn because when we got the goal we sat back and invited trouble. This is what we have to learn. We scored at the right time and should have kept playing, but we kind of got deeper in the box, seemed to settle for the goal and tried to hold on. When you do that with players of their quality then you are in danger of losing the game. It would have been very, very cruel had we lost. I am disappointed that we have not won it because I thought Manchester were there for the taking. But it is not a bad thing to come away from Manchester United, and everyone knows what I think of this club, and be disappointed with a draw."
Leeds had now been to Arsenal, Liverpool, and Manchester United, while also facing Chelsea at home. Many would expect these clubs to be up there challenging for the title at the end of the season and yet United could boast an unbeaten record against them. However, O'Leary knew that Manchester were the toughest prospect of them all and said, "Make no mistake these are the biggest of our rivals. With the players they have and their quality of their squad, I do know and I feel that you have got to get at them, you do not sit back and let them attack you. I thought we started in a very nervous manner, we gave them too much respect and we did not have enough belief. We were a much better side after the break. It was a very good contest between two very good sides. I like to get at teams and I like to get at Manchester United. But after we scored we kept sitting back and sitting back and I thought we were poor for the goal. We were so deep that we were inviting trouble. The fellow got an header in there and Solskjaer, how many times has he done that? What a diamond he is for this club. We were pushing our luck. We got the goal which I thought was coming and then I wanted them to go on and push for another one.
United had been hit by an early barrage of pressure from the impressive home team as David Beckham curled a free-kick goalwards that Nigel Martyn saved and then saw a low strike come back off the post. Ryan Giggs was also denied by Nigel Martyn and Nicky Butt fired way over when he should have done better. In truth it could have been3-0 before Leeds had woken up. But when they did rise from their slumber they looked a class act. Suddenly the respect for their illustrious hosts had gone and United took the game to them in style.
Mark Viduka shot into the side netting, while Harry Kewell and Robbie Keane fired over the bar before a second half that saw Leeds gain the upper hand. Admittedly they should have been down to ten men as Robbie Keane reacted physically to a David Beckham foul, shoving the England skipper to the ground with a two arm push that was only punished by a yellow by an extremely lenient Dermot Gallagher, who also booked Beckham for good measure. It infuriated the Old Trafford crowd and as a cauldron of hate reverberated around the stadium, the action on the field really started to hot up.
Mark Viduka's goal came as no surprise when it finally arrived in the seventy-seventh minute. Ian Harte's low, bouncing bomb of a cross seemed innocuous so much so that Mikael Silvestre left it to run out, but Viduka had other ideas as he stole in the fire through Fabien Barthez's legs.
The noisy Yorkshire following were in a dream world as the moment they had never dared to believe would happen was finally being realized right before their very eyes. Were Leeds really going to win? Unfortunately they were not.
Ole-Gunnar Solksjaer jumped off the bench to apply his expert finish and those fans from the White Rose county were sat on the edge of their seats with their hearts in their mouths as Ruud Van Nistelrooy was denied by a truly outstanding one-handed save from Nigel Martyn. It was quite a brilliant football match, but the thoughts of 'if only' were etched across the foreheads of those Leeds fans for another season.
<![if !vml]>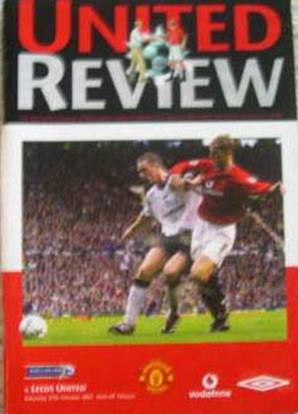 <![endif]>
Match Action:
<![if !vml]>
<![endif]>
Mark Viduka fires in the United goal
<![if !vml]>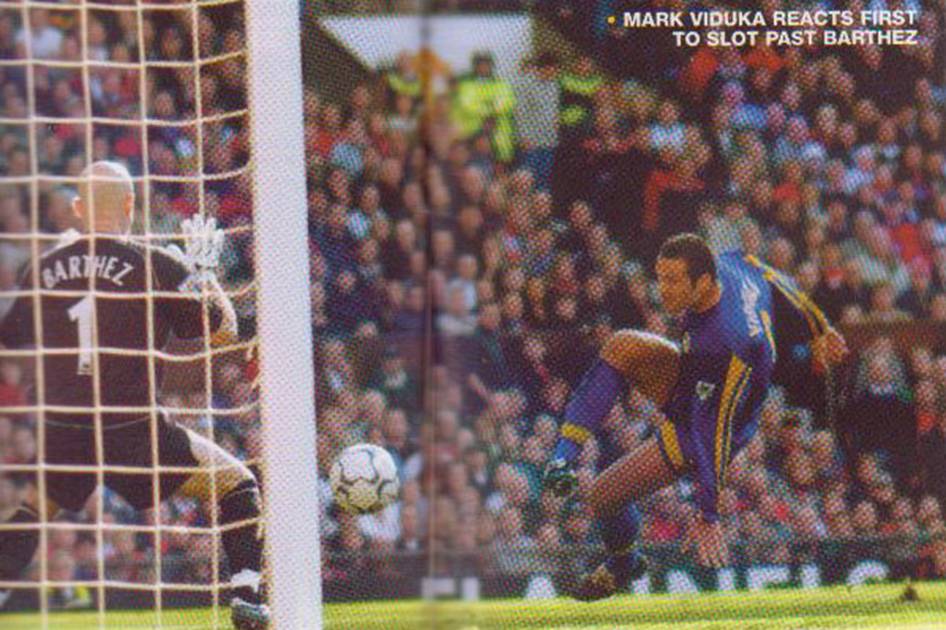 <![endif]>
<![if !vml]>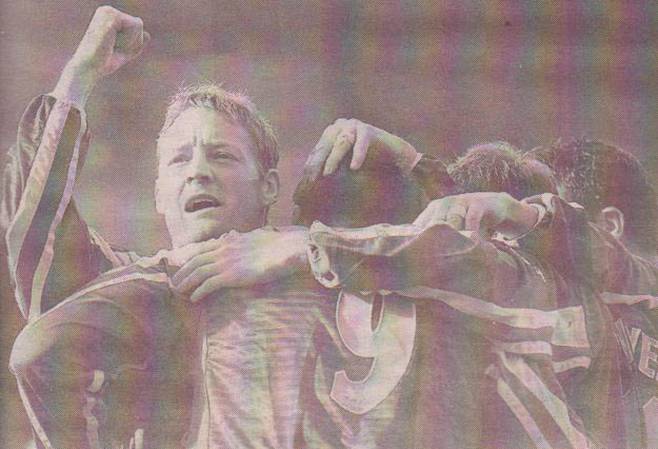 <![endif]> <![if !vml]>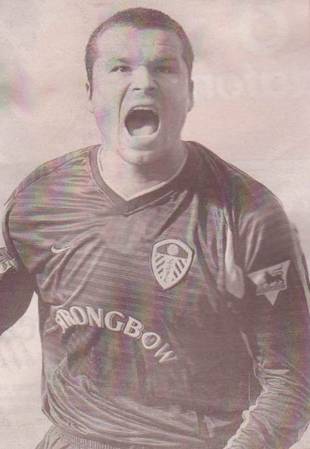 <![endif]> 
David Batty salutes the United fans and joins his teammates congratulating Mark Viduka        Mark Viduka celebrates his goal
<![if !vml]>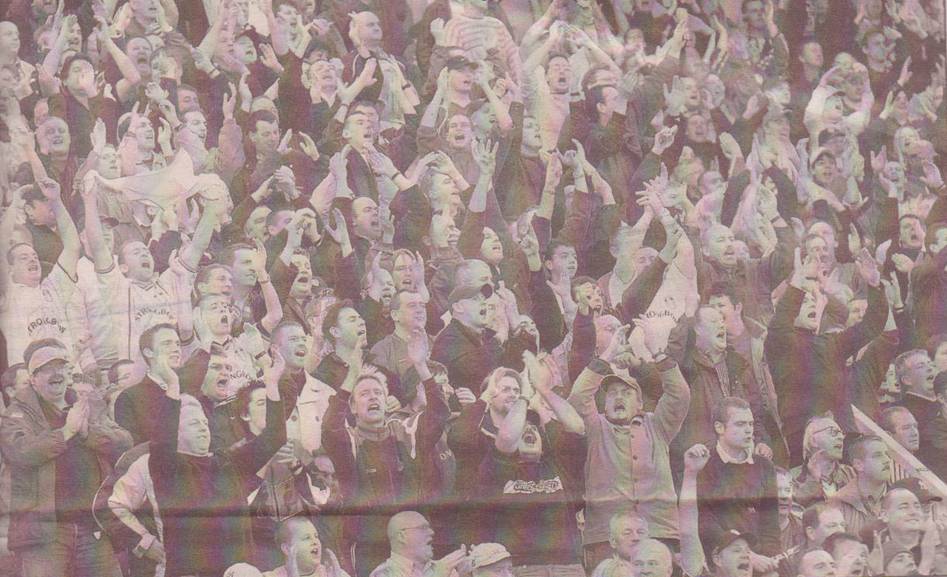 <![endif]>
The United fans acclaim Mark Viduka's goal
<![if !vml]>
<![endif]>
<![if !vml]>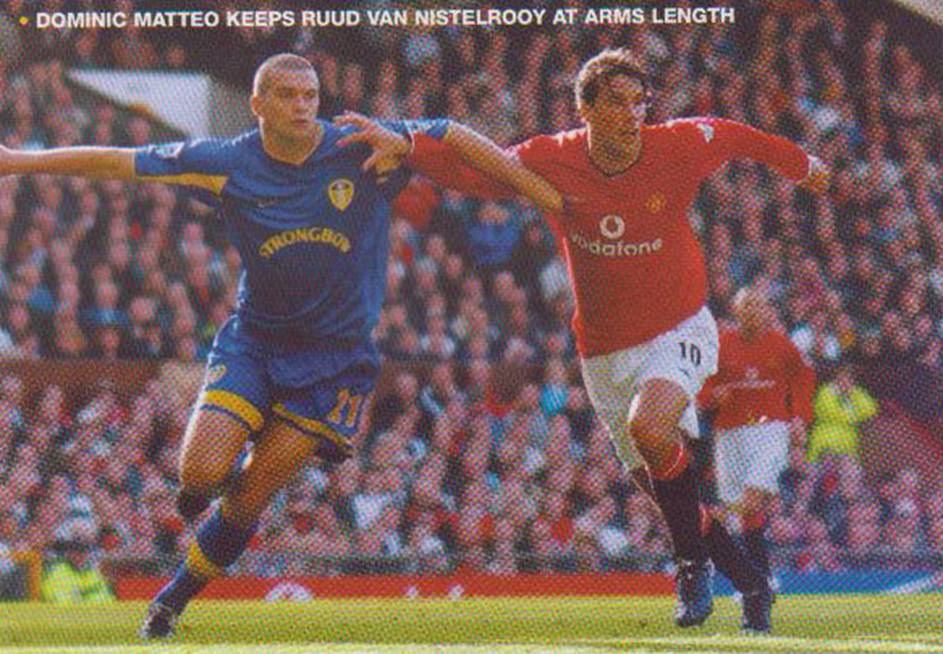 <![endif]>
<![if !vml]>
<![endif]>
Rio Ferdinand clears from David Beckham
<![if !vml]>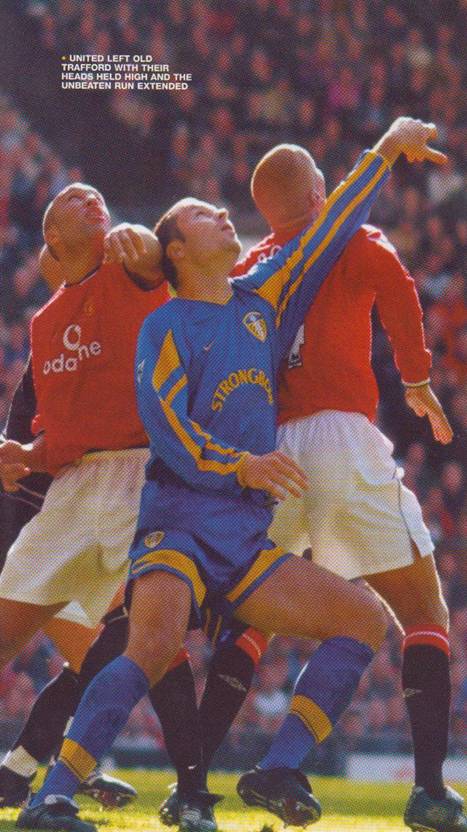 <![endif]>      <![if !vml]>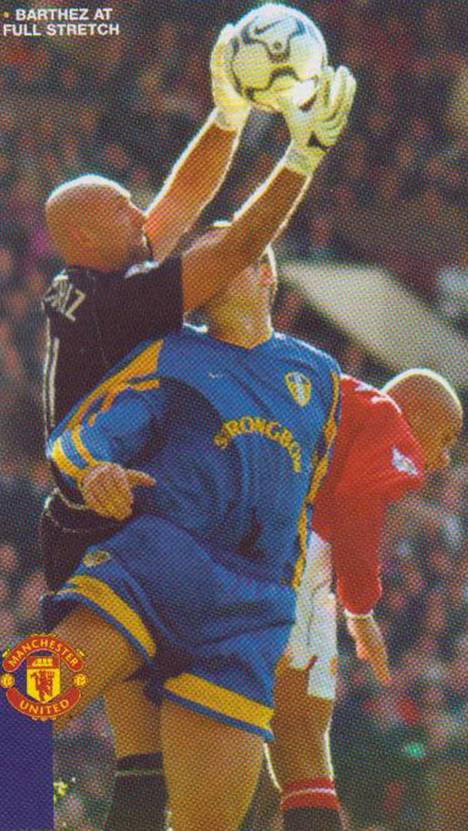 <![endif]>
Mark Vaduka was a menace to the Manchester defence: Putting pressure on Barthez, Silvestre and Brown: and on Barthez and Brown
<![if !vml]>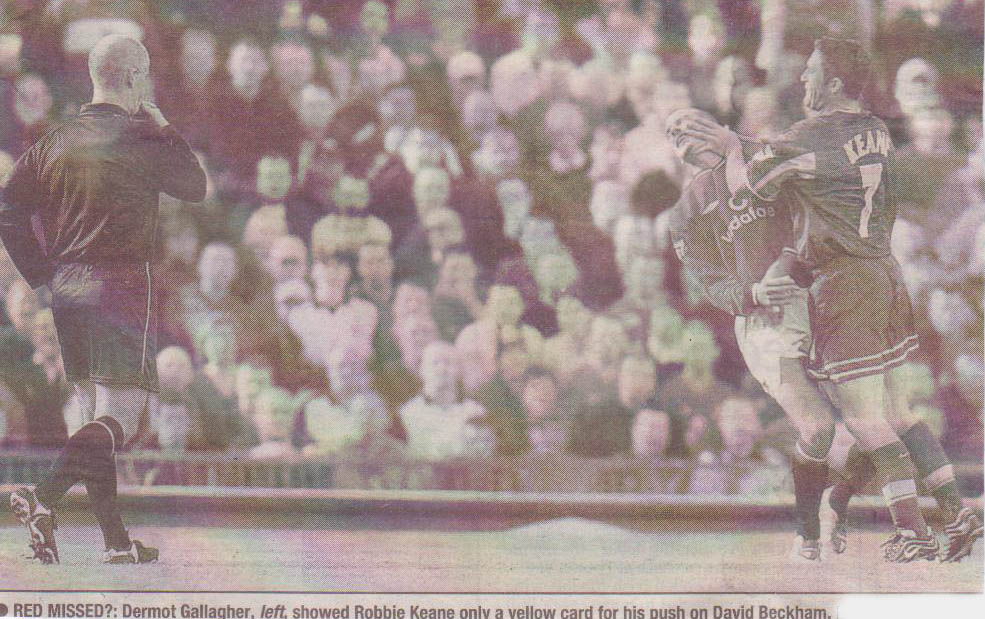 <![endif]>
<![if !vml]>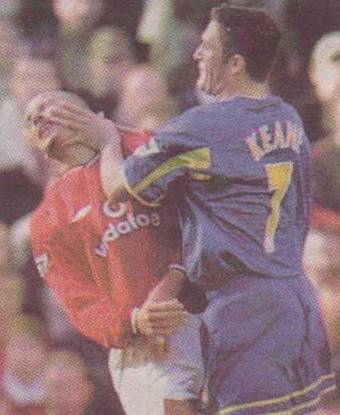 <![endif]>  <![if !vml]>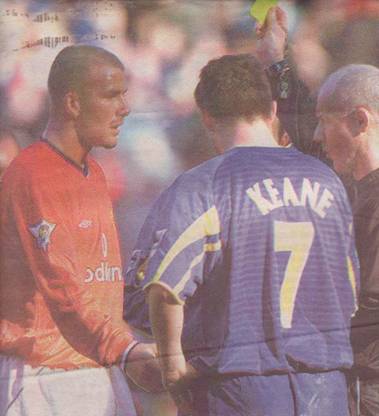 <![endif]> <![if !vml]>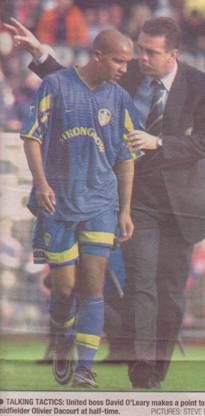 <![endif]>
Robbie Keane pushes David Beckham over.              The referee books David Beckham and Robbie Keane
<![if !vml]>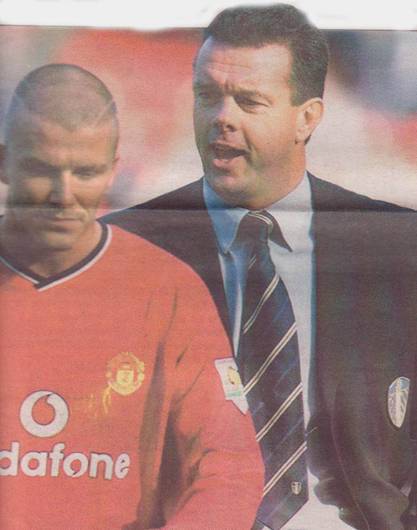 <![endif]> <![if !vml]>
<![endif]>
David O'Leary gives David Beckham a serve
Players:
<![if !vml]>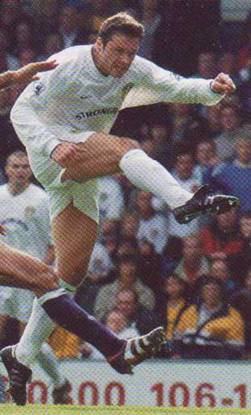 <![endif]> <![if !vml]>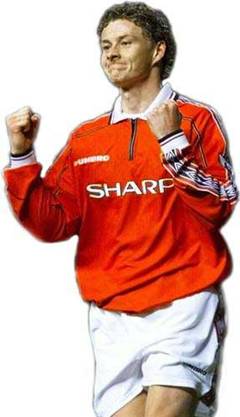 <![endif]>                      <![if !vml]>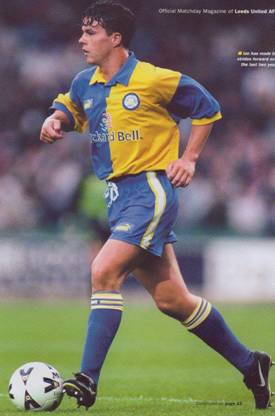 <![endif]>   
Mark Viduka scores for Leeds and Ole Gunnar Solksjaer replied                                       Ian Harte cross brought the goal
<![if !vml]>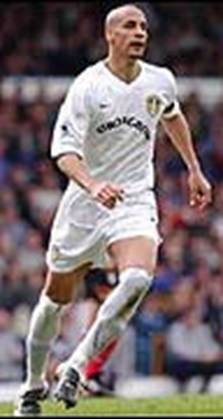 <![endif]>        <![if !vml]>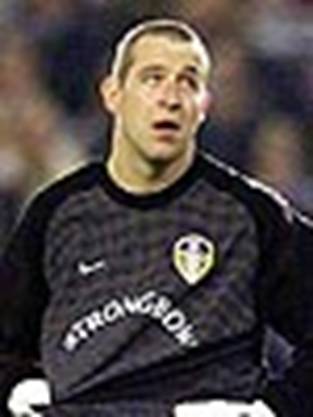 <![endif]>        <![if !vml]>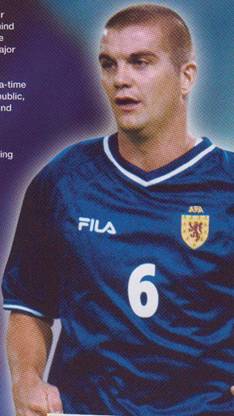 <![endif]>  
         Rio Ferdinand, Nigel Martyn and Dominic Matteo were resolute in defence 
<![if !vml]>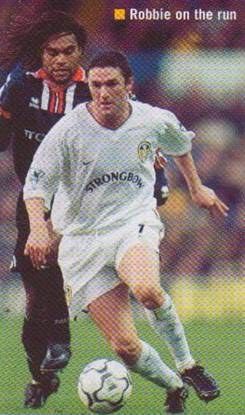 <![endif]> <![if !vml]>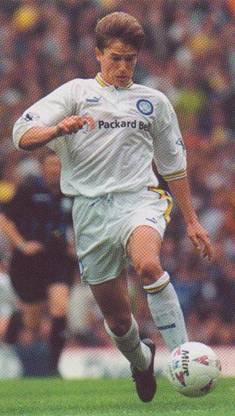 <![endif]>                  <![if !vml]>
<![endif]>
Robbie Keane and Harry Kewell both shot over                                                             Fabien Barthez was in goal
<![if !vml]>

<![endif]> <![if !vml]>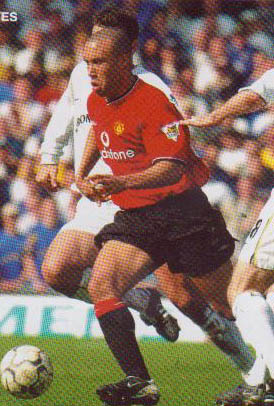 <![endif]>   <![if !vml]>
<![endif]> <![if !vml]>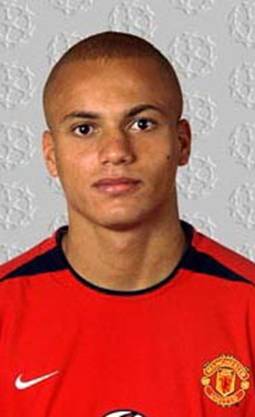 <![endif]>
Gary Neville and Mikael Silvestre were the full backs                         Laurent Blanc and Wes Brown were in central defence
<![if !vml]>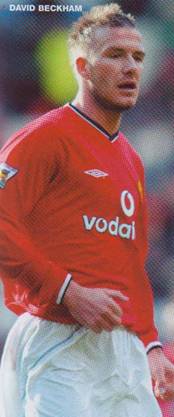 <![endif]>    <![if !vml]>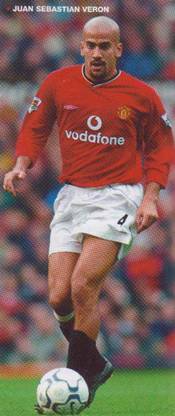 <![endif]>    <![if !vml]>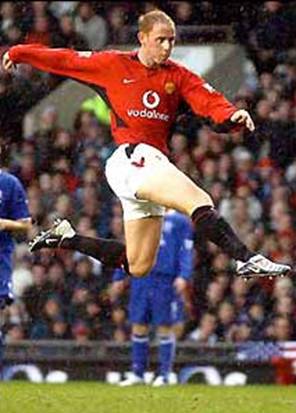 <![endif]>    <![if !vml]>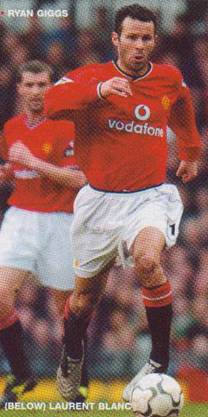 <![endif]> 
                   The midfield was David Beckham, Juan Sebastian Veron, Nicky Butt and Ryan Giggs
<![if !vml]>
<![endif]> <![if !vml]>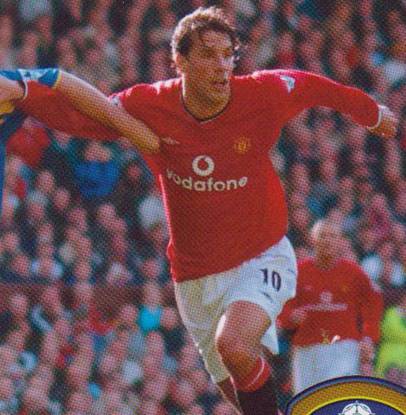 <![endif]>   <![if !vml]>
<![endif]>
                       Paul Scholes and Ruud Van Nistelrooy were the strikers                                                     Ole Gunnar Solksjaer was the used substitute