<![if !vml]>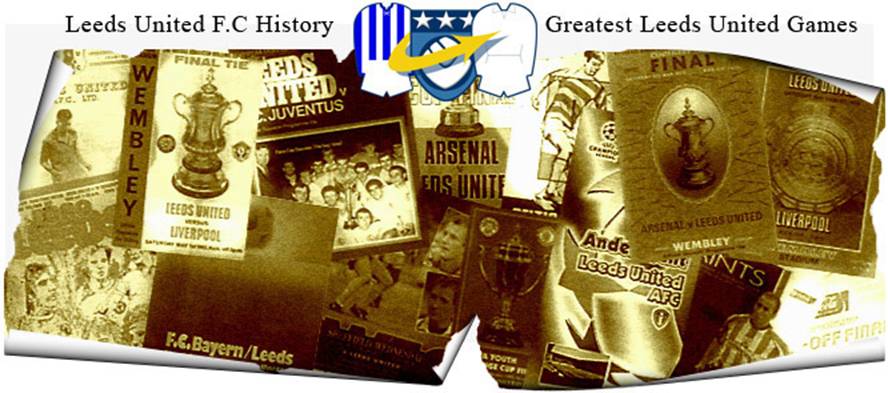 <![endif]>
Date: Wednesday, 28th May 1975.
Venue: Parc de Prince, Paris.
Competition: European Cup Final.
Score: Bayern Munich 2 Leeds United 0
Scorers: Bayern Munich: Roth, Muller. Leeds United: Nil.
Attendance: 48,374.
Teams:
<![if !vml]>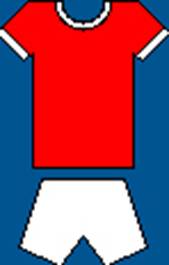 <![endif]><![if !vml]>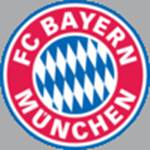 <![endif]>
Bayern Munich: Maier; Durnberger, Andersson (Weiss); Schwartzenbecker, Beckenbauer, Roth; Tortensson, Zobel, Muller, Hoeness (Wunder), Kapellmann.
<![if !vml]>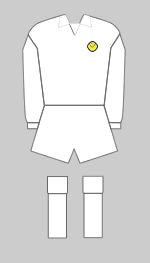 <![endif]><![if !vml]>

<![endif]>
Leeds United: Stewart; Reaney, F.Gray; Bremner, Madeley, Hunter; Lorimer, Clarke, Jordan, Giles, Yorath (E.Gray).
Referee: Michel Kitabdjian (France).
United reached new heights when they lifted the 1973-74 League championship, producing a brand of football which earned them another shot at the European Cup. This time they bettered their Semi-Final appearance in 1970. This latest European venture was undertaken without the guidance of Don Revie who was by now England manager. Leeds' experienced squad were now lead by the calm and influential Jimmy Armfield, who nursed the club through a difficult period after Revie's departure and Brian Clough's forty-four days at Elland Road. Armfield extracted some excellent displays from his side during their route to the final.
In the Final United were without the towering Gordon McQueen, but Paul Madeley once again showed his versatility to deputise, while on the bright side Johnny Giles was back in midfield and Eddie Gray made the bench. Bayern Munich had their world famous trio of German World Cup players in goalkeeper Sepp Maier, Captain Franz Beckenbauer and goal-machine Gerd Muller, as well as other German Internationals, including Ulli Hoeness, and some Scandinavian Internationals.
What was to have been the greatest night in Leeds United's history turned into a nightmare. Despite dominating against a negative Bayern Munich , United's dreams of taking club football's greatest prize were blown apart by two late goals. In Paris, luck deserted United in their hour of need. Little went right for Leeds in the match as they claimed, with some justification, that they had suffered at the hands of some poor refereeing, as just two years after the shambolic refereeing by Greek referee Christos Michas in the European Cup-Winners' Cup Final against AC Milan, Leeds found themselves on the wrong end of more bad decisions.
Bayern would probably not have agreed with that synopsis after coming off worst in some brutal early exchanges. Terry Yorath, whom Manager Jimmy Armfield had picked ahead of Eddie Gray, clattered Bjorn Andersson, just as French referee Michel Kitabdjian blew for a foul against Frank Gray. The challenge forced the Swedish International to limp off, to be replaced by Josef Weiss, after just five minutes, but eventually toe-to-toe combat did give way to some football with United the more progressive of the two teams. Dominating in the first half, Leeds ran Munich ragged as the holders, who had beaten Athletico Madrid in the previous year's Final, seemed content to let United come to them. That simply invited trouble and they were lucky to survive two strong penalty appeals.
Following close efforts by Norman Hunter and Peter Lorimer, whose long range efforts just whizzed past the post, they had the two penalty appeals rejected. Both involved Munich skipper Franz Beckenbauer, who had led his country to World Cup glory in Munich in the previous summer. In the first, he seemed to thrust out an arm and handle the ball as he was on his knees with Peter Lorimer taking the ball round him in the penalty area. In the second Allan Clarke had his legs whipped from under him by the German Captain two minutes before half-time. Incredibly the referee, who had a clear view and was less than ten yards from the incident, failed to give a penalty, much to United's disbelief.
Allan Clarke recalled the incident, "Although they were favourites, we dominated the first half and the least we deserved was a penalty when Beckenbauer brought me down just before half-time. I picked the ball up and went on a run; Beckenbauer came over, I dropped my shoulder and went past him and was about to bend the ball round Maier, when he wrapped his legs round me and pulled me down. It was a blatant penalty. When I got to my feet I couldn't believe the referee had given a goal kick. We all appealed, but the referee, who was less than ten yards away from the incident, didn't want to know."
After both the penalty appeals had been turned down, despite their frustration United continued to call the tune while Bayern lost inspirational midfielder Uli Hoeness, who was replaced by Klaus Wunder, three minutes before half-time, after hurting himself when tackling Frank Gray. United's main attacking ploy was to deliver the ball accurately to the head of Joe Jordan, who dominated the aerial challenges. United continued to make chances, but when they did get a sniff at goal they found World Cup winning goalkeeper Sepp Maier in stupendous form. As Joe Jordan skipped away from the Bayern defence and whipped in a right foot shot, the big German keeper made a spectacular leaping catch.
The second half took a similar pattern to the first and United, with Billy Bremner and Johnny Giles running the midfield, continued to press and were frustrated again on the hour mark by the German goalkeeper, Sepp Maier, who denied Billy Bremner with a brilliant point-blank save, as he spread himself to deny the Leeds skipper after Paul Madeley had headed on Peter Lorimer's free-kick. Then the game turned around dramatically in a matter of minutes, midway through the second half. Peter Lorimer thundered a sixty-sixth minute volley past Sepp Maier, only to have the effort disallowed because Billy Bremner had strayed offside, although Leeds claimed that he was not interfering with play. It was even harder to take as the referee had initially awarded a goal, but in the end he allowed the linesman's opinion to over-rule his initial opinion and the unstoppable Peter Lorimer volley was ruled out. It was a shattering blow and the turning point in the match. All hell had broken loose at the Leeds end of the all-seater Parc des Prince Stadium behind Maier's goal.
Both the mood and complexion of the match altered minutes later as Bayern took the lead totally against the run of play. After seventy-one minutes, Danish star Conny Tortensson slipped a neat through ball to Franz Roth, who raced past Paul Madeley and clipped a left-foot shot past the advancing David Stewart and into the left-hand corner of his net. It was a class goal, but totally out of keeping with Bayern's approach to the game. United were broken, eight minutes later Eddie Gray was sent on to replace Terry Yorath but the Scottish star had hardly touched the ball before Bayern doubled theit lead after eighty-one minutes. Hans-Josef Kapellmann broke past Norman Hunter and Frank Gray on the right and cut the ball back from the by-line for goal-poacher Gerd Muller, who had barely had a kick all night, to steal in front of Paul Madeley, playing in place of the suspended Gordon McQueen, and turned the ball in at the near post. The smash and grab had been completed, leaving United empty handed from a controversial final for the second time in three years.
To complete a night of disaster for United, hordes of their 8,000 supporters rioted inside and outside of the ground, actions which cost Leeds a ban from European competition. UEFA initially slapped a four-year ban on United but it was reduced to two years after a well-argued appeal by Manager Jimmy Armfield. He noted in the programme for the opening game of the following season, "We simply had to appeal over the sentence. I felt, and still do feel, that to hold a football club responsible for the behaviour of its 'supporters' outside the jurisdiction of its own ground is morally and legally wrong." Referee Kiabjian's display was apparently marked two out of twenty by UEFA, but that was of little consequence or consolation to United, who were now frozen out of Europe.
Peter Lorimer later recalled the match. "Leeds dominated the opening exchanges yet were denied an early lead when French referee Michel Kitabdijan waved play on after German international Franz Beckenbauer appeared to up-end Clarke in the Munich box. 'It most certainly was a penalty when Beckenbauer brought me down,' said Clarke. 'I saw him fifteen years later when he admitted that we were far and away the better side and, yes, it was a penalty. Fifteen years later you can say that. It won't alter the result.' It was Beckenbauer's first intervention in a game he was to have a dramatic effect on.  Leeds controlled the first half and continued to make headway in the second half. Only the brilliance of German international goalkeeper Sepp Maier kept Leeds at bay...until the sixty-seventh minute. Johnny Giles floated in a free-kick, the Bayern defence failed to clear their lines and Lorimer hammered it home. The referee awarded a goal, the players celebrated and the fans went wild, but the Germans protested, claiming Billy Bremner was offside. The officials conferred and United hopes were dashed with an about-turn.
Beckenbauer was involved in both major incidents in the game," said Lorimer. "He went straight to the linesman. He was held in such stature that he could dominate officials. I'd looked at the referee to see if he had given it and he pointed to the half-way line, but Beckenbauer protested and he changed his mind. Had he given that we would have won, no doubt about it." Clarke blasted: "The goal was disallowed after the referee had given it and only after Beckenbauer interfered."
It was a decision which changed the game and the course of history. Four minutes later Franz Roth scored a breakaway goal and nine minutes from time Muller made his first meaningful contribution with the German's second goal. All the while, all hell was breaking loose at the Leeds end of the ground. One fan was badly beaten by the baton-wielding police after attempting to invade the pitch and the Leeds fans responded by hurling seats onto the playing area. "The trouble was nothing to do with the Leeds fans," insisted Clarke. "It was all down to the French police. I was told afterwards that they treated our magnificent fans badly. They even took duty-frees off them, promised to give them back, but never did. Leeds fans never caused trouble, it was the police." Lorimer added: "I think it was the start of the frustrations of the Leeds fans. They knew we'd been robbed. We'd had Ray Tinkler cost us the title a few years earlier, then, we had Milan. Then we had another situation where we lost a game that we should have won."
While it was the start of a frustrating era for Leeds fans the European Cup final defeat was the end of an era for the team on the park. Revie's side slowly but surely started to dissolve. It was Giles' last game, Bremner soon moved on, Norman Hunter left, Paul Reaney went and Clarke eventually headed for Barnsley. Even Lorimer moved to pastures new before finally returning to boost the club after their relegation in 1982.

"I think it was always going to be a night tinged with sadness," admitted the Scot. "We realised that this was the split-up of that side. We knew Johnny was going into management and that others would go. We went to Norway for a friendly straight afterwards and then to Spain to play golf. It was sad because we knew it was over."  Over it was and, aside from two years under David O'Leary, Leeds never came close to recapturing their European glories. And, for Clarke, Lorimer and the rest of that great side, they are still wondering what might have been. "That was the only thing we never achieved," grimaced Lorimer. "It would have been nice to cherish that winner's medal."
"I had nine great years at Leeds and winning the European Cup would have been great," added Clarke. "I still recall other instances, such as the '72 Championship when we were made to play at Wolves 72 hours after the FA Cup final, but I have some great memories of Leeds and always will."
<![if !vml]>
<![endif]> 
<![if !vml]>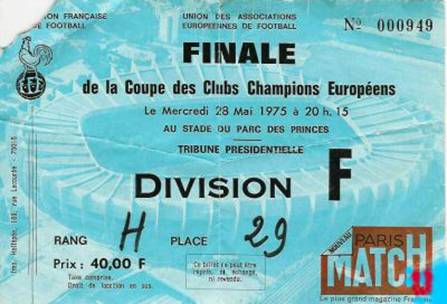 <![endif]> <![if !vml]>
<![endif]>
Match Action:
<![if !vml]>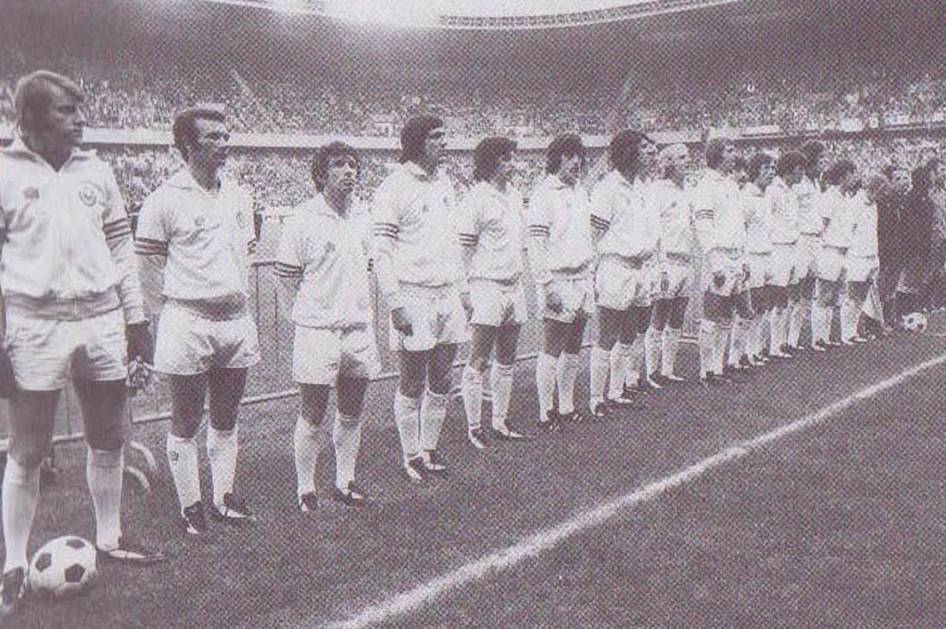 <![endif]>
United line up before the game:
David Stewart, Paul Reaney, Johnny Giles, Norman Hunter, Frank Gray, Peter Lorimer, Joe Jordan, Paul Madeley, Terry Yorath,
Allan Clarke, Peter Hampton, Peter Hampton, Trevor Cherry, Eddie Gray, Glan Letheran, Duncan McKenzie, Billy Bremner.
<![if !vml]>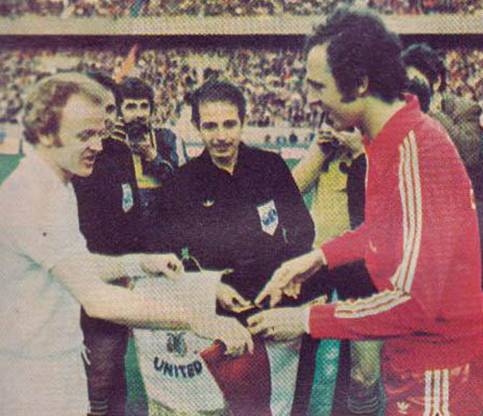 <![endif]> <![if !vml]>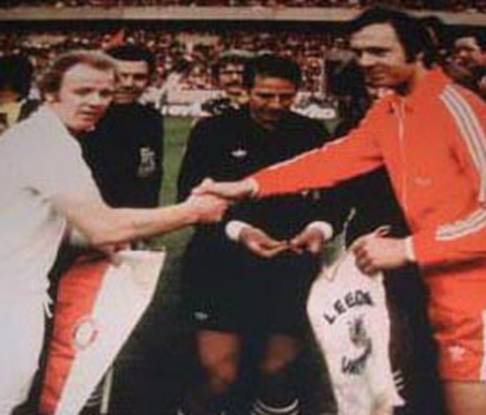 <![endif]> 
Billy Bremner exchanges pennants with Franz Beckenbauer                    
<![if !vml]>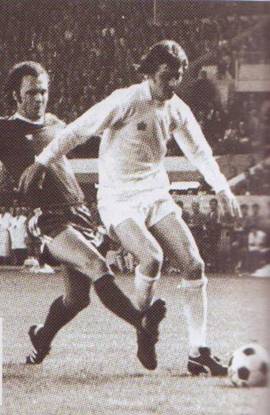 <![endif]> <![if !vml]>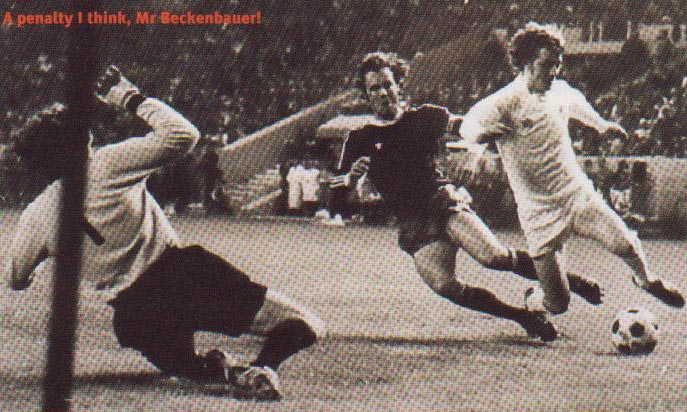 <![endif]>
Franz Beckenbauer tackles Allan Clarke from behind, both players go down without any contact with the ball by the Bayern captain
<![if !vml]>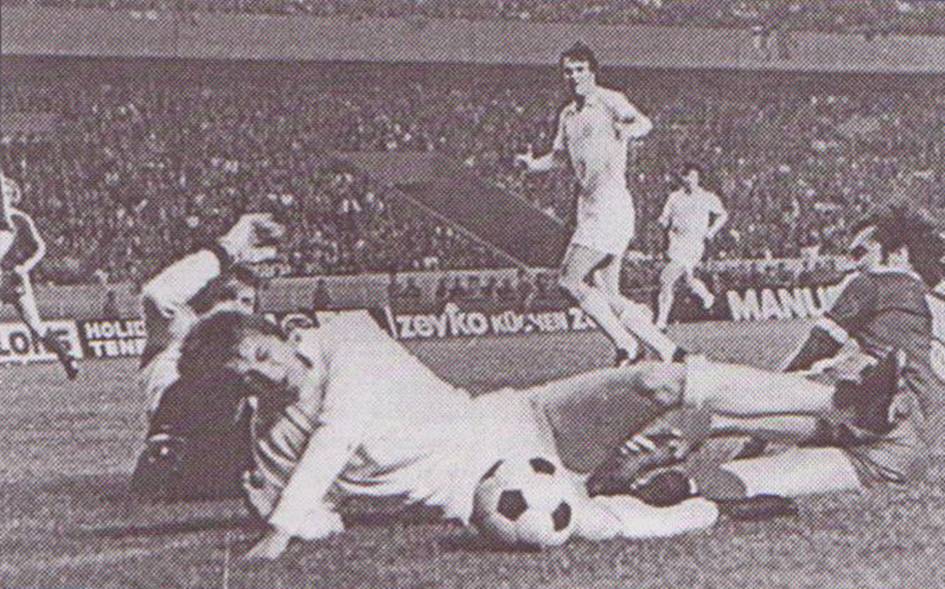 <![endif]>
Allan Clarke hits the ground after being upended by Franz Beckenbauer
<![if !vml]>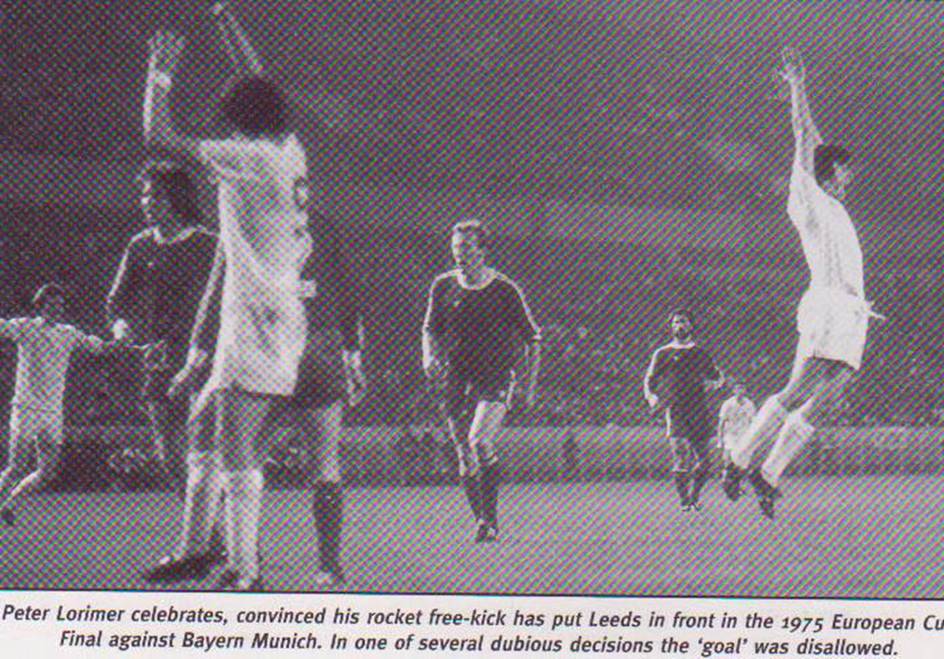 <![endif]> 
<![if !vml]>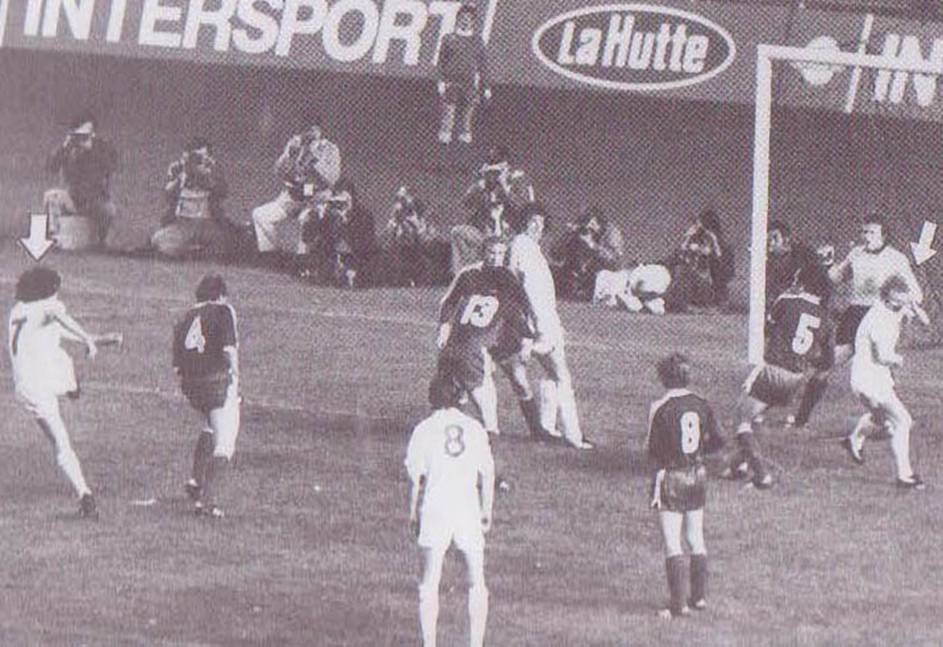 <![endif]>
Peter Lorimer and Billy Bremner are arrowed in the incident of the disallowed goal
<![if !vml]>
<![endif]>
Peter Lorimer's "goal" is disallowed due to Billy Bremner being marginally offside
<![if !vml]>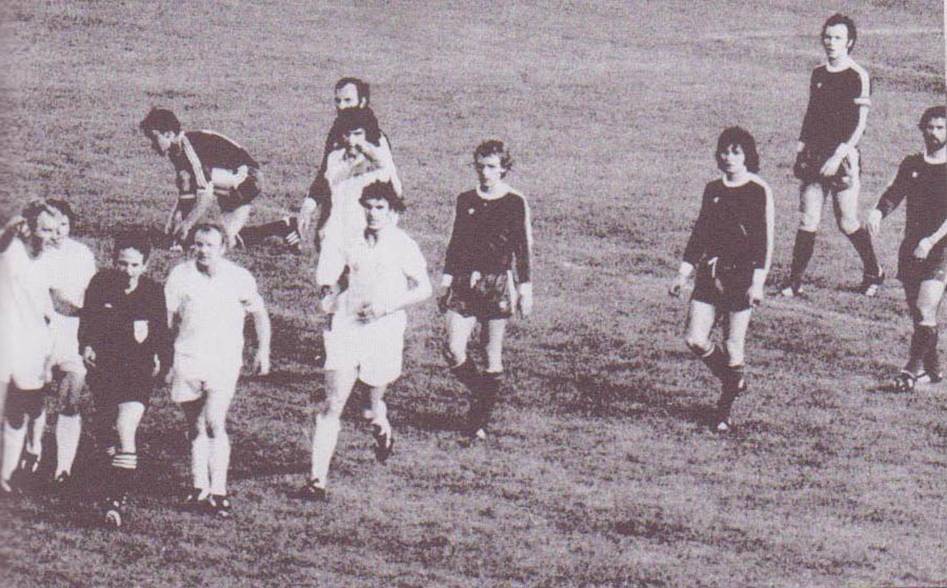 <![endif]>
Leeds players pursue the referee trying to persuade him to change his mind
<![if !vml]>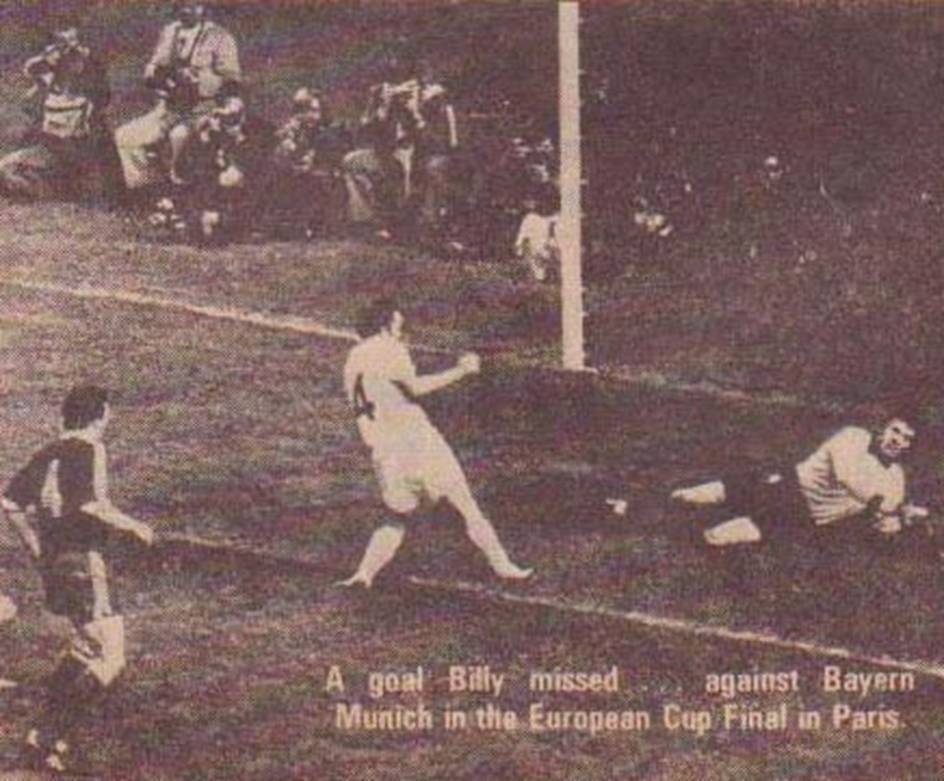 <![endif]>
<![if !vml]>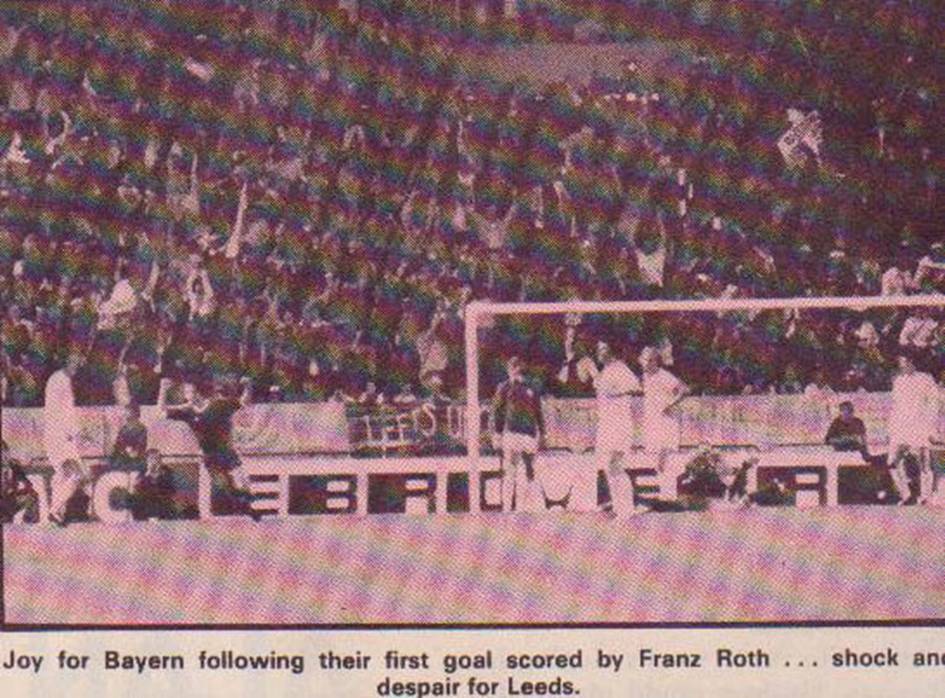 <![endif]> 
<![if !vml]>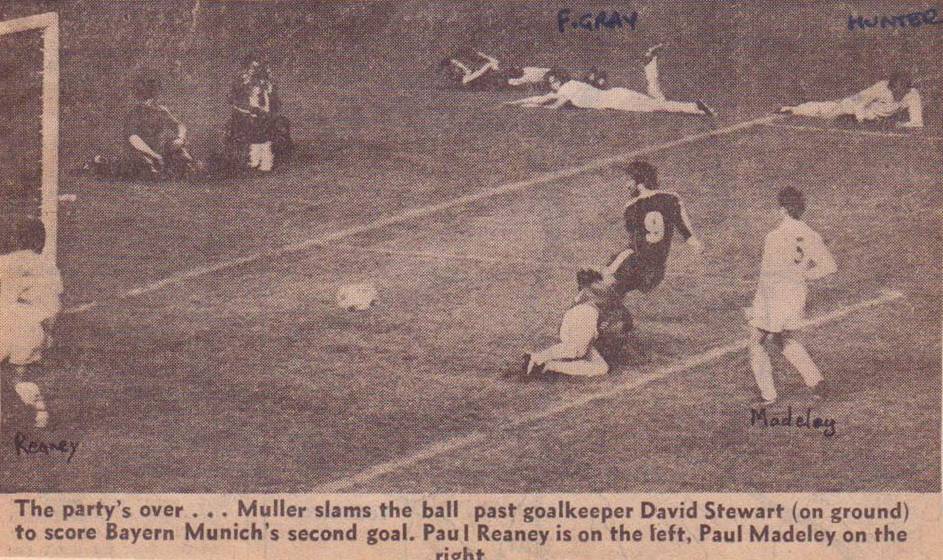 <![endif]>
<![if !vml]>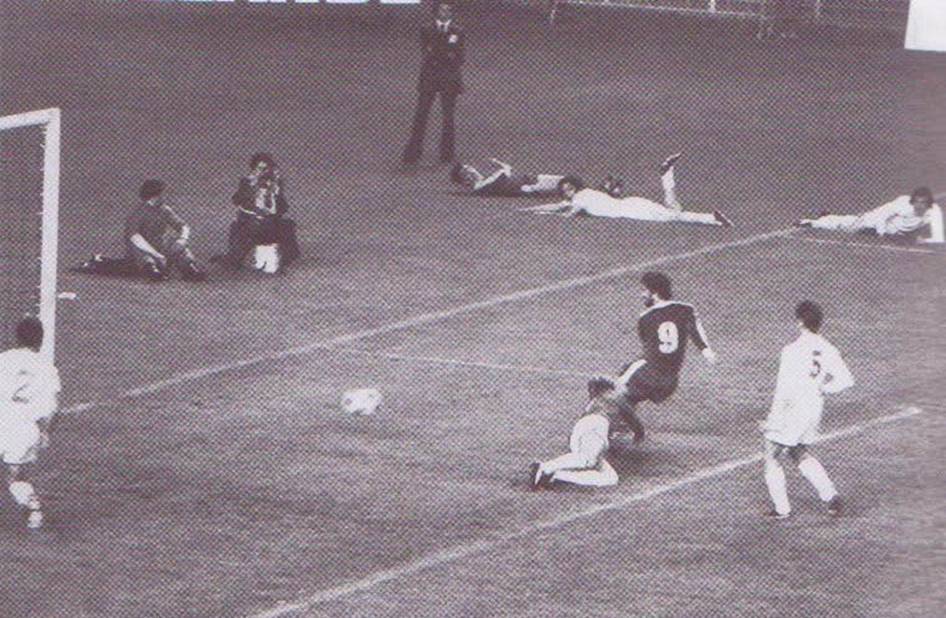 <![endif]>
Gerd Muller scores for Bayern
<![if !vml]>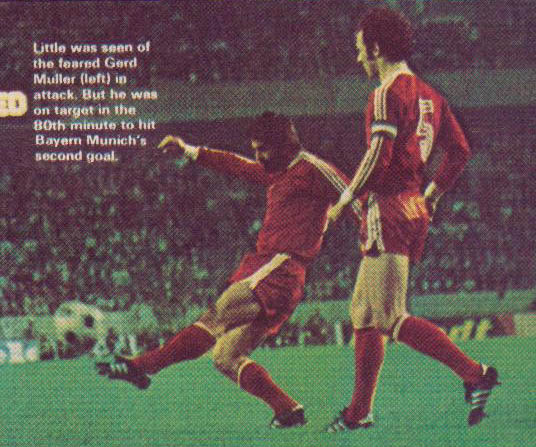 <![endif]> <![if !vml]>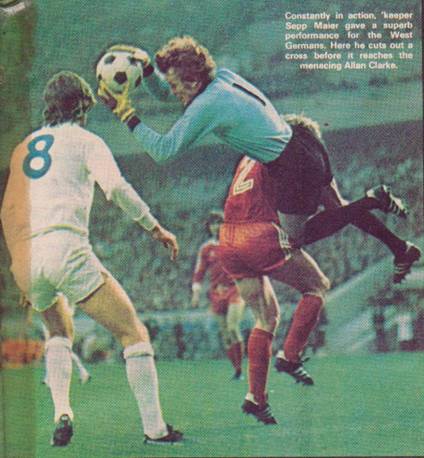 <![endif]>
<![if !vml]>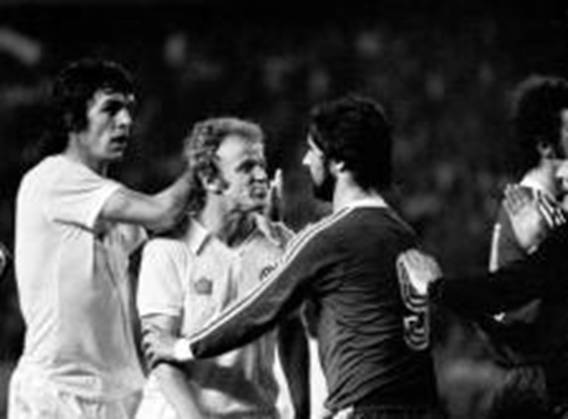 <![endif]>         <![if !vml]>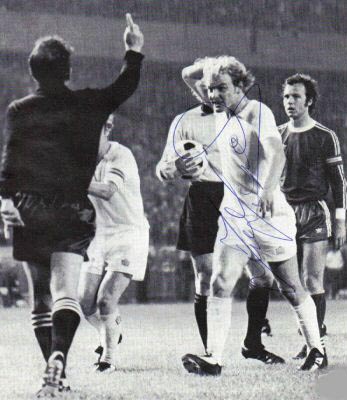 <![endif]>
Billy Bremner and Gerd Muller with Joe Jordan                                                                         Terry Yorath is not amused by the referee's decision
<![if !vml]>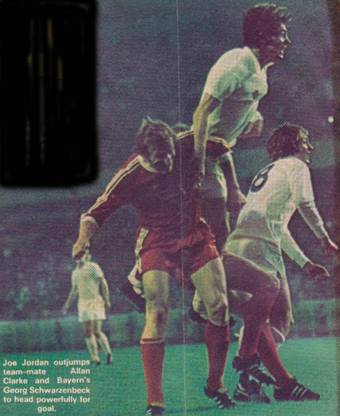 <![endif]>       <![if !vml]>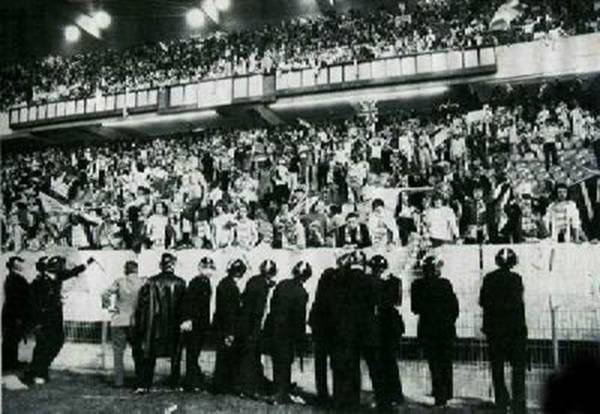 <![endif]>
                                                                                              Riot police face the Leeds fans
<![if !vml]>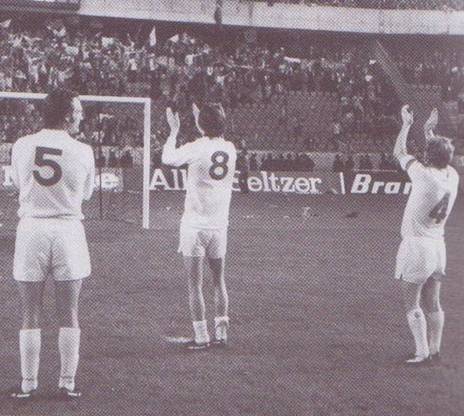 <![endif]>    <![if !vml]>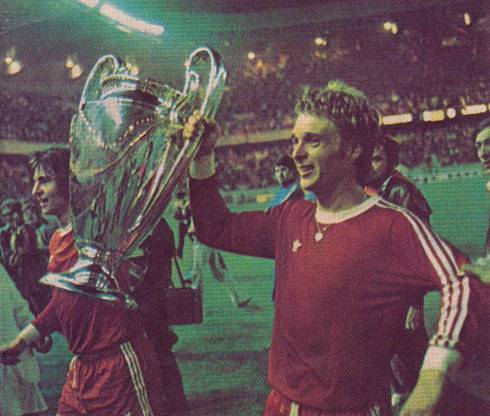 <![endif]>
Paul Madeley, Allan Clarke and Billy Bremner salute the Leeds fans      Bayern Munich parade the Trophy
<![if !vml]>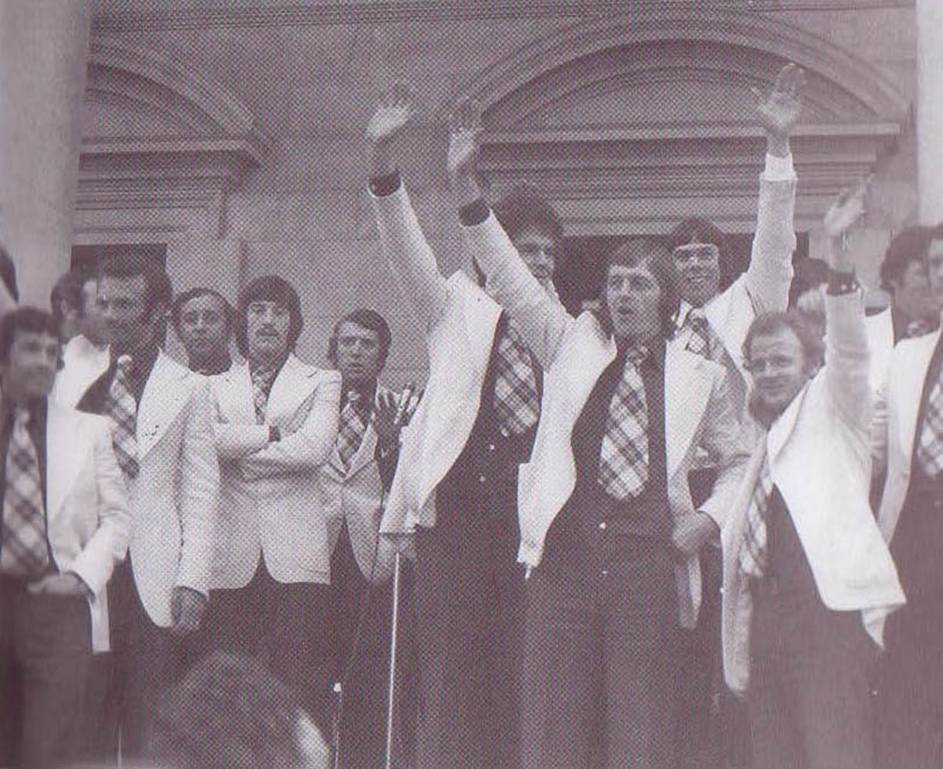 <![endif]>
United at the Civic reception in Leeds: Johnny Giles, Paul Reaney, Tony Collins Peter Hampton, Mick Jones, Glan Letheran,
Allan Clarke, David Harvey, Billy Bremner, Eddie Gray, Paul Madeley.
<![if !vml]>
<![endif]> <![if !vml]>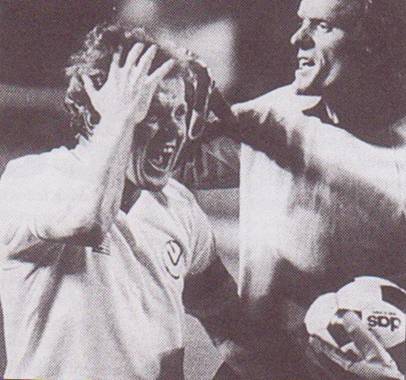 <![endif]> 
Billy Bremner's elation as he celebrates Peter Lorimer's 'goal' quickly turns to anguish and disbelief when it is disallowed
Teams:
<![if !vml]>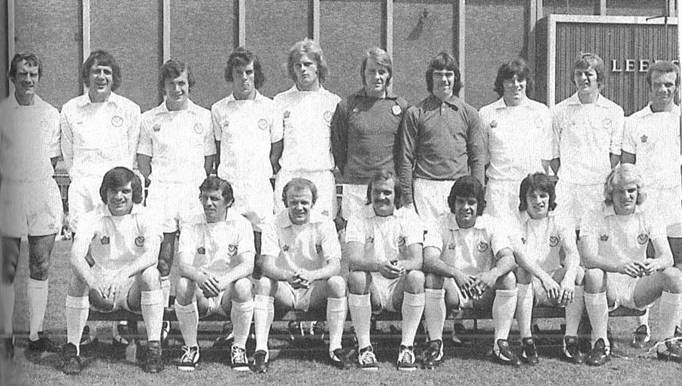 <![endif]>
Leeds United 1974-75:
Back Row: Paul Madeley, Norman Hunter, Trevor Cherry, Joe Jordan, Gordon McQueen
David Stewart, David Harvey, Eddie Gray, Allan Clarke, Paul Reaney.
Front Row: Peter Lorimer, Johnny Giles, Billy Bremner, Terry Cooper, Mick Bates, Frank Gray,
Terry Yorath.
<![if !vml]>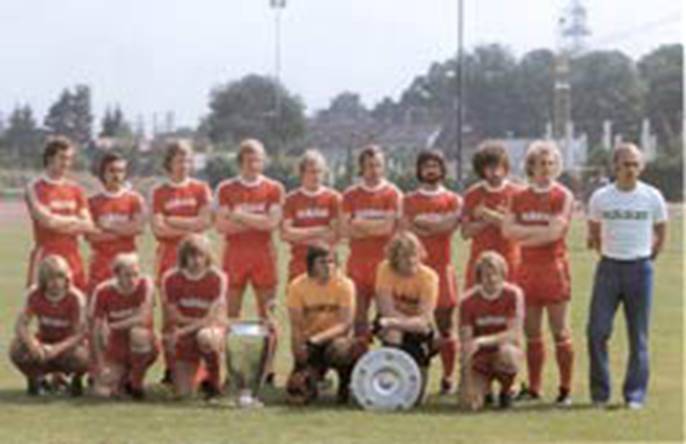 <![endif]>
Bayern Munich: Bundesliga Champions 1973-74:
Back Row: Beckenbauer, Kapellmann, Torstenson, Schwarzenbeck, Dürnberger, Roth, Müller,
Breitner, Hoeneß, Trainer Lattec;
Front Row: Zobel, Hadewicz, Jensen, Robl, Maier, Hansen
<![if !vml]>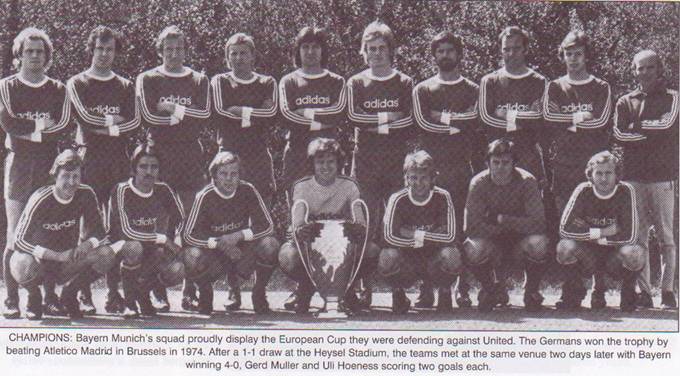 <![endif]>
Players:
<![if !vml]>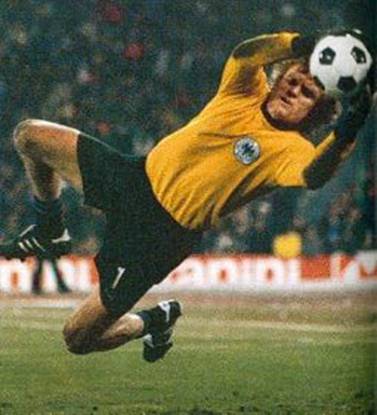 <![endif]> <![if !vml]>
<![endif]> <![if !vml]>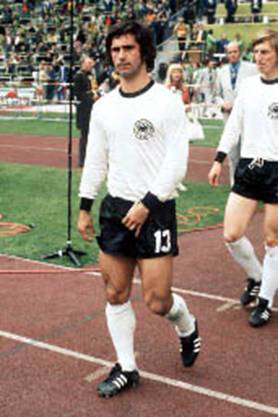 <![endif]>
Sepp Maier                                                                            Franz Beckenbauer                                            Gerd Muller
<![if !vml]>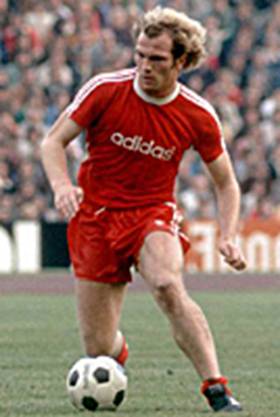 <![endif]>
Uli Hoeness