<![if !vml]>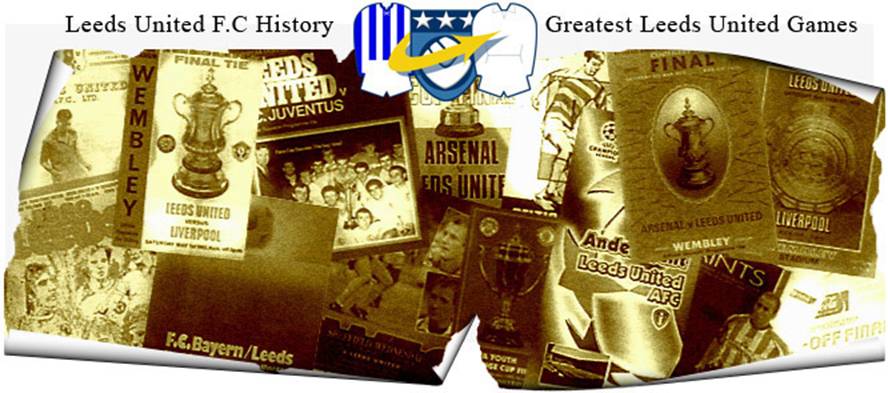 <![endif]>
Date: Saturday, 28th December 2002.
Venue: Elland Road, Leeds.
Competition: English Premier League.
Score: Leeds United 2 Chelsea 0
Scorers: Leeds United: Gallas (o.g.), Milner. Chelsea: Nil.
Attendance: 39,622
Teams:
<![if !vml]>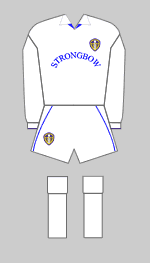 <![endif]><![if !vml]>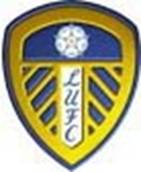 <![endif]>
Leeds United: Robinson; Kelly, Woodgate, Mills, Lucic; Smith, Bakke (Johnson), Okon, Wilcox; Kewell (Milner), Viduka (Fowler). Unused Subs: Duberry, Martyn.
<![if !vml]>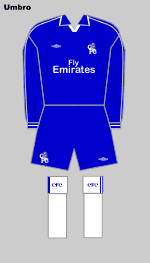 <![endif]><![if !vml]>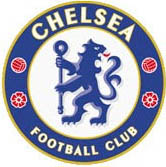 <![endif]>
Chelsea: De Goey; Ferrer (Hasselbaink), Gallas, Desailly, Le Saux; Gronkjaer (De Lucas), Morris, Lampard, Stanic; Zola, Gudjohnsen. Unused Subs: Babayaro, Terry, Pidgeley.
Referee: Mr G. Barber (Tring, Hertfordshire).
Chelsea arrived at Elland Road comfortably in second place and only four points adrift from leaders Arsenal expecting to pick up three easy points from a team that had not won at home in months and beset by injuries and lack of form, but there was seasonal cheer in abundance at Elland Road as Leeds cranked their season into life with their first home win since September. And the United faithful left the ground with the added boost that, coupled with three precious league points, they now had a new hero to worship after another amazing display by teenage star James Milner. The sixteen year-old scored a stunning goal in first-half injury time, his first at Elland Road, and turned in another performance that only served to enhance his growing reputation.
Milner, who would see his £80-per-week wage rise considerably as he was due to put pen to paper on a new contract later in that week, was given a heroís welcome when he replaced Harry Kewell after thirty-one minutes and would be set to receive the same adoration only afforded to home-grown talent. Terry Venables was keen to keep Milnerís profile as low as possible, but if the youngster keeps scoring goals like he did in this game, then the United boss will have his work cut out. It would be easy to get carried away by the talented youngster, but even when Milner did his warm-up on the touchline there was a sense of anticipation about the prospective arrival of the new kid on the block.
In typical fashion he did not disappoint. He had been on the pitch only fifteen minutes when he seized upon an Eirik Bakke flick, left Marcel Desailly on his backside and unleashed a stunning effort beyond the reach of Ed de Goey in the Chelsea goal. It was a moment of magic from the Horsforth-bred star and one which will stay long in the memories of those who were there to see what would, hopefully, be the first of many goals at Elland Road in a Leeds United shirt. As with the Boxing Day win at Sunderland, Milner made another big impression against Chelsea and his solo strike might have, perhaps understandably, turned attentions away from Unitedís best performance of the season.
The commitment on show was first class and United headed towards the New Yearís Day showdown with Birmingham City having picked up ten points from twelve and looked like a team with renewed confidence. There were no shirkers in the side against Chelsea and Leeds played with great heart and spirit to restrict the Londoners to a handful of shots from distance, none of which looked like troubling goalkeeper Paul Robinson. It was a day for unsung heroes with Gary Kelly, Eirik Bakke and Paul Okon all playing key roles for United. Gary Kelly had his best game of the season at right back, while Eirik Bakkeís constant probing from midfield made life difficult for the Chelsea defence. Paul Okon was influential in the middle of the park where his distribution skills were second to none and the way he gave Frank Lampard no room to operate was vital in stifling Chelseaís creative ability and forged the basis for Unitedís dominance and against the odds victory.
The signing of the Australian captain raised a few eyebrows in the summer but, with six games under his belt, it looked as though he might be the answer to solving Unitedís problem holding role in midfield. Paul Okonís versatility gave Leeds an added dimension and, with James Milner and Alan Smith floating between attack and midfield, United looked a well organized outfit with a midfield who were prepared to roll up their sleeves, and Chelsea simply could not break them down.
The visitors did have their moments, they looked sharp in the opening twenty minutes, but Leeds soaked up the pressure and hit back on the break with some superb slick-passing moves. The opener came after a good spell of pressure from Leeds and Jonathan Woodgate, whose left wing cross almost set up Harry Kewell, grabbed his first goal since his nightmare court appearance of two years ago. Gary Kellyís quickly taken corner was picked up by Jason Wilcox and Jonathan Woodgate somehow headed the cross beyond the reach of a helpless Ed De Goey.
This was how most newspapers saw the United first goal. But on closer inspection it was found that, while, from a front on view of the incident, Woodgate's trajectory had all the looks of making contact with the ball, when viewed from the behind the goal cameras, Woodgate did not make any initial connection with the ball. It certainly showed the contact was with the head of Gallas and the ball was propelled towards the goal, and, while it may have touched Woodgate fleetingly, it was the contact with the head of Gallas that propelled it beyond the reach of De Goey.
The goal was just the boost United needed and, shortly after the arrival of James Milner in place of the injured Harry Kewell, who suffered a dead leg, Venablesí side doubled their advantage. Mark Viduka and Eirik Bakke were both involved in the build up before James Milner, playing in an unfamiliar role on the left, turned Marcel Desailly inside out and rifled home from distance to make it 2-0. It was a superb strike and was a fitting match clincher.
Chelseaís response was to introduce their £60,000-a-week former United star Jimmy Floyd Hasselbaink and Enrique De Lucas as half-time substitutes. De Lucas did miss an absolute sitter at the start of the half thanks to the close attentions of Jonathan Woodgate, but other than that, the best Chelsea could offer was a series of wayward efforts from the out-of-sorts Eidur Gudjohnsen.
Leeds were even able to relax a bit as the clock wound down and Terry Venables could afford himself a wry smile as the home drought came to an end in some style. The manager still insisted no corner had yet been turned, but after picking up ten points out of twelve United could pat themselves on the back for finally kick-starting their season.
<![if !vml]>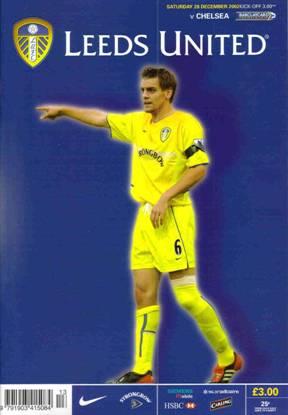 <![endif]>†<![if !vml]>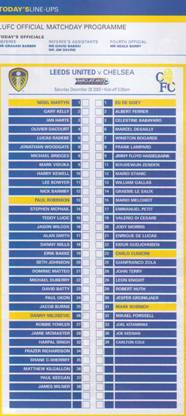 <![endif]>†
<![if !vml]>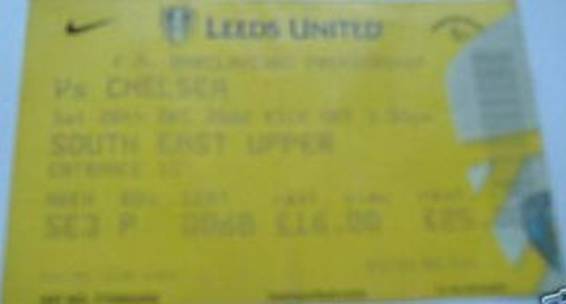 <![endif]>
Match Action:
<![if !vml]>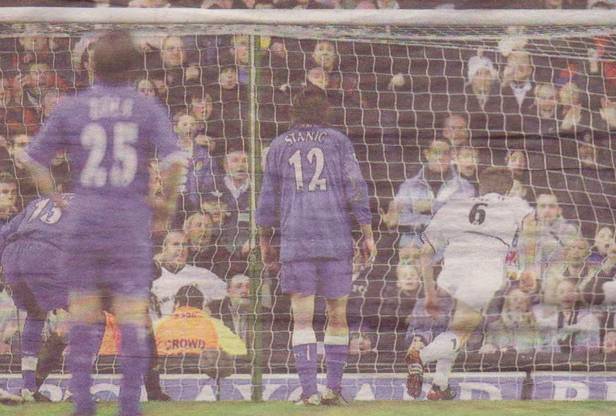 <![endif]>††††† <![if !vml]>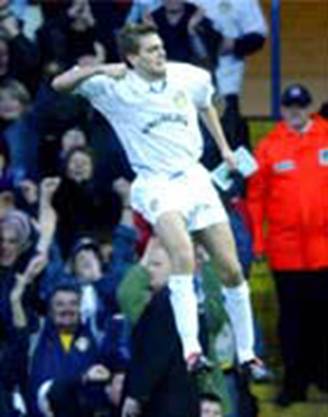 <![endif]>
Jonathan Woodgate heads the opening "goal"††††††††††††††††††††††††††††††††††††††††††††††††††††††††††††††††††††††††††††††† †††††††††††and jumps for joy
<![if !vml]>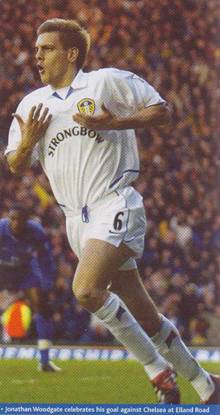 <![endif]>† <![if !vml]>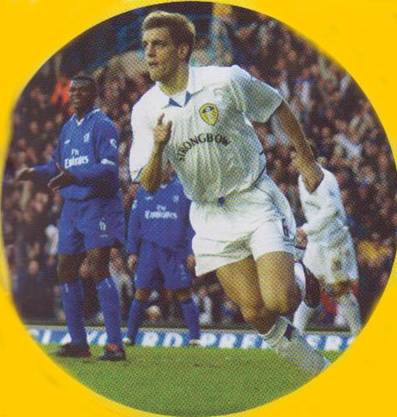 <![endif]>†††††<![if !vml]>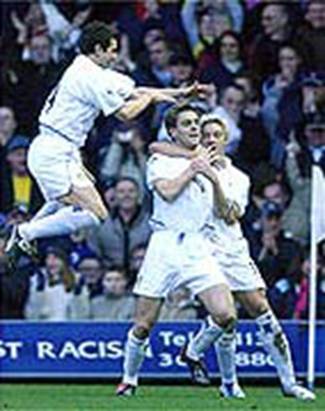 <![endif]>
Jonathan Woodgate wheels away after "scoring"††††††††††††††††††††††††††††††††††††††††††††††††††††††††††††††††††††††††††††††††††††††† and is mobbed by Alan Smith and Paul Okon
<![if !vml]>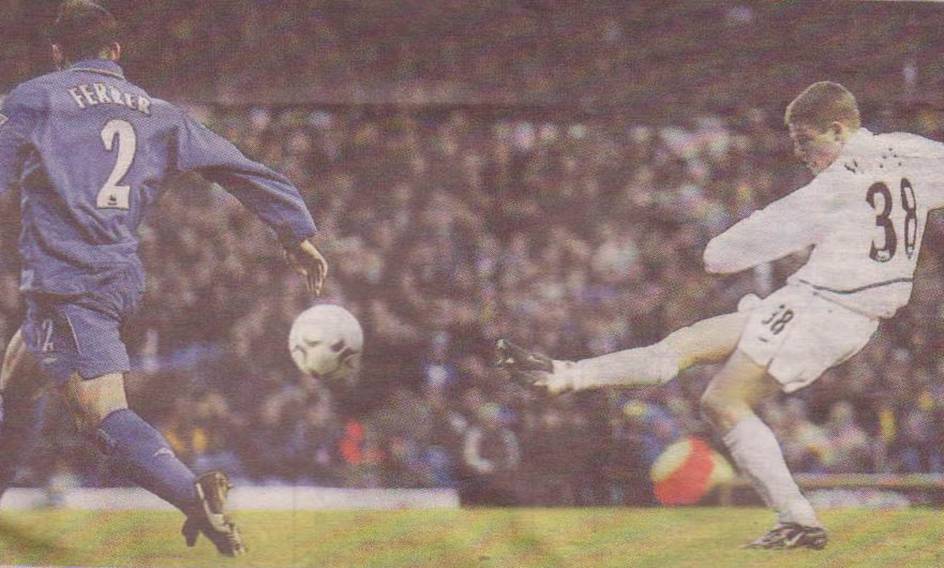 <![endif]>†
James Milner gets in his shot for the second goal
<![if !vml]>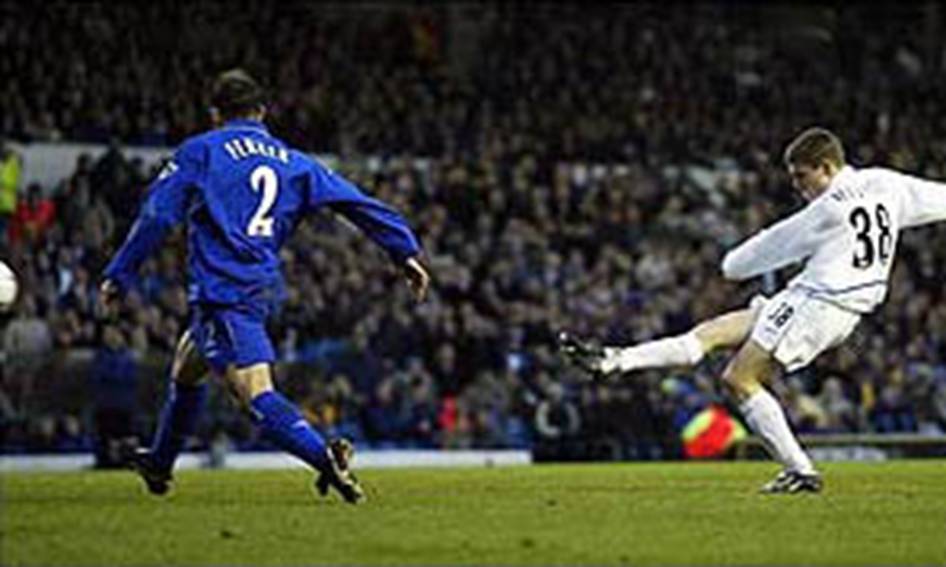 <![endif]>†
Albert Ferrer can only watch as James Milner shoots
<![if !vml]>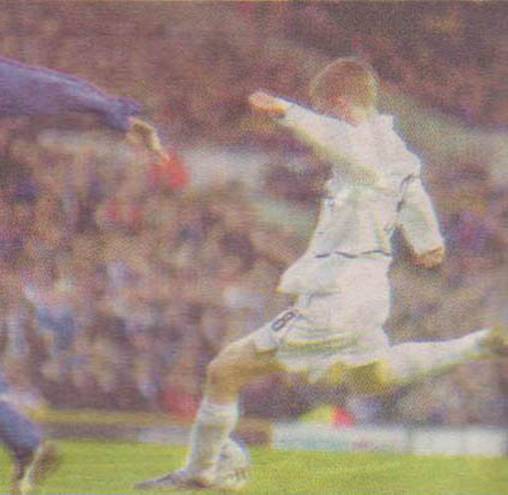 <![endif]>††††††† <![if !vml]>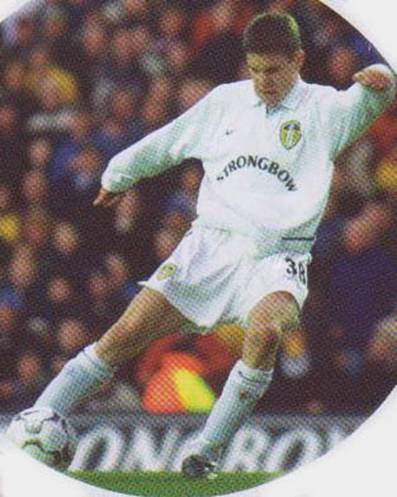 <![endif]>
†††††††††††††††††††††††††††††††††††††††††††††††††††††††††††††††††††††††† James Milner in classic pose
<![if !vml]>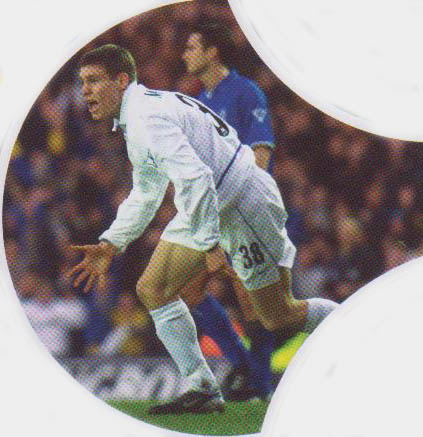 <![endif]>†† <![if !vml]>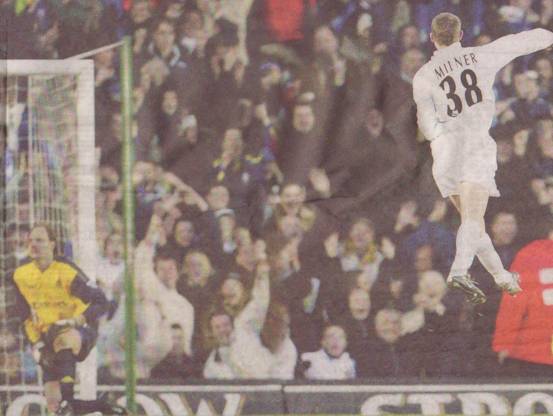 <![endif]>†
James Milner turns after scoring††††††††††††††††††††††††††††††† ††††††††††††††††††††††††and jumps for joy
<![if !vml]>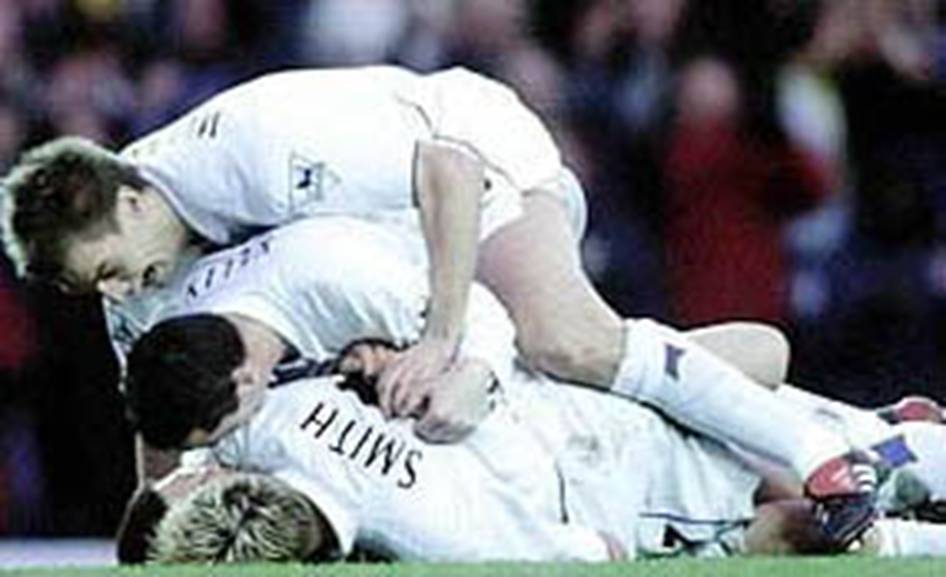 <![endif]>†
James Milner disappears under the combined weight of Alan Smith Gary Kelly and Jonathan Woodgate
<![if !vml]>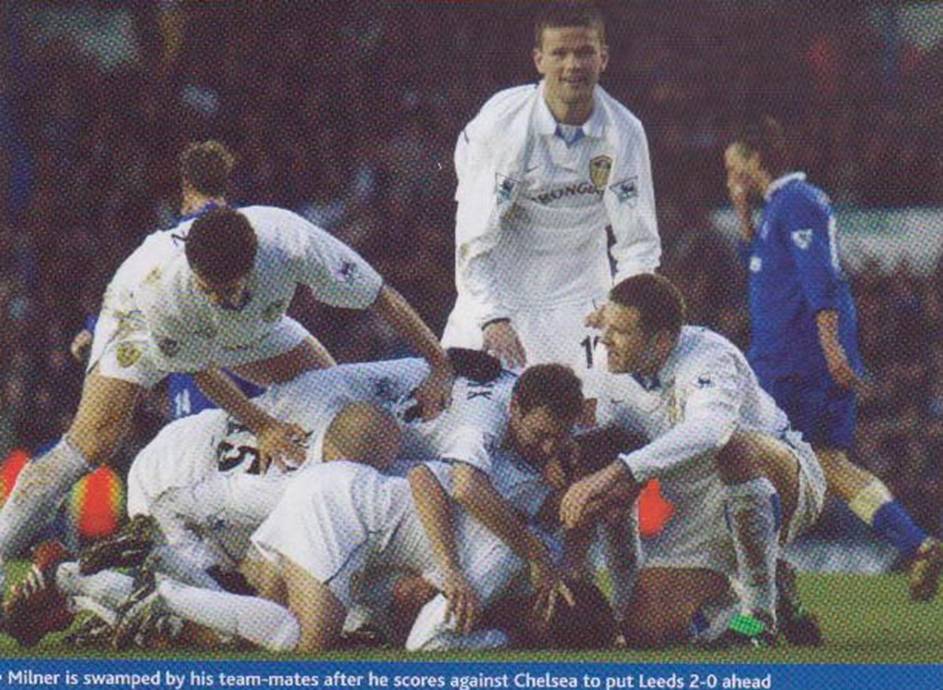 <![endif]>
<![if !vml]>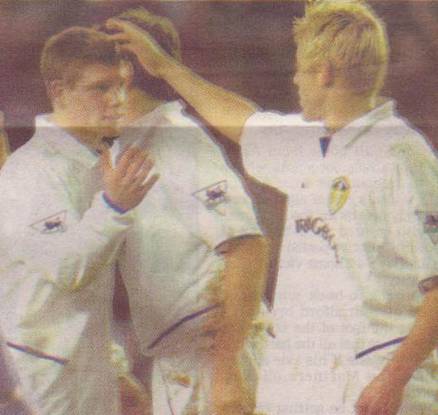 <![endif]>†† <![if !vml]>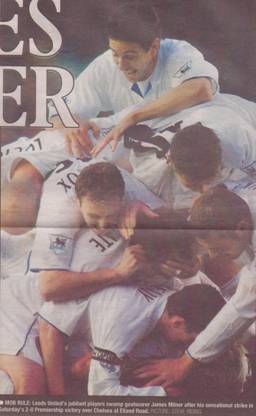 <![endif]>††††<![if !vml]>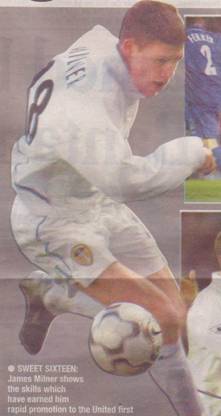 <![endif]>
††† James Milner gets a pat on the head from Alan Smith
<![if !vml]>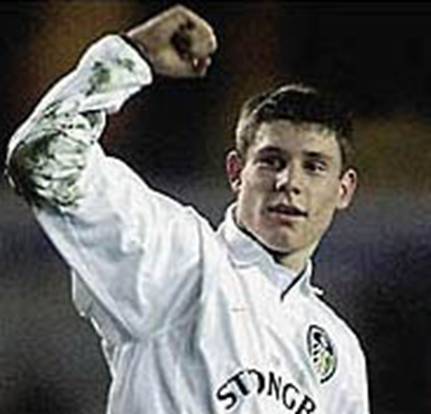 <![endif]>††††††††† <![if !vml]>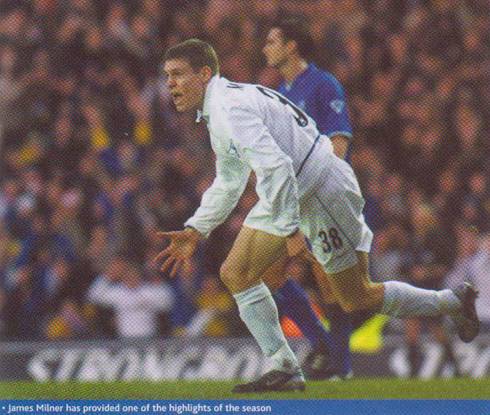 <![endif]>†
James Milner salutes the fans
| | |
| --- | --- |
| Jonathan Woodgate reflects | Alan Smith slides in on Jimmy-Floyd Hasselbaink |
<![if !vml]>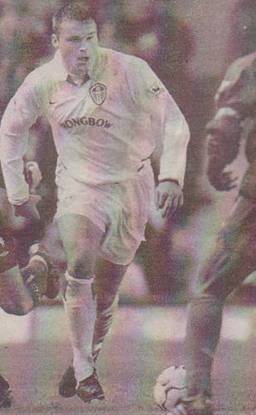 <![endif]>†<![if !vml]>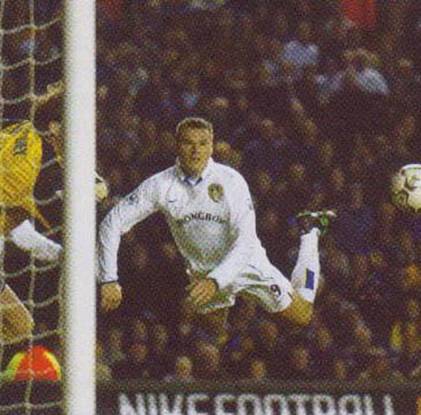 <![endif]>†<![if !vml]>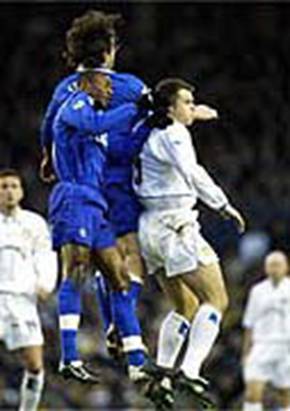 <![endif]>
Mark Viduka takes on the Chelsea defence, goes close with a flying header and then battles in the air with Mario Stanic and Marcel Desailly
<![if !vml]>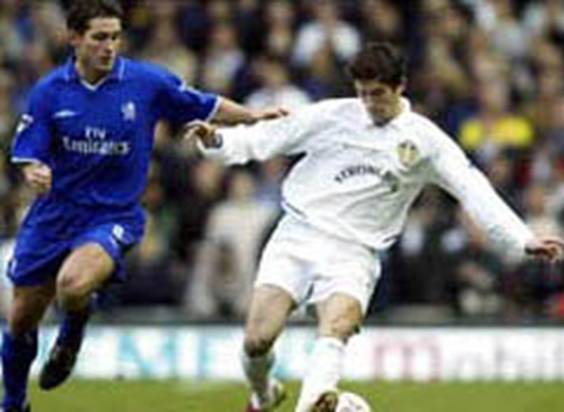 <![endif]>††† <![if !vml]>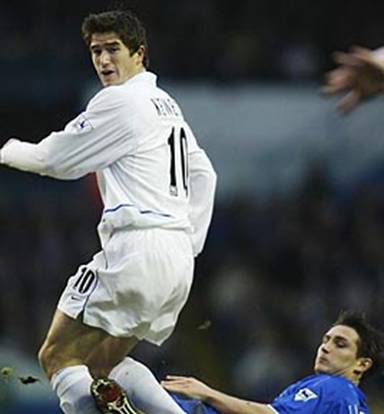 <![endif]>
†Harry Kewell avoids Frank Lampard††††††††††††††††††††††††††††††††††††††††††††††††††††††††††††††††††††††††††††††††††† Frank Lampard dispossesses Harry Kewell
<![if !vml]>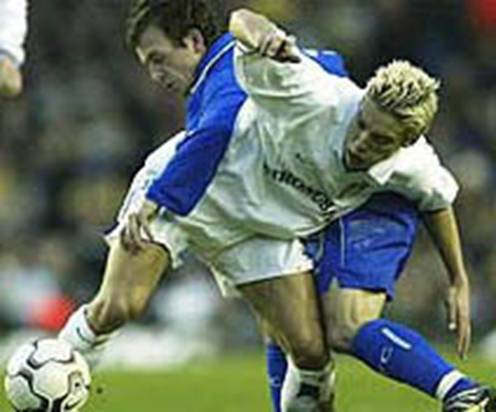 <![endif]>†††† <![if !vml]>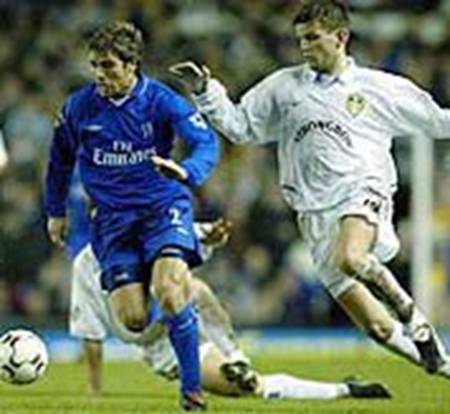 <![endif]>
Albert Ferrer and Alan Smith locked in battle†††††† †††††††††††††††††††††††††††††††††††††††††††††††Eirik Bakke chases Enrique De Lucas
Players:
<![if !vml]>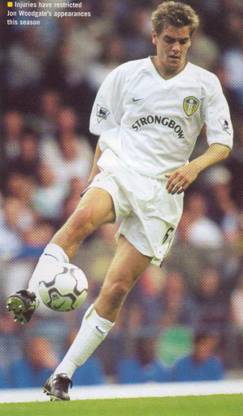 <![endif]>†† <![if !vml]>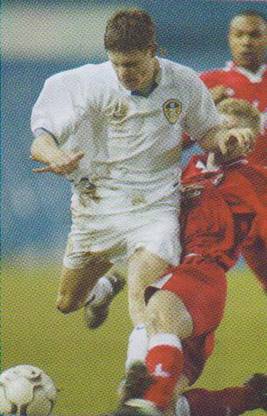 <![endif]>†††††††††††††††††††††††<![if !vml]>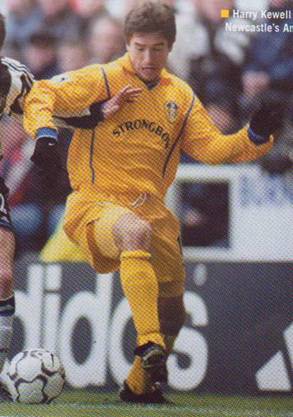 <![endif]>†
Jonathan Woodgate, via William Gallas, and James Milner got the goals for Leeds††††††††† ††††††Harry Kewell was injured after half-an-hour
†††
<![if !vml]>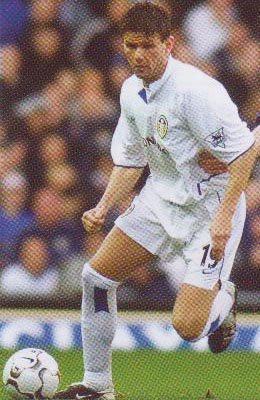 <![endif]>†<![if !vml]>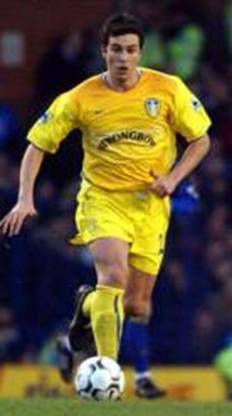 <![endif]>†<![if !vml]>
<![endif]>† <![if !vml]>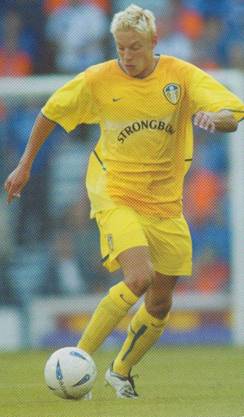 <![endif]>
††††††† Unsung heroes Eirik Bakke, Paul Okon and Gary Kelly played vital parts in the win†††††††††††††††††††††††††††††††††††† Alan Smith flitted between
†††††††††††††††††††††††††††††††††††††††††††††† †††††††††††††††††††††††††††††††††††††††††††††††††††††††††††††††††††††††††††††††††††††††††††††††††††††††††††††††††††††††††††††††††††††††††attack and midfield
<![if !vml]>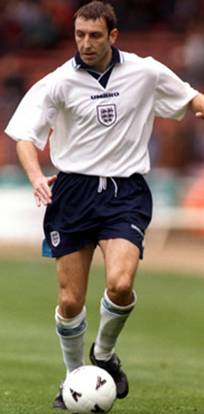 <![endif]>††††††† <![if !vml]>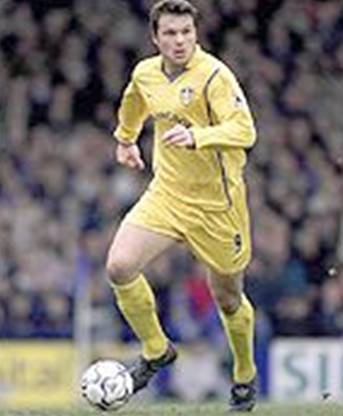 <![endif]>††††††<![if !vml]>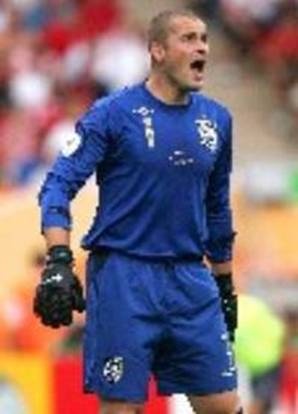 <![endif]>
Jason Wilcox provided the cross†††† Mark Viduka was involved in the second goal ††††††††††††††††Paul Robinson was untroubled
for the first goal
<![if !vml]>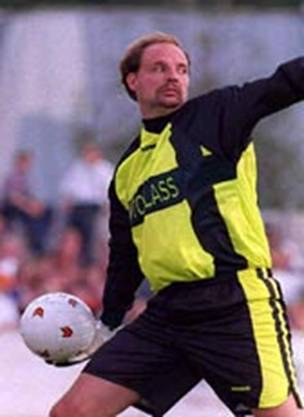 <![endif]>††††† <![if !vml]>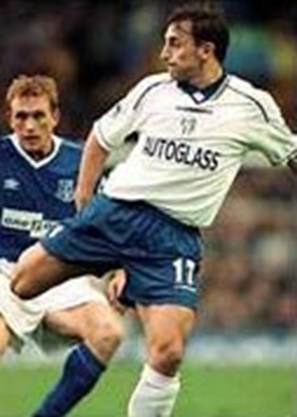 <![endif]>††††††<![if !vml]>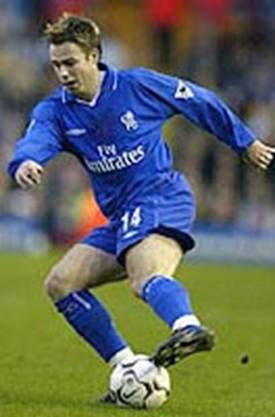 <![endif]>
Ed De Goey was in the Chelsea goal†††††††††††††††††††††††††††††††††† Albert Ferrer was at right-back with Graeme Le Saux at left-back
<![if !vml]>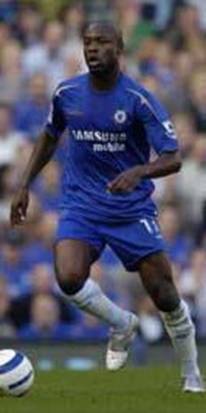 <![endif]>†<![if !vml]>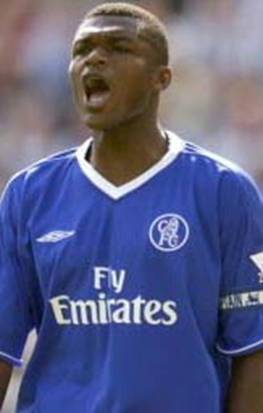 <![endif]>†<![if !vml]>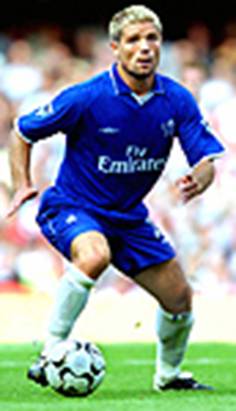 <![endif]>†<![if !vml]>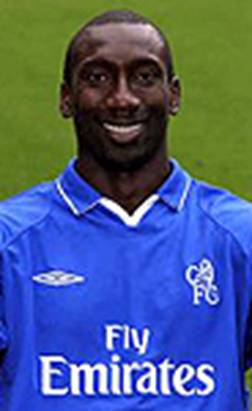 <![endif]>
William Gallas† and Marcel Desailly formed the central defence†††††††††††††† Enrique De Lucas and Jimmy-Floyd Hasselbaink were used substitutes
<![if !vml]>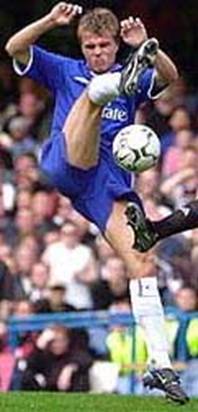 <![endif]>†<![if !vml]>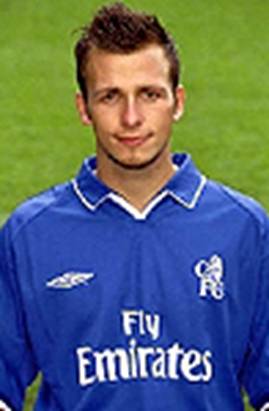 <![endif]>†<![if !vml]>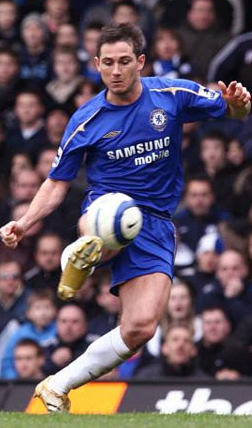 <![endif]>†<![if !vml]>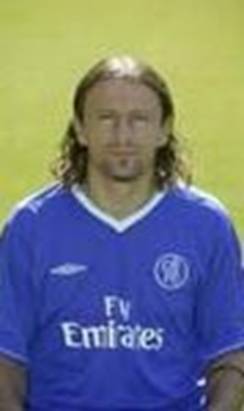 <![endif]>
Jesper Gronkjaer, future Leeds player Jody Morris, Frank Lampard and Mario Stanic started in midfield for Chelsea
<![if !vml]>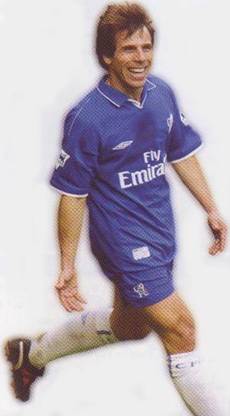 <![endif]>††† <![if !vml]>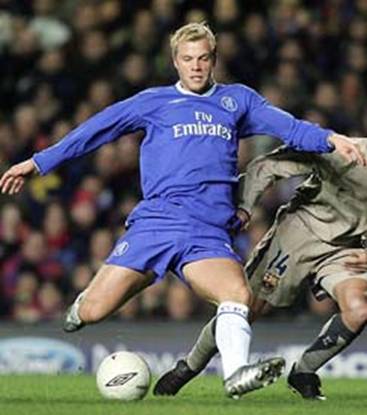 <![endif]>
Gianfranci Zola and Eidur Gudjohnsen were the strikers
<![if !vml]>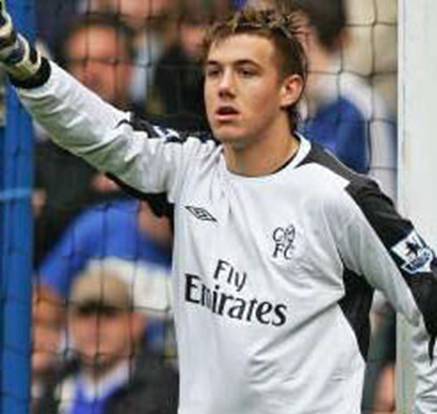 <![endif]>† <![if !vml]>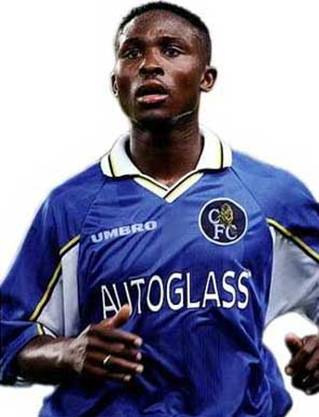 <![endif]>††<![if !vml]>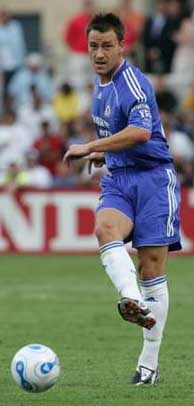 <![endif]>
†††††††††††††††††††††††††††††††††††††††††††††††††††† Lenny Pidgeley, Celestine Babayaro and John Terry were the unused substitutes