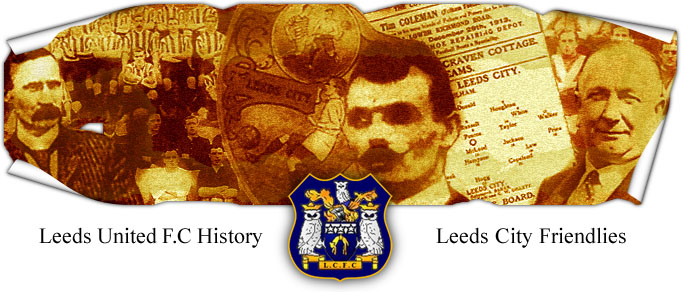 17-05-19: Huddersfield Town (n) (Played at Valley Parade, Bradford) 0-0 (HT 0-0) Crowd (10,000 Receipts £550)
| | | | | | |
| --- | --- | --- | --- | --- | --- |
| Leeds City: | | | | | |
| 1. | Sutcliffe, Charlie (Leeds City) | | | | |
| 2. | Millership, Harry (Blackpool) | | | | |
| 3. | Hampson, Billy (Newcastle United) | | | | |
| 4. | Lamph, Tommy (Leeds City) | | | | |
| 5. | Hampson, John (Jack) (Leeds City) | | | | |
| 6. | McLachlan, Bert (Aberdeen) | | | | |
| 7. | Hall, Tom (Newcastle United) | | | | |
| 8. | Stephenson, Clem (Huddersfield Town) | | | | |
| 9. | Peart, Jack (Notts County) | | | | |
| 10. | McLeod, Billy (Leeds City) | | | | |
| 11. | Bainbridge, Simpson (Leeds City) | | | | |
| Huddersfield Town: | | | | | |
| 1. | Mutch, Alex | | | | |
| 2. | Wood, James | | | | |
| 3. | Bullock, Fred | | | | |
| 4. | Linley, Harry | | | | |
| 5. | Baker, Jim | | | | |
| 6. | Watson, Billy | | | | |
| 7. | Richardson, George | | | | |
| 8. | Slade, Charlie | | | | |
| 9. | Cock, Jack | | | | |
| 10. | Shields, Ralph | | | | |
| 11. | Mann, Frank | | | | |
Match Report: Yorkshire Post: 19th May 1919: Courtesy Steve Bell

WEST RIDING CUP - Final. LEEDS CITY AND HUDDERSFIELD TOWN DRAW.

A good deal of play is being necessary to decide the destination of the West Riding Cup. There were three meetings in the semi-final between Bradford City and Huddersfield Town, and now Leeds City and Huddersfield Town have to play again. The teams met at Valley Parade, Bradford, before about 10,000 spectators, and the gate amounted to £550. Play was not very interesting, the men on both sides being too too keen and anxious. In this respect the Leeds men were mostly at fault, and there was a conspicious lack of combination in their attack and individual brilliance in the work of the forwards. The defence for the most part was good, but it was the clever manner in which Sutcliffe kept goal which enabled Leeds to try again for the cup. Huddersfield were more robust in their methods, but they were somewhat handicapped during the greater part of the second half by J. Baker being injured and compelled to operate on the left wing, Mann taking his place at centre half. Once in the first half Mutch was beaten when he stopped but failed to clear a dangerous header by McLeod. A goal went abegging, but right in the goalmouth the ball was lifted over the bar. Thrice in the second half Sutcliffe cleverly kept out shots by Linley, Baker, and Cock, and he was found far more employment in this half than Mutch. Result:- Leeds City none Huddersfield Town none.

Teams:

Leeds City: Sutcliffe, goal; Millership and W. Hampson, backs; Lamph, J. Hampson, and McLachlan, half-backs; Hall, Stephenson, Peart, McLeod and Bainbridge, forwards.

Huddersfield Town: Mutch, goal; Wood and Bullock, backs; Linley, J. Baker and Watson, half-backs; Richardson, Slade, Cock, Shields and Mann, forwards.

Referee: Mr J. Howcroft.

The final tie will be replayed at Valley Parade, Bradford, next Saturday, when extra time will be played if necessary. There was no extra- time in this match.

.