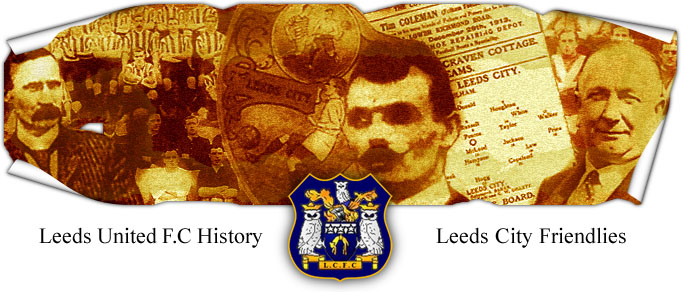 24-05-19: Huddersfield Town (n) (Played at Valley Parade, Bradford) 2-0 (HT 2-0) Crowd (10,000)
| | | | | | |
| --- | --- | --- | --- | --- | --- |
| Leeds City: | | | | | |
| 1. | Sutcliffe, Charlie (Leeds City) | | | | |
| 2. | Millership, Harry (Blackpool) | | | | |
| 3. | Hampson, Billy (Newcastle United) | | | | |
| 4. | Lamph, Tommy (Leeds City) | | | | |
| 5. | Hampson, John (Jack) (Leeds City) | | | | |
| 6. | McLachlan, Bert (Aberdeen) | | | | |
| 7. | Hall, Tom (Newcastle United) | | | | |
| 8. | Stephenson, Clem (Huddersfield Town) | 2 (15' 1-0 17' 2-0) | | | |
| 9. | Peart, Jack (Notts County) | | | | |
| 10. | McLeod, Billy (Leeds City) | | | | |
| 11. | Bainbridge, Simpson (Leeds City) | | | | |
| Huddersfield Town: | | | | | |
| 1. | Mutch, Alex | | | | |
| 2. | Wood, James | | | | |
| 3. | Bullock, Fred | | | | |
| 4. | Linley, Harry | | | | |
| 5. | Baker, Jim | | | | |
| 6. | Watson, Billy | | | | |
| 7. | Richardson, George | | | | |
| 8. | Slade, Charlie | | | | |
| 9. | Cock, Jack | | | | |
| 10. | Shields, Ralph | | | | |
| 11. | Mann, Frank | | | | |
Match Report: Yorkshire Post: 26th May 1919: Courtesy Steve Bell
WEST RIDING CUP - Re-played Final. LEEDS CITY BEAT HUDDERSFIELD TOWN.
The re-played final for the West Riding Cup at Valley Parade, Bradford, was witnessed by some 10,000 spectators, and ended in a victory for Leeds City. A serious misfortune to Cock, the well-known centre forward of Huddersfield Town, was, however, a by no means insignificant factor in enabling the Citizens to get their advantage and keep it. Within five minutes of the start he and W. Hampson came violently into collision with their heads. Hampson had to be assisted from the field, and Cock was so badly injured that it was necessary to carry him off. Hampson came back after a few minutes, but Cock was off for fifteen minutes, and it was while Town were without him that Leeds registered their two goals. Peart failed at an easy opening created for him by McLeod and Stephenson.The last-named player broke away again and put the ball over to Bainbridge, who centred, and Stephenson fired, and fell as he did so. His shot was charged, but the ball rebounded to his feet, and while on the ground he kicked it into the net. A couple of minutes later Peart passed to Stephenson, who with a fine long shot hit the underside of the crossbar, and again found the net. Soon after Cock returned, and Huddersfield had somewhat the better of the play, but the City defence was sound, for when the backs failed to hold the attack Sutcliffe kept his flag flying. Half-Time Score:- Leeds City 2 goals, Huddersfield Town none.
The course of events in the second half was pretty even, though, if anything, Sutcliffe had more to do than Mutch. During their periods of attack the passing of the Town forwards was often at fault at close quarters, and they neglected Cock too much, probably because they knew he was still suffering from his injury. There was no further scoring, so the final was:- Leeds City 2 goals, Huddersfield Town none.
Teams:
Leeds City: Sutcliffe, goal; Millership and W. Hampson, backs; Lamph, J. Hampson, and McLachlan, half-backs; Hall, Stephenson, Peart, McLeod and Bainbridge, forwards.
Huddersfield Town: Mutch, goal; Wood and Bullock, backs; Linley, J. Baker and Watson, half-backs; Richardson, Slade, Cock, Shields and Mann, forwards.
Referee: Mr J. Howcroft.