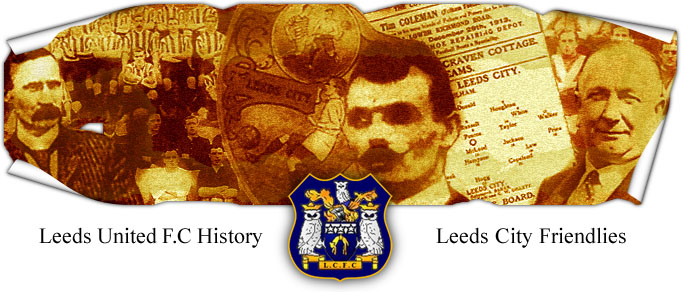 01-02-13: Northampton Town (h) 4-0 (HT 3-0) Crowd (5,000)
| | | | | | |
| --- | --- | --- | --- | --- | --- |
| Leeds City: | | | | | |
| 1. | Hogg, Tony | | | | |
| 2. | Copeland, Charlie | | | | |
| 3. | Affleck, George | | | | |
| 4. | Law, George | | | | |
| 5. | Lintott, Evelyn | | | | |
| 6. | Foley, Mick | | | | |
| 7. | Bainbridge, Simpson | | | | |
| 8. | Robertson, Jimmy | | | | |
| 9. | McLeod, Billy | 1 (4-0) | | | |
| 10. | Speirs, Jim | 1 (5' 1-0) | | | |
| 11. | Fenwick, George | 2 (2-0 3-0) | | | |
| Northampton Town: | | | | | |
| 1. | Thorpe, Tommy | | | | |
| 2. | Clipstone, Fred | | | | |
| 3. | Davies, Lloyd | | | | |
| 4. | Tull, Daniel | | | | |
| 5. | Lessens, Fred | | | | |
| 6. | Tomkins, Eric | | | | |
| 7. | Walden, Fanny | | | | |
| 8. | Freeman, Charlie | | | | |
| 9. | King, Harry | | | | |
| 10. | Lewis, Albert | | | | |
| 11. | Hughes | | | | |
Match Report: Yorkshire Post: 3rd February 1913: Courtesy Steve Bell
LEEDS CITY v. NORTHAMPTON TOWN: "FRIENDLY" GAME AT ELLAND ROAD.
About 5,000 spectators assembled at Elland Road for the "friendly" between Leeds City and Northampton Town, additional interest being lent to the match, by the fact that Walden, who was sought after by Leeds City, turned out with the visitors, and that Fenwick, a new outside-left, made his first appearance with the City. The home eleven scored after five minutes play Speirs getting past Thorpe, after McLeod had paved the way with a neat dribble. Fenwick played a very neat game, and after Tull had been at fault following Speirs' shot, the newcomer beat Thorpe. He added another a few minutes later, for before the goalkeeper, who had fallen full-length in capitally saving Law's long shot, could recover, Fenwick darted up and virtually kicked the ball out of Thorpe's hands into the corner of the net. Meanwhile Walden had been doing tricky work at the other end, which deserved a better fate than that with which it met. Leeds City thus crossed over with a lead of three clear goals. In the second half Leeds took matters very calmly, and the only score came from a header by McLeod, who, after skilfully dribbling the ball half the length of the field, headed in, Bainbridge's shot having struck the cross-bar. Result:- Leeds City 4 goals, Northampton Town none.
Teams:-
Leeds City: Hogg, goal; Copeland and Affleck, backs; Law, Lintott, and Foley, half-backs; Bainbridge, Robertson, McLeod, Speirs, and Fenwick, forwards.
Northampton Town: Thorpe, goal; Clipstone and Davies, backs; Tull, Lessons and Tomkins, half-backs; Walden, Freeman, King, Lewis and Hughes, forwards.
Referee: E. Pullan (Leeds).