<![if !vml]>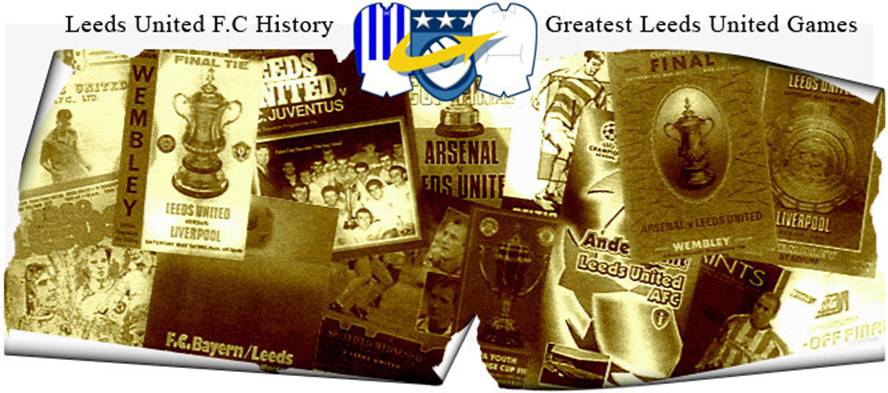 <![endif]>
Date: Wednesday, 22nd November 2000.
Venue: Elland Road, Leeds.
Competition: ECL, 2nd Stage Group D: Match 1.
Score: Leeds United 0 Real Madrid 2.
Scorers: Leeds United: Nil. Real Madrid: Hierro, Raul.
Attendance: 36,794.
Teams:
<![if !vml]>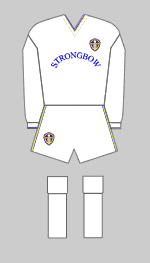 <![endif]><![if !vml]>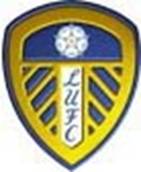 <![endif]>
Leeds United: Robinson; Mills, Woodgate, Radebe, Harte; Kelly, Bowyer, Burns (Wilcox), Matteo; Smith, Viduka. Unused Subs: Huckerby, Jones, Maybury, Molenaar, Evans, Robinson.                           
<![if !vml]>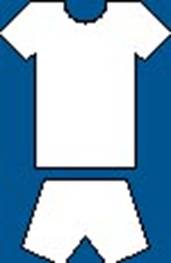 <![endif]><![if !vml]>
<![endif]>
Real Madrid: Casillas; Geremi, Helguera, Hierro, Campo, Carlos; Makelele, McManaman, Guti (Munitis); Figo (Savio), Raul. Unused Subs: Salgado, Morientes, Flavio, Karanka, Cesar.
Referee: Dick Jol (Holland).
The European champions left an indelible mark on Elland Road, their rich tradition evident in an unswerving self-belief and a shimmering class that was a joy to behold. They reveled in the two-thirds possession they enjoyed and left United with something to aspire to as they were going through their European evolutionary process. Although on this occasion they were outclassed, they could reflect on a Jonathan Woodgate shot that shook the woodwork in the very early stages and a Dominic Matteo header that also could have given them the lead but for an instinctive save from Iker Casillas and wonder what might have happened if one or both had gone in. Real, inspired by the exemplary Steve McManaman, tormentor of Leeds on many occasions when with Liverpool, had fired enough warning shots of their own before they delivered two killer blows inside three minutes in the second half. Up to that point United had manfully traded blows, with their £250,000 midfield man Jacob Burns going shoulder to shoulder with £37 million Luis Figo, and achieving a degree of success.
Real were the first to test the water, but when Jonathan Woodgate fouled Geremi out on the left Guti was careless with his shot from Luis Figo's free-kick and shot high over the bar. Leeds were quick to respond, Lee Bowyer flinging over a seventh minute cross and Jonathan Woodgate was desperately unlucky when his shot hit the post with a close-range effort. Luis Figo was yellow-carded after ten minutes for diving exaggeratedly in the box and he was soon followed by Jonathan Woodgate, who did foul the world's most expensive player, a few minutes later. Ian Harte misdirected a free-header from a Lee Bowyer corner and then Steve McManaman had to apologize to Roberto Carlos for not giving him the ball when he was better placed and McManaman had shot well over the bar. Danny Mills scythed down Roberto Carlos as he marauded down the left flank in the twenty-second minute but Luis Figo's free-kick was far too high.
Real were well on top and Steve McManaman gave Luis Figo a first-time chance but Paul Robinson pushed it round the post. Then United replied with a header by Jonathan Woodgate from a Lee Bowyer corner which caused consternation but Fernando Hierro booted it clear. Lucas Radebe's slide-tackle denied Luis Figo, Guti overran the ball and Raul had a shot which hit the post as Real pressed. United did go desperately close when Lee Bowyer found Dominic Matteo on the far post but his header was brilliantly saved by Iker Casillas. Then a show of strength by Jacob Burns brought Leeds forward again and this time Dominic Matteo's cross was just too high for Gary Kelly and Fernando Hierro bundled Mark Viduka over in a dangerous position two minutes before the break and Ian Harte pierced the wall but Iker Casillas was there to save. Just previously Luis Figo had been lucky not to have received a second yellow as he plainly dived when Lucas Radebe clearly won the ball cleanly though at the expense of a corner.
Quickly in the second half Luis Figo gave a chance to Raul whose attempted chip was way off target and a minute later, after a great run by Steve McManaman had played him in, Raul again couldn't get his angles right and shot well wide. Raul was again the culprit as a chip was easily saved by Paul Robinson before Roberto Carlos was way off target with one of his trade-mark long free-kicks. Luis Figo went on a mazy run but there was no one on hand when he got his cross in, then he was back to test Paul Robinson with a low shot, which he saved with his legs at the expense of a corner. It was from that corner in the sixty-sixth minute that Real finally took the lead. A short corner was played to Luis Figo and he took the ball into his stride to cross for skipper Fernando Hierro to rise above everybody and powerfully head the ball home.
Two minutes later and Real doubled their lead. Steve McManaman showed blinding pace and a great touch to bring in Guti whose first time flick gave Raul sufficient time and space to slot the ball past Paul Robinson. Raul was denied a few minutes later by Lucas Radebe's interception and as play went down the other end substitute Jason Wilcox won a free-kick directly in front of goal but Mark Viduka could make nothing of it. At the end of the match former Liverpool teammates Steve McManaman and Dominic Matteo swapped shirts with both of their profiles considerably raised as they were without doubt the best players for their respective teams.
<![if !vml]>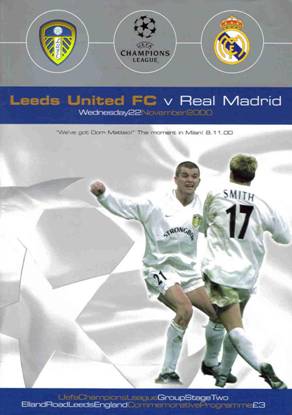 <![endif]> <![if !vml]>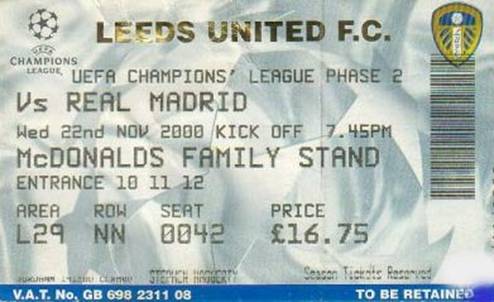 <![endif]>
Match Action:
<![if !vml]>

<![endif]>
<![if !vml]>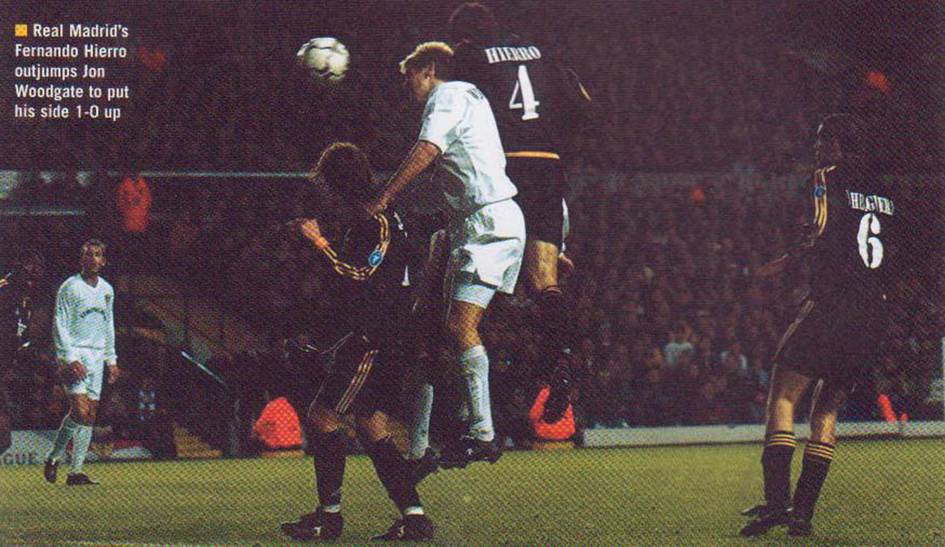 <![endif]>
<![if !vml]>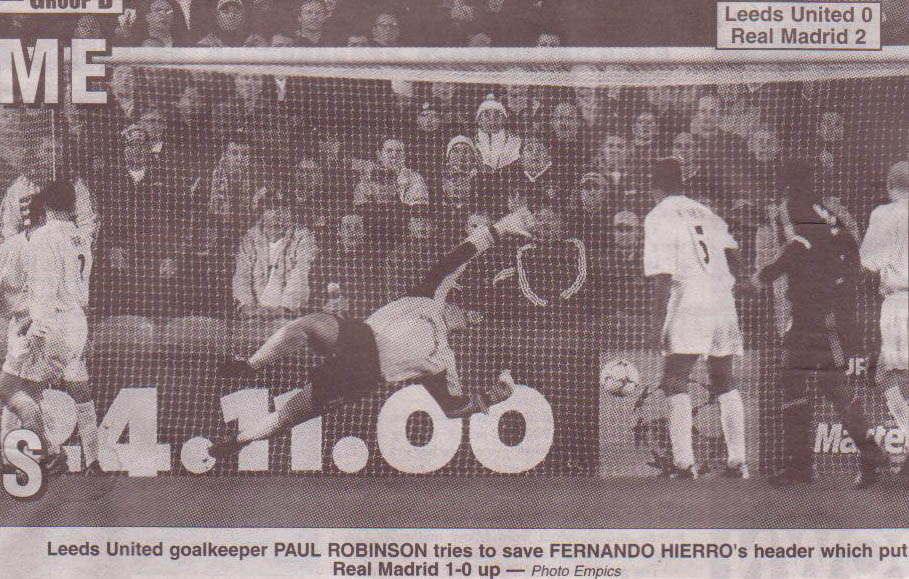 <![endif]>
<![if !vml]>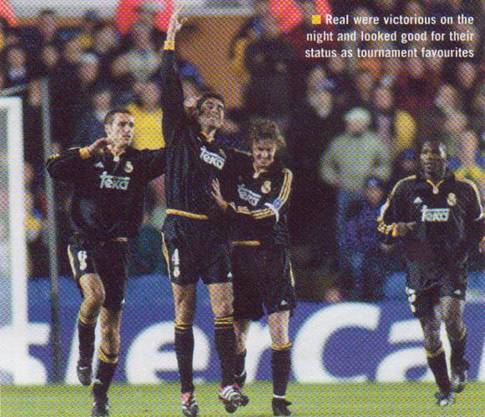 <![endif]> <![if !vml]>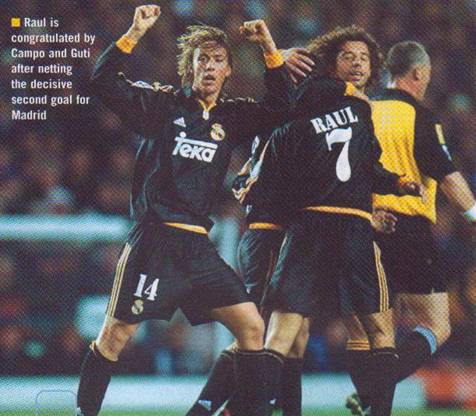 <![endif]> 
<![if !vml]>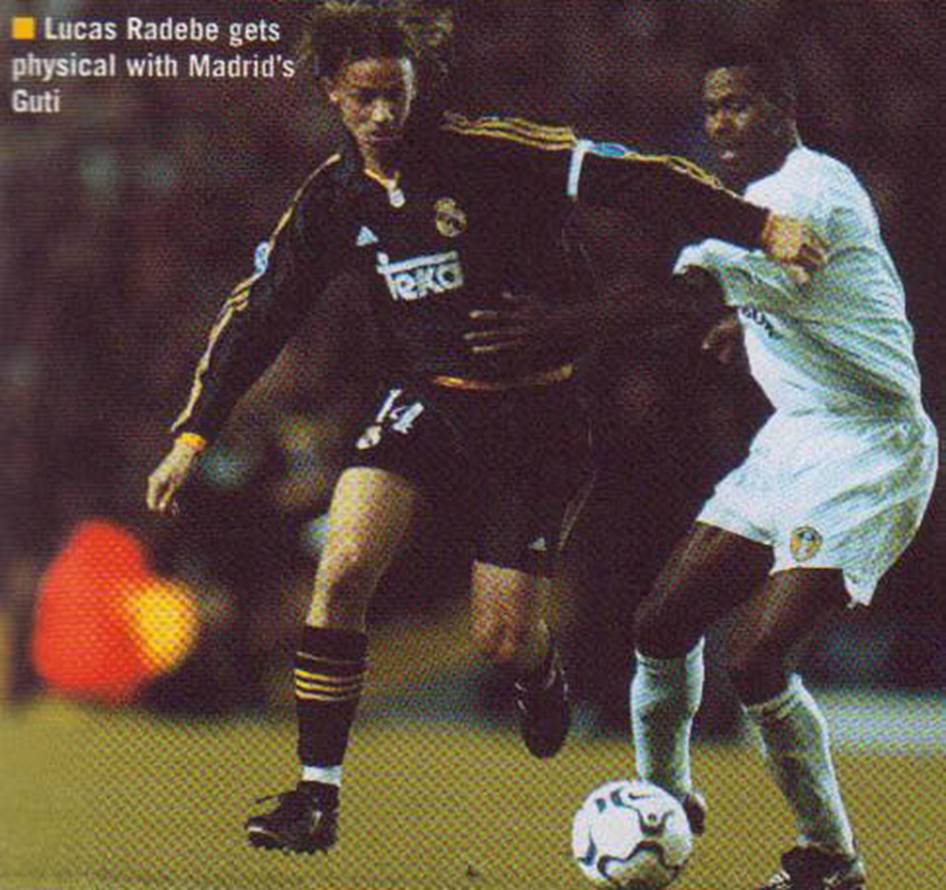 <![endif]>
<![if !vml]>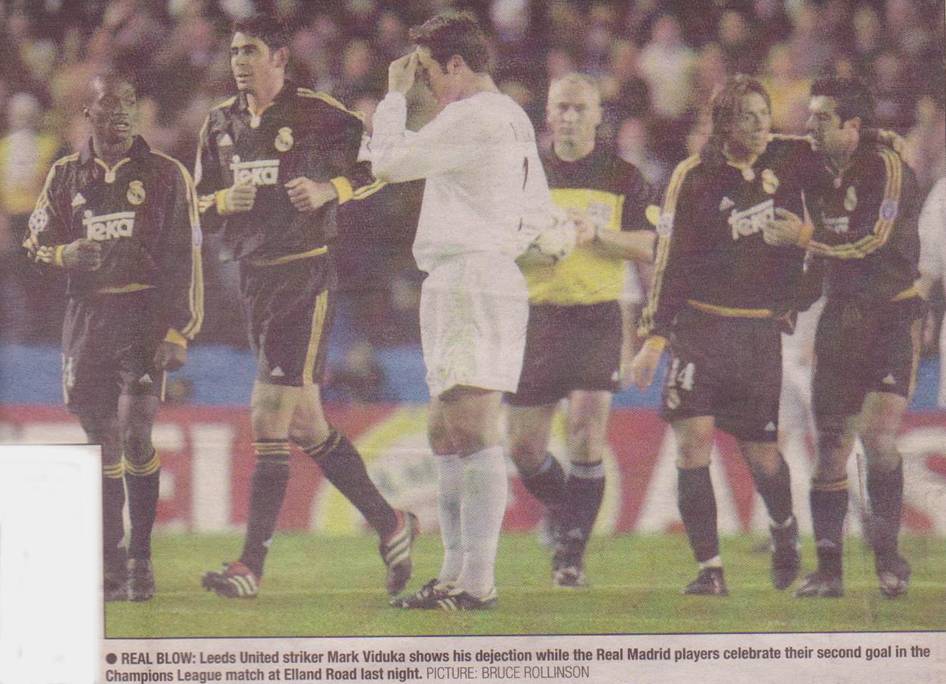 <![endif]> 
<![if !vml]>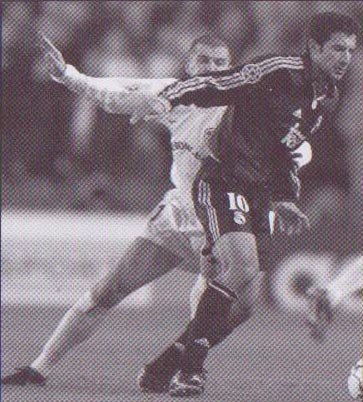 <![endif]>   <![if !vml]>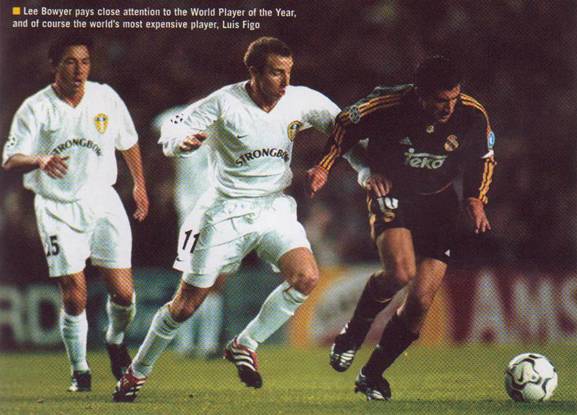 <![endif]>
Dominic Matteo gets to grips with Luis Figo
<![if !vml]>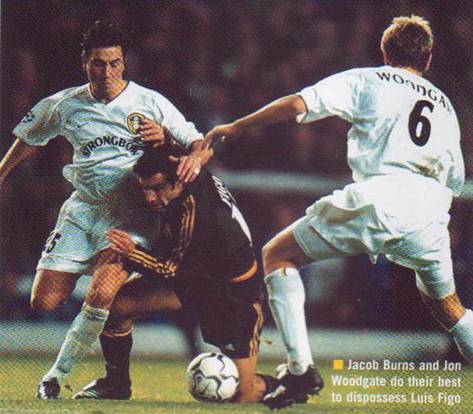 <![endif]>    <![if !vml]>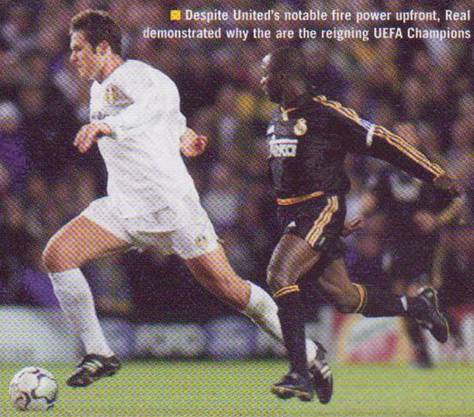 <![endif]>
<![if !vml]>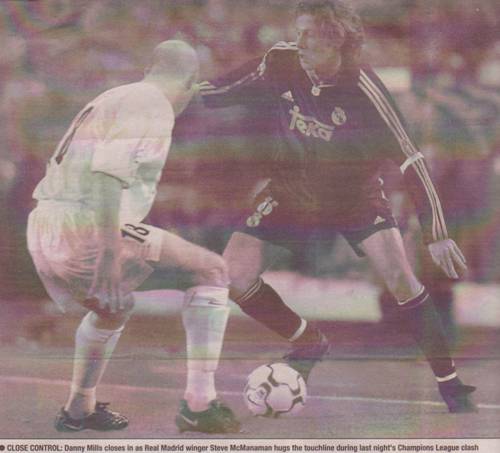 <![endif]> <![if !vml]>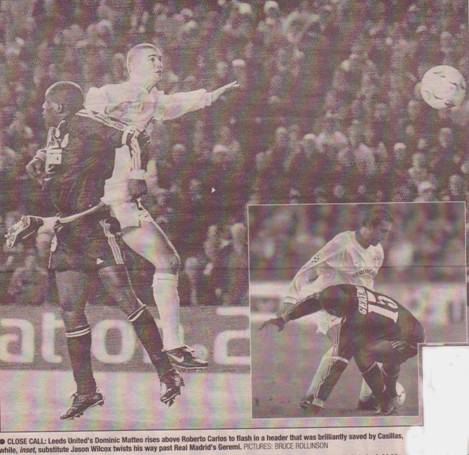 <![endif]>
<![if !vml]>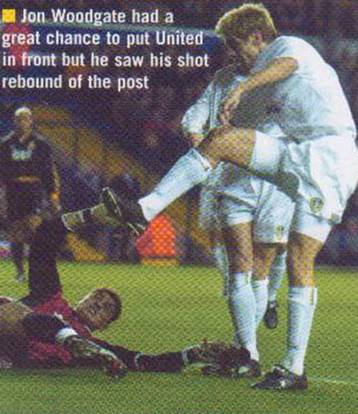 <![endif]>  <![if !vml]>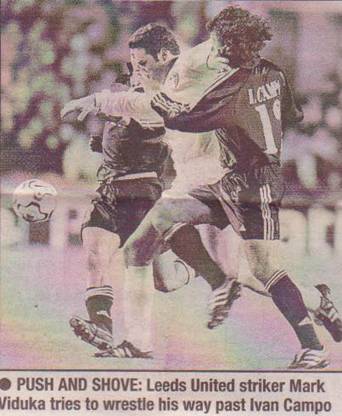 <![endif]>  <![if !vml]>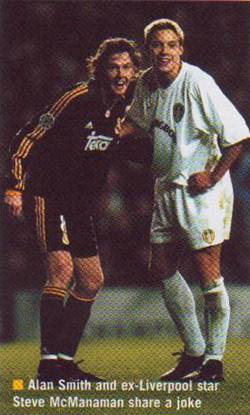 <![endif]>
<![if !vml]>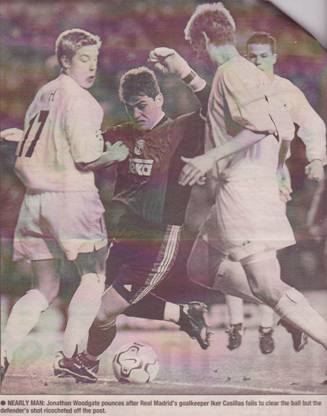 <![endif]>  <![if !vml]>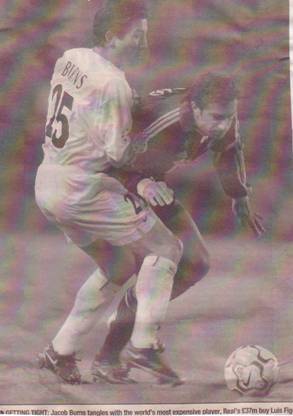 <![endif]>  <![if !vml]>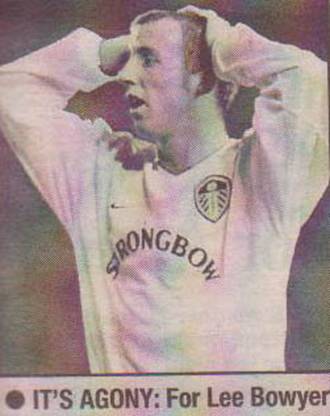 <![endif]>
Players:
<![if !vml]>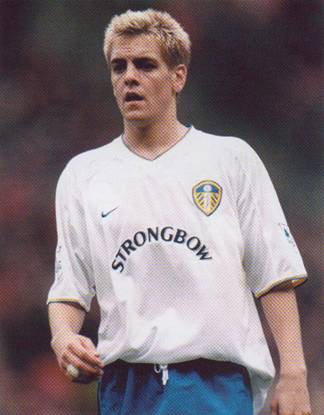 <![endif]> <![if !vml]>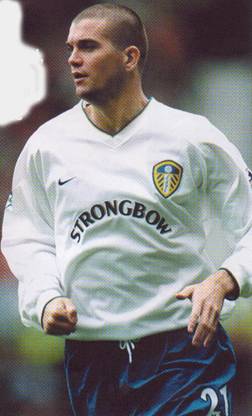 <![endif]>  <![if !vml]>

<![endif]> <![if !vml]>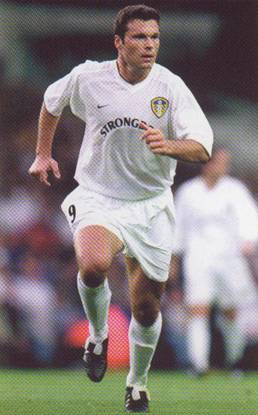 <![endif]>
Jonathan Woodgate hit the post and Dominic Matteo was denied by a great save             Jacob Burns did               Mark Viduka was a handful for
                                                                                                                                                   well against Luis Figo      the Real defence
| | | | |
| --- | --- | --- | --- |
| Ian Harte's freekick was well saved by Casillas | Gary Kelly couldn't convert a Matteo cross | Lee Bowyer took good corners and crosses | Paul Robinson was kept busy |
<![if !vml]>

<![endif]> <![if !vml]>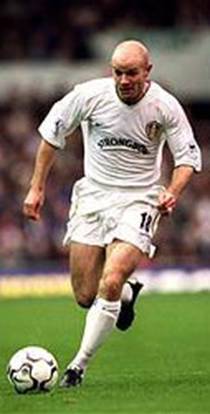 <![endif]> <![if !vml]>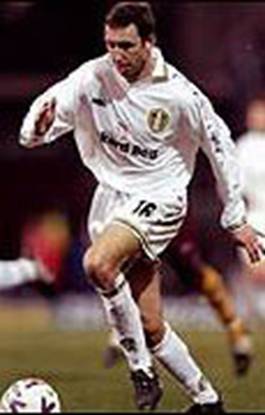 <![endif]> <![if !vml]>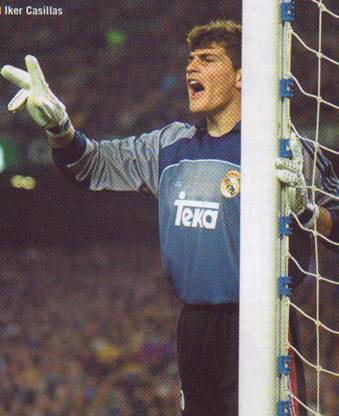 <![endif]>
Lucas Radebe made    Danny Mills was at right back    Jason Wilcox came on as a substitute      Iker Casillas made several fine saves in the
telling tackles and                                                                                                                                  Real goal
interceptions
<![if !vml]>
<![endif]> <![if !vml]>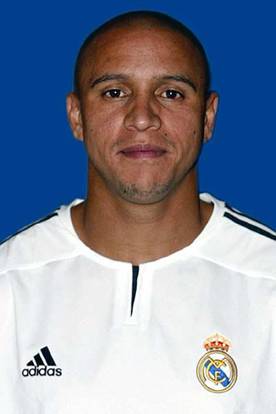 <![endif]>     <![if !vml]>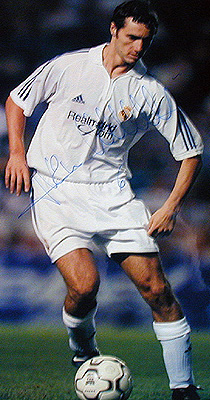 <![endif]>  <![if !vml]>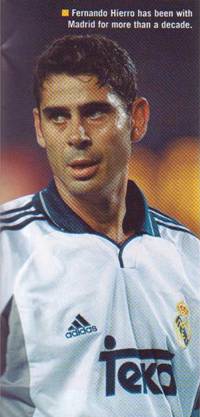 <![endif]>
Geremi and Carlos Alberto were the Real Full-backs                            Ivan Helguera and first goalscorer, Fernando Hierro, were the centre backs
<![if !vml]>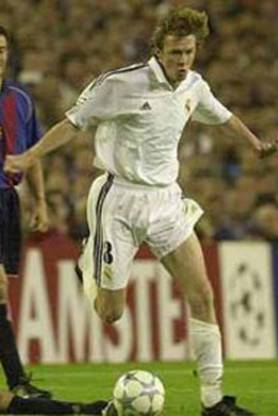 <![endif]>  <![if !vml]>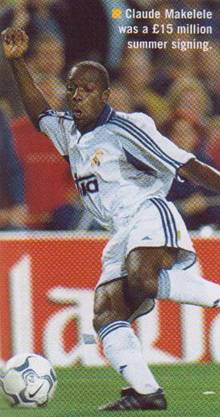 <![endif]>  <![if !vml]>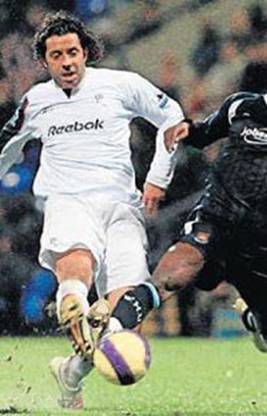 <![endif]>  <![if !vml]>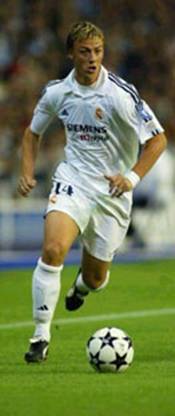 <![endif]>
                          Steve McManaman, Claude Makele, Ivan Campo and Guti formed the Real Madrid midfield
| | |
| --- | --- |
| Luis Figo and scorer of second goal, Raul, were the Real strikers | Michel Salgado and Flavio Conceicao were two of theunused substitutes |
<![if !vml]>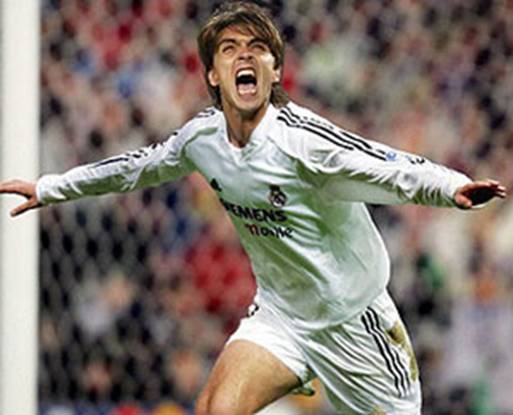 <![endif]> <![if !vml]>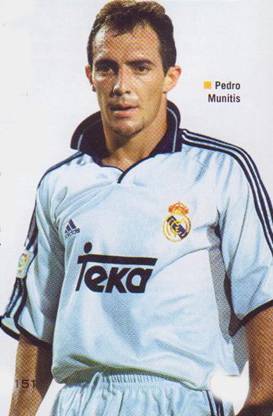 <![endif]>              
Savio and Pedro Munitis Alverez came on as substitutes