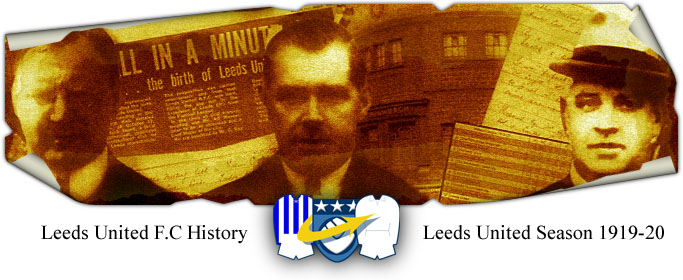 13-03-20: Rotherham County Reserves (h) 3-3 : Midland League : 21/34
Shirt No.
Player Name
Goals Scored

Leeds United:

1.

Round, Elijah

2.

Waddington, Norman

3.

Jagger, H.

4.

Tillotson, Joe

5.

Hart, Ernest Arthur (Ernie)

6.

Rodgers, E.

2 (16' 2-0, 90' pen 3-3)

7.

Mason, George

8.

Ellson, Merton Frederick (Matt)

9.

Birtles, Thomas James (Tom)

10.

Fawcett, William Fraser

11.

Bedford, J.

1 (10' 1-0)

Rotherham County Reserves:

1.

Sutcliffe, Charles Spencer

2.

Unknown

3.

Unknown

4.

Unknown

5.

Unknown

6.

Harrison, Eugene

2 (36' 2-1, ?' 2-2)

7.

Cawley, Tom

8.

Wallace

1 (?' 2-3)

9.

Unknown

10.

Unknown

11.

Lee, Frank
Match Report: Sheffield Star Green-Un: 13th March 1920:
LEEDS UNITED v ROTHERHAM COUNTY RESERVES
LEEDS UNITED v ROTHERHAM COUNTY RESERVES
There would be about 6,000 spectators when the game commenced. Opening play was very fast, both sides attacking in turn, but without success. Leeds who adapted themselves to the heavy state of the ground better than did County, took advantage of the opportunities presented to them. It was following faulty play on the part of the County half backs that Hart made a fine opening for Bedford, who, after twitting the Rotherham backs, sent in a powerful shot which easily beat Sutcliffe. Then followed two unsuccessful by the County, and Leeds made a capital movement, in which plenty of excellent passing was displayed. The Leeds forwards ably led by Birtles, easily outpaced the Rotherham defenders, and in the end the ball went to Rodgers, who scored the second goal. It was after this that the County forced the United to play defensively for several minutes. They forced an abortive corner and although Wallace and Cawley had good chances, they shot wide. Considering the the heavy state of the ground, play was fast and exciting, and although Leeds attacked far more frequently than their opponents, the County backs tackled and spoilt more than one promising effort. After several minutes of midfield play, Rotherham took advantage of a faulty pass by Tillotson, but Lee, after a speedy run, sent wide. A moment after the County had made a vigorous attack on the United goal, which resulted in E. Harrison scoring. Near the interval Leeds forced a couple of corners, which came tonothing, and a free-kick enabled County to attack on the left, but Waddington cleared by sending the ball out of play. In the second half, Rodgers scored again for Leeds in the dying minutes after a goalm from Harrison had given a temporary lead to County.
Half-time score :-
Leeds United 2 goals Rotherham County Reserves 2 goals
RESULT:- LEEDS UNITED 3 goals ROTHERHAM COUNTY RESERVES 3 goals