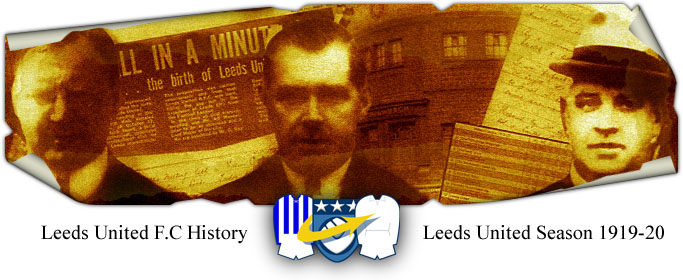 Leeds United Season 1919-20:
After the demise of Leeds City, a new club was formed and called Leeds United.
The club applied for membership of the Midland League and this section gives as much details as possible of the Directors, Committee and staff in that initial season of the new club. It gives as full a version of the match details of each game and in some cases it gives the Leeds teamsheet for the games in the Midland League. The Friendly games in that season may be found in the Friendlies Section.
The section has been divided into several parts. Games, Table, some teamsheets and limited player details.
I would like to thank Paul Gregson for his excellent graphics and Mark Ledgard, who initiated the original idea. Mark has been a fountain of information for team and match details, while Neil Roche added his own knowledge, which was essential to the finished product.
If anyone has any contributions, requests, suggestions or corrections please contact me on HistoryofLeedsUnited@hotmail.com
Leeds United 1919-20 Midland League Games Details
Leeds United 1919-20 Midland League Table
Leeds United 1919-20 Midland League Teamsheets
Leeds United 1919-20 Midland League Player Details