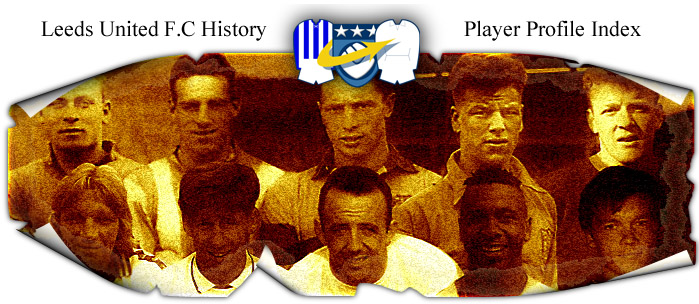 The Players' Profiles cover all Players who have taken part in any recognised competitive game for Leeds United or were an unused substitute in those games. It also includes a few Juniors or Reserve Players who never made the grade to the top competitive level with United but in some cases went on to represent their countries after leaving Leeds. There are also every "Wartime Guests".
The Player Profiles are comprehensive and include references to "The Greatest 100 Leeds Players Ever" and also the team selected from that source and wherever possible an action photograph or portrait of each player has been included.
I would like to thank several players and their relatives and friends for their kind assistance and also Paul Gregson for his excellent graphics. If anyone would like to make their own additional contributions to the profiles or add any photographs I will include them with due acknowledgement to the persons concerned.
If anyone has any contributions, requests, suggestions or corrections please contact me on HistoryofLeedsUnited@hotmail.com