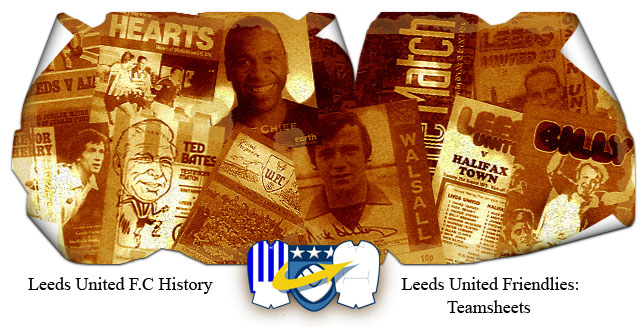 24-04-39: Doncaster Rovers (a) 2-0 (HT 1-0) Crowd (4,000)
| | | | | | |
| --- | --- | --- | --- | --- | --- |
| Leeds United: | | | | | |
| 1. | Twomey, Jim | | | | |
| 2. | Scaife, George | | | | |
| 3. | Goldberg, Les | | | | |
| 4. | Makinson, James | | | | |
| 5. | Holley, Tom | | | | |
| 6. | Browne, Bobby | | | | |
| 7. | Henry, Gerry | | | | |
| 8. | Powell, Aubrey | 1 (2-0) | | | |
| 9. | Hodgson, Gordon | 1 (1-0) | | | |
| 10. | Stephenson, Eric | | | | |
| 11. | Hargreaves, Jack | | | | |
| Doncaster Rovers: | | | | | |
| 1. | Imrie, Jim | | | | |
| 2. | Unknown | | | | |
| 3. | Unknown | | | | |
| 4. | Unknown | | | | |
| 5. | Bycroft, Syd | | | | |
| 6. | Unknown | | | | |
| 7. | Kirkaldie, Jack | | | | |
| 8. | Killourhy, Mick | | | | |
| 9. | Perry, Eddie | | | | |
| 10. | Malam, Albert | | | | |
| 11. | Leyfield, Charlie | | | | |
Player Profile: James J. Imrie
Born: Markinch, Fife, Scotland; he joined Dunbeath Star and then moved south to Kettering Town. He joined Crystal Palace in March 1929, staying two years and making thirty-five League appearances before bein transferred to Luton Town in August 1931, where he became the Hatters' regular keeper making sixty-three League appearances in his two seasons there. His next move was to Doncaster Rovers where he went on to make one hundred and twenty-six appearances before his final appearance at the end of the 1938-39 season.
Match Report: Yorkshire Post 25th April 1939
UNITED WIN AT DONCASTER
Imrie Shines in His Benefit Game
Leeds United defeated Doncaster Rovers by 2 goals to 0 at Belle Vue, last night in a match for the benefit of James Imrie, the Rovers goalkeeper, now in his sixth season with the club, and it was also arranged that it should rank for points to the Yorkshire Mid-Week League. There were over 4,000 spectators United, with a First Division side, being a popular attraction. The teams gave an entertaining exhibition of class football, though it would be difficult to say, that either side took the game seriously. It was noticeable that Doncaster did not go in go into tackles with the keenness shown in Northern Section football and United too did not exert themselves over much. The spectators enjoyed watching the craft of the First Division side, and in many ways it was matched by the smartness of the Third Division team, who are having a good season. There were many incidents of note in the first half, fine shots by Henry from the Leeds right, and by Perry and Leyfield for Doncaster, being features. Hodgson had many tussles with Bycroft, Doncaster's big centre half, but he got through to give United an interval lead. The second half was more in Doncaster's favour, though Powell scored for United. Great work was done by the Rovers new right winger from West Ham, Kirkaldie. There was some good shooting this half and it was approppriate that Imrie in his benefit match played splendidly. Holley generally had the measure of Perry, the Rovers' centre forward but Leyfield and Malam on the left, and Killourhy and Kirkaldie, on the right, combined so well that Makinson and Browne were often beaten.