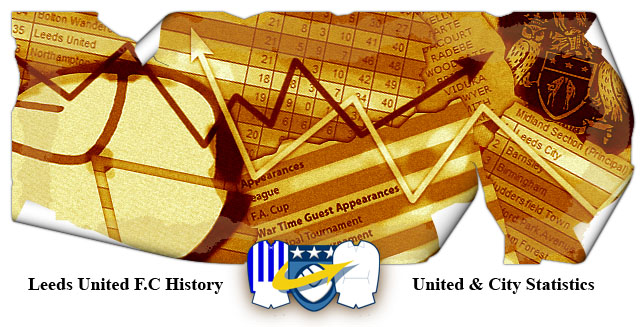 Leeds United and Leeds City Statistics:
This statistics section is designed to give an indepth look into the full match details of both Leeds United and Leeds City. It gives full match details of all Competions recognised by the Football League, European Competition and Wartime fixtures and details of the Leeds teams which took part in those games.
The Players' statistics covers all Players who have taken part in those recognised competitive game for Leeds United/City and substitute appearances will be identified as such. At present there is restricted record of unused substitutes in the infancy of the substitution system, but they will be included as they become available. The details will supplement the existing Player Profiles.
I would like to thank Paul Gregson for his excellent graphics and WAFLL and Dave Tomlinson of The Mighty Mighty Whites for their assistance in the project.
I would also like to make special mention to Mark Ledgard and Alan Hepworth. Mark has been a fountain of information for match reports and team and match details, while Alan has contributed much in the checking of the detail, which was essential to the finished product. The tracing of substitutes was a monumental task and after a lot of hard work by all concerned, the work in tracing the final unused substitutes was only achieved by some fantastic research by Neil Roche and ultimately Andrew Dalton
The project is now complete to 2015-16 and if anyone has any contributions, requests, suggestions or corrections please contact me on HistoryofLeedsUnited@hotmail.com
Leeds City Season Details
Leeds City Teamsheet Details
Leeds City Player Details
Leeds United Season Details
Leeds United Teamsheet Details
Leeds United Player Details