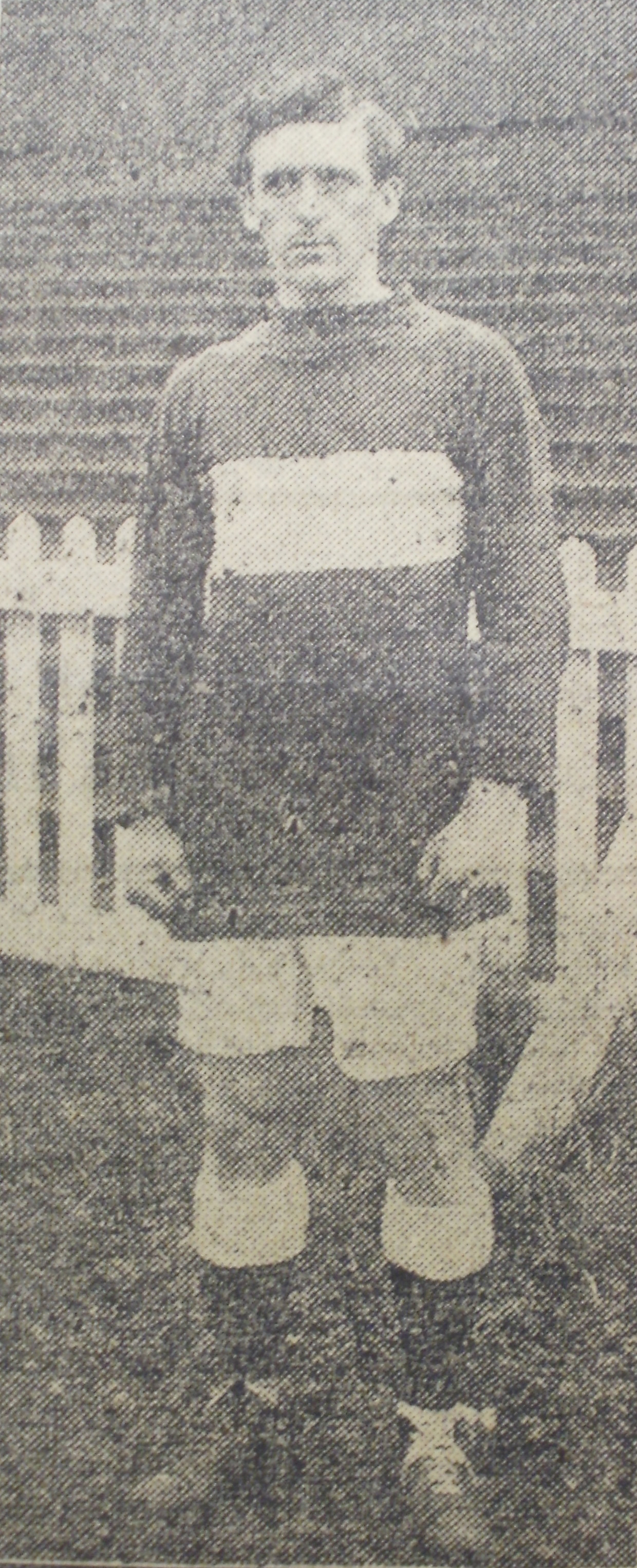 (Courtesy Neil Roche)

Goodwin: Ernest William (Ernie)

1914-1919 (Leeds City Player Details) (Leeds City War-time Guest Player Details)

Outside Left

Born: Chester-le-Street: 20-07-1894

Debut: v Blackpool (h): 19-09-1914

5'7" 10st 5lb (1914)

His first club was Spennymoor United and it was from there that Herbert Chapman signed him in May 1914. United were well served on the flanks and although Fred Croot had given way to Ivan Sharpe, he still could be counted on to turn on a good game on the left flank. They had, in Sharpe and Simpson Bainbridge, two wingers capable of playing on either flank and with Ernie Goodwin being equally adept; there was plenty of choice for the two wing spots. After scoring from the spot on debut, Goodwin played his first nine games on the left and the next ten on the right as he, Ivan Sharpe and Simon Bainbridge occupied the two wing spots almost exclusively. However, with the outbreak of the war Goodwin remained on City's books but rarely played for them, playing for Spennymoor United on occasions. He was again on the mark on 3rd October 1914 in a 2-2 home draw with Arsenal and took his tally to three for the season when he netted the fourth goal in a 5-2 away win at Grimsby Town on 6th March 1915 to bring his goals to three for the 1914-15, scored from nineteen appearances in that season. He scored three goals in the War-Time games the first coming in four appearances in 1915-16 as he was again on the mark from the spot in a 1-4 away defeat at Sheffield United on 29th January 1916. He scored his first goal in his first game in the 1917-18 in a 6-0 home win over Rotherham County on 6th October 1917 and added to this in a 4-0 home win over Leicester Fosse on 26th January 1918 as he scored twice in seven appearances as Leeds finished top of the ladder in the Midland Section of the War-time League and took part in the play-off with Stoke, who had topped the Southern Section. Goodwin played in both games of the play off as Leeds won their home game 2-0 and took the championship as they kept Stoke to one goal in the away leg. He was still with City when they were forced out of the Football League and He did not play further games for City until they played in their final game against Wolverhampton Wanderers at Molineux on 4th October 1919. He was one of the players to be auctioned at the Metropole Hotel. He joined First Division Manchester City for £250 and got off to a flying start scoring on debut and, although not a regular, he scored three goals in twenty games in his two seasons there. He left Maine Road for Third Division North Rochdale in May 1921 but did not feature in the first team.
| | |
| --- | --- |
| League 20 | 3 |
| | |
| War-time Guest Appearances: | |
| Principal Tournament 11 | 3 |
| Subsidiary Tournament 0 | 0 |
| Play-off Finals 2 | 0 |
| Total 13 | 3 |