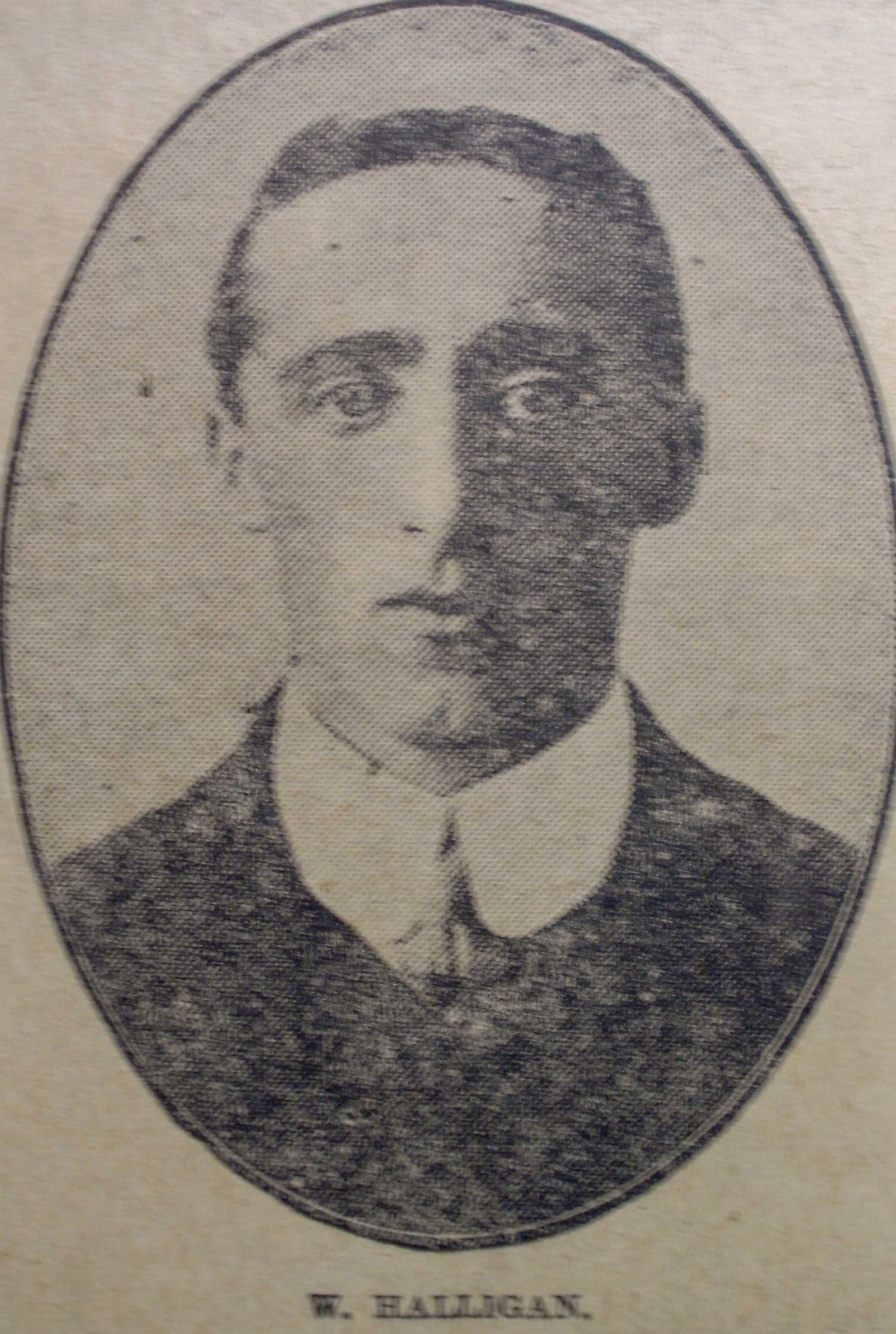 (Courtesy Neil Roche)

Halligan: William (Billy)

1909-1910 (Leeds City Player Details)

Centre Forward

Born: Athlone, County Westmeath, Ireland: 18-02-1886

Debut: v Lincoln City (h): 01-09-1909

5'10" 12st 0lb (1909)

Born in Athone, in County Westmeath, Ireland, Halligan began his football career with Old St Mary's in Dublin in 1905. After joining Irish amateur club Cliftonville, he first came to prominence playing for a Leinster province junior selection against Ulster juniors in 1906. He then switched to Belfast Celtic in July 1907 and then moved to Lisburn Distillery in 1908. During the one season he spent with Distillery, he was selected to play for the Irish League against the Scottish League at Grosvenor Park, Belfast on 10th February 1909, which saw the Scots win 2-1, and it was this game that alerted the Scouts from English clubs and in particular, Frank Scott-Walford of Leeds City, to his potential. In May 1909, the City manager successfully persuaded Halligan to sign for Second Division Leeds, along with his club colleague Tom Mulholland. He became one of many Irish players to be signed by Frank Scott-Walford, the Manager of Leeds City and he was certainly one of the most successful of them. In the absence of the prolific Billy McLeod, he went straight into the Leeds first team, taking the centre-forward spot, together with fellow Irish debutant Tom Mulholland at inside right, for their opening fixture against Lincoln City at Elland Road on 1st September 1909 and Halligan, and Jimmy Gemmell both registered a brace and Centre Half Tom Morris added the fifth as City stormed to a 5-0 win. He did not stop there with his goalscoring he also found the net in the next two fixtures as Leeds struggled to a 1-3 defeat three days later in a Anlaby Road against Hull City. A week later, on 11th September 1909, he moved to inside right in place of Tom Mulholland to accomodate the return of Billy McLeod, as Fred Croot opened the Leeds scoring, before Halligan got a second half winner in a 2-1 home win over Derby County. Curiously he was to move to both of those City opponents in the near future. He was soon on the target once more with a brace in a 2-1 away win at Birmingham on 2nd October 1908. He certainly gave City good service, adding three goals to his tally in quick succession and at that point he had scored nine of the fourteen goal that City could muster after eleven games. He played, all but one of, the first twenty-five games and was the City leading scorer with eleven of the thirty they had scored when he played his final game for City. City were always in financial troubles and they could not refuse the offer of £400 that Second Division Derby County laid before them in February 1910. He had scored eleven goals in just twenty-four League games. He also played one F.A. Cup tie without scoring. He had moved to Inside Left so that Leeds could accommodate the free-scoring Billy McLeod at Centre Forward and he turned down the chance to possibly represent his country at the Solitude Ground, Cliftonville, in Belfast against England, after being called up into the squad, as a reserve in place of James Murphy, who had been called into the starting team as a late replacement for the injured Charlie O'Hagan of Aberdeen. He chose instead to play his final game for Leeds on that day, 12th February 1910 at Inside Left in a 2-1 home win over Birmingham. While Leeds City were struggling both financially and on the playing pitch, in joining Derby County Halligan joined a club who were challenging very strongly for promotion into the top flight. He made his debut for the Rams on 26th February 1910 in a 6-0 defeat by Leicester Fosse at Filbert Street, he did not get off to the dream start that was so helpful in establishing credentials at Elland Road and had to wait until his fifth game to open his goal account on 19th March 1910 with Derby's second goal in a 2-1 home win against Blackpool. He had, however, been playing in the inside forwards with Alfred Bentley in the striking role. His goal was the only goal of the game to give the Rams two points at home to Stockport County on 9th April 1910 and on 23rd April 1910 he netted his and the Rams third goal in a 3-1 win at the Baseball Ground against Birmingham. However, his three goals in fourteen League appearances that season could only ensure a fourth place finish, in an extremely tight promotion race, between Derby County and two other of his future employers in Oldham Athletic and Hull City as well as Manchester City. With the latter finishing in top spot on fifty-four points and the other three locked on fifty-three points. Goal average decided it. With Oldham Athletic taking the second place and promotion with Manchester City into Division One, with Hull City taking third place as a consolation and Derby County in fourth place, nine points ahead of Leicester Fosse, who were fifth. His goal average picked up strongly in his second season and he had scored five times in just eight games. He scored twice to give Derby a point when he scored twice in his second game in a 2-2 draw at Glossop on 24th September 1910, and he then got one in his fourth appearance in a 2-3 defeat at home by Hull City on 29th October 1910. His third of the season came in his fifth game with the vital second goal in an important 2-0 win at the Baseball Ground on 27th December against fellow promotion contenders, Wolverhampton Wanderers. His next game, on 8th February 1911 was again the second in a 2-0 win this time at the expense of Lincoln City at Sincil Bank. He did not find the net in his final two appearances and he played his final game for Derby at Bolton Wanderers at Burnden Park on 22nd April 1911. His good form was rewarded by his first cap for Northern Ireland, making his debut on 28th January 1911 and scoring his first international goal in a 2-1 defeat by Wales at Windsor Park, Belfast. However, his career at the Baseball Ground never really took off and, after scoring eight goals in twenty-two appearances, and after Derby County had stumbled into sixth place, eleven points adrift from the Champions, West Bromwich Albion, he was again on the move to this time to Molineux, when joined Wolverhampton Wanderers for £450 in June 1911. His stay at Molineux was one of his most consistent and productive periods of his career and he scored thirty-four goals in sixty-seven League games and a further seven goals in six F.A. Cup ties and top-scored in both the two seasons with Wolverhampton, but he also developed his craft as a creator of goals. Halligan scored nineteen goals in thirty-five League appearances matches in 1911-12, including three hat- tricks, and netted six times in another five appearances in the F.A. Cup. His first goal for Wolves came on 30th September 1911 in a 3-0 away win at Bristol City and the hat-tricks were accomplished firstly on 4th November 1911 in an 8-0 demolition of Hull City at Molineux. A 10-0 F. A. Cup Third Round Replay annihilation of Watford was the second and the third was on 16th March 1912 in a 5-0 home win over Barnsley. His final game for Wolves came on 12th April 1913 at Turf Moor, where Burnley scored a 4-2 win. He gained his second and final cap while at Molineux when he was at centre-forward in the Ireland team at Dalymount Park, Phibsborough, North Dublin, that was hammered by England to the tune of 1-6 on 10th February 1912. The Times commented on the game as: "England beat Ireland at Dublin on Saturday by six goals to one. Ireland played up pluckily, but England were the better side at all points". While the Observer said " The game was played under excellent conditions before about 15,000 people. Ireland had the misfortune to lose Thompson, who was injured early in the second half, and they were completely outplayed to the finish. The Irish backs could not withstand the dashing attacks of the English front line, in which Fleming played a brilliant game throughout." While Peter Waring gave further comment noting the Irish goalscorer as Mickey Hamill. He also named the Irish team as being: Billy Scott, Sam Burnison, Paddy McCann, Val Harris, Pat O'Connell, Harry Hampton, Billy Lacey, Mickey Hamill, Billy Halligan, James Macauley, Frank Thompson. before giving his match report " After a couple of very mediocre years, England began the 1912 Championship in fine style. Ireland were plucky (as usual), but England on this occasion outplayed them in every area of the pitch, and enjoyed an easy win. It was England's biggest championship win for four years. The star man was Fleming, who had not always impressed in his England career thus far, scored his only international hat-trick. His second goal was crucial, restoring England's two goal cushion before half-time, just minutes after Ireland had got themselves back in to the game. His England career would end with the more than respectable figures of nine goals in eleven matches. He is a Swindon Town legend, having a road leading to their stadium named after him, as well as a statue in the foyer. He remains the club's only England international. After three first-half goals, England notched another three after the break, to complete a thoroughly satisfactory afternoon." In his first season with the club, he played thirty-five matches and scored nineteen goals as the side finished fifth in the Second Division. His goals drove the club to a fifth place finish in Division Two, twelve points behind his former club, Derby County. The Rams were in top spot and crowned champions, followed by Chelsea, who also acheived fifty-four ponts and promotion to Division One. In 1912-13, his second campaign with Wolves, Halligan managed to net fifteen goals in thirty League appearances and did not score in one F.A. Cup tie. Wolverhampton had finished a disappointing tenth with thirty-eight points in 1912-13 as they trailed Champions, Preston North End by fifteen and Runners-up Burnley by a dozen. Prior to the start of the 1913–14 season, Wolverhampton accepted a bid of £600 from fellow Second Division outfit Hull City and he joined them in May 1913. In his two pre-war seasons with the Tigers, Halligan rewarded them with twenty-eight goals in sixty-five League games but failed to score in seven F.A. Cup appearances in another two more seasons of consistent goalscoring until Halligan's career was interupted by the outbreak of the First World War. In the 1913-14 season the Tigers started strongly but fell away badly losing ten and winning ony four of the last seventeen and so finished only seventh with forty-one points trailing Champions Notts County by twelve points and the runners-up, Bradford Park Avenue by eight. There was a massive contribution from Halligan, who was the second top scorer to Sammy Stevens in both seasons, and unsurprisingly he saved his biggest contribution for the encounter with his most recent employers on 6th December 1913 when he scored four of goals that saw Hull City take revenge for their 4th November 1912 8-0 humiliation, in a 7-1 home win for the Tigers. In the 1913-14 season he scored eleven goals in twenty-eight League appearances and also played two F.A. Cup ties without scoring, while the 1914-15 season was no real improvement as Hull again finished seventh this time ten points behind Champions Derby County and seven adrift from the runners-up, Preston North End and Halligan scored seventeen goals in thirty-seven League appearances and played five F.A. Cup ties without scoring. He remained technically a Hull City player throughout the period of the First World War as he stayed with the Tigers until September 1919 and while Anlaby Road hosted War-time games the players were restricted by their situation regarding their War-time availability, depending whether they were abroad or stationed in England and if the latter was the case, then they could guest for a team local to their barracks. If working in a protected industry they could guest for a club close to the place of work. In Halligan's case he played the first season of 1915-16 as a guest of Manchester United and at other teams he was know to have guested for Hull City, Chesterfield, Stockport County and Rochdale. On 27th December 1915, a charity football match was held at the Molineux Grounds, in aid of the General Hospital, the Express & Star Tobacco Fund, the Express & Star and Mr J. B. Dumbell's Soldiers and Prisoners Comforts Fund, and the Mayor's War Charities Fund. The match was held between A. Bishop's XI (captained by Wolves' Wing Half Albert Bishop) and A. Groves's XI (captained by Wolves' Centre Half Albert Groves). The majority of the former team were in the Wolves squad 1914-15, whereas the Groves XI was made up of professional players from other clubs (apart from Groves himself). The teams were as follows: A. Bishop's XI: Peers; Garratly; Collins; Price; Hunt; Bishop; Harrison; Dunn; Curtis; Needham; and Richards. A. Groves's XI: Moorwood (Albion); J. Smith (Albion); T. Lyons (Aston Villa); Waterhouse (Albion); Groves (Wolves); McNeal (Albion); Garbutt (Stourbridge); Crossley (Sunderland); Stevens (Hull City); Halligan (Manchester United); and Wootton (Walsall). One of the Groves players (Whittingham of Stoke) was unable to play, due to missing his train, so he was replaced by Garbutt of Stourbridge. The match was refereed by Councillor A. Oakley. Prior to the game, a group of Scouts procession through the centre of town, collecting money for the benefit of prisoners of war, and there was a further collection for the same cause at Half Time. In front of a crowd of 15,000, the Bishop's XI won 3-1, and the match raised £469 1s. 2d. for the respective charities. Halligan spent most of the 1915-16 War-time League as a guest for Manchester United and on 22nd April 1916 he played for them in the Lancashire section of the war-time League at Anfield against Liverpool in which Liverpool won 7-1.The Liverpool echo reported the game as follows: "April 22, 1916: Match: Lancashire Section: Supplementary tournament: Southern Division, at Anfield, kick-off: 15:30. Liverpool – Manchester United 7-1 (2-1). Attendance: 18,000. Referee: Mr. J.L. Turner; linesmen: Messrs.: A. Roberts and A.E. Fogg. Liverpool (2-3-5): Kenneth Campbell, Ephraim Longworth, James Middlehurst, John Bamber, Walter Wadsworth, Donald Mackinlay, Ernest Pinkney, Wilfred Watson, Fred Pagnam, William Banks, Tommy Cunliffe. Manchester United (2-3-5): William Wright, Cyril Barlow, Edward Hudson, Thomas Forster, Frank Knowles, Tommy Gipps, Aaron Travis, Wilf Woodcock, Crossley, Billy Halligan, Winterburn. The goals: 1-0 Watson (11 min.), 2-0 Pagnam (19 min.), 2-1 Woodcock (40 min.), 3-1 Pagnam (49 min.), 4-1 Watson (68 min.), 5-1 Pinkney (77 min.), 6-1 Pagnam (85 min.), 7-1 Bamber (88 min.). One couldn't declare that Kenneth Campbell and Wright were really busy men. True Wright had to pick the ball from the net a number of times, and he courted that task by wretchedly inept attempts at clearing. No, it was a day when Liverpool's luck was in. I do not desire to discredit any members of the side – the all played a fresh, robust style of game, and deserved to win well, if not handsomely. They had nothing to beat, however, and the United's goalkeeper was so weak that three of the goals put against him were scored either by men who were lying on the ground or else were falling to the ground as they were in the act of shooting. United's backs have stood the struggle of the season very well, but one at least (Hudson) was bad in his timing of the ball in vital, close-in melees. With the United forwards ragged and unable to show schoolboy ideas of shooting, it was not surprising that the visitors' full backs became exhausted. The half backs were weak in initiation, and confined themselves to attempted break-up tactics. Woodcock scored one nice goal, Crossley missed from two yards distance, and Halligan and Woodcock never came within yards of the form they have shown in matches I have witnessed.Manchester United have contracted an unfortunate habit when meeting Liverton clubs. They finish their games with ten men almost regularly. Hofton was one case years gone by, and in this season's games there have been further examples, notably at Everton recently, when Halligan retired before half-time, and again on Saturday, when goalkeeper Wright left through a rather bad injury, sustained through a collision with Watson. The majority of the goals had been scored were Wright left, as will be witnessed by the following record of the day's doings: – Watson scored for Liverpool – 11 minutes.Pagnam scored for Liverpool – 19 minutes. Woodcock scored for United – 40 minutes. Pagnam scored for Liverpool – 49 minutes. Watson scored for Liverpool – 68 minutes. Pinkney scored for Liverpool – 77 minutes.Wright retired, Hudson taking his place. Pagnam scored for Liverpool – 85 minutes.Wadsworth scored for Liverpool – 88 minutes. Without looking through the books, I should say that it is an age since Liverpool scored seven goals in a League match. Was it not the vile, wet day years gone by that Liverpool beat Manchester United 7-4 – an evening match you will remember? Certainly the Anfield visitors have had plenty of goals for their money this Eastertide. With improved forward work the team has become strong in every department. There can be no denying the excellent game Wadsworth and McKinlay played, and, it is a point worth studying that the inclusion of Banks coincided with the glut of goals. All the men played well, that's sure, and Campbell got a hearty welcome from the big crowd. Bamber, who in style, face and mannerisms is very like Andy Ducat, the old Arsenal and present "Villa player," is coming on finely, and is going to prove a valuable asset to Liverpool, who throughout the season have been scouting for good young folk in order than when right and might get THE day and football is normal Anfield resources will be strong." Note that Echo had Wadsworth as scorer of Liverpool's last goal, but changed this a few days later to Bamber. Rochdale Observer wrote on 30th August 1916, "Supporters of the Rochdale Association Club look forward with considerable interest to the advent of the football season. So many clever players who are working on munitions and otherwise ineligible for service in the Army have offered to assist the club that it is not expected that any difficulty will be experienced in securing a good team. During the close season several of the usual members of the side have, however, joined the Army. Mr. C. Wormwell will act as the manager and honorary secretary, and Mr. Harry Pollitt of Manchester will assist in getting players for the club. W. Biggar, the popular goalkeeper, has been engaged as trainer. The Rochdalians are to open the season at Stockport on Saturday afternoon, when they will meet the County side. For this match the Rochdale team has been chosen as follows: A. Causer; J. Barton and A. Caldwell; J. Tully, J. Rigg, and H. Tierney; A. Rawlings, A. Walker, F. Heap, F. Curtis, W. Halligan, and W. Kehoe. Causer, Barton, Caldwell, Tully, Rawlings, Walker, and F. Heap, appeared with the local side last season. Rigg is a local player who has been working at Birkenhead. Tierney was a member of the Goole club, while Curtis formerly played for Wolverhampton Wanderers. Halligan is the Irish international who has figured in both the Hull and Manchester United team. Kehoe hails from Accrington where he played for the Stanley team. " He played in the two post-War Victory Internationals against Scotland. In the first, played at Ibrox Park in front of a 50,000 attendance on 22nd March 1919, he was at centre forward and scored the Irish goal in the twenty-fifth minute in 1-2 defeat, after Scotland had to play the first twenty minutes with nine men as two players failed to turn up. The second game, played at Windsor Park in Belfast on 19th April 1919 in front of a 44,000 crowd, he was again in the role of centre-forward resulted in a goal-less draw. On the resumption of League football after the War, Halligan signed for First Division Preston North End, finally making it to the top-flight. However, by then age had caught-up with him, and he found the net just twice in sixteen League appearances, but remarkably those games came in consecutive 2-1 victories over high-flying Liverpool. On 22nd November 1919 he was inside left and had another former City player, Simpson Bainbridge as his outside left wing partner, at Deepdale in front of a 14,000 crowd. Preston centre forward, Freddie Osborn, opened the scoring after six minutes and Harry Chambers, his opposing centre forward levelled the scores after thirty minutes to leave the scores locked at 1-1 at half time. It was left to Halligan to score the winning goal in the second half with his first goal of the season. A week later in the reverse fixture at Anfield in front of a 12,000 attendance on 29th November 1919, he was not in tandem with Simpson Bainbridge, who had switched to the right flank, but the two former Leeds players scored the goals that gave Preston the points. The game had been poised 1-1 at the break after the Red's Inside Right Harry Lewis had scored in the thirty-seventh minute but with the scores locked at 1-1 the Red's Centre Forward Harry Chambers failed with a penalty, the Red's could have shared the points or even won. Causer, the Preston keeper injured his leg whilst committing the foul that led to the penalty being awarded, but he still managed to save the kick from Chambers, tipping it around the post. He had scored the two goals and played in sixteen games when, in January 1920, after a lean time with the Lillywhites, he left Deepdale and joined First Division Oldham Athletic, taking over from ex-City player Joe Dougherty at Centre Forward and finding the net nine times in twenty-eight League games. The Latics had endured a wretched start to their first post-war campaign, losing thirteen of their first twenty with a lack of goals again an acute problem. Their fortunes changed with a run of three victories in four games at the early days of January 1920, each by 1-0 margins as they defeated Chelsea at Boundary Park on the first, followed by Newcastle United away on the third and at home on the seventeenth. The signing of the Irish International forward from Preston North End helped maintain the improvement. He scored twice on his debut in a 3-2 defeat at Arsenal on 7th February 1920. The Latics did well to twice hold Liverpool to a draw. On Good Friday, 2nd April 1920 the game at Boundary Park it finished 1 - 1 and three days later, On Easter Monday at Anfield, it was 2-2. In the first game Billy Halligan was Latic's centre forward with Arthur Gee at inside left. There was a crowd of 23,000 to see no goals in the first half, but Liverpool centre forward Tom Miller netted with eleven minutes to go. Oldham's left winger George Wall was brought down by the Liverpool Centre-half Walter Wadsworth but Wall had the final say when he scored from the spot. In the return at Anfield in front of a crowd of 40,000, Billy Halligan was again at centre forward and Arthur Gee at inside left. Halligan scored the first Oldham goal and Harry Chambers did likewise for Liverpool as the sides went to the half-time break at 1-1. Joe Walters Oldham's inside right gave them the lead three minutes after half-time to give the away team a 2-1 lead. Liverpool were given a penalty and a chance to draw level, but their centre forward, Harry Chambers, saw his penalty saved by Ted Taylor, the Oldham goalkeeper. Chambers did make amends as he got an equaliser with thirteen minutes to go. Centre forward Arthur Gee scored match-winning goals in 1-0 victories against Blackburn Rovers, on 10th April 1920 and Sheffield Wednesday, on 26th April, in the final three weeks as Latics finished seventeenth from twenty-two clubs. They only escaped the drop by two points Gee's contribution was immense as he finished the leading marksman with thirteen League goals, the only player to reach double figures as they again toiled in front of goal. Bamlett, the Oldham Manager, twice broke the Latic's transfer record before the start of the 1920-21 season, splashing out £1850 for Middlesbrough centre-forward Reuben Butler and £2500 for Fulham half-back Alf Marshall. The spending increased to £8020 during the season after the arrivals of inside-forward Jim Marshall (Bradford City), half-back Bill Taylor (Burnley) and inside forward Tommy Byrom (Rochdale). Butler scored the winning goals in the opening two matches at his former club Middlesbrough on 28th August 1920 and at home to Blackburn Rovers, two days later. This was followed by a 3-3 draw at home to Middlesbrough. However,their unbeaten run to the start of the new season was brought to a shattering halt with a 5-2 defeat from a visit to Anfield on 11th September 1920. There was a 30,000 attendance, as Oldham took a forward line of Jack Tatton, Billy Halligan, Joseph Campbell, Arthur Gee and George Wall to Liverpool. In celebration of his debut, Dick Johnson gave the home side the lead after just three minutes. After that the visitors held their own and after Elisha Scott the Liverpool Irish International goalkeeper had conceded an own goal the teams went to half time at 1-1. The home side added four more goals with Dick Johnson, their centre-forward, getting his second and inside-left Harry Chambers, right-half John Bamber and outside-right Jackie Sheldon all getting on the score-sheet, while Arthur Gee scored the Oldham consolation with five minutes to go. The reverse fixture on 18th September 1920 brought a good result with a 0-0 draw. Jack Tatton, Joseph Campbell, Reuben Butler, Billy Halligan and George Wall formed the home team's forward line. Halligan's First Division career was ended on Christmas Day 1920 when he broke his ankle when playing in the 1-0 home win against Bradford Park Avenue. He finished his League career with newly-elected Third Division North team Nelson, who he signed for in August 1921 for £75. After forty years in the Lancashire Leagues they applied to join the Football League when they announced the expansion of the divisions to accommodate the new regional third tier. They had the requisite facilities, with their Seedhill ground holding 15,000 but it was still surprisingly for many the application was successful, especially as the previous season they had only managed a seventeenth place finish in the Central League, and they kicked off their life as a league side on 27th August 1921 in front of 9,000 against Wigan Borough, taking the lead in the second minute of the game when Billy Halligan scored on debut, before falling to a 2-1 defeat. However just a few weeks later they gained revenge on Borough with their first ever league win, coming away from Springfield Park with a 4-1 win which saw them top the league for the one and only time that season. Halligan ended the campaign with six goals from seventeen appearances. In the 1921–22 season, Nelson had played as a professional club in the Football League for the first time, following the restructuring of the league to introduce North and South divisions. Former Scotland international David Wilson remained player-manager of the first- team for the second consecutive season after guiding them to a 16th-placed finish in the previous campaign. Halligan scored six goals in seventeen League games in addition he played in three F.A. Cup ties without scoring. He retired from League football at the end of the 1921-22 season. He drifted into non-League football, signing for Boston in June 1922 and moving on to Wisbech Town in 1924. He retired in 1925 when he was thirty-nine. He died in 1950.
| | |
| --- | --- |
| League 24 | 11 |
| F.A. Cup 1 | 0 |