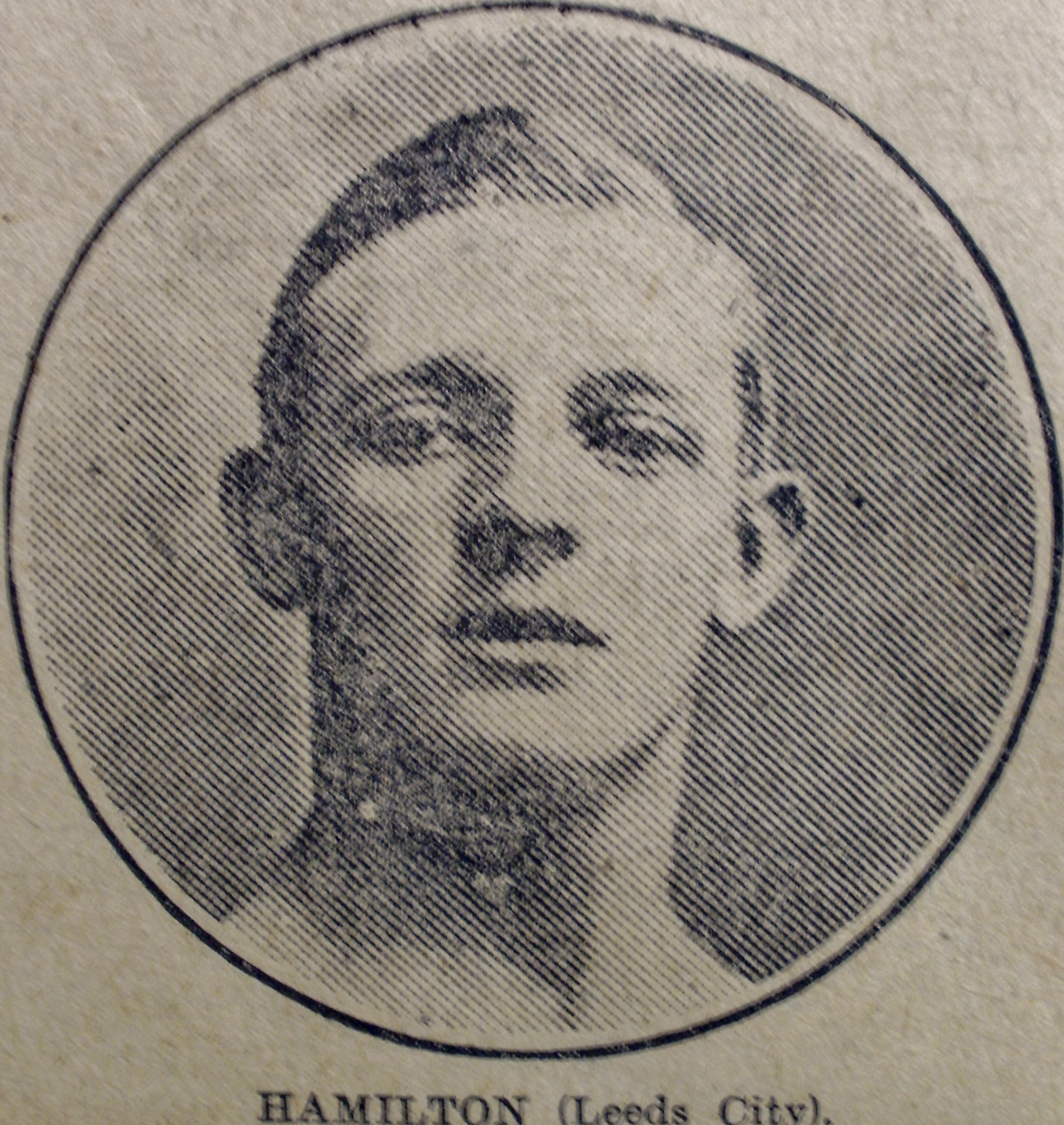 (Courtesy Neil Roche)

Hamilton: Edward McDonald (Ted)

1909-1910 (Leeds City Player Details)

Outside Right

Born: Paisley: 31-03-1886

Debut: v Oldham Athletic (a): 16-10-1909

Height & Weight: Unknown

Hamilton started his football career with Petershill and was signed by Manager Frank Scott-Walford for Leeds City in August 1909. He was one of several Outside Rights that were on the books at that time and Colin Stockton was the one chosen for the first three games of the 1909-10 season, before David Dougal was given his chance for the next three games. Hugh Roberts was on the right flank for the next game before Hamilton was finally given his chance in the eighth game. He was given his first team debut as outside-right on 16th October1909 at Oldham Athletic. The Peacocks lost 1-2. The fact was that Hamilton had a heavy fall in the first half and was left with rib damage. It was so severe that he could not continue soon after the start of the second half and City were left with only ten men for virtually half of the game. This could be offered as an excuse for City's defeat. He had recovered well enough to be included in the next game. The injury prone winger retained his right wing place for the home game with Barnsley. The unfortunate winger did not finish this game either. He dislocated his elbow at the start of the second half after he was struck by a fierce shot. City were three goals down at the time and, after Hamilton's enforced departure, the visitors added a further four goals to totally demoralise the home side. He was then absent for three games and David Dougal filled in for him for three games. Dougal came in on the left wing, with Fred Croot switching to outside right. Hamilton's third appearance came on 20th November 1909 at Molineux, where the game with Wolverhampton Wanderers saw Hamilton complete his first game for Leeds. However, for the third time he had finished a game for City, with a loss. Wolves made City suffer another decisive defeat, as they hammered five past Harry Bromage, without reply. It seemed as if Hamilton was something of a jinx for City, and he sat out the rest of the fixtures. He was not included in the home with Gainsborough Trinity, as David Dougal took the outside right spot. The following fixture, a 1-3 defeat at Grimsby Town saw another player, Dickie Joynes, given the number seven jersey. However, he too was replaced, by Hugh Roberts, who made the position his own for the rest of the season. Ultimately all Hamilton's games for City ended in defeat, as they lost 1-2 in his debut game at Oldham Athletic, were given a 0-7 humbling by Barnsley at Elland Road in his second and went down 0-5 at Molineux in his final game against Wolverhampton Wanderers. Therefore, it could be seen that Hamilton was never going to be a regular choice at Elland Road and he was not retained at the end of the season and never played professional football again.
| | |
| --- | --- |
| League 3 | 0 |
| | |