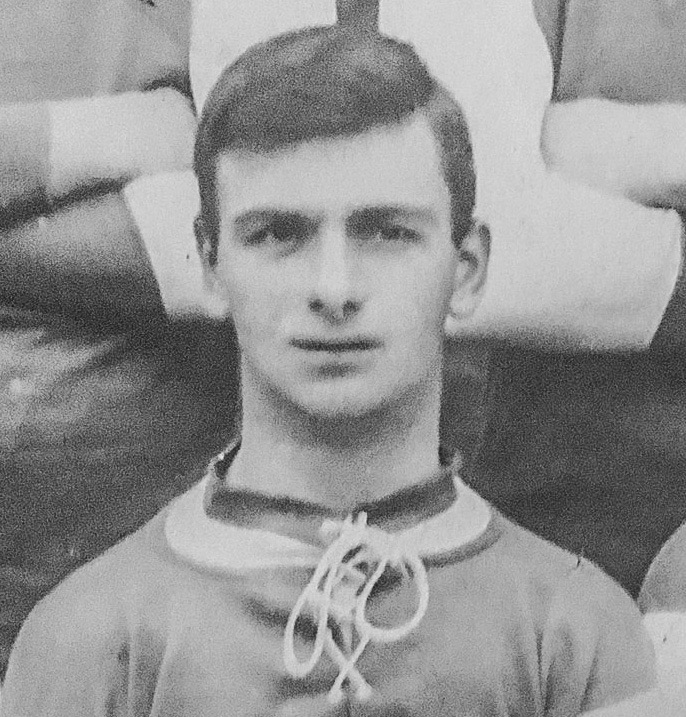 (Photo Courtesy of Paul Farley and Will Barrett of http://grecianarchive.exeter.ac.uk/items/show/1778)

Johnson: Samuel Clay (Sam)

1911-1912 (Leeds City Player Details)

Wing Half

Born: Colne: 00-00-1885

Debut: v Burnley (a): 04-09-1911

Height & Weight; Unknown

He started by playing in the Manchester Area with Tonge in 1899 and then moved to Newton Heath (L&YR) in January 1901. He made his debut, in front of approximately 2,000 as they entertained Leicester Fosse on 20th March 1901 in what was to be his only game for the club. He played at Inside-Right in a 2-3 defeat at Bank Street. There could have been a liaison with Second Division Barnsley in 1901, however, he failed to make any appearances there. He remained with the Newton Heath (L&YR), until he moved to join Heywood United of the Lancashire Combination in the November 1902 and played for them in the 1902-03 season, their first of only two seasons at that level. On 9th January 1902, Newton Heath (L&YR) President William Healey had applied to the court for a winding-up order against the club, claiming he was owed £242 17s. 10d. "Attention was directed to the Second League by the unusual experience of Newton Heath. The club is financially in a bad way. A winding up order to meet a debt of £242 precipitated matters last week and no arrangements could be made for playing the game fixed for Saturday. One hears that a new club will be formed out of the ashes of the old one, but this has not been decided definitely." said The Manchester Guardian on 13th January 1902. Newton Heath were revived in time to play their next fixture on Saturday, 18th January 1902, by a £2,000 investment from a group of businessmen led by John Henry Davies. Newton Heath's last game of the 1901-1902 season was a 2-0 victory over Chesterfield in front of only 2,000 spectators. The team finished the season in 15th position and Newton Heath ceased to exist. John Henry Davies became the club president, on 24th April 1902. Given that the club was no longer based in Newton Heath, the new owners considered renaming the club Manchester Celtic or Manchester Central. But, having also changed their colours back to red and white, the club began the 1902–03 season as Manchester United. It also happened that Johnson was in a similar predicament, as Heywood United decided to leave the Lancashire Combination. So he went back home and joined Colne in 1904, then of the Lancashire Combination as the club suffered relegation to the Division Two of the Lancashire Combination. He moved into Second Division football with Blackpool, in the summer of 1905. He showed early promise at Bloomfield Road, scoring on his debut in a 2-2 draw at home against Gainsborough Trinity on 16th September 1905. It was to be his only goal in thirty-four League games that he made before returning to the Lancashire Combination with Colne in 1907. He made twenty-five League appearances and five more in the F.A. Cup as Blackpool struggled to fourteenth place in a twenty-team Division Two League in the 1905-06 season. He had made a further nine League appearances in the 1906-07 to bring his total to thirty-four. He moved to Exeter City in 1908, making his debut at Millwall in September of that year. Although Johnson was to feature in half of City's matches that season, he left after one season. The Grecians had a good season finishing sixth in a twenty-one team competition with forty-two points. He had helped them in their first season in the Southern League, making twenty-three League appearances in the club's first season in the First Division of the Southern League. However, he joined Southern League Division One side, Coventry City, in 1909. He made his debut at left-half on 4th December 1909 in a 5-0 F.A. Cup win over Kettering Town. His League debut followed in a 1-0 away win over Bristol Rovers on 12th February 1910, and by season's end he had added another ten League appearances as City finished eighth in a twenty-two team competition, with forty-six points. He was used more in the 1910-11 season playing thirty-six League and four F.A. Cup games as City slid down the table, finishing eighteenth in a twenty-two team League. However, that was the end of his Coventry City career and his return to League football when he joined Leeds City in 1911 who gave him the chance to resurrect his League career when they signed him. He never fully established himself at Elland Road, only playing spasmodically, mostly in place of John Harkins. He was given his debut in the second game of the season when he replaced John Harkins, who had played the first fixture. Johnson scored once in his seven appearances in the 1911-12 season. The goal was the highlight of his sojourn at Elland Road. It came in his penultimate game in a 2-1 home win over Grimsby Town on 23rd January 1912, when he lobbed beautifully over the Grimsby keeper's head at Elland Road. His final two appearances were in place of left half, Joe Moran. He was released after the arrival of Herbert Chapman at the end of that season which saw City having to apply for re-election, after they had finished in nineteenth position on ladder of twenty teams. Gainsborough Trinity had been bottom on twenty-three points, but while gaining twenty-eight points, City had an inferior goal average to Glossop who had finished on the same points. Johnson never played professionally again.
| | |
| --- | --- |
| League 7 | 1 |
| | |