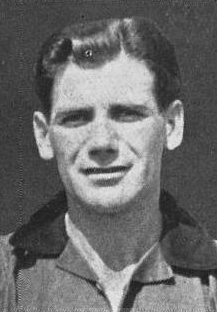 (Courtesy of GoS http://www.greensonscreen.co.uk/gosdb-players2.asp?pid=465)

Knight: Arnold William (Arnold)

WW2 Guest: 1941-1946 (Leeds United War-time Guest Player Details)

Wing Half/Inside Forward

Born: Guisborough, North Yorkshire: 30-05-1919

Debut: v Chesterfield (h): 01-11-1941

Height & Weight: Unknown

Knight signed for Second Division Tottenham Hotspur in the 1936-37 season but never played a senior game for the White Hart Lane club. He signed for First Division Leeds United in October 1937 but never played a game for them before the outbreak of the Second World War. He made his War-time debut for Leeds in the 1941-42 Football League Northern Section (First Championship) at Left Half on 1st November 1941 in 2-2 draw at Elland Road with Chesterfield. He played twice more at Left Half and once at Inside Left in that Campaign. In the Second Championship he scored three times in five games at Inside Left and four games at Left Half. In the 1942-43 Football League Northern Section (First Championship) he played eleven games at Left Half with another fifteen at Left Half in the Second Championship. He made four appearances at Left Half and six at Centre Forward and scored five goals in the 1943-44 Football League Northern Section (First Championship) and followed this up with one goal from five games at Left Half, one at Centre Forward and two at Inside Left in the Second Championship. The 1944-45 Football League Northern Section (First Championship) saw him play three times at Left Half and six times at Right Half without scoring and the Second Championship saw him get three goals from seven games at Right Half, two at Outside Left and one at Centre Forward. In the 1945-46 Football League Northern Section he did not play until the season was almost over and had two games at Left Half and four games at Inside Left without scoring in Unitedís final ten games in the War Years. He scored twelve goals in eighty-two War time games. During the War he also guested for Darlington, where he played five games without scoring in 1943-44 and then played four times for Aldershot and once for Queens Park Rangers in 1944-45, without scoring. After the Football League fixtures recommenced he was unable to make the Leeds first team and never played a peace-time senior game for them. He moved to Second Division Plymouth Argyle in July 1947 but after making his debut on 23rd August 1947 at Newcastle United when they were beaten 1-6 in the opening game of the season, he played the first seven games of that season, making his final appearance in a 1-0 home win over Barnsley on 13th September 1947 and despite it being the first Argyle win of the season he was dropped and he left Home Park in February 1948 and returned North to join Third Division North Bradford City. Once more he was unable to command a first team place and after one and a half seasons at Valley Parade in which he made just seven League appearances he retired from the game. He died in 2003.