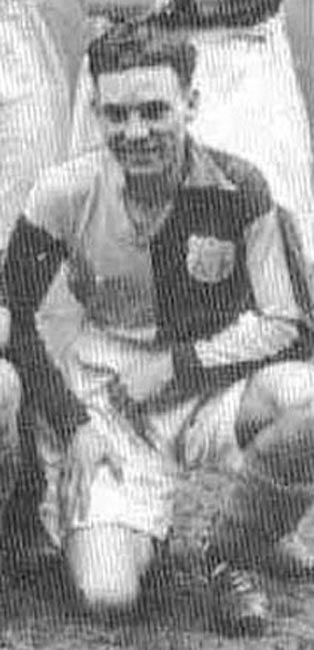 Paton: John Aloysius (Johnny)
WW2 Guest: 1944-1945 (Leeds United War-time Guest Player Details)
Outside Left
Born: Glasgow: 02-04-1923
Debut: v Barnsley (h): 06-01-1945
Height & Weight: Unknown
Paton was born and raised into a staunch Celtic family, his father had been on the clubs books in the 1921-22 before playing for several Scottish and Irish clubs and one short spell in the USA. The young Paton began his football apprenticeship just a kick away from Celtic Park with St Mary's Calton. Educated at St Mungo's Academy, he then played with Denistoun Waverley as an amateur from January 1940, before joining Celtic on 28th May 1942. He excelled in several sports being ATC welterweight champion of Glasgow, a prize-winning sprinter, and a schoolboy international footballer. A press photographer by trade, he made his Celtic debut in a 2-0 Regional League victory at St Mirren on 16th January 1943. He became a Scottish Junior International and served in the RAF during the war years in which he guested for East Fife and New York Americans as well as several English clubs. It was in the War Years that he guested for Leeds United making four appearances for them in the 1944-45 Football League Northern Section (Second Championship). His Leeds debut was at Outside Left in a 0-1 defeat by Barnsley at Elland Road on 6th January 1945, this was followed, in consecutive games, by the reverse fixture in a 0-5 defeat at Oakwell and a 5-0 win at Bootham Crescent over York City. It was not until 10th March 1945 that he played his fourth and final game in a 3-1 home win over Preston North End. Apart from Leeds, he turned out three times for Manchester City in the 1943-44 season and once for Crystal Palace in 1944-45 but could not find the net for either. He did score, however for Arsenal in his only game for them in the 1944-45 season and in the 1945-46 season he scored just once in twenty-two appearances for Millwall. He made representative appearances for the force, including one against Norwayís national team. In some of those games he was in the company of such famous Internationals as Stanley Matthews and Stan Mortenson, the Blackpool pair, who had many others as club mates as Bloomfield Road was an RAF base, but there were many internationals who also served in and represented the RAF. Due to his war service in the RAF, in which he saw wartime action as a navigator and bomb-aimer, little was seen of him at Parkhead, apart from his two appearances for them in "victory games" when he endeared himself to the Celtic faithful by ďwinningĒ the ďVictory in Europe CupĒ which was won by Celtic on 9th May 1945. The Cup was to celebrate the end of hostilities on the European continent and the Glasgow Charity Cup committee presented the ďVictory in Europe CupĒ which was awarded to the winners of the Charity Cup Final. Rangers were invited to participate but declined as they had a forthcoming Cup tie against Motherwell. This allowed Queens Park to step in and play Celtic. The game was drawn 1-1 and the equalising Celtic goal was scored by Paton who played at Outside Right that day. Celtic were awarded the trophy as they had won more corners than Queens Park and that extra corner had also been won by Paton. So, in the eyes of the Celtic fans, he won the corner that won Celtic the cup. That Cup-winning feat was not to be confused with a further "Victory Cup" which took place on 5th June 1946 in which Celtic lost 0-2 to Rangers, with Paton playing at Outside-Left, in the Victory Cup Semi-Final Replay. The 0-0 draw which had necessitated the replay had been an acrimonious affair with the Celtic Centre-Half, George Paterson, being sent-off and Celtic had both he and Matt Lynch suspended for a month. Rangers went on to beat Hibernian 3-1 in the Final. He was back at Celtic Park after the War and, after struggling to make the team at first, his ability to perform on the left as well as the right saw him cement his place on the left wing. Due to still being in the RAF, he joined First Division Chelsea on loan on 6th December 1946 and made his debut the following day in a 1-1 home draw with Everton and by the time he played his final game in a 4-6 defeat by Wolverhampton Wanderers at Molineux he had scored three goals in eighteen League games and also played in five F.A. Cup ties without adding to his goal tally. He returned to Parkhead on 30th May 1947, but it was not a good time for Celtic and he played in the important game against Dundee to ensure they didn't get relegated in 1947-48. He did, however, play in the Glasgow Cup winning side of 1948-49. Paton scored eleven goals in twenty-six games in the Regional League and two goals in ten games in the Regional League Cup. He also scored eleven goals in fifty-two League games, two goals in five Scottish Cup Ties and three goals in fifteen League Cup games in the peace-time for a total of twenty-nine goals in one hundred and eight appearances in all games with Celtic. He joined Second Division Brentford in September 1949 for a fee of £5,000 and made his debut on 10th September 1949 in a 2-0 win at Bradford Park Avenue, scoring on debut. His final game for the Bees was on 30th April 1952 in a 1-0 home win over Doncaster Rovers and in his three seasons at Griffin Park he scored fourteen goals in ninety League games and another two goals in four F.A. Cup ties. In July 1952 Paton and his Brentford teammate Jimmy Bowie joined Third Division South side Watford to help Brentford finance the purchase of Tommy Lawton for the Griffin Park club. He made his debut in a 4-1 home win over Bristol City, on 23rd August 1952. He was twenty-nine when he turned his hand to coaching becoming player-coach at Watford after gaining his coaching badges in 1951. Paton had had not been happy with the standard of coaching in England in the early 1950s and had enrolled in the first ever F.A. coaching course at Lilleshall, along with Brentford teammates Ron Greenwood and Jimmy Hill and Malcolm Allison, then of West Ham United, also attended. He became Watford's first ever player-coach. He became player-manager of Watford when Len Goulden was sacked in October 1955. Paton had been having trouble with knees and as it turned out had already played his final game for Watford in a 2-2 home draw with Norwich City on 5th February 1955 and he had scored seventeen goals in eighty-four League games and had played a further seven games without scoring in the F.A. Cup. He had a good start to his reign as Manager, but after entering hospital for the double cartilage operation, the team's form dropped off in his absence. He was relieved of his duties after only four months in the managerial seat, in which the team had managed only two wins in fifteen League games. He had a spell as the head of the Hertfordshire F.A. youth-coaching scheme in 1954-55, but in the late 1950s, Paton turned his back on football and worked as a salesman, selling chocolate biscuits. In the early 1960s, he worked as a scout for Rotherham United, focusing on Glasgow and Scotland. In 1961, Tommy Docherty offered Paton a scouting role and the position of 'A' team manager at Division One side Arsenal, on the recommendation of Ron Greenwood. He went on to win the 1961-62 Metropolitan League Cup and the 1962-63 Metropolitan League title with the 'A' team but left the club in 1965. He was responsible for the development of many of the players in the Arsenal double side of 1971 including Bob Wilson, Jon Sammels, Peter Simpson, George Armstrong, John Radford and Peter Storey. As well as being an accredited press photographer in the 1980s he ran a snooker hall and took up professional snooker refereeing and coaching. In 2014 he was living in the Stanmore area of London at the age of ninety-one and was acknowledged as the oldest living ex-Chelsea player, a club that he continued to be an avid supporter of. He died on 2nd October 2015 aged 92.
TRIBUTES & OBITUARIES

Chelsea FC: Friday 2nd October 2015

Johnny Paton 1923-2015

Chelsea Football Club is greatly saddened by the passing of our former player Johnny Paton at the age of ninety-two. We send our deepest condolences to his family and friends. Paton was believed to be the oldest living Chelsea footballer prior to his passing and played for the club during the 1946-47 campaign. A talented left-winger, his season at Stamford Bridge was the first to be played in England following the end of the Second World War, a time when Londonís public were hungry for sporting entertainment to brighten their lives following the devastation of the conflict. The attendances to watch Paton and his colleagues were huge.

He was born in Glasgow and was a navigator in the RAF during the War, spending time in various parts of the country. This enabled him, as the rules permitted, to play as a guest for whichever club was closest while based in an area. He appeared for Arsenal, Crystal Palace, Millwall, Manchester City and Leeds. His move to Chelsea came about by chance after bumping into an old friend and compatriot, Johnny Harris, who was playing for us at the time. With the Pensioners in need of a winger, Harris spoke to manager Billy Birrell, who contacted Patonís parent club Celtic and arranged a deal for him to move south on loan. He made his debut against Everton early in December 1946 and scored his first goal for the club on Boxing Day, in a 1-1 draw away at Preston North End. Two days later he was on target again, this time in a 1-1 draw at Bolton Wanderers. In March, he scored our second goal in a 2-0 win over Brentford. The most memorable match of the campaign however was an FA Cup third round win over Arsenal, which came at the third time of asking after the teams had drawn 1-1 in the original match and again in the first replay. The second replay was at the neutral venue of White Hart Lane with Paton supplying the cross from which legendary centre-forward Tommy Lawton headed home our second goal. The two men developed a marvellous on-pitch understanding during the brief period they played alongside each other. Paton ended the 1946-47 season having made twenty- three appearances and with three goals to his name. He returned to Celtic but his later career brought him south again where he made his home and he was a guest at Stamford Bridge on numerous occasions. During half-time of our home game against Southampton in December 2013 he was brought out on to the pitch and introduced to the crowd. With the team trailing 1-0, Paton took the microphone and memorably urged our supporters to roar the team back into the game. Within four minutes of the restart we were level before going on to win 3-1. Back at the Bridge at the 2014 Annual Lunch and as one of the many former Blues invited, he once again gave an impromptu speech on his appreciation for the way the past players are treated and received a standing ovation for his heartfelt words. His warmth and engaging character always shone through and football was his life blood to the end. He died peacefully surrounded by his family after a brave fight against bone cancer.

Club historian Rick Glanvill writes:

I remember the first time I spoke to Johnny. I had tracked him down and rang him up just as he and his wife were about to go out dancing. They were both in their late 80s! "Och, no one is interested in an old man like me," he joked. In fact he was overjoyed to talk about the wonderful year he spent on loan at Stamford Bridge, and eulogised about the centre-forward who regularly dispatched his crosses from the wing: Tommy Lawton. Though a Celtic man, his passion for the Pensioners had never dimmed and he was happy to sing the praises of Didier Drogba with an eye for details of his game. I informed him that he was Chelseaís oldest living player and, once he had stopped mocking himself for it, the honour became one he would mention regularly with immense pride. Johnny was a popular and engaging guest at many club events, and would sing the praises of the way Chelsea now looks after former players such as himself. Chelseaís last surviving pre-Ted Drake era player has gone. We will miss him hugely.

Chelsea FC: 15th November 2014

The Weekend Interview part one: Johnny Paton

Johnny Paton, believed to be the oldest living Chelsea player, was a talented left-winger who played for the Blues during the 1946-47 season, soon after the culmination of World War Two. Ahead of the clubís Annual Lunch, which Paton is due to attend with a host of other former players on Friday 28th November 2014, the Scot spoke to the official Chelsea website and reflected on what it was like to represent the club following such a devastating period in global history. The importance of football to the general British public has perhaps never been more significant than in the immediate aftermath of the Second World War, when the feelings of sadness, desperation and sheer heartache at the loss of so many lives led to an increased demand for even the slightest of smiles to return to faces.

The 1946-47 campaign was the first to follow the end of the conflict, which had run from 1939 through to 1945, and for Chelsea it was one which brought a number of new arrivals, with only a few players remaining from the squad which had started the week-long 1939-40 season before it was cut short due to war breaking out. "In came players such as right-back Danny Winter, centre-back John Harris and striker Len Goulden, while Paton was one of three men, along with Bobby Campbell and Johnny McIness, recruited from north of the border. He explains how his move to Stamford Bridge from Celtic transpired. "It was the first season after the war and it was very difficult because up until that time I was playing for different clubs as a guest," Paton tells the official Chelsea website. ĎI guested for Arsenal, Crystal Palace, Millwall, Manchester City and Leeds. "I was a navigator in the RAF and when the war finished we kept getting dumped into different depots in various parts of the country. You could go to the local football club and ask if you could play for them on the Saturday, and if they knew who you were theyíd phone Celtic, speak to my manager, Jimmy McGrory, and ask for verbal permission if they could use me. Then they would just send the registration in the post and thatís all there was to it. As soon as the 1946-47 season started that all stopped. I was travelling up from London, where I was based, to Glasgow, every Friday in order to play for Celtic. I wasnít getting there until 1 a.m. which obviously wasnít conducive to playing very good football. Iíd recently met a girl, who I went on to marry, but before we were married she asked me to meet her friends and family for a Sunday roast. When I took the tube to her house there was a fella coming towards me who said he recognised me. It was Johnny Harris, who played for Chelsea and captained Scotland. He asked what I was doing down in London and when I explained he suggested coming to play for the club. I told him it wasnít possible as guest appearances were no longer allowed, so Johnny said he would speak to the manager Billy Birrell. Chelsea needed a winger at the time, so they contacted Celtic and asked if they could take me on loan. There were no loan deals at the time so Jimmy McGrory took me into his office, gave me two transfer forms and asked me to sign both of them. He asked for my word that I would go back to Celtic, it was a gentlemanís agreement, and I said that my word is my bond and that I would love to play at the top level of English football. I told him I would come back a better player and thatís what happened. In the Evening Standard it said Iíd been transferred to Chelsea for £10,000, which proves you canít believe anything you read in the newspapers."

Patonís health has recently improved following a period of sickness, and he is looking forward to attending the Annual Lunch at the end of the month. "My son is coming to look after me because Iím attending the medical centre in Stanmore and they wonít allow me to travel on my own,í he explains. ĎIím 91 and my balance isnít great. I donít tend to go very far but I make an exception for these Chelsea dinners, which Iíve been coming to for five or six years. Theyíre terrific and you have to admire the hospitality the club provides for former players. I think itís quite unique, I donít know of any other club which has tried to create such a nice atmosphere for the former players. It really is wonderful; I hope all the other older players appreciate it because I certainly do."

Health permitting, Paton is also hopeful of attending our home games against Newcastle and Manchester City early next year, and recalls last Decemberís match against Southampton, when he was the half-time guest, with much fondness. "When I came on to the pitch against Southampton, Neil Barnett (the clubís on-pitch announcer) introduced me to the crowd" he remembers. "I told him I could barely walk on to the field but he gave me a welcome like Frank Sinatra, referring to me as a club legend. I staggered out with my walking stick, there were 40,000 inside the stadium and the majority of them didnít know who the hell I was. We were 1-0 down and the team werenít playing well. Southampton were on top and looked like they would go on and win the match, but then Neil asked me to say a few words, so I did. As luck would have it we scored within four minutes of the restart and went on to win 3-1 against a very good team."

As the discussion reverts back to his time as a Chelsea player, and the impact of the war on the game in this country, Paton provides an insight into how certain players were required to take on extra jobs away from football. The players were only worried about whether they were in the team on a Saturday and getting their wages," he says. "It was £10 per week maximum and if you were getting that you were classed as a full-time player, which meant you had no time for another job. The players who werenít good enough to get into the team were on lower wages so they had to go and get part-time jobs. Some of them didnít train during the day because they were working, which meant theyíd have to train in the evening, so there was a bit of a division between players that were recognised as full-time and those who were part-time. You could tell the difference because part-time players wouldnít normally last ninety minutes, you had to be very fit. The country was still under rations but as a football player you were spoiled. We were taken to pubs for lunch and the club realised we had to be nourished properly in order to stay fit. Players back then didnít really look after themselves in the way they do these days, now itís a science. Thereís only one way you can stay fit and thatís by learning how to nourish your body with good food and you have to get plenty of rest. Most players today are super fit. The maximum number of matches I played in a season, including cup games, was about thirty. Now, it can be as many as sixty."

Our first game of the 1946-47 season, a 4-3 home victory over Bolton Wanderers, was watched by over 60,000 supporters, undoubtedly buoyed by the return of top-flight, top- level football following a seven-year absence. Over the course of the campaign more than one million spectators would file through the Stamford Bridge turnstiles to watch the Blues in action during what was, ultimately, a disappointing season, and Paton explains why. "During the war everything was closed and even though there was football it was of a certain standard," recalls the Scot. "As soon as the war finished this country went mad; the relief of knowing it was over canít be described. There were thousands being killed every day and families being split up, and then it was all finished. Everybody was starved of entertainment, so any form of entertainment suddenly became tremendously popular. Football is probably the most popular form of entertainment nationally and sometimes the gates were closed long before kick-off. They used to have to pass all of the youngsters down to the front because it was so packed. In those days, as long as you paid your money you could go in and I donít think the man on the turnstiles had any idea how many people he was allowing in. The supporters who didnít get there early enough probably couldnít see anything."

In part two of our exclusive interview, Paton remembers some of the men he played alongside during his Chelsea career, as well as providing his thoughts on the team today.

Chelsea FC: 16th November 2014

The Weekend Interview part two: Johnny Paton

Yesterday, Johnny Paton, believed to be the oldest living Chelsea player, spoke to the official Chelsea website about representing the club in the immediate aftermath of World War Two. Today, in part two of our exclusive interview with the former Blues winger, he looks back on the 1946/47 campaign and talks about Chelsea today.

There is little doubt that the end of Patonís only season at the club brought a sense of collective frustration. The Blues finished 15th in the table having lost more matches than we won.

"We didnít do as well as weíd hoped," Paton says. "We had around seven internationals in the side but the team spirit didnít seem to be there. Because there were so many internationals, they were more interested in playing for England and building their own reputations."

Arguably, the highlight of the campaign, in which Paton made twenty-three appearances and scored three goals, was an FA Cup third-round success over Arsenal, a tie which took three matches to finally separate the two sides. Having drawn 1-1 in both the initial game and subsequent replay, they met for a third time at a neutral venue, Tottenhamís White Hart Lane, with the Blues running out 2-0 winners.

"Chelsea and Arsenal were massive rivals and beating them was like Celtic beating Rangers," says Paton. "I remember running down the left wing at White Hart Lane in the third game. I was good at delivering to the far post, Iíd practiced it so many times. You could guarantee that if you got it where he wanted it, Tommy Lawton would be there to put it in the net, and thatís what he did for the second goal." Fittingly, the mention of Lawtonís name allows Paton to expand on his thoughts about the former Chelsea and England striker, a player he holds in the highest regard. "He was the greatest centre-forward England have produced in the last eighty years. He was absolutely outstanding and I canít praise him enough. He was the best header of the ball Iíve ever seen or played with. He used to ask me to practice crossing to the far post so he could work on his heading, and it paid off a number of times. He had this ability, which Iíve never seen in any other player, of jumping and holding his jump in the air for a spilt second. He seemed to be aware of how much time he had and always placed the ball past the goalkeeper. He was the first player I knew to have a chauffeur. I got to know him very well, as a player and a friend, he was a top man, one of the all-time greats."

There are two other members of the 1946/47 side Paton is keen to acknowledge, both of whom went on to work for the club once their playing careers had drawn to a conclusion. Dickie Spence was responsible for bringing players such as Jimmy Greaves, Peter Bonetti, Bobby Tambling, Terry Venables, John Hollins and Ron Harris through our pioneering youth system. He coached the sides who won the FA Youth Cup in 1960 and 1961 and went on to form the core of an extremely talented side, while Harry Medhurst returned to carry out physio work as our trainer. "I knew Dickie very well, he was a bit older than me but I think he was being groomed for a job at the club working with the youngsters, and he became a great coach of youth players," Paton remembers."He was a great servant and it was a relatively new thing for players to be given jobs at the club. They developed some great players and Chelsea were always seen as a club with fantastic youngsters. Harry was our goalkeeper; very agile and he had great anticipation. The art of goalkeeping is to be there before the ball comes to you, good positional play, which is something Thibaut Courtois also has. Harry had that, which made up for his lack of height. He was a great man, a real character and he came back to work for the club later on." Billy Birrell was manager of the side but, according to Paton, there was little opportunity for players to build much of a relationship with the man at the helm. "Billy was very astute but we didnít know much about our managers in those days," he says. "It was a completely different time. He used to dress like a funeral undertaker, in a long black coat and a black hat, but he was a good manager."

By contrast, the popularity and intense media coverage of the modern game ensures famous figures in the world of sport are widely known to all, even non-football supporters. Jose Mourinho is, of course, one of the most well-known figures in the world of sport and, in the eyes of Paton, the perfect man to take the Blues forward. "I said before the season started we have the best coach in the world," Paton says. "Heís a great character, a tactician, a disciplinarian, he has plenty of experience, heís won the European Cup with two different clubs Ė what more can you ask for?"

Paton has been hugely impressed with the current group of players over the course of the first part of the season, as the Blues have gone 17 games unbeaten in all competitions, sitting top of the Premier League table and our Champions League group. As a former left winger he has paid close attention to the performances of Eden Hazard, and he acknowledges Diego Costa is the type of striker he would have enjoyed supplying the ammunition for."Although we had a good team before, a lot of those players have now left but theyíve been replaced with some outstanding footballers. Weíve got the players and weíve got the coach," he says."Hazard is one of the biggest talents Iíve seen. The boy has the dribbling skill, fantastic determination, heís not afraid to go in where it hurts and he can score goals. There are so many skilful players that donít have any end product, but he does. The damage he can do is something I havenít seen for a long time, heís outstanding. Diego Costa is a finisher, on the ground and in the air. Heís a world-class player. Barcelona have dominated the passing game for many years but thatís what suits them. Brian Clough used to say to his teams that once youíve made five or six passes and reached the opposition penalty area, donít pass it, just put it into the net for safety. Clough knew the most important thing in football was scoring goals and how you do it is irrelevant. You wonít lose possession if it goes in the net and Diego Costa is one of the players who understand that. Once the ball comes into the area he doesnít mess about, all heís thinking about is scoring and he doesnít need too many chances."Everything seems to be clicking into place and, if we can keep clear of injuries, weíll take some catching."

Patonís enthusiasm for the game is infectious and, having been involved in football for so many years, he still possesses the confidence to offer advice and encouragement when necessary, even to the likes of our current club captain. "On my ninetieth birthday John Terry sent me a shirt with my old number "11" on the back of it signed by all the players, and a note offering his congratulations," he recalls. "It was extremely nice of him so I wrote him a letter of thanks, and I had the temerity to offer him some advice which would enable him to play until heís forty. I told him the secret is to go home after training and sleep for a couple of hours, which makes the body recover and strengthens your muscles. I told him thatís the only reason Iíve made it to ninety. When you live as long as I have the only thing you have is experience."

Obituary: Celtic FC: 6th October 2015

Celt of the 1940s - Johnny Paton - passes away

Former Celt, Johnny Paton sadly passed away on Friday at the age of ninety-two surrounded by his family after a brave fight against illness. The outside-left came from a strong Celtic heritage as his Father also played with the club and his Grandfather held Celtic Season Ticket No.2.

Born on 2nd April 1923, the young Johnny sat on his Grandfatherís knee watching the Hoops in the twenties and first started playing football with St Maryís in the Calton. He joined Celtic as a teenager in 1942 and made his debut that year in the Summer Cup in a 2-1 home win over Partick Thistle and in January of the following year he made his league bow in a 2-0 win over St Mirren in Paisley. He joined the RAF in 1943 and his wartime travels saw him play on loan for many clubs including Manchester City, Arsenal, Crystal Palace, Leeds United, Millwall and Chelsea as well as appearing for New York Americans in the Bronx in 1944.

In 1947 he returned to the Hoops before moving back south to Brentford in 1949 before a spell at Watford saw him take up coaching where he eventually became player/ manager and he finished his career as a coach with Arsenal between 1961 and 1965.

In all competitions, Johnny made over one hundred appearances for his beloved Hoops and scored twenty-six goals. The thoughts and prayers of everyone at Celtic Park are with the friends and family of Johnny at this sad time.