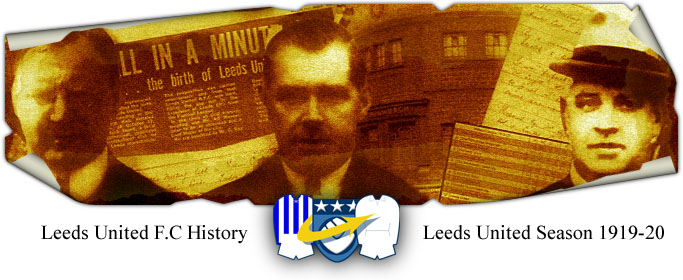 17-04-20: Sheffield United Reserves (h) 1-2 : Midland League : 30/34
Shirt No.
Player Name
Goals Scored

Leeds United

1.

Unknown

2.

Waddington, Norman

3.

Coope, Dick

4.

Tillotson, Joe

5.

Hart, Ernest Arthur (Ernie)

6.

Rodgers, E.

7.

Mason, George

8.

Ellson, Merton Frederick (Matt)

9.

Butler, Walter John

1 (50' 1-1)

10.

Fawcett, William Fraser

11.

Bedford, J.

Sheffield United Reserves:

1.

Blackwell, Ernest

2.

Unknown

3.

Unknown

4.

Unknown

5.

Unknown

6.

Unknown

7.

Unknown

8.

Thompson

1 (80' 1-2)

9.

Kitchen, Joe

10.

Ball, Jack

1 (15' 0-1)

11.

Unknown
Match Report: Sheffield Independent: 19th April 1920:
United Res 2 Leeds United 1
After a most exciting game, Sheffield United Reseves defeated Leeds United, at Elland Road, by two goals to one, in the presence of 8,000 spectators, the largest crowd of the season. Blackwell was in great form, and he saved shots which appeared to be certain goals, his clearances being always cleverly executed. Ball, who scored for Sheffield after fifteen minutes play, and Thompson, who got through near the close, together with Kitchen displayed admirable work, both in midfield and in front of goal. Mason for Leeds made many fine openings which the inside forwards did not fail to take advantage of, but Blackwell was equal to every occasion, except when Butler suceeded in beating him with a low fast drive.
Half-time score :-
Leeds United 0 goal Sheffield United Reserves 1 goal
RESULT:- LEEDS UNITED 1 goal SHEFFIELD UNITED RESERVES 2, in the presence of 8,000 spectators goals